Summer of Mailbag IV: Dawn of the Mailbag
(page 2 of 2)

By Bill Simmons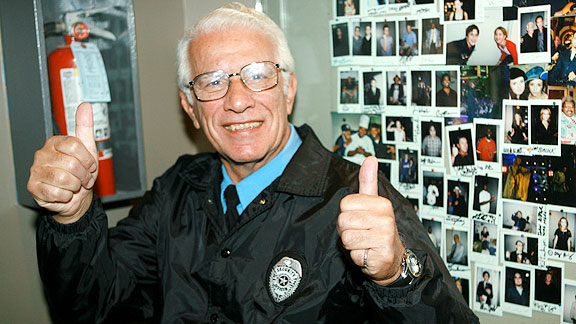 If you missed Part 1 of Mailbag IV, click here. Here's Part 2.
Q: No funny e-mail here. I just wanted to extend my condolences regarding Uncle Frank. I know you knew him. He always brought a smile to my face no matter what, and I will remember his interaction with Mike Tyson as one of the best things ever on television…seriously ever. Please give my best to Jimmy and his family.
— Dave, North Wales
Q: I hope you saw Uncle Frank trending on Twitter today. What a tribute to that guy, he always made me laugh.
— Thomas, Houston
SG: I absolutely saw it. At first, the thought of someone explaining "trending" to Uncle Frank made me start laughing. I stared at his name for a little while and got choked up. Then, I thought of his expression during the hypothetical trending explanation and ended up doing the laughing/crying combo. See, had this happened when Uncle Frank was alive, he would have heard about making the front page of Twitter ("Hold on, I'm on what?"), demanded to see this "trending" thing himself ("What is this again?"), badgered someone to call up the page ("Just show me, I want to see it"), then pointed at his name and gushed, "Wow, look at that, I'm right there. Wow! That's something."
He would have remained confused.
He would have asked someone for a second explanation, heard that explanation … and that wouldn't have helped, either.
From there, he would have strolled the Jimmy Kimmel Live offices telling everyone how he trended on Twitter — bragging, but not really, because he was such a sweet guy that it never felt like bragging — and eventually, he would have forgotten the word "trending" and called it something like "twittering" or "tweeping." Or, he would have played the part, pretended to forget the term and done it like that. He would have gotten a laugh either way.
The following is not hyperbole: I have never met anyone who loved anything more than Uncle Frank loved working for his nephew Jimmy's show. Maybe the show didn't save his life, but it definitely rejuvenated it, reinvented it and gave it the unlikeliest of final chapters. Back in 2002, Uncle Frank was just another divorced ex-cop living in New York City and figuring out his twilight years. His daughters were grown and scattered around the area. He spent his days worrying about everyone else. He'd call his daughter Micki, and if she didn't answer, he'd show up unannounced at her apartment to make sure she was fine. The poor guy didn't have anything to do.
Fast-forward a few months: Suddenly Frank was living in Los Angeles and shooting a taped segment for his nephew's new late-night show. Jimmy wanted to make Frank a running character, which wasn't a stretch since Frank was a running character. In that first piece, Frank gave his "tour" of Hollywood, riffed on a few "Walk of Fame" stars and weaved in stories from his days as a Vegas security guard. The piece worked. During the weeks leading up to the launch, as we frantically shaped the show, we always knew we had five quality minutes in the bank. During a crucial press conference before our first show, Jimmy showed off our new stage, answered questions and showed the media that piece. We had all seen it 10 times at that point. We hung on every joke, hoping they would laugh in the right spots. They did. Nobody was happier than Uncle Frank.
He spent those weeks bouncing from office to office, getting to know everyone and basically being available. Really, really available. Even though he didn't need to arrive until rehearsal — sometime in the midafternoon — he routinely showed up four or five hours earlier. We used to think this was funny, but after a few months, we didn't even notice anymore. He showed up earlier than the writers, the producers, sometimes even the host. That's how it remained for 8½ years, save for a couple of stretches when his health faltered. Much like the theater itself, you always knew Uncle Frank would be there.
His nephews (Jimmy and Jimmy's cousin Sal Iacono) kept warning that the sweetest guy alive had a breaking point, how once upon a time they mined endless hours of entertainment out of Frank's fighting with his ex-wife — finding increasingly elaborate ways to egg them on — and that Frank swore like a truck driver if properly provoked. I never believed them. Uncle Frank??? There's no way. One night, Frank and I were shooting a red-carpet bit on Hollywood Boulevard for a movie premiere. I was the writer, which meant that — as Frank interacted with celebrities and did Uncle Frank things — I identified people for him, fed him dopey questions and prodded him in the right directions. At one point, Ashton Kutcher and Demi Moore strolled by and Frank started yelling out, "Ashton! Ashton!" After all, Ashton had been on Jimmy's show before. Surely he'd come over to see his old friend Uncle Frank.
Kutcher glanced over … and kept walking.
Frank screamed his name a couple more times, turned to the camera in disbelief, then started dropping F-bombs like a truck driver. There it was! Angry Uncle Frank! I poured gasoline on Frank's fire for as long as I could, then sprinted over to the editing bay with our director to shape a piece out of Frank's hilariously unexpected tirade. It killed in the next show. It absolutely killed. We played up the Ashton-Frank "feud" on subsequent shows and spent the next few weeks screaming, "Ashton! Ashton!" in the office. We couldn't get enough of it. Like always with Frank, he sensed when something had clicked and played it up even more. He bitched about Ashton to anyone who asked, spinning his disdain in his own style and using words you never hear any more (like "jerk-off") or words you've never heard before (like "egotist"). Anytime he lost steam, we stoked his fire with comments like, "Ashton started dating Demi and now he thinks he's too good for us," followed by a riled-up Frank griping, "Yeah, who does this guy think he is? Somebody needs to say something to him!"
"Watch what happens next time Ashton is on the show," Jimmy predicted. "When I throw it to Uncle Frank, he'll fold immediately and say something nice."
That's exactly what happened. Uncle Frank folded like an ironing board. At that point in his life, he was probably too happy to hold a grudge. Strangers were recognizing him on the street and yelling out, "Uncle Frank!" It always blew him away. He spent hours telling anyone who would listen how he loved the show, how the show saved his life, how fortunate he was. This was like waving red meat in front of Sal, a natural troublemaker, who could never resist deadpanning something like, "Uncle Frank, what did you think of that article that said we might get cancelled?" It always played out the same way. A shell-shocked Uncle Frank would stare at Sal in disbelief, grab his shoulder with two hands and hold onto it like a bear ("What do you mean? SAL, WHAT DO YOU MEAN?"), shake the real answer out of him ("TELL ME WHAT YOU KNOW!!!"), force him to repeat the real answer another 10 to 20 times, then spend the next 10 minutes laughing that Sal nearly gave him a heart attack.
Let's be honest: Uncle Frank wasn't a brain surgeon. He generated comedy from a simple place: sweetest guy alive, easily confused, a little slow, always endearing. He had the funniest blank stare of anyone I've ever met; you could actually see his wheels turning. He had a unique way of making everyone laugh with him, not at him, an important distinction.6 He freely admitted that he wasn't too smart and savored every good-natured impression of him. He always played along. Always. Jimmy's friends in the comedy world loved him as much as anyone; there wasn't a tougher group to win over, but he did.
Frank improbably emerged as our most reliable performer for taped comedy pieces. If anything, we relied on him too much that first year; he was a 200-inning starter who ended up throwing something like 285 innings. He peaked with his 70th birthday show (replete with a taped piece from the Playboy Mansion) and a piece mentioned in this space two months ago: the day he flew pigeons in Harlem with Mike Tyson. Tyson didn't trust our crew initially, but Frank quickly won him over just by being Frank. An odd bond developed between them. By the end of the taping, they were watching the pigeons fly around, with Frank doing his damndest to put it into words. He finally said that Tyson was a lucky guy, with Tyson lisping on cue, "Thank you, Uncle Frank." Like they were related or something. What an ending. I just loved that. I can still hear Frank gasping in disbelief as the pigeons flew in controlled swoops around him. Ohhhhhhhh, my god! Nobody else could have pulled off that particular day during such a particularly unhappy point in Tyson's life.
Frank had a way of lifting everybody. When we struggled that first year, it would have been easy for staff members to mope around, gripe about the long hours, bitch about the show's direction or worry about getting fired. But Uncle Frank loved being there so much that you felt guilty complaining. He flew through your office like a tornado, you laughed, you made small talk with him, he moved on to the next room … and then, two hours later, suddenly he was back again for Round 2.
In the years after I left the show, Frank gained a better sense for what made him entertaining — a dangerous development, since too much self-awareness would ruin his "character" — so they kept unearthing new tricks to make sure Frank remained Frank. He started doing more hidden-camera bits, more running gimmicks (like "Dr. Uncle Frank") and more stuff with his ex-wife, Chippy (a natural foil). When I came back in 2005 to promote my book as a guest, Uncle Frank was more delighted than everyone else combined. He dragged me around the greenroom by my right arm, pulling me into other people's conversations. Did you hear Billy's on the show tonight? Billy's on the show tonight! Outside of my own family, Uncle Frank was the only person who called me "Billy."
Upon hitting his mid-70s, Frank started to look older, skinnier, a little more worn down. His daughters finally made him see a doctor — a major accomplishment because Uncle Frank had been avoiding doctors and dentists for decades — and the news wasn't great. I knew he was in trouble when he missed a few weeks of tapings. This was like getting Brett Favre or Peyton Manning out of the lineup. He hung on for another two years of shows, even shooting funny bits as recently as a few months ago. When cancer made another run at him again this summer, it moved frighteningly fast — suddenly his body was under attack, and that was that.
Word spread about his condition pretty quickly. So many friends, coworkers and former coworkers visited him in the hospital that it became problematic for his immediate family; 10 minutes didn't pass without someone new arriving to pay his or her respects. The guy who once couldn't figure out how to spend his afternoons suddenly had an extended waiting list. I remember Jimmy telling me during the embryonic planning stages of his show, "I'm gonna get my Uncle Frank to move out here, I'm gonna put him on the show every night, he's gonna be great," and thinking, "Yikes, that sounds dicey."
Nine years later, he trended on Twitter. So much for dicey.
He passed away peacefully early Tuesday morning. I will remember him as a doting father, uncle, brother and friend. I will remember him through his granddaughter, Franki (his namesake), as well as the countless times he made me laugh, and how he started every conversation the same way: "Billy, how's the family?" I will remember how much my friends Jimmy and Sal adored him, as well as the identical gleam in their eyes every time Uncle Frank embarked on one of his patented rolls. I will remember his cussing at Ashton, connecting with Iron Mike and gasping at those pigeons in Harlem.
Above everything else, I will remember a healthy Uncle Frank wandering the offices within El Capitan Theatre, wearing that black police jacket, shaking hands, barging into conversations, clutching people's arms and giving his show the same life it gave him. You could say he returned the favor. Frank Potenza was the sweetest man I ever knew.
Bill Simmons is the Editor in Chief of Grantland and the author of the recent New York Times no. 1 best-seller The Book of Basketball, now out in paperback with new material and a revised Hall of Fame Pyramid. For every Simmons column and podcast, log on to Grantland. Follow him on Twitter and check out his new home on Facebook.
---
Previously from Bill Simmons:
Summer of Mailbag III: Attack of the Mailbag!
The Glorious Return of the Mailbag
Summer of Mailbag: The Revenge
Red Sox Report Card
'Good Lord! That's His Music!'
To submit questions for next week's mailbag, click here; to comment on this story through Facebook, click here.