Disputed: Hagler vs. Leonard
An oral history of the 1987 middleweight championship fight between 'Marvelous' Marvin Hagler and 'Sugar' Ray Leonard
By Eric Raskin on
The 1980s were a golden age for the welterweight and middleweight divisions of boxing. The era was headlined by four all-time greats: Sugar Ray Leonard, Marvelous Marvin Hagler, Thomas Hearns, and Roberto Duran. Between 1980 and 1985, each of them fought all the others, except for Hagler and Leonard. When they finally clashed in 1987, it was the climax of that extraordinary series — not literally the last fight among the foursome, but the last one that mattered. Hagler, the middleweight champion making his 13th defense, and Leonard, the former welterweight champ who was coming off a three-year retirement, were fighting for bragging rights over all their rivals. Who could have guessed that they would still be fighting over those bragging rights more than two decades later?
Editor's note: Former Boston Herald columnist George Kimball died in July. When the author requested an interview with him for this oral history, he declined due to health concerns but granted permission to use his book, Four Kings, which focuses on the careers of Hagler, Leonard, Hearns, and Duran. His quotes here are taken directly from that work.
The interview subjects in this story are identified with the roles they held at the time of the fight.
---
"Sugar" Ray Leonard: Someone comes up to me and says, "The Hagler fight. Great fight, man, great fight." I hear it every day of my life. And every now and then, I hear, "Ray, you know, you didn't win that fight, man."
"Marvelous" Marvin Hagler: I've been talking about this fight over and over for almost 25 years. It's like we just can't get away from it.
---
I. "Marvin was a boxer-businessman. Ray was a businessman-boxer."
Stephen Wainwright (Hagler's attorney, 1977-1984): Every time Ray Leonard fought on television, the housewives turned it on. The advertisers understood that Ray was somebody the housewives enjoyed watching, so he became a big draw. He got endorsements because of his performance in the '76 Olympics, which is where he got his fame. Marvin had no Olympics. Marvin had no fame. He had to make it all himself.
Hagler: I wasn't that marketable as a fighter. I had to knock the other guy out.
Roger "Pit" Perron (Hagler's assistant trainer): Marvin won the national amateur title in '73, and he didn't want to wait three years to try to win a gold medal. He wanted to turn pro right away because money was on his mind. He turned pro in '73 and fought somebody up in Brockton [Mass.] for 40 bucks. In 1977, after Leonard come out of the Olympics, he turned pro on ABC Wide World of Sports on a Saturday afternoon for $40,000.
Larry Merchant (HBO analyst): Ray Leonard faced the same challenge Muhammad Ali did early in his career. The hardcore boxing world was always suspicious of a good-looking guy who the women loved. They thought he wasn't serious. He wasn't taken seriously as a fighter until he lost to Roberto Duran in 1980. Before that, there were questions about whether he was just a telegenic fighter with a top-flight amateur career who wasn't tough enough to be an elite professional fighter. But the way he fought against Duran, being willing to mix it up and fight Duran's fight, resonated in the boxing world. And even though he lost a close decision, he actually finished stronger than Duran, which I don't think anyone had ever done before.
Hagler: I didn't resent Leonard when we were both coming up. As a matter of fact, when Leonard was an amateur, I kinda liked him. I'd been following him since the Olympics, like everybody else.
Leonard: I was not necessarily following Marvin's career closely. But you couldn't help but hear about him, some of his dramatic fights. He was old-school to me.
Bernard Hopkins (middleweight champion, 1995-2005; current WBC and The Ring magazine light heavyweight champion): I always was a Hagler fan. I identified with him. Bald head, black guy, never really smiled. I don't want to compare color — obviously, Leonard was black, too. But Leonard had an Oscar De La Hoya type of presence when it comes to marketing. Leonard had the smile; he had the charisma. Hagler, no disrespect to anyone, but he had the D-block look, like he was out of Rahway State prison. It was a hard look. It was his look. That drew me to him, and later I identified with the hard way he came up through boxing.
Perron: In between 1976 and '87, Marvin never lost a fight. Eleven years without losing a fight. He beat everybody. Four guys in Philadelphia, all ranked in the top 10: Bennie Briscoe, Boogaloo Watts, Willie Monroe, and Eugene Hart. He was getting to the point where nobody wants to fight him. So [Hagler's trainers] Pat and Goody [Petronelli] decided they're going to hook up with [promoter] Bob Arum and Top Rank, and that's when good things started happening. It wasn't long after that, in '79, he got the title fight with Vito Antuofermo, which was a disgrace. Marvin probably won 11 of the 15 rounds and he got a draw.
Leonard: When I fought Wilfred Benitez — my first title fight — Hagler fought Antuofermo on the undercard. We watched it from the dressing room, and when the fight was over, we all said, "Hagler's champion now." And they called it a draw. I kind of felt a little empty for him, but I moved on very quickly because I was next. I knocked out Benitez in the 15th round and won the title, and my career started moving. I think, subconsciously, having seen Hagler get robbed, it hit home that I had to finish strong. I didn't want to let it go to a decision.
Vito Antuofermo (middleweight champion, 1979-1980): Leonard made a million dollars to challenge Benitez. On the same card, I made $150,000 and Hagler made $40,000. We were all jealous. Leonard was only a challenger — even though he was a great fighter, he was only a challenger. When I fought for the title against Hugo Corro as the challenger, I made $40,000. And in my very first defense, they made me fight Hagler. That's a tough first defense. Nobody wanted to fight him. Hagler was the best I ever fought. He's a southpaw who does everything so naturally both ways. He switches stances back and forth, and that gets a guy really mixed up. You can't get comfortable. Most of the time it would take me a couple of rounds to figure a guy out, and then I'd take over. But with him I was never able to do that.
Barry Tompkins (HBO blow-by-blow commentator): I called fights with Ray as my partner for many years, but I also called a few fights with Marvin. Ray and Marvin, I don't know how many people know this, but they always had a relationship. And it was not necessarily a hostile relationship. I think there was respect on both sides. I think both had this appreciation for one another's boxing ability.
Perron: Marvin hated Ray Leonard. He hated him!
Tompkins: It was a white-collar guy and a blue-collar guy. Ray was the white-collar guy; he just knew how to work a room. He was always that way. He had a demeanor that just said, "I'm somebody important." Marvin was an everyman — no pretention at all. I remember when he was champion, one year he and his wife took a Winnebago and went to campgrounds all over the country. I think they took a month, driving around from campground to campground, pressing the flesh with people, barbecuing hamburgers. I really wish more people would have seen that side of him.
Seth Abraham (president, HBO Sports): Marvin was more a traditionalist and a purist. The money was great, but he didn't fight for the money. For Marvin, the belts came first, the history came first, the legacy came first. He was a boxer-businessman. Ray was a businessman-boxer.
Wainwright: It was always tricky for Marvin, even as champion, to get both money and exposure. Sometimes he fought on national television on Wide World of Sports for less money to get recognition. Then he fought on HBO for more money without getting the same kind of exposure he would get on network television. He ultimately decided that fighting on HBO was better than fighting on ABC. He sacrificed the exposure. But he needed the exposure.
II. "I was stoned. … Who knows what I was going to say?"
Merchant: In 1980, 1981, it didn't seem to me that Hagler-Leonard was a fight that fans were really clamoring for. Ray Leonard fought Duran twice, fought Hearns — there seemed to be enough guys out there to fight.
Leonard: I was at 147 pounds, and I didn't have a problem making weight. So I thought fighting Hagler at 160 was too far off. Hagler did not really come into play until I moved up another weight division, to 154, and fought Ayub Kalule in June 1981. That's when I first thought, I could really do this. Then I went back to 147 for the Hearns fight that September, and after that I really started seeing Hagler as a fight that could happen. I didn't publicly say I wanted to fight Hagler. But I thought about it.
J.D. Brown (matchmaker for Leonard's Victory Promotions): Nobody really knew if Ray wanted to fight Hagler. Ray Leonard is a rare breed; he wouldn't let you know what he's thinking. He would say things to indicate that he was interested in going one way, but not show his hand to let people know.
Perron: One afternoon, I seen a whole bunch of limousines pull up in front of the Petronelli Brothers Gym [in Brockton, Mass.], and it was Ray Leonard. He had his crew with him, sparring partners, and the whole entourage, and he went up to the gym. And I don't even think Marvin knew he was coming, but somebody put a phone call in and Marvin showed up. And I can remember him saying, "Come on, Ray, come on Ray, give me a fight!" And Leonard would say, "Marvin, you're too big for me! Look at you! You're 160, I'm 147. That's not going to happen. It ain't never gonna happen."
George Kimball (Boston Herald boxing writer): After defeating Hearns, Leonard made just one defense of the undisputed welterweight title, a third-round TKO of Bruce Finch in Reno in February 1982. He was to have met Roger Stafford in Buffalo that May, but a routine prefight physical revealed a detached retina in his left eye. The Stafford fight was canceled, and Leonard underwent surgery at Johns Hopkins Hospital in Baltimore.
Charlie Brotman (Leonard's publicist): Ray had suffered a detached retina, and nobody knew if he would fight again or retire. It was the fall of 1982, and Ray told me he wanted to announce a decision. I decided I wanted to create the largest news conference that's ever been staged. We reserved the Baltimore Civic Center, which is where he made his pro debut. He wanted a news conference, and I just went hog wild and got about 10,000 people there.
Leonard: I didn't know what I was going to say. The majority of my mind was saying "retirement." But the Sugar Ray guy in my head was saying, "Bring Hagler in, bring all the guys in, make this thing a huge event." I was thinking more like a publicist.
Brotman: Nobody knew what Ray was going to do. I thought that maybe he was going to announce that he was going to fight Hagler. We invited Hagler, and Hagler came. He thought the announcement was going to take place. Ray got on stage and said, "It would be one terrific fight … but it'll never happen."
Leonard: I was stoned. I took a few hits of cocaine before I went out, and I was concerned that I would be talking too fast. I was a nervous wreck. I kind of thought I knew what I was going to say, but I wasn't 100 percent sure. There was a small chance I was going to say I wanted to fight Hagler — I don't know. I was under the influence, so who knows what I was going to say?
Hagler: He's looking right at me, and then that's when he came out with that, "It will never happen." I was like, Who does this guy think he is? He always had to act like a superstar.
Wainwright: I was there, along with Marvin, Goody, and Pat. Privately, we believed that the reason we were invited was so he could issue the champ a challenge. There was no other reason why he would invite us other than to challenge us.
Kimball: They had flown to Baltimore to be used as stage props in another Sugar Ray Leonard moment.
Wainwright: When we sat there and listened to the performance, we were waiting to be challenged. We were surprised and disappointed when he said what he said, because we had not expected it at all. It seemed pointless to invite us down there to announce that he had nothing to announce. He's a showboat. He just wanted to get some attention, satisfy his ego.
Brotman: Everybody seemed to enjoy it — except Hagler!
Leonard: Looking back, in retrospect, that was not right. I regret the way I strung him along.
Brotman: I wouldn't have advised Ray to do it that way. It was mean-spirited. His reputation was that of a choirboy — so sweet, good-looking, nice personality, gregarious. Why would you want to tear down the personality that you have put together over these years? We could have rephrased it. We could have done other things. Nobody benefited from the way he did it. If you're going to have a news conference and sell something, the idea is for somebody to purchase what you're selling. Well, there was no product, no service. There was no winner.
Hagler: Even that night, when he was done talking, I told myself: Oh yeah, one day, it's gonna happen. If you keep knocking everyone out, they're going to have to come to you. Look, I believe a true champion stays in his own category. I controlled the middleweight division. I owned it. I didn't want to go up or down in weight. I just wanted to defend my title. I believed if I waited, the big names would come to me at middleweight. And I always said that the only way they're going to beat me is [to] knock me out. And if they're going to knock me out, they better hit me with that ring post, because I ain't going nowhere. So the Roberto Durans, the Leonards, the Tommy Hearnses, these guys were like vultures, sitting on the fence, waiting for somebody to beat me so it would make it that much easier for them to come in and take my title. And I said, "No-no-no-no."
Wainwright: I didn't give up on the fight after that. I talked to Leonard's manager, Mike Trainer, about it, but they were taking the position that Leonard was the draw and therefore Leonard was entitled to a king's ransom. That never sat well with the Petronellis or Marvin.
Merchant: There was no reason to think that it was going to happen. Ray had the problem with his eye, and so it was out of sight — so to speak — and out of mind. At that time, the problem that he had with his eyes usually ended careers. It didn't seem like he was coming back for anybody.
Leonard: Pat Petronelli claims that I told him after one of Marvin's fights that I wanted to make the fight. I'm sure I did tell him that. But that was probably after my third tequila.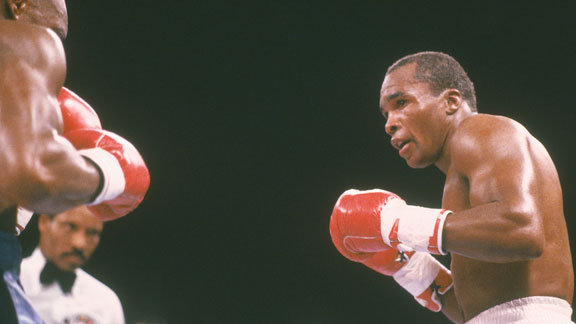 III. "What Ray wanted in those days, Ray got."
Leonard: When I first retired [at the press conference] in '82, that's when I started to feel something missing from my legacy. It was Hagler. Being retired, having suffered a partial detached retina, that's when I really thought about him. I saw my career coming to an end, and that realization made me want the fight to come to fruition more than ever.
Abraham: Boxing was what Ray loved to do. He loved the smell of the sport. He loved the dollars of the sport. And Ray was always looking for challenges. It was going to be hard for him to stay retired.
Leonard: I had fought Hearns and Duran already. Then, during those years, Hagler fought Duran, and Hearns fought Duran, and Hagler fought Hearns. Me versus Hagler was the only one that hadn't happened. I didn't lose sleep, but it stayed with me. Also, I was doing Hagler fights on HBO, and I interviewed Hagler at his home for one of the shows. I'm sitting there, asking Hagler how did he feel, what's next, what's your future, and everything. And I was like, Whoa, this is really strange.
Ollie Dunlap (Leonard's assistant): I recall in San Remo, Italy, when Hagler fought Fulgencio Obelmejias, there was a black Italian kid that was on the card, and he rode up in the elevator with Ray to get a picture. In his broken English, he was saying that, "You can beat Marvin. You have speed." Over the next few years, Ray would hear that from different people.
Tompkins: I know exactly when Ray decided that he could beat Hagler. Ray and I were doing the Hagler-Duran fight in 1983. Hagler won, but it went the distance and it wasn't easy. And you have to understand, Ray and Roberto had a relationship. They had great respect for each other. At the end of the fight, Duran came to where we were sitting at ringside and stuck his head between the ropes right after the decision had been announced, and he said to Ray, "You can beat this guy." About six months later, Ray and I were in Florida for a fight, and the day before, he called me. "You want to know how to beat Marvin Hagler?" he said. "You gotta fight three times each round. For 15 seconds at a time, just don't stop throwing punches, and then get out. You've gotta do it at the beginning of the round, once in the middle of the round, and you've gotta finish the round. And that way you steal the fight."
Dunlap: I remember there were a few celebrities at the Hagler-Mugabi fight in 1986. Michael J. Fox was right next to Ray. And at the end of the fight, Ray kind of motioned for me to come up. He had an aisle seat, and I was kneeling down, and he turned to me and said, "I can beat him."
Leonard: I was sitting there with Michael, and I'm watching Hagler get outboxed by a guy who is known as a slugger, John "The Beast" Mugabi. I said, "Michael, I can beat Hagler." He said, "Yeah, Ray, yeah." Everyone thought I was being a smart-ass. But I really saw a sign [in that fight]. I mean, I always felt I could outbox Hagler. If Mugabi can do that, I can do an even better job. That had the most bearing on my decision to go ahead with a Hagler fight. I felt he was at a point that he didn't have that same fire in his body or in his heart. He wasn't the same guy.
Dunlap: That evening, we were in Michael J. Fox's room at Caesars. Whoopi Goldberg, Ray Leonard, and myself. The suite was crowded, so we ended up sitting in the bathroom — somebody was sitting on the toilet, [a] couple people on the side of the bathtub. Ray said to me, "Call Mike [Trainer]." I looked at my watch and said, "You know, it's three hours' difference. It's the wee hours in D.C." He said, "Call Mike. Tell Mike I want to fight Hagler." And we all kind of laughed. Whoopi and Michael J. Fox, they're like, "Yeah, Ray. Sure." The next day this conversation comes up again. Ray is talking about, "Yeah, I can beat Marvin, because I can do this and he's doing that." And everybody's like, "Yeah, Ray. What's the population of your world?" You have to remember, Ray's social life after the surgery was kind of wild. You didn't take his comeback talk serious. He had some hard recreational bad habits. I never thought he would fight again, especially not against Marvin.
Wainwright: A boxer is only entitled to so many beatings, then he slows down. Marvin had never suffered a beating before. That's the first time I ever saw Marvin suffer a beating, the Mugabi fight.
Antuofermo: At his best, Marvin wouldn't let Mugabi hang around that long. He wouldn't get hit that much.
Hagler: Anyone who says I was slowing down from the Hearns fight and the Mugabi fight — no, I wasn't. But maybe I wanted them to think I was? If I looked good out there, Leonard would never come. Everybody's looking [for] a possibility. [If] I'm vulnerable, they could win. For me, I could have retired after Mugabi. But there was one more guy that I wanted to fight.
Al Bernstein (ESPN boxing analyst): I did the Hagler-Mugabi fight, and I didn't think Hagler was slowing down. I thought Mugabi fought a terrific fight, and I thought Hagler was winning that fight by more than the judges were giving him credit for. I don't think he was slowing down appreciably. But you know, Marvin Hagler and Kenny Norton were probably the two boxers who made the biggest mystery of their ages, so we'll never know how well into his 30s Hagler was. And he'd had a very long career. So he should have been, maybe, a little less than he was before.
Angie Carlino (Hagler's personal photographer): Hagler, I think, fudged his age a little bit. He was going to get old before Ray. I remember his birth certificate read 1952, and then all of a sudden it became '54. When he fought Ray, he might have been about to turn 35, even though officially he was two years younger than that. He was closer to the end than people realized.
Leonard: I've heard this theory that I ducked the fight until I saw Marvin slowing down. That's bullshit. As he gets older, I get older, too! And I'm out of the ring! When I hear these things, I laugh. I'm a smaller guy, and I've had one fight in five years and a detached retina. If I did wait until I saw him slowing down, don't I slow down, too?
Bruce Trampler (Top Rank matchmaker): After the Mugabi fight Marvin didn't want to fight anymore. He couldn't quite formulate a response to the writers after the Mugabi fight. They were saying, "Are you going to retire? You going to fight?" And he couldn't answer them. I think we all knew what the answer was. He knew he was near the end. He particularly didn't relish the training camps. He would isolate himself. And it was a miserable existence because he had a family back home. A segment of his life was devoted to being a hermit, and he didn't enjoy that anymore. But he got goaded into [the fight] by Ray, who is kind of a needler, a witty guy. And what Ray wanted in those days, Ray got.
Nigel Collins (The Ring magazine editor-in-chief): One key event was a supposedly innocent dinner between the two at Leonard's Bethesda, Md., restaurant. With Sugar Ray involved, you have to wonder exactly how innocent it really was. The way things turned out, he was probably setting a trap.
Leonard: The way Marvin thinks, if you're not a threat, Marvin's cool with you. So we sat there at Jameson's, my restaurant, had a few glasses of champagne, and he just started telling me things. He said, "I'm not motivated, I cut easy." He was telling me things that normally a fighter wouldn't [say], because I'm retired. He felt like I felt when I was retired. You don't have that same commitment in your heart, or that edge that we had from day one. I think you become civilized. You're not the fighter you used to be because now you're flying in private planes, you're staying in suites, girls tell you how cute you are. That's not conducive to being a great fighter. He had one foot out the door, I think, after the Mugabi fight. He had all the fame he wanted, he'd made a substantial amount of money. There's not as much reason to keep fighting.
Kimball: Hagler was torn. Leonard was the one fight he'd always coveted, but four years later he still resented the way Ray played him at that Baltimore retirement ceremony. How could he be sure this wasn't just another ruse?
Hagler: I might have retired if not for Leonard wanting to fight me. But I guess you want to prove to yourself that you're the best out there. I didn't want guys to say, "You know what? Hagler never gave me the opportunity to fight him. I would have beat him."
Merchant: The fight was coming together, and my recollection is that the narrative was, "Is Sugar Ray Leonard crazy?"
Ray Leonard Jr.: I had to deal with all the kids at school saying, "Hagler's going to knock your dad out." My dad was going through a really rough time with the drugs and everything, and there was a lot of infighting within our family, so I was actually kind of happy that he was going back into the ring. My mother and everyone else said, "Why are you doing it?" For me, it just gave me a sense of peace.
William Nack (Sports Illustrated boxing writer): A great boxing observer, Barney Nagler, always called it "the great delusion." When Ray decided finally to fight Hagler, people were wondering [if] he was a victim of the great delusion — he thinks he can do it again?
Wainwright: There were three things that ultimately were of importance to negotiations for the Leonard-Hagler fight: the number of rounds, the size of the ring, and the size of the gloves. The people negotiating for Marvin allowed Mike Trainer to dictate the terms because they were so confident that Marvin was going to walk right through Ray Leonard. So they gave up on the gloves, they gave up on the number of rounds, and they gave up on the size of the ring. Leonard got a huge ring with huge gloves and 12 rounds instead of 15.
Angelo Dundee (Leonard's head trainer): Whenever I had a fight with Ray Leonard, it was in the contract it had to be a 20-foot ring. I didn't want a bandbox or a telephone booth. My fighters knew how to move.
Tony Petronelli (Hagler's assistant trainer and Pat Petronelli's son): What you have to understand is we all thought Marvin was going to beat him. You could have given them the whole parking lot to fight in. I just thought Marvin was too much for him, you know?
Perron: Leonard had a lot of demands. Money wasn't one of them. Leonard already had a couple hundred million in the bank, but Marvin had about $20 million. And the concession was that it doesn't matter which kind of gloves they used, it doesn't matter if he went from an 18-foot ring to a 20-foot ring, it doesn't matter if he went from 15 rounds to 12 rounds. Marvin conceded all that in exchange for the pay-per-view revenue from the whole country. The only two states Leonard had were Maryland, where he lived, and Washington, D.C. And that's why Marvin made $21 million and Leonard made $13 million. The base pay was like $12 million for Marvin and $11 million for Leonard. Leonard didn't care about the money — he already made his millions.
Lee Samuels (Top Rank publicist): Hagler hadn't lost in 10 years. When you have a fighter who hasn't lost in 10 years, losing doesn't cross your mind. Nobody at Top Rank expected him to lose.
Trampler: I always felt Trainer was fucking with Marvin. Once he sensed that Marvin did want the fight, he was going to make him pay for it. The gloves, the ring, everything. I always felt that he was doing it just to get Hagler's goat, to upset Hagler. But virtually every request that the Leonard camp made was granted, and it was pretty clear that the reluctant Hagler was now into it, like, "Give 'em whatever they want, I don't care. I just want to destroy the guy."
Nack: Mike said, "I was willing to give them the things they wanted: for the fight to be in Vegas, for Arum to be the lead promoter, and for Hagler to get more money. And with that money, I bought three rounds."
IV. "My face was not used to getting hit. It was used to having makeup put on it."
Leonard: My game plan on the media tour was to make Hagler think people don't appreciate his boxing ability. I said, "Do you think Hagler's going to run at me, fight me toe-to-toe? That's an insult to his intelligence." I never said anything that was derogatory, because I didn't want to feed that anger and aggression that he normally has when he goes to camp. I said, "This man's a great man, he's a great family man, he's a legend," I just said everything so when he got to the podium, he couldn't say, "Ray's an asshole." I didn't give him the chance to get angry.
Brown: Mike Trainer decided that after not fighting since 1984, Ray needed to have a couple fights before Hagler. So we did simulated fights. We brought in guys from around the country that were in the top 20, and Ray had four fights. He was 4-0 with two knockouts. The other guys had headgear on with small gloves, and Ray had no headgear with bigger gloves because he wanted to get used to getting hit. They were 10-round fights, and the guys got paid good money. No outsiders came in, the gym was closed down completely, nobody knew what was going on.
Leonard: The first few weeks in training camp were just monstrous. These young sparring partners were kicking my butt. My face was not used to getting hit. It was used to having makeup put on it. My cardiovascular was not great. I don't want to train this day. I don't want to train the next day. You know what? I want to go home. The first time I thought about packing it in, I went home and [my wife] Juanita said, "You wish you hadn't said yes to fight Hagler." I got very defensive. She said, "Ray, it's OK." And I looked at her, I said, "Yeah, you're right. I just had a bad day." Then I remembered: I want this.
Dundee: Ray had a lot of time off, but the big key is that Ray was an athlete. While he wasn't fighting, he was doing roadwork, going to the gym, doing something. The time off made no difference. He was in shape.
Tompkins: I visited Ray early in his training, and it was a completely different Ray Leonard than I'd ever seen. His personality was different. He had this edge I'd never seen before.

Carlino: I went out to Palm Springs for Marvin's training camp, and I could tell he was slowing down a little bit. But you didn't want to say that to anybody.
Brown: One night I got a call from Mike. He told me to come to Ray's room, and they told me they wanted me to go spy on Hagler for a couple days. I disguised myself — my hair was black, so I dyed it gray. I put these horn-rimmed glasses on. And I went and sat in the back and watched him train for three days. I picked up a few things. He wanted to be in the center of the ring for all the sparring sessions; when a round would start and the guy would come out of the other corner, he'd be standing in the middle, waiting for him. And he got mad at his sparring partners, the Weaver triplets, because they weren't fighting him. They were boxing him. They were hitting him, moving, and he's like, "Come on, stop moving. Fight me, you little bitch!"
Samuels: The Weaver triplets had a lot of energy. That's why they were brought in, to get Marvin ready to deal with Leonard. And they did pose some problems. That's what they were supposed to do.
Carlino: I remember when J.D. Brown showed up. He was roaming around and I recognized him, but the Petronellis didn't know who he was. I didn't say anything to anyone because I didn't think it mattered. I figured there wasn't anything he could learn from watching public workouts.
Leonard: I said to J.D., "You show me that you were there by taking a picture with him to document it."
Brown: At the end of his training sessions, Hagler would sign autographs and take pictures. So I took a little camera up there, I put my arm around him, somebody took the picture, and I left. I came back and reported what I saw to Ray, and he put it to good use.
Nack: Ray was going to lose this fight until about six weeks before the fight. Even his handlers were demoralized. It was like he wasn't taking it seriously. He was getting in the ring with a murderer, in the boxing sense: a hard-hitting middleweight legend. And even though he might not be the same Hagler he was five years before, he still punched tremendously hard. And Ray was just saying, "It'll be OK, it'll be OK." Well, it wasn't going to be OK. Mike Trainer kept saying to him, "Ray, you've got to suck it up and train like you've never trained in your life." Some people don't know this, but Angie Dundee was never there for Ray's whole training camp. Angie usually came in two to three weeks before a fight. But Mike called him six weeks before and said, "Angie, you've got to come now. Please come now, the kid needs help. He's taking things too easy." And Angie came in. Every day, they plotted strategy and tactics. Every day, they sat and talked about what he'd have to do to win. They put him in the ring with bangers, hard-hitting guys. Some of the rounds he fought in sparring were seven minutes! That's a long time to have your hands up in front of your face. But that's what Ray started doing.
Brown: I brought in Quincy Taylor to be a sparring partner. He was 3-0 at the time, a young hotshot. I thought he would be good because he fought from both sides, like Hagler. And he could punch.
Leonard: The fight was getting close, and I'd gotten so strong that I was breaking these sparring partners down. I was feeling so strong; I was going to fight Hagler toe-to-toe. I was sharp. And then, five days before the fight I was sparring Quincy Taylor, and I fell asleep for just a second and he hit me with a shot.
Brown: Quincy landed a punch that rocked his kinfolks. Ray was out on his feet. They were over near the corner where I was standing when Quincy hit him, and Quincy kind of realized he hurt him, and I said, "Go to the body! Go to the body!" Ray laid on the ropes like Ali and wiggled, but he was hurt. I think Janks Morton was the person who hollered, "Time!" There was still another minute to go, but if Janks let it go any further, the fight might have gotten canceled. Ray might have gotten knocked out if Quincy landed one more big shot.
Leonard: Quincy Taylor hit me so hard. I was out. Quincy realized that I was hurt, [so] he kind of pitty-patted with me. I've never seen the expressions of my entire camp change as fast as they did. The place got like a funeral, and the ride home was even worse. They were all like, Oh shit. Ray's going to get knocked out.
Brown: The van ride back to the hotel, nobody said anything. Everybody was kind of like, If Quincy Taylor did this to Ray Leonard, what would Marvin Hagler do? I remember — it was almost midnight that night — Ray called me on the phone from his room. He said, "You know what? People think that I'm going to lose this fight. But Hagler can't beat me. He can't beat me." He kept saying it over and over: "He can't beat me. I've got a strategy for him."
Leonard: It changed my strategy. In the first months of training, my whole game plan was box, box, box. That's the logical thing to do against Hagler. But I kind of settled into being a middleweight. I was hitting guys to the body, hurting guys. I felt so strong. I became this beast who was going to beat Hagler up, open up the scar tissue over his eyes, cut him up. What a mistake that would have been. Thank god for Quincy Taylor. I should have paid him more. Best punch I ever took!