Tebowmania in Pictures
Scenes from game day in Denver
By David Jacoby on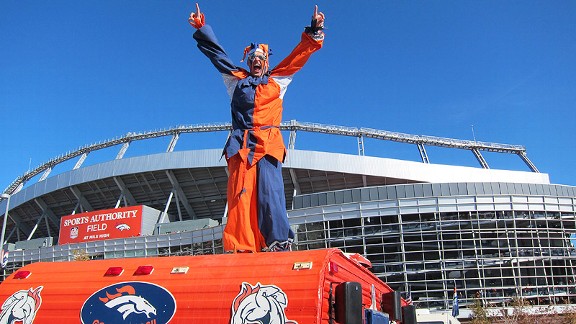 Tim Tebow is a phenomenon, Tim Tebow is a trend, Tim Tebow is a verb, Tim Tebow is a terrible quarterback. This year, the Denver Broncos QB captured the nation's attention and imagination — all before producing on the field of play.
This past weekend, as the Broncos faced the Detroit Lions, I was dispatched to Denver — the epicenter of Tim Tebowmania — to take the pulse of the Tebow faithful. What I learned is that people want something to believe in, and in Denver, Tim Tebow is that something.
I talked to cabdrivers, Broncos fans, Lions fans, homeless folks, bartenders, waitresses, and one dude dressed like a jester. I found that the people of Denver have faith in Tim Tebow. They have faith in his abilities as a quarterback. And they have Jell-O shots. Lots and lots of Jell-O shots.
Here's a look at what I found in Colorado on Sunday, when I went to investigate this frenzy over the most popular professional athlete whose performance can best be summed up in one word — "pedestrian."
---
My journey started with this man, Jamal Gaither. Jamal isn't the biggest NFL fan, but he had a tremendous outfit so I got his thoughts on Tim Tebow:
Gaither (left): "I think Tim Tebow is a good athlete. He is in the NFL now. I think Tim Tebow has his own swagger with it, you know what I'm saying. He can run, his accuracy is good. I think he is going to take over this whole position, the whole position of the quarterback now."
Stephan Godleski: "Tebow Time is five minutes and Brady Quinn is coming up next. I think Tebow is terrible; I could throw better passes than him … He is just a good, clean-cut kid … and [he] is a hero and everyone wants [him] to do good, but he has no arm."
Jacoby: "Why are you dressed like a pimp?"
Godleski: "It's game day! Halloween, got to have a good time. I'm just trying to have fun! C'mon maaaaaan!"
Jacoby: "Do you think the Broncos are going to win today?
Mile High Monster: "I am not sure about today. I think it is anybody's game, but in the long run, I think Tebow is going to work out."
Me: "What is your favorite thing about being a Broncos fan?"
Mile High Monster: "The paaaartaaaay. Having a crazy time."
Jacoby: "Why do you think everyone is so crazy about Tebow?"
Bronco Billy: "He is a winner. He is definitely a winner."
Jacoby: "Why are you handcuffed together?"
Fred Wilson (handcuffed to Diana Shaffer): "It is called Tebowing. Anything you want, you just Tebow and it appears. Need an extra beer? Tebow."
Marc Grabowski: "I think time will tell if he was sent from the heavens or if God is just playing a bad trick on us."
Me: "Why do you think he has become a national phenomenon?"
Grabowski: "I have no idea. I have been asking myself that for weeks. He is wholesome, he is good-looking, and everybody's mom wants their daughter to date him."
"Sally Miller" (Woman dressed like a zombie, who later admitted she gave Jacoby a fake name): "I love Tim Tebow because he rocks and he is a Christian man."