The Malice at the Palace
An oral history of the scariest moment in NBA history
By Jonathan Abrams on
"I think a lot of us made a lot of selfish decisions that day. I made a selfish decision to stop trying to break it up and to confront Lindsey Hunter and Richard Hamilton. That was my selfish decision. Ron made a selfish decision by going into the stands. We all made selfish decisions, but at the same time, we were protecting each other. It's kind of hard to see if that's right or wrong."
— Stephen Jackson
The images are just as striking almost a decade later. A cup splashes off Ron Artest in the closing moments of a blowout win against the Detroit Pistons. He leaps into the stands at the Palace of Auburn Hills and into sports infamy. Mayhem follows. Players fight fans, fans fight players, a chair is thrown, bottles are tossed — in seconds, the invisible wall that separates athletes and spectators is demolished; the social contract of arena behavior is left in shreds.
What happened that night went well beyond nearly $10 million in forfeited paychecks and 146 games lost in suspensions. The melee transformed the Pacers from a Finals contender into a fringe playoff team and, eventually, a hopeless lottery case. Artest commenced a bizarre journey that took him from being one of the country's most loathed athletes to Metta World Peace. The careers of Stephen Jackson and Jermaine O'Neal were forever tainted by split-second decisions that no human could have possibly premeditated. The media debated security, fan behavior, and the tenuous relationship between players and spectators for weeks. It represented the NBA's worst nightmare: confirmation of the broad-stroke stereotype that its athletes were spoiled thugs.
"There were roughly half a dozen elements that caused that brawl to happen," says Mark Montieth, who covered the Pacers for the Indianapolis Star. "If Artest doesn't make that hard foul on Ben Wallace, it doesn't happen. If Ben Wallace doesn't react the way he did, it doesn't happen. If the referees control the situation, it doesn't happen. If Artest doesn't go lay down on that scorer's table, it doesn't happen. If the fan doesn't throw the beverage, it doesn't happen. There was a continuation there, a succession of things. You take away any one of them and the whole thing doesn't happen."
We interviewed as many of the participants and witnesses as we could from that night for this oral history — everyone below is listed with his or her job title on November 19, 2004. Or, as the most infamous night in NBA history would come to be known, "The Malice at the Palace."
The Statement Game
It was a little more than two weeks into the season, but this was a crucial game for both sides: Friday night on ESPN, their first meeting since the defending-champion Pistons had knocked Indiana out of an emotionally charged Eastern Conference finals that was best remembered for a vicious flagrant foul by Artest on Rip Hamilton in Game 6. Jermaine O'Neal and Jamaal Tinsley had played hurt in the deciding sixth game and Indiana had stewed all summer, believing it had the better team. Both sides had tinkered with their rosters — Detroit subtracting reserves Corliss Williamson, Mehmet Okur, and Mike James and adding Antonio McDyess, Carlos Delfino, and Derrick Coleman; Indiana trading Al Harrington and adding Stephen Jackson — but the bad blood persisted.
Jermaine O'Neal (forward, Pacers): We didn't even know how good we were. We had won 61 games off pure talent. In this league, it's about maturity, experience, talent, and we felt like we had all of that going into that year. We really did.
Anthony Johnson (guard, Pacers): We basically kept the same team [from the 2004 conference finals] and probably were even better.1
Darvin Ham (forward, Pistons): It was an intense rivalry between us and Indiana. Rick Carlisle, who was coaching the Pacers at the time, had just left us. We both had similar playing styles.2
Mike Breen (that night's play-by-play commentator for ESPN): It was one of the early-season marquee matchups.
O'Neal: We did not like each other. It was one of those old-school Knicks-Bulls rivalries I used to always see on TV and see the guys getting into it, little pushes and stuff like that. That's how we viewed it.
Scot Pollard (center, Pacers): When you play somebody in the preseason, the regular season, the playoffs, you start to develop a rivalry. That's just how it is. When I was in Sacramento, it was the same thing with the Lakers. You play each other six, seven times a year or more, you're going to start getting familiar with those guys, you're going to start having some bad blood.
O'Neal: We felt like they were in our way. We were younger. We were better. We were more talented. We knew we were good — we had the best record at the time and they were defending champions. They were saying, "We're the top dogs. We're the last ship until the ship sinks. Y'all gotta come through us." And that's what type of rivalry it was.
Mark Montieth: Ron had been playing well. If you look at his stats for the first seven or so games that season, he was playing great: averaging over 20 points and shooting the best 3-point percentage of his career. Against Detroit that night, he had like 17 points in the first half. He was hitting 3s. They were just dominating.3
The Pistons pulled within five points in the fourth quarter, then missed their next 10 field goals. Indiana eventually put the game away with consecutive 3s from Austin Croshere and Stephen Jackson. But the game had become increasingly chippy. With 6:43 remaining, Rip Hamilton elbowed Jamaal Tinsley in the back after a defensive rebound — the Pacers bench erupted, and not without reason; it could have easily been called a flagrant foul. Then, with 1:25 remaining, trailing by 11 points, Wallace knocked Artest into the basket support while blocking his layup (no foul was called). There were just 57 seconds remaining when Jackson stepped to the line and hit two free throws to give Indiana a 97-82 lead.
Sekou Smith (NBA writer, Indianapolis Star): With just under three minutes to play, Mark [Montieth] leaned over to me and said, "Man, these fouls are getting harder and harder." He just kept saying the refs have to get control of the game.
Stephen Jackson (guard/forward, Pacers): [Toward] the end of the game, I recall somebody on the team told Ron, "You can get one now." I heard it. I think somebody was shooting a free throw. Somebody said to Ron, "You can get one now," meaning you can lay a foul on somebody who he had beef with in the game.
O'Neal: I remember guys talking about that. I had just gotten taken out of the game maybe two or three minutes before that. We had just blown them out. You could see there was animosity.
Mike Brown (assistant coach, Pacers): You could see it start to get a little testy between Ron and Ben. There was a foul at one end, another foul, and then a borderline foul and problems beyond the foul. The game was out of hand. I was hoping the officials were going to kick both players out.
Mark Boyle (radio play-by-play, Pacers): There was no reason for those guys to be out there. I was surprised. It was an intense game — a bitter rivalry. But that game had been decided.4
Larry Brown (head coach, Pistons): I don't think the game was so far out of hand that you're going to embarrass a player by putting him in for 45 seconds.
Montieth: Reggie Miller did not play. Anthony Johnson did not play. Scot Pollard did not play. Those guys were all in street clothes. Give Carlisle a pass — they had a short bench that night.
Jackson: Ben was the wrong person [to foul] because, if I'm not mistaken, his brother had just passed and he was going through some issues.5 I was guarding Ben, I let him score. I was trying to let the clock run out. And Ron just came from out of nowhere and just clobbered him. I'm like, "What the hell is going on?" I had no clue that was about to happen. When that happened, everything just happened so fast, man.
Boyle: Ronnie fouled Ben under the basket and then Ben shoved Ronnie and then Ronnie backed away and the thing kind of drifted over to the press table.
Ben Wallace (forward/center, Pistons): He told me he was going to hit me, and he did it. That was just one of those things. It happened in the heat of the battle.6
Larry Brown: Everybody in our league takes hard fouls. There's a time and place for them. Maybe you put a guy on the line and don't let him shoot a layup late in the game to make him earn it from the free throw line. But when the game's over, I don't think many guys in our league are going out trying to hurt somebody. That was kind of unusual and I think that's maybe why Ben reacted the way he did.7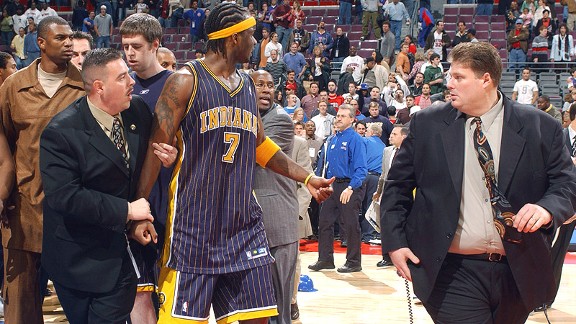 The Scorer's Table
Multiple players from both teams kept pulling an enraged Wallace away from Artest, who eventually (and inexplicably) decided to lie on the scorer's table as everything settled down. The slowness of the response — Wallace looming, teammates shoving, and referees debating — allowed the incident to escalate.
Donnie Walsh (CEO and president, Pacers): Ronnie did try to get away from it because he had been told, "If you see yourself getting too excited, disengage and get yourself out of it and get your thoughts together." That's why he went down and laid down on the table. It was so he wouldn't get all excited and do something wrong.
Tom Wilson (CEO of the Detroit Pistons and Palace Sports and Entertainment): When he laid on the scorer's table, it took the natural barriers away. There's nothing between you and the crowd. Normally, there's the player's bench. Or you'd have to climb over chairs or climb over the scoring table — it requires that instant that keeps you from doing something crazy or gives people a chance to grab you.
Montieth: In a way, he provoked it passively by lying down on that table. He picked up a set of radio headphones like he was going to talk to people back home. He was clowning around a bit too much. In his mind, he was saying, "Look, I'm not doing anything here. I'm trying to be good." It didn't work out that way.
Boyle: We had a headset out because we were anticipating bringing a player over for a postgame interview. We had known Ronnie for a while — there was no way we were going to put an open mic in front of Ron Artest in that situation. The mic wasn't live.
Wilson: It was almost like an "I'm so cool" thing to sort of disassociate yourself and act above everything. Which I think is how the crowd took it.
Boyle: We had maybe half a dozen assistant coaches, a bunch of guys who were there because the coach liked them or owed someone a favor. That was typical in those days, those real large coaching staffs. When Ronnie was lying on the table, one of the assistants, a young guy named Chad Forcier, is rubbing his stomach like Ron is his pet dog and I'm thinking, Why aren't these guys getting this guy out of here?
Montieth: Artest would put on the headphones and Reggie [Miller] would take them off and put them down. Reggie did a really good job of trying to keep the situation under control and stay after Artest.
Boyle: We had guys on that team that were jaw-jackers. Stephen Jackson was looking for somebody to fight. He was jacking it up. Ronnie was lying on the table. Ben's not one to back away. It was just the wrong mix of guys.
Mike Brown: Nobody was holding the Piston players back. The one guy that I did know and had a pretty good relationship with was Ben. I went over and I tried to grab him and talk to him. His nickname was Debo, so I tried to pull a nickname from the past out. I was like, "Debo, Debo, it's not worth it. Go back. Debo. Come on." He kind of slowed down and I finally got him to a point where he stopped.
Jackson: The biggest thing that upset me — after we were trying to break up Ben and Ron, a lot of [Ben's] teammates were still talking. I'm over trying to help and break it up and I'm standing next to Rick Carlisle and I see Rip Hamilton and Lindsey Hunter, I hear them talking and I'm thinking, OK. They ain't trying to break it up. They're still talking. Let me try and go see what they want to do.
Hunter: I was trying to stop Rip because Rip was like 140 pounds and that's my guy, my little brother. Like, "Rip, sit down. Get out the way before you get hurt out here." And Derrick Coleman is like, "Come on, let's get these guys out [of here]." So I walk out there and that's when Stephen walked up and started saying stuff. And, listen, I box. I'm too old to be fighting or whatever, and I'm like, "I'm not fitting to fight out here in front of all these people." But I've been boxing for nine, 10 years, so it wasn't a big deal to me.
Jackson: I was in fight mode at the time. I'm like, "Y'all being real disrespectful, man. We're trying to break this up. So if y'all wanna fight, I'll give you what you're looking for." It was just a whole bunch of noise, just trash talk.8
Hunter: In a situation like that, you want to protect your teammates and yourself. I'm looking to make sure nobody's going to hit anybody from behind. I just remember kind of smirking, like, "Jacko, you know you don't want to fight in front of all these people." And we kind of squared off and looked at each other and it didn't escalate into anything. People don't know that Rip is a fierce competitor and Rip just goes over the top, man. He was real emotional.
Jackson: Me and Rip are close buddies, real good friends. But at the time, the emotions were so high. They were upset 'cuz they were getting dragged. We were beating them by [15 points]. They were real upset, so they were kind of egging it on like they wanted it. So I said at that time, "If you want it, you can get it."
Boyle: Tommy Nunez Jr. was one of the three officials, a very small guy. He was in there frantically trying to separate guys. Ron Garretson looked like he was going to soil himself, and the third referee that no one ever remembers was Tim Donaghy.9
Tim Donaghy (NBA official): As long as [Artest and Wallace] were away from each other, we didn't think it would escalate.
Smith: Garretson is at midcourt when the craziness starts. He goes from the middle of the floor at midcourt to backing up all the way to the opposite side of the sidelines away from where all the action [between Artest and Wallace] is going on at the scorer's table.
Donaghy: After we tried to break it up and knew that wasn't possible, we tried to just step back and view what was going on, so that when we started the game back up, we'd have an idea of who needed to be ejected and what actions we were going to take.
Jackson: They did a terrible job of [making] whoever was ejected go to the locker room. They did a horrible job of that. They did a horrible job of policing the whole thing.
Montieth: People complain about referees like Joey Crawford and [his] quick whistle. I guarantee if Joey Crawford was working that game, it wouldn't have happened because he would have controlled it. He would have called technicals and gotten people out of there.
Ben Wallace: It's hard to say, "I wouldn't do this again," or, "I wouldn't do that," because in a similar situation, you don't know how you'll react. It was a unique situation with so many things that happened so fast.10
Jim Gray (sideline reporter, ESPN): The Pistons were the problem. It was the Pistons who initiated this, the Pistons fans and Wallace were the guys who were the aggressors here.
Jackson: I definitely wish we did a better job containing Ron, letting him get on the scorer's table, letting him put on the headphones. I think the responsibility fell on all of us as a team. If I could go back, I would have huddled our team up and we would have stood right there in front of that bench and kept our composure and thought about the big picture.
The Splash
A full 90 seconds after Wallace had shoved Artest, Artest remained lying on the scorer's table as Detroit fans yelled obscenities at him. The 10 players who had been playing (O'Neal, Artest, Jackson, Tinsley, and Fred Jones for Indiana; Ben Wallace, Rasheed Wallace, Hamilton, Hunter, and Smush Parker for Detroit) and coaches from both teams huddled at midcourt — the concern was Wallace, who couldn't be calmed down — with everyone else staying near their respective benches. For whatever reason, nobody ever pulled Artest off that table. A fed-up Wallace finally decided to throw an armband in Artest's direction.
Mike Brown: Ben wasn't going toward Ron anymore, but he takes [the armband] and kind of flicks it under my arm at Ron. When that happens, I turn to look and see where it goes and obviously it doesn't hit Ron — but it kind of opens up the floodgates.
Gray: I was sitting maybe two or three feet away from Ron on that press row. I said, "Ron, don't leave, I want you for the end of the game [for an interview]." He said OK. It couldn't have been more than 20 seconds later that something came flying and hit him on his chest.
Bob "Slick" Leonard (radio analyst, Pacers): I had my hand on Ron when the big splash of beer came from behind us.
Mike Brown: You talk about horseshoes. [The fan] couldn't have gotten any luckier when he threw the cup of beer or Coke or whatever.
John Green (the fan who lobbed a drink at Artest): I never intended to hit anyone. The day I threw the cup I forgot about the laws of physics. I hope that no one ever throws anything at The Palace again.11
Ron Artest (forward, Pacers): I was lying down when I got hit with a liquid — ice and glass on my chest and on my face. After that, it was self-defense.12
Jackson: It's hard for any man to take something thrown at his face and not to retaliate.
Gray: He immediately got up and went on that table and jumped over the radio people.
Wilson: It truly is one of those things that happens simultaneously at the speed of light and as slow as it can possibly be. You're kind of like, "Nooooooooo."
Boyle: Instinctively or reflexively, I did step up and Ronnie trampled right over me. I fractured five vertebrae. The thing I laugh about now is my wife says to me, "If you could have stopped Ronnie from going into the stands, none of this would have happened." I say, "Well, Jesus, if I could have stopped Ron from going into the stands, I would be playing in the NFL." My partner, Slick Leonard, was smarter than me — he moved out of the line of fire.13
Leonard: Mark got in his way and [Artest] ran right over him. When I saw that, I said, "Let's go back to the press room until this thing's over with."
Mike Brown: I leaped to grab [Artest]. It was just a reaction because I knew right away nothing good's going to happen if he goes into the stands. I didn't get him and it was just natural for me to keep chasing him. I don't know how I made it into the stands, but I was in the stands.