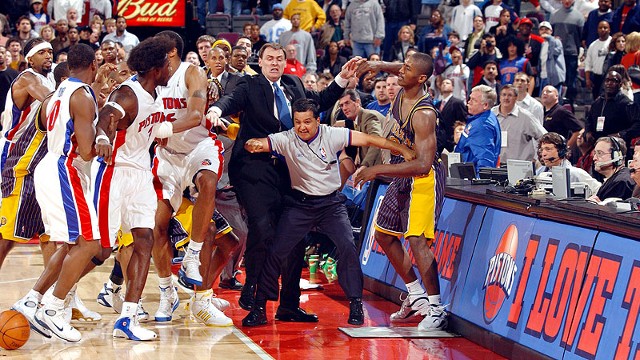 The Melee
Artest charged into the stands to grab the offending cup thrower, pushed over the wrong fan (Michael Ryan), then stood over him and shook him with both hands. The fan who actually DID throw the cup, John Green, grabbed Artest from behind and tried to put him in a headlock. Another fan whipped a beer at Artest at close range, spraying Stephen Jackson, who retaliated with a wild punch. Meanwhile, Ben Wallace's brother, David, just missed tagging Indiana's Fred Jones with a haymaker, as players and coaches from both teams surged into the fray as peacemakers. Hall of Famer Bill Walton, who was announcing the game for ESPN, would later call the melee "the lowest point for me in 30 years with the NBA." Here's how many of the principals remember this sequence.
Ham: All hell broke loose.
Auburn Hills Police Chief Doreen E. Olko: We have zillions of security plans for the Palace, for all kinds of things. But none included a player going up in the stands. That just is not something anybody foresaw.
Michael Ryan (fan): [Artest] was on top of me, pummeling me. He asked me, "Did you do it?" I said, "No, man. No!"14
Montieth: A lot of people will tell you that Artest went into the stands and started slugging fans. Well, he didn't; he went into the stands and grabbed the wrong person — the one who he thought threw the beverage — grabbed him and said, "Did you throw that?" But he didn't hit the guy.
Mike Brown: Next thing you know, I see Jack up there in the stands.
Jackson: People don't understand how it feels to be with a guy who you call your teammate and you're with more than your family during the course of a season. How do you expect me not to go help him, even though he's wrong at the time? Going in the stands is totally not right. As a youngster, you learn to be there for your teammates, but you're never taught to go into the stands. I never thought I would be in a situation where I would have to go into the stands and actually help my teammate fight fans. But at that time, there's no way I could have lived with myself knowing that my teammate is in the stands fighting and I'm not helping him.
Montieth: [Artest] got hit from behind by Ben Wallace's brother, if I remember right. And he threw that halfhearted punch.
David Wallace (Ben Wallace's brother): I just got caught up in the heat of the moment. When you don't have time to think about something, there's not always a thought process involved.15
O'Neal: I had my own personal security guard that traveled with us. He was side-by-side protecting me. I look in the stands and I see people whaling off on players. I'm trying to get across the scorer's table to get over there to help, and my security guy is holding me down. We turn around and people are trying to hit us on the floor. The first person I saw was [teammate] Fred Jones. Somebody was whaling on him from behind.
Jackson: My initial reaction was to go grab Ron. But as soon as I hopped up [into the stands], another guy threw a beer in his face. My reaction was to retaliate. I don't regret being there for my teammate. But I regret going in the stands and fighting fans. It was totally wrong, but you don't think about that when somebody you call your brother is in harm's way. The only thing you're thinking about is getting out there and helping him. That's the definition of a teammate, being together, being there for your teammate. And like Tim Duncan says, I'm the ultimate teammate. A lot of people just think I was being a thug in going in there. My whole thought was, my teammate is in the stands fighting and I'm going to be there for him. I knew as soon as I took the first step to go into the stands that there was going to be consequences behind it, no question. But I can deal with those consequences knowing that my teammate is here alive and healthy, [rather] than me standing on the court watching him, worrying about my career and money and he's sitting over there bleeding to death.
Mike Brown: I was getting hit while I was in the stands. Ron had grabbed the wrong guy, and the guy that actually threw the cup was hitting me from behind because I went to grab Ron to try and get Ron out of there. It was pure chaos.
Chris McCosky (Pistons beat writer, Detroit News): I remember trying to stop Jamaal Tinsley from going into the stands, and he went through me like I was butter. It was a pretty failed attempt on my part.
George Blaha (radio and television play-by-play, Pistons): Rick Mahorn, who does radio, was in the center of press row and went up to make sure that the gals, one of our official scorekeepers, wasn't injured — and that one of our longtime statisticians, who is physically impaired a little bit, didn't get hurt. I saw Ricky taking care of business.
Mahorn (radio analyst, Pistons): You do what you gotta do sometimes in life.
Larry Brown: My young son was a ball boy. Derrick Coleman kind of took care of him and kind of took care of me, kept me next to him. I've been with a lot of pretty tough guys in the league. He's probably one of the toughest I've ever been around. Then I saw Rasheed trying to get everybody to stop. He tried to get after Stephen and Jermaine and actually went into the stands to try and calm things down.
Blaha: Rasheed's really a cerebral guy. He's always been looking out for everybody's best interest. That does not surprise me in the least. He's certainly a misunderstood guy and, in my opinion, a great guy.
Smith: There were only those old security guards. There was no security to keep people from jumping over that little rail and getting down to the floor. The craziness from that night is, the players on the teams had stopped fighting each other. It was the fans and the Pacers.
Jim Mynsberge (Auburn Hills deputy chief): There were only three police officers in the arena to handle things. They did a great job with what they had.
O'Neal: There was no security. You're talking about one of the largest arenas in the NBA and you're talking about fans that were upset because, one, we had just drilled their team, and two, I wouldn't say 22,000 people are all bad people — but it was a large group in there that was literally trying to hurt us.
Rick Carlisle (head coach, Pacers): I felt like I was fighting for my life out there.16
Ham: Myself, Antonio McDyess, and Tayshaun Prince, we were just standing there in disbelief. We had a couple of vet guys, Derrick Coleman, Elden Campbell, who left the sidelines — not to be hostile, but to try and break stuff up. It was amazing just to see no control. You would think they would have had security swarming the building.
Wilson: Our staff, which is pretty well trained, went after them immediately to try and get them back on the floor. They were trying to grab Jermaine O'Neal, and you have to give them a lot of credit because these are normal-sized individuals who are in most cases 50, 55, 65 years old who are risking themselves against athletes who are incensed. I remember one guy named Mel, who was probably 60, wrapped around O'Neal's waist and being tossed around like a rag doll.
Melvin Kendziorski (usher, the Palace): He was one of the guys I tried to hold back. He objected to it, I guess, and kind of grabbed me and twisted me around and threw me over the scorer's table. It was like, "Wow. What just happened?" He threw me like a rag doll. He's a pretty big guy. I had back and neck injuries and had to be treated for quite a while.
Mike Brown: It was a lot scarier being in the middle of it because everywhere you turned, you felt like you were going to have to fight. There were thousands of people against 20 people. That probably wasn't the case — 99.9999 percent of the people there were just as scared and just as appalled as you were — but it seemed like everybody was against you.
Artest remained in the stands for 40 seconds, eventually getting pulled toward Indiana's bench. As the other peacemakers tried to separate fans and players, the situation didn't seem anywhere close to settling down — if anything, it seemed to be moving in a more perilous direction.17
Joe Dumars (general manager, Pistons): It's the only time in 10 years I ever got up with a minute or two [left in a game] to get up and walk down the stairs. I was so frustrated with the way we had played, so frustrated that they had manhandled us that night. We got up with two minutes to go. When we got to the locker room, I heard all this commotion and was wondering what was happening.
John Hammond (assistant general manager, Pistons): I remember like yesterday saying to Joe, "Hey, Joe, something either really good just happened or something really bad just happened." I thought something miraculous happened on the floor and that we had just won the game.
Dumars: The commotion completely caught me off guard. Loud screaming, you could tell something was going on in a major way.
Hammond: Joe and I walk into the locker room, the TV's on, and we're looking at what happened on the floor. They're showing the replays already. We were kind of in shock and amazement.
David Stern (NBA commissioner, who was watching the game on TV): I said, "Holy [mouths a swear word]." And then I called [then deputy commissioner] Russ [Granik] and said, "Are you watching our 'blank' game?" He said no. I said, "Well, turn our 'blank' game on, you're not gonna believe it."18
Chuck Person (special assistant to the CEO/president of basketball operations, Pacers): After we were up 20, I left my seat and went and sat in the back. All I hear is someone running back saying, "Hey, Chuck, Ron ran up into the stands." I go out onto the court and it was just total chaos and pandemonium. I went to Coach Carlisle and told him we need to get the players off the floor and he said, "The game's not over yet." I said, "Well, the players are in danger."
Donaghy: It just got to the point where the game wasn't going to continue. We just stood back and at the appropriate time made an exit there because [the referees] didn't feel safe.
Larry Brown: Most fights in our league just happen and they're over, but this thing started to gain momentum as the situation evolved. It was miserable just being out there, being a part of it, having young people see what was going on. It was something you just don't want to be a part of, and hopefully it'll never happen again.
Donaghy: It was just mayhem, to the point where you actually feared for your life. We didn't know at that point if somebody was going to pull a gun or a knife. Fans were coming out onto the floor and challenging players to fights right out on the floor. It was at a level that I've never seen before.
Breen: It was horrible on the other side, because the fans were coming down toward the altercation. But the fans on our side of the court [where they were broadcasting the game] were not. As it continued, now some of the fans on our side started to come down, and that's when I was thinking, Oh my goodness. This could be the most disastrous fight in the history of sports.
Wilson: Right in front of me are these two guys in Piston jerseys, [they] kind of walked up to the Pacers bench at the side of the court.
The two fans were named Alvin "A.J." Shackleford and Charlie Haddad. They brazenly approached Artest, who had finally been pulled out of the stands and was wandering aimlessly toward the Pacers bench. The parties briefly sized one another up. Artest punched Shackleford, and the blow also knocked over Haddad. As Haddad got up, O'Neal took a running start and reared back to punch him, but slipped on liquid on the court as he delivered the blow. It ended up being a glancing punch.
Pollard: Some of the fans, they get down on the court and are saying, "I'm going to go punch this guy. I'm going to go punch this guy." Then they get close and they're like, "Wow. I can't reach his face."19
Gray: That one guy would have gotten killed if Jermaine O'Neal would have hit him. He was lucky he slipped.
Jackson: I didn't see it, but you could hear it. Out of all the noise in the arena, you still heard that punch.
Wilson: For that one moment you're thinking, My God. He's going to kill this guy.
Pollard: That guy he tried to hit is lucky. There's not a question in my mind that there's a fan out there alive right now because my friend slipped on beer or whatever it was and missed that punch. It's good that he did, because he'd be in trouble or maybe be in jail right now.
O'Neal: When I did it, when he hit the ground, everybody just kind of cleared out. All of a sudden, it wasn't fun and games. It wasn't "OK, let's hurt the Pacers." The people that were around us, they started to protect themselves. That's what I was happy about. I don't look at it that I'm happy that I slipped. I know a lot of people say that, but I'm never just trying to hurt somebody. But in that case, I'm just trying to protect myself and my teammates.
Jonathan Bender (forward, Pacers): My whole thing was to get in front of Jermaine and keep everybody at peace, knowing you've only got so many security guards up against 16,000 people running at you. I was just wary of the fact if somebody ran up and looked like they were going to cause me some harm, I was going to protect myself.
Charlie Haddad (the fan O'Neal punched): I barely remember the night.20
O'Neal: Nobody knows this — the Pistons security had just told that man to leave the building before that even happened. Nobody knows that that same guy threatened Yao Ming.21 People don't know that. People don't know some of the bad scenarios of the people who were caught up in that situation. But they know everything about the players. That man had been plotting to start fights against players so he could get paid. That's a fact.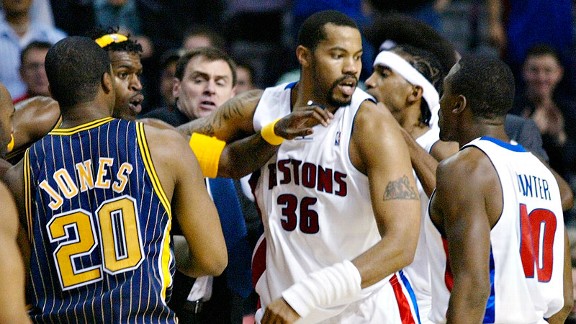 The Exit Strategy
The sight of fans being punched by Jackson and O'Neal enraged Pistons fans even further — they kept booing and throwing things on the court. Everyone soon realized that Indiana's players and coaches needed to be hustled toward the locker room as soon as possible. Unfortunately, that meant escorting them through the tunnel … right past many of those fuming fans. The other problem was Artest, who Breen said had "a look in his eye that's very scary right now." In one of the most unlikely moments of the night, NBA power broker William Wesley (a.k.a. "Worldwide Wes") left his courtside seat to pull Artest away from Haddad and Shackleford.
Steve Angel (cameraman, ESPN): I saw one person out of the corner of my eye to the left of my frame leaving and it was Artest. So I just stayed with him. He looked very bewildered, like, "What's going on here?" Like he'd snapped, basically.
Person: I knew Ron was a guy who would probably need a little more help getting stabilized and getting him off the court. That's why I went to him. I think he had basically blacked out — he didn't know where he was. I had to get his attention first and get him to focus on who was talking to him. And I made eye contact with him and he basically stabilized himself.
Artest: I didn't expect Ben Wallace to react as he did, and I never had beer thrown in my face before. Nobody ever just threw anything at me — with the exception of a few times — and nobody ever just came up to me and threw beer in my face.22
Breen: They were finally able to get [Artest] onto the other side of the court. He turned around and he had a look in his eyes like he was gone. He had completely lost it. That's what the look said to me, that he was in a bad place. His mind was somewhere else and he had that crazed look.
Jalen Rose23 (forward, Toronto Raptors): My guy Wes, who seems like he's always in the right place at the right time, is a front-row season-ticket holder for the Pistons. He was the one trying to calm down Ron Artest.
William Wesley: I saw a situation developing that I didn't think would escalate, but once I realized that it was escalating, I decided to be part of the solution instead of the problem.
Angel: The only time I felt I was about to get hurt was when a policeman popped his pepper spray container and started shaking it up. Reggie Miller was pleading with him, "Please don't. My suit costs x-hundred dollars."
O'Neal: [The police] are nowhere to be found for the first 10 minutes and then come in and try to pepper spray us.
Pollard: There was no control. This wasn't a game anymore. This was about these fans. They don't know the rules. They're not going to listen to a referee pulling them apart. A whole street mentality takes over. The fans are not part of the family, the NBA family. Even though you're fighting against these guys on the court, they're still in the other team's jerseys. You're not trying to kill anybody. But the fans don't know that, and you don't know what they're thinking. That changed the whole scenario.
Larry Brown: I just remember standing at halfcourt and being kind of helpless. I did try to get to the microphone [to tell the fans to calm down], but there was so much going on and there were so many things on my mind. I just felt sick to my stomach to see what transpired.
Person: He ended up putting the microphone down and walking off the court because it got so ugly.
Breen: I felt like we were out there for an hour waiting for them to get the players off the court. Every time it appeared they had everything under control, another fight broke out. When the fans were able to get on the court — and not just one or two, there were a number of them because security was so worried about the scene in the stands — that's when it was like, "Wow." I'm not blaming the security, but they just didn't know how to deal with it.
Jackson: I knew we had to get out of this arena before all these guys in the nosebleed seats got down to our section. That's the felons, the guys that really don't care about losing anything. If they come down there, somebody's going to really get hurt.
Person: It felt like we were trapped in a gladiator-type scene where the fans were the lions and we were just trying to escape with our lives. That's how it felt. That there was no exit. That you had to fight your way out.
One of the enduring images of the melee was Jackson defiantly storming through the tunnel, flashing his Pacers jersey and screaming at the fans, totally unafraid as people dumped drinks on him. O'Neal took the experience a little more personally, lunging for a fan who had tossed a drink his way before getting pulled away by Wesley and others. Another Pistons fan threw a chair in the general vicinity of a few exiting Pacers. Jamaal Tinsley left the court through the tunnel and returned holding a dustpan over his head, but was turned away before inflicting any damage. It seemed improbable that every Pacers player and coach would make it through the tunnel, but they did.
Jackson: When I was walking off, they were throwing things at me. I was like, "Go ahead and throw it. Do what you have to do." I wasn't really worried about my safety because I knew I could protect myself.
Donaghy: Exiting the court was very scary because so many things were flying out of the stands: coins, chairs, different forms of liquid.
Breen: There were chairs flying through and people taking pretty hard objects and just winging them at people's heads. It's amazing that there was nobody seriously hurt. Absolutely amazing.
Bryant Jackson (fan who threw a chair at the exiting Pacers): I, Bryant Jackson, have six kids. I try to do what's right … I got caught up in something I wish I hadn't got caught up in.24
O'Neal: People are spitting. Objects are being thrown from the stands — brooms, the pan things that sweep the trash up, chairs. And for what? If we get hit in the head and we die, then what was the purpose of that? It was a heated rivalry; as much as I didn't like the Pistons, I always respected coming there to play. We knew what we were going to get from the time we came on the bus and came out to warm up. Even pregame warm-ups, it was just mayhem. You get all the fans yelling and screaming. That's what makes sports sports. You've got to love that. But beyond that, are we really being hated because we play basketball or play for an opposing rivalry team? That's how deep it was.
Breen: There were a bunch of people right above where the Pacers were going out. And there was this one young woman who was very nicely dressed in the midst of it. I remember thinking, Oh, this poor woman. In the midst of this mob mentality, I hope she's going to be OK. And as I'm saying that in my head, she pulls out a bottle, a full water bottle, and throws it at point-blank range at the Pacers going off the floor. I couldn't believe it. Even this nicely dressed woman who seemed so out of place in the mob, she just got sucked into the whole mob mentality and it showed you how scary it could be.
Larry Brown: Every one of those [Pistons] brought their wives and kids to games, and you never want to have kids see their dads involved in a situation like that.
Ham: My wife and my little boys were there. My little boy Donovan, they showed him crying.
Breen: He couldn't have been any more than 4 or 5. He was crying and his older brother, who wasn't that much older, had his brother cradled in his arms, kind of like patting his head, saying, "It's going to be OK. It's going to be OK." And the little boy was just so upset. It was horrible to see the boy like that, but it was also touching to see his older brother. It just showed you the raw emotion of the whole thing.
Ham: [Donovan] was distraught — he thought the NBA was over forever. I explained to him what happened and he ended up being OK. But I saw a lot of little kids frightened, some crying, some just had the look of shock on their faces.
Blaha: Bill Laimbeer and I were broadcasting the game down by the Pistons bench. Everything happened on the other end of press row. And the reason I wasn't particularly shook up about it is because Bill Laimbeer didn't seem to be particularly bothered by it. He was kind of nonplussed by the whole thing.
Mike Brown: I don't remember how I got from the stands back onto the floor. But everybody was throwing stuff. I literally felt like there were 22 people fighting 20,000 people. I know that wasn't the case, but it was the scariest moment I've ever been a part of in my life. Next thing I know, we're back in the locker room and my clothes are soaked, ripped. Anybody who says they're not scared in my opinion is lying.
Person: Luckily, we got through the mob of people, got back to the locker room safely.
Back in the Locker Room
After Indiana's players and coaches made it back to their locker room, Detroit's players and coaches remained on the floor, milling around in disbelief and wondering what to do next. The game was officially called off with 45.9 seconds remaining. Final score: Indiana 97, Detroit 82.
Jackson: When we got in the locker room, Ron said this: "Man, I didn't know we had this many real n----- on our team." We had a lot of guys who came up hard, that beat the odds. I was out of high school. Jermaine was out of high school. Jonathan Bender. Jamaal Tinsley had a hard life. Ron had a hard life. A lot of us had similar situations, so a lot of us really didn't think at the time. But I don't ever expect him or anyone else to say thank you for being there for him. That's something that I chose to do as me being my own man.
O'Neal: It was a very heated locker room. Guys' nerves were terribly bad.
Jackson: Rick is like, "Everybody calm down. Everybody calm down." Everybody was still kind of in awe. I remember Jermaine just jumped up; he looked like he had turned into the Incredible Hulk. He said, "Next time we fighting, don't you MF's grab us!" And Rick jumped up and got just as big as Jermaine and said, "We were just trying to help!" And so it ended up looking like the team and the coaches were about to fight. That's what it seemed like.
O'Neal: We had to fight to get into the locker room. Not literally fight, but pushing and moving people to get into the locker room. We had no security to help us out. I was walking through there and we're getting grabbed and basically they were trying to push us through — Chuck and some other coaches — but our arms were down. The way they were holding our arms down and everything was just hitting us in the face, that was the discussion. I was upset, you know? Just allow me to protect myself.
Jackson: Mike Brown had got hit in the mouth, his mouth was bleeding. Once we realized coach got punched, too, we were like, "We're in this together. Everybody calm down."
O'Neal: I can't imagine what [Rick] was going through. I can't imagine the position he was in. I just remember me and Rick getting into a heated conversation. And I have a lot of respect for Rick. I love him. He's one of my most favorite people in the world.
Jackson: After that, Rick was like, "Let's get on the bus and get out of here."
David Craig (athletic trainer, Pacers): I treated several people — the one who might have gotten hurt the worst was a guy named Dan Dyrek [Indiana's physical therapy consultant]. Dan got hit in the face. I believe somebody threw something as he walked out.
Boyle: I had a big gash open over my head, which was nothing, it was superficial. But those forehead cuts really bleed. Ronnie was standing right next to me and he said, "Mark, what happened to you?" I said to Ronnie, "You trampled me." He said, "Oh, oh. I didn't even know. I'm very sorry." And he was sorry. Ronnie was a sweetheart of a guy. He still is.
Mike Brown: I know my clothes were messed up, I can't remember if I was cut under my eye. I wouldn't be surprised if I was. As soon as I could, I called my wife because she was scared to death because she saw me go up in the stands. I needed to make sure she knew I was OK.
Smith: In [Detroit's] players' family lounge, Ben Wallace's family and Rip Hamilton's friends and a bunch of other people's friends were there. Ben's family were basically big, giant dudes. It was the weirdest thing walking by, watching that room full of people watch the replay of what had just gone on. You know how somebody is watching a boxing match and everybody makes noise when a dude swings and misses or swings and connects? The whole room in there just erupted watching the replay and watching Ben's brother swing and miss on Fred Jones. It was the only time that night that I remember laughing.25
Jackson: After we calmed down, [Artest] looked at me like, "Jack, you think we going to get in trouble?" Jamaal Tinsley fell out laughing. I said, "Are you serious, bro? Trouble? Ron, we'll be lucky if we have a freaking job." That lets me know he wasn't in his right mind, to ask that question.
Pollard: That's 100 percent true. We laughed our asses off about that. "Yeah, Ron. Yeah, there are going to be some problems, buddy. You hit a fan." I couldn't believe it. He was in shock that what he had just done was bad. I don't know what his mentality is like on the inside, but outside looking in, you can sit there and say, "Wow. That's trippy that somebody can go through that type of experience and wonder if there's going to be repercussions."
The night wasn't over for the Pacers. They still had to get out of the arena without anyone on the team being arrested by the late-arriving police.
Olko: I was on vacation in California. My phone started ringing off the hook. Both friends and family members were calling. "Turn on your TV. There's something happening at the Palace." So of course I turned on my TV and got back on the phone to call my deputy police chief — he was speeding and said, "I'm not at the Palace yet. I'm almost there. I'll call in a couple of minutes." Because the Palace is such a safe venue, we only [had] a handful of officers there.
O'Neal: They come in [to Indiana's locker room] and try to arrest us, the players. And all the stuff the people are out there doing, I didn't see anyone being handcuffed and taken out of there. That was a whole other conversation and argument and craziness.
Mike Brown: This fellow says, "You guys got to stay in here. The police are going to arrest two players and a coach." They were talking about me because the guy said I was punching him from behind in the stands. I was going from almost getting my behind kicked by 20,000 people to getting arrested. It's like, "Wow. This is not happening."
O'Neal: We said, "No, we're not going nowhere. We're going back to Indiana. We're not coming with you. Talk to my lawyer." That's how we had to talk to them. I was one of the very first people they came after. I'm like, "What is this? What are y'all talking about? No, I'm not going with you." I don't understand. There's people out there throwing damn near sledgehammers at us from God knows where hitting us in the face and body and everything. There's blood on us. We're bleeding.
Gray: They were trying to arrest Artest. Kevin O'Neill really did an unbelievable job that night. He dealt with the police and they rushed [Artest] out on the bus.
Kevin O'Neill (assistant coach, Pacers): I did do that. It was nothing. They were wondering where Ronnie was. Ronnie was already on the bus, headed out, and that's all it was.
Gray: The police went out to the bus and tried to get him off, and they were told he wasn't coming off.
Olko: Our major focus was getting the guy that threw the chair. That was the only felony case. We played the video and got it up on the Internet. To our surprise, we had somebody call and tip us off as to who he was, and we arrested him and he pled guilty. There was not a lot of consideration to keeping Artest.
Mike Brown: Somebody from the police department says, "Look, we're going to get you guys out of here as soon as we can. We want some of these [fans] to leave, so we need you guys to sit tight. We're not going to arrest anybody right now because it's just not a safe enough environment for that to happen. We'll review the video and get back to everybody at a later date."
Jackson: The best, crazy part of the night was when we got on the bus. We were so riled up. We felt like not only did we win the game, but we won the fight. We felt like we just stole Detroit's heart at the time. Until we got home and we saw those fines and suspensions — [then] reality set in.
Boyle: We got on the plane, and by then, my back's starting to stiffen up. So the trainer says take off your shirt, I'll strap some ice, just walk up and down the aisle and try to stay loose for a while. We didn't know it was fractured. So I'm walking up and down the aisle and Ronnie says, "Mark, what happened to you?" I said, "Ronnie, we already had this conversation. You don't remember?" he said, "Yeah, yeah, yeah. I remember, sorry." He seemed so unaffected by the whole thing.
Gray: I think [Artest] thought he was just defending himself and it was self-defense. He had said that Ben Wallace had called to apologize. Ben Wallace and [Pistons public-relations executive] Matt Dobek and the Pistons denied that. But [Artest] said it several times.26
Daniel Artest (Ron Artest's brother): I talked to Ron like 10 minutes after everything happened. It was just like a regular conversation. He said, "They threw something at me, so I went into the stands and handled it." The way we were talking, he didn't think the league was going to come down hard on him. We thought he would probably miss some games, like five games at the most.