The Malice at the Palace
(page 3 of 3)
An oral history of the scariest moment in NBA history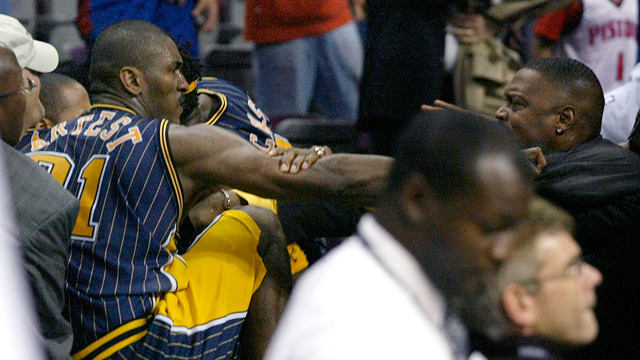 The Aftermath
The league acted swiftly the next day, with David Stern releasing a statement that started, "The events at last night's game were shocking, repulsive, and inexcusable — a humiliation for everyone associated with the NBA. This demonstrates why our players must not enter the stands whatever the provocation or poisonous behavior of people attending the games. Our investigation is ongoing and I expect it to be completed by tomorrow evening." Eventually, Stern suspended nine players without pay for a total of 146 games, costing them nearly $10 million in salaries (with Artest taking the biggest hit: $4.995 million). Counting the 13 playoff games he missed, Artest's 86-game suspension remains the longest non-drug-related one in NBA history. But it was the league's image that took the biggest hit. Big changes would come — swiftly — to the league's alcohol policy and the policing of the barriers between players and fans. As Stern told the AP one year after the melee, his league learned the following lessons: "No. 1, players can't go into the stands. They need to leave that to security and not get into vigilantism. No. 2, fans have to be held accountable because they can't do anything they want just by virtue of buying a ticket. No. 3, we need to continue to review and update our procedures on security and crowd control."
Smith: The next morning, we're sitting at breakfast and trying to make sense of it. My foot was tapping on the floor when we were eating breakfast. It was crazy. You still had nerves the next morning even after it happened. I'll never forget that.
Walsh: It was the next day [when he talked to Artest]. I think we had a game the next day after that. He said, "I didn't hit anybody out there, not until I got back down on the court and these guys were coming at me."27
Boyle: Nobody had any idea how serious the consequences were going to be.
Montieth: [Pacers team president] Larry Bird said he was guessing Artest would be given 10 games given the stuff he had witnessed throughout his career. Then, they got word from the league office that Stern was really going to come down and it would be serious. Then Bird thought, I guess it's going to be about 30 games. But he never thought that it would be the entire season.
Larry Bird: There were a lot of bad mistakes made that night, and Ronnie and the Indiana Pacers took the brunt of [the punishment].28
Stern: In this instance, the barrier that separates the fans from the court had been breached. The incident at the Palace was about both the accessibility of our players to fans and unacceptable player behavior. We needed to reinforce that there are boundaries in our games and reassert the expectation of appropriate conduct for fans attending as well as for players in exhibiting self-control and professionalism. The significant player suspensions and permanent exclusion of those fans involved from future Pistons games were necessary responses as part of larger efforts to guarantee the well-being of our fans and players in all of our arenas.
Billy Hunter (executive director, National Basketball Players Association): I thought what they were imposing was quite extreme. I'm not at all justifying or condoning the fact that the brawl occurred and Ron and Stephen found their way in the stands. That can't be tolerated. That's not good for the game. But I was concerned as to how harsh the sanctions were.
Jackson: I actually think [Stern] took it light on us, because he could have easily kicked us out the league. This is my opinion. Taking $3 million was harsh, but I'd rather give that $3 million up and still have my job than keep the $3 million and be kicked out the league.
Hunter: We went to arbitration [and successfully got O'Neal's suspension reduced from 25 games to 15]. The evidence became quite clear that his involvement pretty much ended on the court and it was not as egregious as Steve and Ron's foray into the stands.
O'Neal: I never even told my daughter what happened — she found out at school. One day she came home and figured it out and said, "Dad, are you suspended for fighting?" That was hard for me. It was hard for me to have that conversation with my daughter. It was hard for me to go to the Boys & Girls Club, which I was very close with in Indianapolis, St. Vincent's Hospital, talking to the people at St. Vincent Hospital. It's hard for me as a leader of a community. To have these conversations and see the effect that not just the fight itself had on our team, but the perception that it had on the community. A lot of people don't even know that I won all of my court cases.29 I got reinstated. Every case — civil, criminal, and suspension from the league — I won all of those.
Daniel Artest: [Ron] wasn't even really bothered about [missing the season]. He just got in a gym and started working out. I was with him the whole time. It was me, Ron, James Jones, this other [Pacer] named John Edwards. Every day. Whatever frustration Ron had, he didn't show it at all.30
Artest: I still don't believe I should have lost that much money. I would still like to have a million or something back. I ain't the one who started it and I lost almost $7 million in investments and a couple of commercials and I didn't even start it.31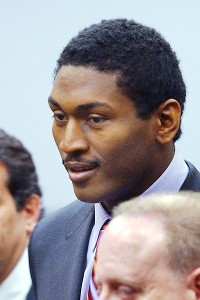 On December 8, Oakland County prosecutors charged five Indiana players (O'Neal, Artest, Jackson, David Harrison, and Anthony Johnson) and five fans (John Green,32 William Paulson, Bryant Jackson, John Ackerman, and David Wallace) with assault and battery. Months of legal haggling followed. The players eventually pleaded no contest; only Green ended up serving jail time (30 days); everyone else received fines, probation, and community service sentences. All five fans were banned from attending Pistons games. Said prosecutor David Gorcyca, "I handled Nathaniel Abraham, supposedly the youngest murder defendant in history. I handled Jack Kevorkian. Yet this case, when it's all said and done, this garnered more media attention worldwide than all of those others combined."
Olko: I got asked questions like how many investigators I had on it. Well, one. We were dealing with other things going on in the community. Where should I invest my resources? On the millionaires with misdemeanor cases?
McCosky: The coverage of it went on for months, and you would think people actually died or whatnot. People kind of lost sight of how it started and who was actually involved and who was a peacemaker. It just became another ugly mark on Detroit.
O'Neal: [Everyone] decided to talk about the negative things. I honestly believe that's why the dress code came into play. Because all of a sudden now the league is "out of control." I watched the analysts, the so-called analysts, on national TV say the NBA is too hip-hoppish. And it really blew me away that supposed analysts would even first of all say that. Your choice of music doesn't dictate who you are as a person. Right after the brawl, the dress code came into play.
Olko: One surprising thing that happened was how much flak we got from the public. People from Detroit were angry that we didn't arrest the Pacers. Indianapolis people said we only prosecuted Pacer players because we were partial to the Detroit team — which is just goofy. Again, misdemeanor assaults.
Ham: I think [the media] twisted it. Out-of-control NBA players were at the forefront of the story as opposed to fan behavior. [Fans] talk about a player can't shoot or can't dribble, that's one thing. But I've seen things in the past when fans start talking about a player's kids, their wives — to even cross the line furthermore, to throw something, I don't think that particular part of the story was addressed properly or as extensive as these "wild black guys playing in the NBA." It's unfortunate, but that's the society we live in.
Meanwhile, the Pacers were facing two separate issues: how to keep their team focused for a 2005 playoff run without Artest, and what to do with Artest going forward. Artest seemed weirdly at peace with what happened, much more concerned with staying in shape and working on his new hip-hop album. The Pacers and Pistons met again in the second round of the 2005 playoffs, with Detroit prevailing in six games and eventually losing to San Antonio in seven games in the Finals. The following preseason, Artest and Bird appeared on the cover of Sports Illustrated and made it seem like everything was hunky-dory. It wasn't.
Montieth: People say the brawl is what caused the demise of the Pacers. I disagree; they put the team back together the following year except for Reggie Miller retiring. To me, what led to the downturn is Ron Artest making that trade demand [in December 2005].
O'Neal: Whatever else issues Ron particularly had — and he had some issues there — I don't know what his reasoning was. He never came to me and told me. I'm sure Stephen did what he did to protect. I did what I did to protect. When you see someone want to be traded after that, you kind of have some feelings about that.
Walsh: A lot of the players stood up for Ronnie [during the melee]. Jermaine got suspended, Jack got suspended. A lot of guys got punished. When he stood up and said he wanted to be traded, that really put the team in a whole different situation. They felt like he wanted to walk out of there after he had really hurt the team.
Jackson: Yeah, I felt betrayed when Ron asked to be traded. I had lost $3 million. It kind of felt like, "OK, we put our careers and stuff on the line for you and you want to leave us?" We had a great team that year. We were actually the best team in the league. So it kind of hurt.
Walsh: I told [Ron], "We'll sit down on Monday and talk about this." That's all I said to him. But then he got up on Sunday and [asked for a trade] again. So when I met with him on Monday, I said, "Look, I'm going to trade you," and that's what we ended up doing.
The Pacers placed Artest on the inactive list and then on January 25, 2006, traded him to Sacramento for Peja Stojakovic. Total number of games Artest played for Indiana after the brawl: 16.
O'Neal: You're put in a position where you're compromising your career. You're compromising your livelihood and how your family lives, and then the sole reason all that happens suddenly doesn't want to be there no more. Nobody knows about the back-and-forth. Getting put in a room and sitting in a room for hours. Getting rebooked to go to jail. And this is during the season. Our team is flying to Detroit for hearings and all kinds of stuff. We can't even go to Toronto. We've got to get worker permits to go there. Nobody knows about all that stuff.
Jackson: At the end of the day, that was [Ron's] decision. We're still all blessed to be in the NBA and still have jobs. And one monkey don't stop no show. That was our whole attitude. That we can get it done with him or we can get it done without him.
O'Neal: After the brawl, we had a lot of issues off the court, situations, and it just didn't feel right no more. It didn't feel right. It got to a point where you almost wanted a change. Donnie Walsh, I'm sure he felt the same way. That's why he went to New York.
Rose: I'm a Detroit native. The black mark it left on Detroit was, from a national perspective, just the same old hyperbole that that's typical Detroit. From a Pacer standpoint, we went from a team that played in the 2000 Finals — that the fans were able to embrace and the fans appreciated not only because we played good basketball, but we were also pretty responsible citizens — to a place where the fan base wasn't as supportive. It really showed once the team went from being a top-tier team to a marginal team. They stopped showing up at all. And then there were so many incidents that happened off the floor with players, to the point where they had to start making changes.
O'Neal: In the end, it wasn't about basketball no more. It didn't feel good. It didn't feel good playing the games. It just felt like a city that was divided. You had people here on this side that's really behind us, and another side that really wasn't.
The Reflections
The 2005-06 Pacers lost in the first round to New Jersey, then missed the playoffs for the next four years, gaining notoriety mostly for their legal problems — particularly those involving Jackson (who was arrested for an incident outside a strip club in October '06) and teammate Shawne Williams (arrested for marijuana possession in 2007). The Pacers traded Jackson to Golden State in 2007, traded O'Neal to Toronto in 2008, and bought out Tinsley's contract in 2009 after keeping him away from practices and games for months. They also made an avowed commitment to "character guys," rebuilding through the draft with players like Danny Granger, Paul George, and Tyler Hansbrough. For the first time in years, Indiana fans were excited about the Pacers again. But it was a long six years — and the team's attendance suffered dramatically.
Meanwhile, Rick Carlisle won a championship with the 2011 Mavericks, one year after Artest won a title with the Lakers and apologized to Pacers executives and his former teammates as one of his first acts after Game 7 of the 2010 Finals. As O'Neal would say later, "When your team is not together, you can never win. Those apologies came for a reason." Even if Artest (now Metta World Peace) moved on, not everyone else can say the same.
Pollard: It's like a dream, a bad dream, where the more I look at it in my mind, it's like a flashback where it's kind of hazy and a dream. You're kind of going, "Wow. Did that really happen?"
O'Neal: As bad as it looked on TV, it was at least 20 times worse in person.
Mike Brown: Watching the tape does not do the incident justice. It was a very, very, very scary moment. It's why when stuff gets a little chippy on the floor, if an official has to kick a guy out, I just kind of bite my tongue. If it happens, it happens. Hopefully they're doing it in the best interest of the game.
O'Neal: I told my lawyers, I told the jury, and I told the judge — I said, "What would you do if you were put in that position? What would I do with my kids and my wife if I was hit in the head and killed by a flying chair that they were throwing? Who was going to tell that story? What would the story look like then?" I was put in a position as the leader of the team to protect by any means necessary when we're talking about something that has nothing to do with basketball. That had nothing to do with basketball.
Walsh: It was like watching a horror scene unfold and you couldn't stop it. It broke our team up and then we never could get it back together again.
Gray: It's just amazing how the snap of a finger can change the direction of an entire franchise's fortune and reverberate for years.
Jackson: The person who I have more respect for since then is Ben. We make it a point to shake hands and speak before games now. I respect Ben. Ben was not wrong at all for what he did. Ron did something that only a moron would do. Something real selfish. Ben just protected himself, and for Ben's part, he had a lot going on at the time. That was the wrong person to foul, let alone the biggest dude on the court.
Ben Wallace: It was an unfortunate event that hopefully everybody has learned from.
Anthony Johnson (guard, Pacers): It really tore apart a great team. A whole season, a talented team, just went down the drain.33
Jackson: We would have won a championship that year, man. We had the best team, best young team. We had a Hall of Famer in Reggie Miller. We had every piece to the puzzle, great coaches, great team, great owner, great general manager. And everything was working. So I think a lot of guys are still bitter, like, "Dang, that was my chance to win a championship and Ron was real selfish to do that."
Mike Brown: That squashed all hopes and aspirations and dreams that I've had individually and I know our team had, once all those suspensions and all of that stuff got handed down.34
O'Neal: I honestly believe that we had an opportunity to not only win one championship, but to win multiple championships with the way that team was built.35
Pollard: [The Pacers] are still trying to recover. There is nobody in the world that can convince me that it is anything other than the brawl that set the organization back by a lot.
Walsh: You could call me on New Year's Eve and ask me about it, and it would bring me down 100 percent. It's not a subject I love talking about.
Adam Silver (now the NBA's deputy commissioner): The melee in Detroit had a profound and far-reaching impact on the NBA's image — well beyond the particular teams and players involved that night. But for the Pacers, the negativity lingered. The incident seemingly broke the community's deep bond with the team, and it took years to restore that connection.
O'Neal: I don't know if I could ever apologize to the city of Indianapolis and the state of Indiana for that enough. I don't know if there's enough apologies in the world to give to that city. That city meant a lot to me. It still means a lot to me. For them to go through what they went through on a national scene and the embarrassment it brought to the city and my community and my organization, I apologize for. If there's anything you can get across, please get that across. I don't know if people understand that the people that were there from that regime, from the brawl, could not shake it. We couldn't shake that whole thing. It seemed like the team was fractured.
Larry Brown: That team, Indiana, never recovered. I think it had a big effect on our guys. I really believe a lot of our guys were trying to end it and not let it get out of hand. Unfortunately, there were two teams involved, so it's a stigma on everybody. Not only the two teams, but the league in general. It was just terrible to be a part of that.
O'Neal: I felt like if I didn't leave — and it was one of the most difficult decisions that I had to make — then that organization would never be free of it. I've lived in that environment [in Indiana] where you can walk into a restaurant and there's so much love there that you get ready to pay your bill and your bill is paid already. Or anywhere you go, there's just so much love. I've seen that part. Those people, it's one of those hardworking small towns where people go to work every day and then they come home and turn their TVs on and watch those games because those games are a part of their lives. And they kind of live through that with all the tough times that they are going through. Indiana is one of the hardest-hit unemployment states in America. So, these people are going through a lot, and having to deal with that type of stuff is hard. It was a very unhappy situation, I could tell, for everybody — we needed to start over. I didn't want to [leave] because I always wanted to finish my career there. That's why I'm extremely proud of what they're doing this year, because now the fans have something to be happy about again.
The Punishments
Ron Artest: Suspended for 73 regular-season games and 13 postseason games. He was charged with misdemeanor assault and battery.
Stephen Jackson: Suspended for 30 games and charged with misdemeanor assault and battery.
Jermaine O'Neal: Suspended for 25 games, a penalty reduced through arbitration to 15 games, and charged with two counts of misdemeanor assault and battery.
Anthony Johnson: Suspended five games and charged with misdemeanor assault and battery.
David Harrison: Charged with misdemeanor assault and battery.36
Ben Wallace: Suspended six games.
Chauncey Billups: Suspended one game.
Reggie Miller: Suspended one game.
Elden Campbell: Suspended one game.
Derrick Coleman: Suspended one game.
John Green: Convicted of misdemeanor assault and battery and sentenced to 30 days in jail and two years' probation.
Charlie Haddad: Filed a civil suit against Anthony Johnson, O'Neal, and the Pacers. O'Neal was ordered to pay $1,686.50 in restitution to Haddad, who pleaded no contest to violating a local ordinance against entering a performance space and received a sentence of two years' probation, 100 hours of community service, and 10 straight weekends in a county work program.
David Wallace: Sentenced to a year of probation and community service.
Bryant Jackson: Pleaded no contest to one count of felony assault and one count of misdemeanor assault and battery. He was sentenced to probation for two years and ordered to pay $6,000 in restitution.
Nearly everyone who was involved in or a witness to the brawl has changed jobs, and Ron Artest, of course, changed his name to Metta World Peace. Here are the current new jobs of those who have moved on and were interviewed for this story or heavily involved: Artest (Los Angeles Lakers), Mike Brown (head coach, Lakers), Chuck Person (assistant coach, Lakers), Stephen Jackson (Milwaukee Bucks), Jermaine O'Neal (Boston Celtics), James Jones (Miami Heat), Jamaal Tinsley (Utah Jazz), Darvin Ham (assistant coach, Lakers), Larry Brown (retired for now), Tim Donaghy (disgraced referee), Scot Pollard (retired), Jonathan Bender (retired), Rasheed Wallace (retired), Donnie Walsh (consultant, New York Knicks), John Hammond (general manager, Bucks), Lindsey Hunter (scout, Phoenix Suns), Kevin O'Neill (men's basketball coach, USC), David G. Gorcyca (attorney, criminal defense, civil litigation), Sekou Smith (NBA.com), Tom Wilson (Ilitch Holdings Inc.).
The following declined multiple interview requests for this article: former Pacer players Metta World Peace, Reggie Miller, Jamaal Tinsley, Austin Croshere, and Anthony Johnson; former ESPN analyst Bill Walton; and Chad Forcier. An interview request for Rasheed Wallace, made through his agent, was not answered. Richard Hamilton (now a Chicago Bull), through a team spokesman, declined to be interviewed. The NBA refused interview requests for Ron Garretson and Tommy Nunez Jr., the two other officials who worked the game and are still employed by the league.