The Miseducation of J.R. Smith
Is the Knicks' erratic shooting guard misguided or just misunderstood?
By Jonathan Abrams on
Earl Smith Jr. found salvation in his jump shot. Smith could always shoot, and in basketball a shooter can live forever. In college, he clashed with his coach at New Jersey's Monmouth University, unable to understand why the second team remained the second team, even when they were routinely drubbing the starters in practice. When he'd finally had enough, he confronted his coach, said everything he wanted to say, and stormed off. That was the end of Earl's college career. But his shot never left him. He frequented Belmar's Jersey Shore League for the next decade, making cameos in other semipro leagues, popping up whenever a team needed someone who could stretch a defense.
In 1985, Earl passed on his genes, his basketball acumen, and his name to his first son: Earl Joseph Smith III. He placed toy hoops in every nook of the house. He taught the boy to bend with his knees and push with his arms as he shot. By the time the boy turned 3, he could sink free throws on a regular basis. Earl instructed the boy to do push-ups — not too many, but enough to build strength — and to use the form as an inverted model for his jump shot. When another son arrived two years later, the brothers practiced plays coordinated to numbers. They gave and went on one. They picked and rolled on two. They jabbed and back-doored on three.
"Defense was the last thing I taught them," Earl explained, "because you can make it without defense."
Earl wasn't wrong. The elder of the two brothers now admits that his father "taught me every fundamental that I know, especially my shooting technique." That jumper sustains his NBA career — but it doesn't define a successful one. You know the boy as J.R. Smith, a perplexing, polarizing player and personality. Smith is one of the last members of the NBA's much-debated prep-to-pro generation. He's made money in bunches, more than $25 million in his career, and he will find a team long after his athleticism erodes — like his father, he will always be able to shoot. But he's also defined by something that isn't tangible: untapped potential. Eight years into his star-crossed career, coaches and fans still don't know what to make of J.R. Smith.
Even today, Earl Smith Jr. remains confident that the NBA would have beckoned if only his path had veered a little differently. He measured himself against NBA players like Vinnie Johnson, Eddie Jordan, and James Bailey while holding his own in the Jersey League. His association with those players linked him to a rapidly evolving NBA during the late 1970s and early 1980s, when Larry and Magic brought the NBA to the masses. Television ratings swelled, contracts ballooned, players flew first class. Free agency ensured that rosters became less fluid from year to year. Salary discrepancies between stars and bench players had been thrown out of whack. "The new salaries had made it more difficult," David Halberstam once wrote in The Breaks of the Game. "It had heightened natural tensions between teammates as it increased the differences that always existed."
That same period laid the groundwork for the basketball philosophies of several other basketball lifers who would shape the education of Smith Jr.'s oldest son. John "Pott" Richardson began his climb to more than 400 wins while coaching the Piners of Lakewood High School in New Jersey. Dan Hurley started honing his game under the tutelage of his father, Bob. Byron Scott capped a successful collegiate career and became a fixture of the "Showtime" Los Angeles Lakers under Pat Riley. Meanwhile, George Karl coached the CBA's Montana Golden Nuggets, stealing bit by bit from mentors Larry Brown, Doug Moe, and Dean Smith. And Mike Woodson launched his NBA career under the Knicks' Red Holzman after playing for Bobby Knight at Indiana. They would all eventually cross paths with J.R. Smith. Their inability to make a lasting impression remains the most confounding thing about a confounding career.
Richardson first noticed J.R. Smith when he dominated the Lakewood youth leagues as a 12-year-old. He called him "a court rat." Smith eventually landed at Lakewood after pit stops at Steinert High and McCorristin Catholic High — a red flag, in retrospect — as people quickly noticed Smith's body didn't resemble the body of a typical high school kid. Richardson remembers the Camden High kids, from Milt Wagner to his son, Dajuan, always seeming more physically mature. Like men playing against boys. Now he had one for himself.
"He's the only guy I ever coached," Richardson said, "that had that [physical] structure and could play outside, face the basket at six-five, six-six."
The second thing everyone noticed? Smith's jump shot. With a simple flick of the wrist, Smith could drain 3s — or as Richardson called them, "4-pointers" — from laughable distances. The coach started pushing his young star, demanding that he finish first in sprints and stay late to work on that jumper. Smith obliged, never challenging his coach for fear he'd be benched. Richardson still laughs at Smith's athletic prowess — like his ability to throw down putback dunks in one seamless motion, or the bombs he launched that were closer to half-court than to the 3-point line. Smith also prospered on Lakewood's football team, where he played all over the field — wide receiver, linebacker, cornerback, safety, even quarterback — saved two games with field goal blocks, scored a deciding touchdown on a blocked kick, and routinely caught touchdown passes on soaring fade routes with one hand.
"He obviously made the right decision to concentrate on basketball," said Nick Eremita, Lakewood's coach at the time. "But I coached high school football for over 20 years and without a doubt, he's an NFL-type player."
Clemson offered Smith a football scholarship based solely on watching his game film, something that didn't surprise his coaches. Dave Oizerowitz, Lakewood's offensive coordinator at the time, likened Smith to "a more athletic and probably a faster Plaxico Burress." Oizerowitz added, "He was really just scratching the surface. But the best thing about him? He was a great kid. He always had this big smile on his face and was always popping into the office, asking, 'Coach, how are you doing?'"
Smith gave up football after transferring to St. Benedict's Preparatory School in Newark, where he repeated his junior year and played against better competition. "I graduated high school when I was 16," Earl Smith Jr. explained. "I said my sons ain't gonna do that. If I can get that extra year out of them, it makes a world of a difference."
Even though it would be Smith's fourth high school in three years, Randy Holmes, an assistant to Richardson and one of Smith's mentors, agreed with the move. He admitted that "in order to get where [J.R.] had to get in life, he had to leave Lakewood. He had to. He could have scored 50 points at Lakewood, but that wouldn't have really done anything for him. He would have been All-State. I don't know if he would have been able to go to North Carolina or the NBA. The critics would have said, 'Who has he played against?'"
Richardson learned of the transfer while reading the local newspaper. The Smiths never discussed the decision with him, though he knew it was inevitable.
"They weren't forthright about it," Richardson says. "But it's OK. All is forgiven. It's in the past."
You might remember a string bean kid named Kevin Garnett declaring for the NBA draft right out of Chicago's Farragut Career Academy High School. The NCAA wanted him to skip his freshman basketball season and prove himself academically. Garnett had other ideas. Two decades earlier, three ballyhooed high schoolers — Darryl Dawkins, Bill Willoughby, and Moses Malone — started playing professional basketball right out of high school. Only one of them reached his potential: Malone, who eventually won three MVP awards in Houston and Philly, but only after unsatisfying stops in Utah, St. Louis, and Buffalo. In 1989, Shawn Kemp entered the NBA without playing college ball, becoming a high-flying sensation for the Seattle SuperSonics. That opened the door for Garnett in 1995, then a superior high school player but someone described by Michael Wilbon in the Washington Post as not "physically ready to play under the basket in the Big Ten, much less against Hakeem Olajuwon and David Robinson. His skill level isn't high enough; he isn't savvy enough."
Garnett proved his skeptics wrong, quickly playing big minutes for Minnesota and embarrassing every team that hadn't scouted him. When high schoolers Kobe Bryant and Jermaine O'Neal followed his lead, NBA scouts reluctantly began haunting high school gyms. No one wanted to miss the next Garnett or the next Kobe. And yet … everyone agreed this was heading in the wrong direction. "I just always felt it was somewhat uncomfortable going into a high school gym and evaluating high school players," said Pete Babcock, a former general manager of the Atlanta Hawks. "It wasn't where you should be. It was just uncomfortable."
You wouldn't have found many people who believed J.R. Smith could jump straight to the NBA. Dan Hurley remembers his father — a Hall of Fame coach at Saint Anthony High School in Jersey City,1 known for his disciplined, demanding style — dropping in on St. Benedict's games and rolling his eyes at Smith's shot selection. Dan Hurley loved Smith's work ethic, though. In two years, he never had to kick him out of a single practice, saying now that Smith wanted to get coached and that Smith would have run through a wall for him. The St. Benedict's teachers also liked Smith; he quickly became one of the school's most popular kids. He lived on campus and was in bed by the 11 p.m. curfew every night. "He was a guy that never expected anything," said Father Edwin Leahy, St. Benedict's headmaster. "A lot of these guys can be prima donnas. There wasn't any of that in him."
Leahy can only remember one incident in which Smith was suspended for a game — after he and teammate Alex Galindo left campus without permission. The reason? They wanted haircuts before a big game.2 Meanwhile, tales of Smith's exploits began to spread. Once, he outscored an entire team for three quarters before Hurley mercifully removed him from the game. Another time, he pulled off a 360-degree dunk as, teammate Bashir Mason remembers, "people literally, in the middle of the game, started running out of the stands and running onto the court." St. Benedict's claimed the state championship during Smith's (second) junior year. The next season, Smith set school records for points scored (700), 3-pointers (108), and field goal percentage (.541). Says Hurley now, "It was amazing what he was able to do so effortlessly, as a shooter and scorer. God blessed him."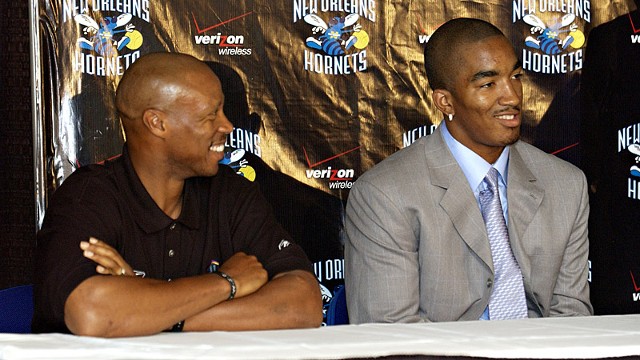 Smith entered the 2004 McDonald's All-American game as something of a national unknown. That changed quickly — he sank five 3s, scored a game-high 25 points, and claimed co-MVP honors with a man-child named Dwight Howard. Eventually, Smith eschewed a commitment to North Carolina and declared for the 2004 NBA draft, a night that could have doubled as a high school graduation. A record eight high schoolers were selected in the first 19 picks, highlighted by Howard going first to Orlando over established college center Emeka Okafor.3 After New Orleans grabbed Smith at no. 18, he told the Asbury Park Press that "sitting on the bench, I would take that as a lesson, whereas other guys might take that as an insult. Everyone's not going to play right away. It's just a reality, especially when you're a rookie. Not everybody can be LeBron or Carmelo."
If only it had been that easy. Smith's first NBA coach was Byron Scott, someone who wasn't accustomed to losing — the 2005 Hornets lost 64 games — and babysitting teenage shooting guards. Scott takes a more diplomatic stance these days, remembering Smith's rookie season as "a little bit tougher than he probably expected," but also that "we knew he was going to be a hell of a player. We also knew it was going to take some time." Smith didn't do himself any favors by practicing his half-court shot when his teammates queued up at the free throw line, or joking around in the locker room after losses — two habits that irked Scott and Hornets veterans.
"It was probably tough on both of them," former Hornets guard Speedy Claxton said. "Byron was old-school. He grew up under Pat Riley. He's probably one of the most hard-nosed, disciplined coaches there is. J.R. was used to being the man and probably got away with a lot in high school. It was a power struggle between them."
Smith's father believes Scott didn't help J.R. nearly enough, calling him a "good friend" before adding, "You've got a kid out of high school, you treat him as an adult, and you can't do that. He's with men and he's done something wrong, you need to guide him with your hand and say, 'No, you don't do that.' Or every time he comes with his shirt out, you fine him. You've got to nurture him. That's with anything."
Holmes, Smith's mentor from his Lakewood days, moved with Smith to New Orleans, where he witnessed the realities of the professional game affecting Smith's confidence. "For the first time in his basketball career, he wasn't the man," Holmes said. "Coaches really got on him. Byron Scott is old-school. It's his way or no way. You can just sit on that bench and rot if you don't do what the coach wants you to do or you don't get it."
Their already tenuous relationship was irrevocably shattered during Smith's second season, which the Hornets split between New Orleans and Oklahoma City in the aftermath of Hurricane Katrina. They went months without speaking to each other. Smith's playing time and scoring dropped, despite the addition of spectacular rookie point guard Chris Paul — someone who should have made Smith better in every way. When Scott benched him while the Hornets were depleted by injuries, Smith vented to the Times-Picayune about his coach's "big" ego, bemoaning their lack of communication, while essentially begging for a trade.4 The Hornets accommodated him in 2006 by flipping P.J. Brown and Smith to Chicago for Tyson Chandler. Six days later, Chicago sent him to Denver for two second-round picks.
Asked what he learned about dealing with coaches, Smith ominously told the Times-Picayune, "Just play your game, because you'll probably be around a lot longer than they will." Now with his third team in as many seasons, Smith ran the risk of becoming another cautionary tale, someone mentioned in the same sentence as Korleone Young and Leon Smith. Meanwhile, NBA commissioner David Stern was becoming increasingly mortified by the collective immaturity of the league's younger players and the effect it was having on NBA scouting. In 2006, the NBA mandated that American-born players must be at least 19 years old and at least one year removed from high school to be draft-eligible for the league. Stern wanted to push even further, lobbying for an age minimum of 20 — he wanted NBA personnel out of high school gyms altogether.
Naturally, Earl Smith Jr. disagrees with that stance: "Come out of high school and [you're] in the top 30 of the NBA draft. You go to college, you get exposed. Now, you're out the draft. You've got to get the money when you can go and make a few million dollars without doing that manual labor. You can get an education later. I know how hard it is. I worked a long time to even try and make a million dollars. It don't come easy."
If Earl really believes his son didn't need those two years in college, that may be all you need to know about J.R. Smith's NBA career.
---
"J.R. Smith ready to revise career: The young guard hopes to earn starting spot, alter troublesome perception developed with Hornets" — Denver Post, October 8, 2006
"J.R. Smith starring as The Graduate: Young Nuggets guard maturing into steady and coachable player" — Denver Post, April 6, 2008
"Smith showing maturity: Jail time this summer has given J.R. a new purpose for game, life" — Denver Post, September 26, 2009
"Smith displaying signs of progress: Nuggets guard vows to improve and, yes, defend" — Denver Post, October, 10 2010
"Every October, I wrote the same feature story: 'Is this the year J.R. turns it around and grows up?'" said Benjamin Hochman, the Nuggets beat writer for the Denver Post who also covered Smith in New Orleans. "You get J.R. talking about how he's matured and George Karl saying how he hopes J.R. will play more defense and be part of a system. Every year, J.R. would not mature and not grow as a player or as a person."
No relationship has ever captured the NBA's conflicting generations better than Karl and Smith — even years later, it's impossible to forget the incredulous expressions on Karl's face whenever Smith launched one of his patented 25-footers at the worst possible time. They were doomed from the start. Earl Smith Jr. remembers riding a stationary bike in the Nuggets' training facility and seeing Karl enter with his assistants, unaware that Earl was J.R.'s father. "I'm going to bust that Smith kid's ass," Smith overheard Karl say to his staff before realizing that his father was present. Smith Jr. encouraged Karl to coach his son; Smith promised to remain just a father. But Karl and J.R. Smith clashed early and often, mostly over playing time.
For someone like Karl, a basketball lifer who learned at the feet of Dean Smith at North Carolina and has watched the NBA dramatically evolve over three decades, J.R. Smith presented a special kind of challenge. After particularly poor play from Smith in Game 4 of a playoff series against the Spurs in 2007, Karl memorably hissed, "I just love the dignity of the game being insulted right in front of me."