First Serial: Marvel Comics, The Untold Story
(page 2 of 2)

By

Sean Howe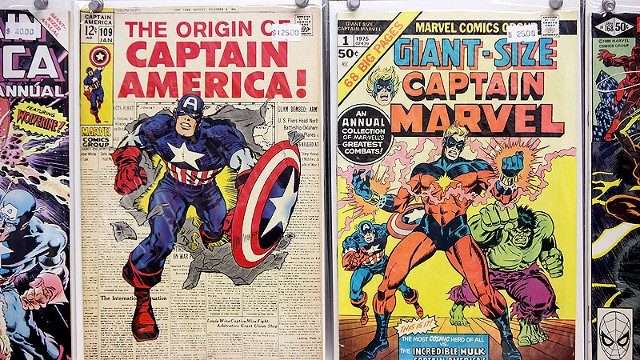 Just as the furor of Gwen Stacy was starting to die down, Roy Thomas saw Howard, the talking duck that Gerber and artist Val Mayerik had placed in Adventure into Fear. The book's scary vibe, he thought, was compromised by the inclusion of a funny animal. "Get it out of there as fast as you can," he told Gerber. In his next appearance, Howard made a clumsy step off a rock and fell into oblivion.
The fans reacted instantly. "The office was flooded with letters," Gerber recalled. "There was the one wacko who sent a duck carcass from Canada, saying, 'Murderers, how dare you kill off this duck?' There was the incident at a San Diego Comics Convention where somebody asked Roy whether Howard would ever be coming back, and the entire auditorium stood up and applauded. Stan was being asked about it every place he went on the college circuit."9
This time, the fans were on the side of the writer. Marvel would bring Howard back.
"I don't have time to edit," Roy had told Steve Englehart on an early assignment, "so we're hiring you to write this book. If you can turn it in on time and can make it sell, you can keep doing it. If you can't, then we'll fire you and hire somebody else."
In this sink-or-swim spirit, Jim Starlin was tapped to plot and draw an issue of Iron Man, a comic that his roommate, Mike Friedrich, had been writing for six months. Figuring he might never get another shot, he convinced Friedrich that they should stuff the issue with the characters Starlin had dreamed up while taking psych classes at a Detroit community college after his Navy stint.10 Thomas was pleased, and paired Starlin with Steve Gerber for the following issue; however, Lee happened to see that story, deemed the results terrible, and immediately removed Starlin from the title. Then Starlin and Alan Weiss were offered a quick-turnaround art job on the final issue of The Claws of the Cat. For two days, Starlin's girlfriend kept them supplied with wine and pot; in a celebratory mood, they filled the margins with smart-alecky comments and in-jokes. By the night before deadline, though, the fading duo had to recruit a third artist, who snuck in his own unsolicited suggestion to the narration: The Cat gets an ovarian cyst! After the pages came back to Linda Fite to add her dialogue, she went straight to Lee and complained. The next day, Starlin got an angry call from the office.
But Thomas thought Starlin had promise. He offered him a chance to work on Captain Marvel, a faltering title that Thomas had written himself, before editorial duties pulled him away. The conveniently named Mar-Vell, a warrior of the alien Kree race, had defied his own people to protect Earth; now he worked in tandem with Rick Jones, the former teenage sidekick to the Hulk, who had blossomed into an annoying wannabe rock star. The characters had agonizingly bland personalities — but that turned out to be just the blank slate Starlin needed. At first, as he found his footing, he larded the comic with guest stars and big fight scenes, just to make sure it would sell enough to keep going. Then he got adventurous.
"We had different points of view, different attitudes, and different things we wanted to convey, and it was a time of turmoil in the world," said Al Milgrom, a wisecracking, self-described "frat boy" who'd known Starlin growing up in Detroit, and who collaborated with him on Captain Marvel. "So when we were given these characters, we went off on some tangents." Indeed: Starlin decided to explore "enlightenment through discipline and training," a concept he still believed in, even though it had eluded him in his own military experiences. In Starlin's hands, Captain Marvel was not so much about how much power and charisma its hero had, but about how many limits he had — he was an unenlightened mope who didn't know how to live up to his potential. Within a few issues, Captain Marvel would become "cosmically aware," a process described in words that might have been gleaned from the Dhammapada, fortified with a generous supply of exclamation points: "This man has conquered! He's beaten vanity and pride by seeing the universe as it is! He knows what must be done and does it, but does it with a great sorrow! For this man knows truth and peace!" Starlin transplanted his characters from that failed issue of Iron Man — Thanos, Drax the Destroyer, Mentor, Kronos, Eros — and added several more, turning the book into the kind of vast, multigenerational space opera that would soon make George Lucas a rich man. Of course, Star Wars never blew the hinges off the doors of perception.
"I was just as crazy as everybody else post-Watergate, post-Vietnam," said Starlin, whose hobbies included motorcycles, chess, and lysergic acid diethylamide–25. "Each one of those stories was me taking that stuff that had gone before and trying to put my personal slant on it. Mar-Vell was a warrior who decided he was going to become a god, and that's where his trip was." In the pages of Captain Marvel, existence itself might be altered several times in the course of an issue. "There is a moment of change, then reality becomes a thing of the past!" howls the evil ruler Thanos, before everything morphs into funhouse-mirror images. His sworn enemy Drax responds: "My mind and my soul are one — my soul — an immortal intangible, nothing and everything! That which cannot die cannot be enslaved, for only with fear is servitude rendered!" On the following page, Drax's shifting realities are represented by thirty-five panels of warped faces, skulls, eyes, stars, and lizards. Captain Marvel had practically become a black-light poster with dialogue. Its sales kept increasing. Soon Starlin was opening his fan mail and finding complimentary joints sent by grateful, mind-blown readers.
Englehart, meanwhile, was humming along on a slightly less psychedelic scale. He'd revamped the dormant Beast for a few issues of Amazing Adventures, then landed stints on The Defenders, Luke Cage,11 and Captain America, which despite its hero's thirty years of history was barely selling. "It was taking place during the Vietnam War," Englehart scoffed, "and here was this guy wearing a flag on his chest, and everybody was embarrassed." Englehart did away with the character's more reactionary rhetoric, and added a liberal-humanist charge. The first issues of Englehart's Captain America explained why, if the character had been encased in a block of ice since the end of World War II, the 1950s revival comics showed him fighting communists: the fifties Cap, it turned out, was an imposter, a superpatriot turned insane by side effects of the super-serum. This retroactive continuity didn't exactly thrill John Romita, who'd actually drawn those 1950s adventures, but readers were electrified. Within six months Captain America was Marvel's number-one title, and Englehart was entrusted with The Avengers. These young, opinionated rabble-rousers were getting closer and closer to the marquee properties.
It was during this ascendancy that Englehart met Frank Brunner, a Brooklyn artist with long blond hair, a buckskin jacket, and a library of Carlos Castaneda and H. P. Lovecraft paperbacks. Brunner had recently quit Marvel's token occult-superhero comic, Doctor Strange, because he didn't like the scripts that sexagenarian DC veteran Gardner Fox was writing — "monster of the month" was his disparaging description of Fox's plotting style, which incorporated a revolving door of inhuman villains. But now Fox was off the book, and Roy wanted Brunner back. When Roy asked him whom he would want on board as a writer, Brunner remembered the guy he'd talked to at parties about kabbalah, astrology, and Satanism. Englehart jumped at the opportunity to bring Doctor Strange back to the trippy, Day-Glo heights of the Lee and Ditko era. They got right to work.
"We would get together every two months, have dinner, get loaded about 10 o'clock, and stay there until 3 or 4," said Englehart. "He would be thinking about what would look really cool, and I would talk about where I could go with Dr. Strange's consciousness, and we would come up with a summation that was greater than the parts."
When they weren't at each other's apartments getting high, they were rampaging around with Starlin, Al Milgrom, and artist Alan Weiss, a Las Vegas–bred ladies' man who shared a Queens apartment with a rotating cast of five stewardesses. Together, they'd ingest LSD and wander Death Wish–era Manhattan at all hours. "We sort of took New York as this vast stage set," said Weiss. "We would launch ourselves to some part we hadn't seen yet, and go explore, day or night." There was the time they traipsed by security guards and wandered through the World Trade Center while it was being built. On one July night they went to Lincoln Center for a screening of Disney's Alice in Wonderland and hatched a Doctor Strange plot that included a hookah-smoking caterpillar. Then they walked to the U.S. Customs House in lower Manhattan and climbed around on Daniel Chester French's four statues of the continents, where they envisioned a Defenders story in which Doctor Strange transformed each statue into thousands of living soldiers to battle hordes of Atlantean invaders.
In Rutland, Vermont, where the annual Halloween parade organized by comics fan Tom Fagan drew swarms of industry professionals, Starlin and Weiss and Englehart sat under a waterfall, opened their minds, and discussed that hoary stoners' concept: God. In a matter of months, their respective visions — informed by such occult touchstones as the Knights Templar, Atlantis, the Illuminati, Druidry, and Aleister Crowley — would turn up in simultaneous issues of Captain Marvel and Doctor Strange. The evil megalomaniac Thanos captured the all-powerful Cosmic Cube and turned himself into God, but was defeated on a technicality (nobody worshipped Thanos, the heroes helpfully explained at the end — and a god needs worshippers). In Doctor Strange, a thirty-first-century magician named Sise-Neg found that by moving backward in time, he could absorb energy from Cagliostro, Merlin, and priests of Sodom and Gomorrah, gathering power until he reached the beginning of time, and became God.
"When the book came out," Brunner said, "Stan finally got a hold of it, and he wrote us a letter saying, 'We can't do God. You're going to have to print, in the letters column, a retraction, saying this is not the God, this is just a god.' Steve and I said, 'Oh, come on! This is the whole point of the story! If we did that retraction of God, this is meaningless!' So, we cooked up this plot — we wrote a letter from a Reverend Billingsley in Texas, a fictional person, saying that one of the children in his parish brought him the comic book, and he was astounded and thrilled by it, and he said, 'Wow, this is the best comic book I've ever read.' " Englehart had a Christmastime layover in Dallas, and mailed it from there, ensuring a proper postmark. "We got a phone call from Roy, and he said, 'Hey, about that retraction, I'm going to send you a letter, and instead of the retraction, I want you to print this letter.' We printed our letter! We later found out that Jim Starlin was in New York at that time, up in the Marvel offices, and he was reading the Doctor Strange fan mail, and he was the one who actually saw the letter, believed it was the real thing, and gave it to Roy, who gave it to Stan."
The real letters they got, from college students and freaks, were accompanied by baggies of Wowie Maui and said things like, "I like to smoke a bowl, put on ELO or ELP or Pink Floyd and read the latest issue of Doctor Strange." Those weren't printed.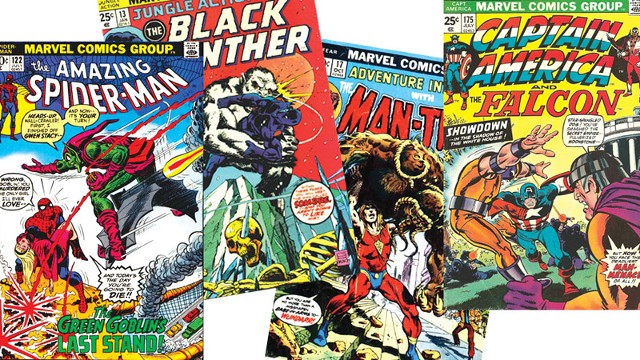 On Friday nights, Englehart and Starlin stayed in and watched television. They had become rabid fans of ABC's Kung Fu, which starred David Carradine as a Shaolin monk in the Old West who alternated between Eastern philosophizing and ass-kicking. They approached Roy Thomas about doing a Kung Fu adaptation for Marvel, but the show was produced by Warner Bros. — DC Comics' corporate parent — so they created their own concept: Shang-Chi, Master of Kung Fu. "I was already doing Doctor Strange, which represented the Western mystical philosophy," Englehart recalled. "I really saw Shang-Chi as a chance to do the Eastern mystical philosophy, albeit with a more action-oriented hero than Doctor Strange." In that spirit, he and Alan Weiss settled on Shang-Chi's name, which meant "the rising advancing of the spirit," by throwing the I Ching and mixing and matching hexagrams. Then Thomas, who'd secured the rights to Sax Rohmer's pulp-novel Fu Manchu character, suggested they incorporate martial arts into a Fu Manchu comic. So Shang-Chi became the son of Fu Manchu, who learns his father's evil secret and dedicates himself to fighting him.12 The mix of philosophy and ass-kicking was perfect for an era that embraced Passages and Walking Tall.
The plotting was the easy part — party all day; rest; drop more acid. "We saw a movie and came out at 9 or 10, not tired. We started out in midtown and walked all the way to South Ferry. I don't know that we would have walked that far if we hadn't been chemically altered. About two in the morning, we came to the AT&T Long Lines building. A monolith, with monitored underwater cables to Europe, and no windows — a huge monument in a neighborhood of 1940s warehouses. There's construction going on the other side of the street, with guys bent over acetylene torches throwing six-story shadows on the building." They had their model for Fu Manchu's headquarters. When they turned and saw abandoned construction vehicles, they had their scene for a climactic martial-arts fight. The comic was practically writing itself. As Weiss said, "Some of it was chemically fueled. But it was always fodder for creativity. We got very … enhanced. We were extremely enhanced."13
When the time came to draw the comic, though, things got rocky. Starlin created dozens of sketches for Shang-Chi, whom he rendered with a Chinese face — except when drafting different costume designs. "I did just this generic face on top of the figures and Stan said 'That's the face you've gotta go with.' " Starlin tried to explain the misunderstanding, but Lee held his ground. Making matters worse, Starlin finally read the Sax Rohmer source material and was aghast at the pervasive racism. "By the time we finally got done with it," Starlin said, "I had a friend who was Oriental who looked at it — he told me flat out he found the whole thing insulting. That was enough for me." When the first issue came out, fans wrote in to complain about Fu Manchu's bright yellow skin, prompting a laborious explanation about the color printing process. By then, Starlin had walked.
Englehart soon followed. "I got five issues into it and they called me up and said, 'Stan rode up on an elevator today and heard two guys talking. One guy said, "what's the hottest thing in movies these days?" and the other guy said, "Kung fu movies and the reason why is because it's wall-to-wall violence." ' Stan got off the elevator, walked to Marvel Comics and said, 'Let's do wall-to-wall violence.' They called me up and said, 'We don't want any more of this philosophy. We just want kung fu fights.' "14 The series continued on without him, with cover lines like "The Fortune Cookie Says: DEATH!"
Englehart focused his attention on Captain America, which, at the time of the Watergate scandal, suddenly seemed like the richest opportunity at Marvel. He crafted a conspiracy story line with thinly veiled correlations to actual headlines: the Committee to Reelect the President (C.R.E.E.P.) became the Committee to Regain America's Principles (C.R.A.P.), with the real world's ex-adman H. R. Haldeman replaced in the comics by ex-adman Quentin Harderman. It all climaxed with Captain America tracing the shadowy "Secret Empire" straight to the Oval Office — where a disgraced commander in chief committed suicide by gunshot.
Englehart never showed the president's face, but Marvel called him when the pages arrived, asking for reassurance that it was not intended to be Nixon. "I swore up and down that it wasn't," he said. "But once it was in print, I had no problem admitting it."
---
Starlin, on the other hand, felt like he was getting a hard time. After the Shang-Chi fiasco, he began turning his work in at the last moment, to avoid editorial interference. John Romita, who'd been given the title of art director, offered Starlin a regular gig on the flagship Fantastic Four but found that the young superstar was no longer yearning to be a team player. "Starlin turned down the FF, and that was the first time I ever heard of a professional comic artist — they used to be so grateful to get a steady book that they would crawl on their bellies — turn down a book. He said he didn't want to be 'tied down' to it."
When Mike Friedrich, Starlin's old Iron Man writing partner, moved out to Hayward, California, and started independently publishing his own anthology comic book, Starlin jumped at the chance to contribute. The first issue of Star*Reach opened with Starlin's seven-page tale about an artist who enters a slick "death building," drops acid as he rides the elevator, boasts that he's a "being of imagination," and beheads a cloaked figure of Death. But the artist is then himself slain. As the story ends, another acid-eating artist enters the building — " My name is Starlin, Jim Starlin!" — one more lamb for the slaughter. The slick office building, revealed upon further inspection of the artwork, was at Fifty-Fifth and Madison — the address of Marvel Comics. Just as "Death Building" was going to press, Starlin threw a fit about an inking substitution in Captain Marvel, told Marvel he was quitting, and took off for California.
Brunner quit, too, finding the pace too grueling when rising sales of Doctor Strange convinced Marvel to push it from every other month to a monthly title instead. "It was definitely an Oscar and Felix kind of relationship," Englehart said of the collaboration. "I smoked dope, and dropped acid, and ate mushrooms — and I made my deadlines. Brunner was also into that stuff, and in the end couldn't keep up. He would be saying 'We could do this, we could do that,' and I would be saying, 'Yeah, but we have to get it into seventeen pages.' " Brunner had started to lose interest anyway — he was more excited about a new project he'd been working on with Gerber, a short story that featured the return of Howard the Duck.
---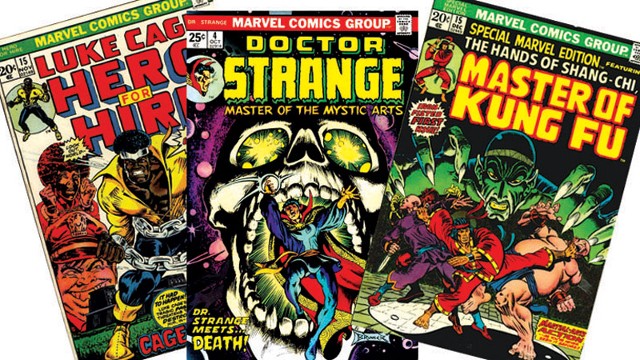 In the summer of 1974, news started to surface that Martin and Chip Goodman were planning a return to comics — with the specific goal of exacting revenge on Marvel and Al Landau, whose crowding out of Chip they considered an unforgivable act of betrayal. They created cover designs that blatantly imitated Marvel's branding, right down to the thin horizontal banners at the top of each magazine. They called themselves Atlas Comics, but people in the industry almost immediately began calling them "Vengeance, Incorporated."
The Goodmans spread the word that Atlas would pay higher page rates than Marvel or DC; it would return original artwork; it would even offer the creators ownership of their characters. One artist set up shop outside Marvel's Madison Avenue offices, enthusiastically redirecting other freelancers to Atlas's headquarters, a block away. Before long, many significant Marvel alumni, including John Severin, Wally Wood, Gary Friedrich, Gerry Conway, and Steve Ditko, had signed up; even Lee's own brother, Larry Lieber, was hired as an editor.
In desperation, Lee sat down and typed up a letter to freelancers. "Recently, a number of smaller companies — some already established, some in the process of attempting a launch — have decided that the only way to match Marvel's success is to lure away as many of our people as possible." Then he ramped up the drama considerably.
It's like Nazi Germany and the Allies in World War II. Hitler, being a dictator and having no one to answer to, could do as he wished whenever the mood struck him, and could make the most extravagant promises to his captive people, while being completely heedless to the consequences. The U.S., however, had to move slowly, following firmly established principles of law and government. Marvel, like the Allies, simply cannot counter-react with impetuous pie-in-the-sky offers and promises.

Being aware of this situation, certain competitors are making increasingly frenzied efforts to decimate Marvel's staff, with more and more such offers being dangled before the eyes of almost anyone who can use a pencil, brush, or typewriter. Offers which could ultimately become sand beneath your feet — but their purpose will have been achieved.
Lee emphasized that Marvel was the largest employer of comic freelancers, that its rates had continually risen over the last fifteen years, and that it had instituted a hospitalization and life insurance plan for exclusive freelancers. He emphasized that it was he himself who'd introduced prominent credits in the comics, and that it had been Martin Goodman who had not allowed the return of original artwork. "Marvel has never lied to you," he wrote, in closing. "Marvel never will. Stay with us. You won't regret it."
Lee threatened Archie Goodwin, who'd been writing for Marvel, that working for Atlas would be a bridge-burner, and Thomas advised freelancers that there would be no guarantee of future work with Marvel if they strayed. But in August, Thomas himself went to dinner with Chip, and talked things over — just wanting to feel things out. He was burning out at Marvel, leaving work and beginning all-night writing sessions at ten or eleven at night. Jeanie had come back to him — for now — but things with her felt tenuous, irreparable, and the stress of the job wasn't helping things. He was defending company policies he didn't agree with, constantly caught between labor and management. According to Romita,many of the older Bullpen members had never cottoned to Thomas, or accorded him respect. "When you're used to working with Stan, a lot of them had trouble taking orders from Roy. They felt like he was a kid who shouldn't be in charge." When veteran inker Vince Colletta learned that Roy was planning to remove him from inking duties on Thor, he marched into Roy's office and threatened to throw him out the window.
Now Thomas was also feeling unfriendly pressure from above, in the person of Al Landau. They'd gotten off to a bad start: When there had been the threat of an industry-wide artists' union, Thomas wanted to fly to the Philippines to recruit artists who'd work at cheaper rates. Landau vetoed the trip on the ground that it would be "too much like a vacation," despite the revolutionary war raging near Manila at the time. When Thomas broached the idea of selling comics directly to comic stores at a discount, Thomas said, Landau "would look at me as if I were an idiot, tell me that that would just make the wholesalers and retailers mad, and change the subject." A quarter century later, Thomas could remember only one or two times that he and Landau agreed on anything.
Even Stan Lee had started to grow distant — he'd encourage Thomas to push for policies like returning original art to freelancers, or paying royalties on reprints, or distributing directly to specialty comic shops, but if Landau resisted, Lee would stay quiet. "By becoming publisher," Thomas said, "he had gone from being creative force to total company man, which was what he wanted — but I didn't want to follow him along that path as I had before." For his part, Lee told people that he and Thomas were no longer seeing eye to eye.
The comics themselves, at least, were the best they'd been since Kirby left — in fact, Thomas had even had conversations with Kirby about coming back from DC. "Roy was very open to ideas, and allowed you to do almost anything. He managed to find ways to get you into the company before you knew you were there," said Marv Wolfman. "Len had no intention of ever coming over, but slowly found himself working full-time for Marvel. — Roy knew how to handle people." Thomas was also talking to Starlin about returning, maybe taking over the superhero-as-Christ parable Warlock, with stories so far-out they'd make Captain Marvel look like Marmaduke. Steve Englehart followed the Watergate story in Captain America with adventures based on the Symbionese Liberation Army's Los Angeles siege and the People's Revolutionary Army's kidnapping of an Exxon executive in Argentina; in The Avengers, he embarked on a weird epic that involved time travel and telepathic trees.
But Thomas wouldn't be around to see these stories reach fruition. The final straw came, at last, after a freelancer was caught trying to drive up his Marvel income by lying about his page rate with DC. A seething Stan Lee went out to lunch with DC president Carmine Infantino and hammered out an agreement to share information about how much each freelance writer or artist was getting.
When Thomas heard the news, he was appalled — this was collusion, and he wanted no part of it. Jeanie had wanted him to quit all along, ever since Stan had rescinded that job offer to her — hell, he had quit once, over the phone, but Stan had talked him out of it. That wouldn't happen again. Before leaving the office that night, he sat down, took out a sheet of paper, and in a one-paragraph memo decried Lee and Infantino's plan as "unethical, immoral, and quite possibly illegal." He would not enforce it. The next day, Thomas wrote from home; and when he returned to Marvel the following day, Lee summoned him into his office. "I suppose that you consider this your letter of resignation," Lee said, before trying to explain his position on freelancer rates. "It doesn't matter," Thomas said. "It's probably best if I leave Marvel."
Citations for this excerpt can be found here.
---
An earlier version of this article incorrectly stated that Gerry Conway started writing Superman when he was 14.
---
Sean Howe's book, Marvel Comics: The Untold Story, goes on sale Tuesday, October 9.