Stoners, Segways, and Some Horrible, Horrible Nudity
(page 2 of 2)

By Katie Baker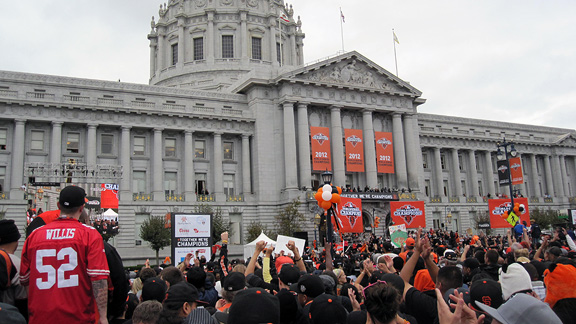 But Lee's awkward rallying cry wasn't the worst speaker snafu of the day. That honor goes to Tammy Nelson, a lead performer in local musical revue Beach Blanket Babylon who since 2010 has perhaps been better known as the God Bless America Singer With the Crazy Hat. "Your San Francisco 49ers swept the Detroit Tigers!" she said by way of opening. At least the guy in the Patrick Willis jersey was psyched. (Alex Smith and Jim Harbaugh actually both participated in the parade, chauffeuring the convertibles carrying Matt Cain and Brandon Belt, respectively.)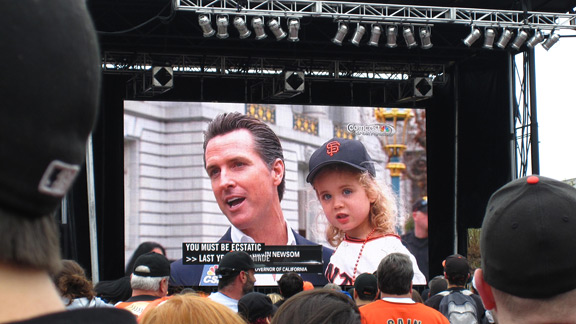 "Buster Posey," said the adorable daughter of former San Francisco mayor and current California lieutenant governor Gavin Newsom when she was asked, in front of tens of thousands, who her favorite Giant is. (Then her daddy had to go and ruin all the Newsom family's cred by comparing the stress of sitting through the Giants' six elimination games to "watching the 18th game in the fifth set of the French Open." I love that that's what came to mind.) Also, let's be honest, I just wanted to include this picture so we can discuss how Gavin Newsom looks totally like the love child of Patrick Bateman and Dear Leader Simmons, right?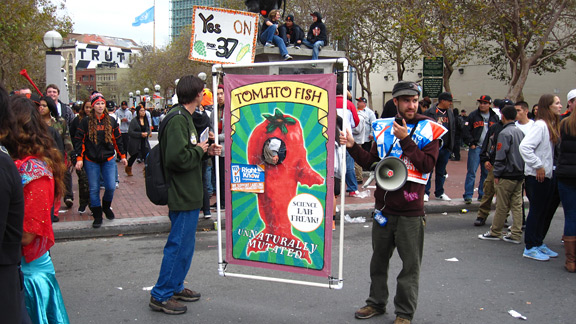 With less than a week before the election, it was an important time to do some special-interest lobbying — in this case, for better labeling on genetically engineered food. Here, kids, put your faces in that Tomato Fish and say (soy vegan) cheese and also be sure to vote YES on Prop 37 and go baseball team, woo!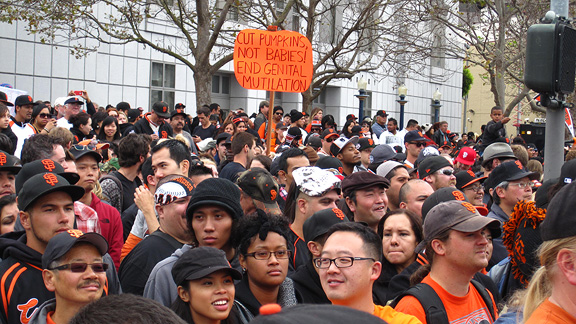 And then there was this. I like to believe that whoever toted this, um, descriptive sign to a World Series parade also shows up at political rallies waving a giant foam finger.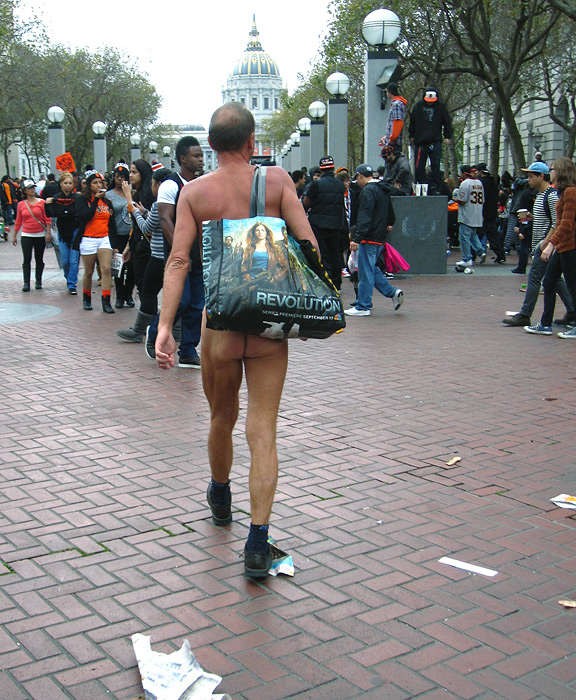 While we're on the topic of genitals, I can confirm that this guy's front was as much of a free-for-(b)all as his back. Though I can't shake the notion that this is some sick viral marketing stunt for the show Revolution, and that somewhere a rogue ad guy is getting a pat on the back for a job well done. Regardless, I can't stop staring at that left thigh! CrossFit, do you think?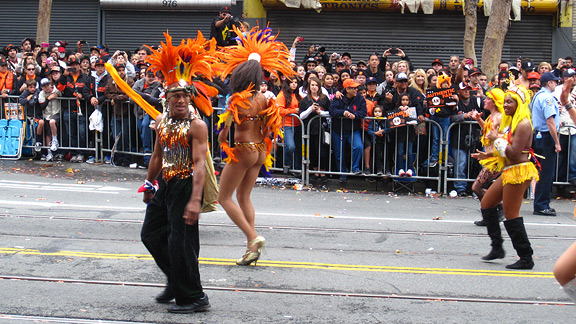 Just in case you needed a palate cleanser after Viral Revolution Man.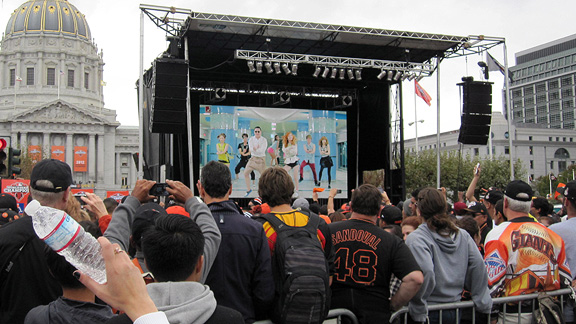 The obligatory "Gangnam Style." (Also, check out that one dude's sweet jacket.) At the beginning of the day, I attempted to keep three running tallies: (1) the number of times I heard "Lights" by Journey, which the Giants play in the eighth inning of all their home games; (2) the number of times I saw pot being openly smoked; and (3) the number of times I heard "Gangnam Style." No. 1 turned out to be five, I basically lost count of no. 2 within the first 30 minutes, and no. 3 was basically just running on an ongoing loop all day. At one point during the rally, it was played twice in the span of like 10 minutes. Do you think Tony Bennett, who came out at the end to croon "I Left My Heart in San Francisco," is aware of this song? He'd probably do a killer rendition.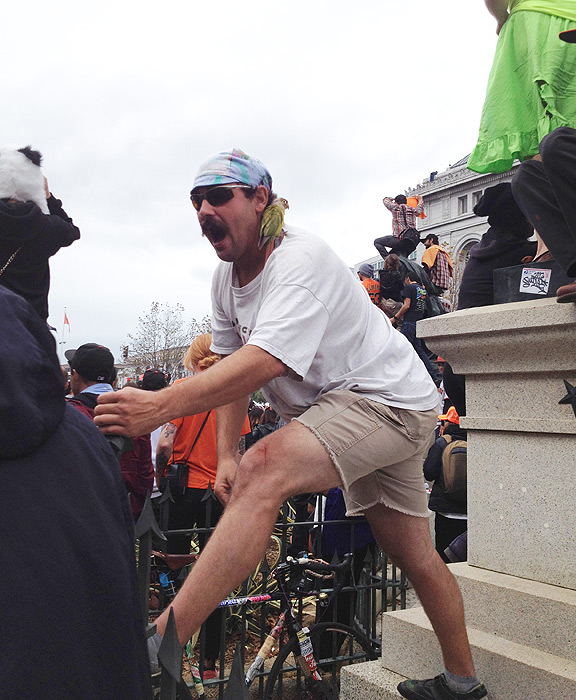 This guy was an absolute beauty. "Me and the bird went to 12 games this year," he was telling another dude, as if the parrot on his shoulder was a buddy from high school. "I really think the Giants can win four World Series in six years. Four in six, man. Four in six!"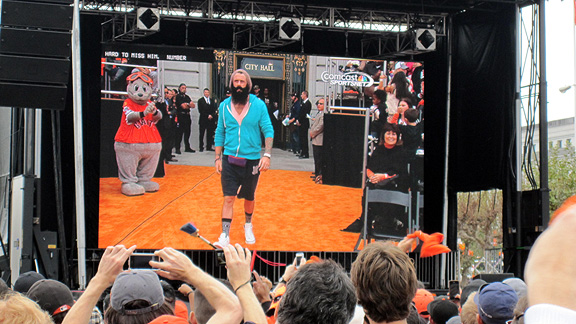 Brian Wilson would blend in perfectly in the Mission. It's crazy that someone with such a huge presence and role in 2010 was sidelined this time around after undergoing Tommy John surgery this spring. Still, the Giants more than made up for Wilson's quirk in 2012. Midway through the parade, closer Sergio Romo, wearing a shirt that said "I JUST LOOK ILLEGAL," ditched his convertible and chose to walk/skip/hop the rest of the route. During the victory rally, pitcher Ryan Vogelsong told a strange story that ended with the punchline "You're going to jail now!" and an uppercut to the mic. (SFist identified the reference, albeit quite fussily.) There were Pablo Sandoval and Marco Scutaro, addressing the crowd en Español, and there was Barry Zito throwing an alley-oop pass by saying "we're enjoying the highest of the highs right now." ("So am I!" someone yelled, completing the dunk.) I was half-expecting to see signs that said "KEEP THE GIANTS WEIRD."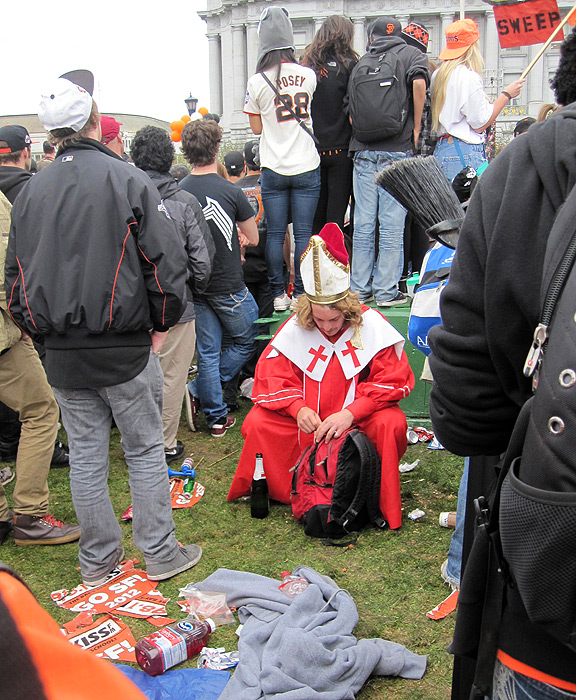 In contrast, sad Pope is sad. Can you blame him? Not only is baseball season, glorious baseball season, officially over — he had to spend his day walking among a lewd, louche, and very loud collection of sinners. Even if they are much more fun.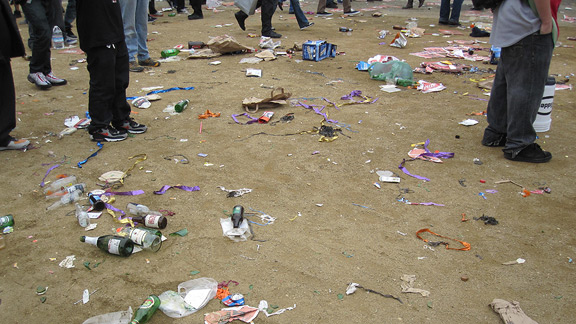 Heathens, all of you. No wonder they wanted to hold the parade on Halloween. Just as with the Giants' playoff run, it would be two big messes — followed by one big cleanup. Get out the brooms.