The Greatest Team That Never Was
Dunks, drugs, and disappointment: an oral history of the 1980s Houston Rockets
By Jonathan Abrams on
Ralph Sampson spoke briefly at a press conference one day before being inducted into the Naismith Memorial Basketball Hall of Fame. He mentioned hearing people say that he'd disappeared of late. "How could a 7-foot-4 person disappear?" he asked. How indeed?
During Sampson's first season for the University of Virginia 33 years ago, Sports Illustrated trumpeted his arrival with a cover story and screaming headline: LADIES AND GENTLEMEN, INTRODUCING THE ONE AND ONLY RALPH SAMPSON! HE DUNKS! HE BLOCKS SHOTS! HE DRIBBLES BEHIND HIS BACK! HE'S 7-FOOT-4 — AND STILL GROWING! That's five exclamation marks, one less than the number of times Sampson appeared on the magazine's cover over the next four years. The sport had never seen anyone with Sampson's potent blend of height and athleticism. A franchise center who moved like Russell, passed like Wilt, and projected the same aloof immensity as Kareem? Yes. And he was — and still is — 7-foot-4.
After Sampson averaged 14.9 points, 11.2 rebounds, and 4.6 blocks his freshman season, Boston Celtics patriarch Red Auerbach tried to convince him to enter the 1980 NBA draft. The Celtics, a 61-win team in the previous season, featured a transcendent rookie forward named Larry Bird and owned the first overall pick. Sampson remembers it well. "Auerbach came to my house and said, 'You can come and play for the mighty Boston Celtics.' I gave it a thought. Ralph Sampson coming to Boston — there might not have been a Kevin McHale there or Robert Parish." When Sampson stunned basketball by staying in school,1 Auerbach traded that pick and the 13th selection to Golden State for Parish and the third overall pick (which would become McHale), creating the "Big Three" that would eventually win three NBA titles over the next six seasons. Sampson stayed all four years at Virginia, leaving valuable earning years on the table (and never playing in an NCAA championship game), but winning three Naismith Awards and finishing as one of college basketball's greatest centers ever.2
The Rockets happily selected Sampson first in the 1983 draft, then teamed him up with Hakeem (then spelled "Akeem") Olajuwon after winning another no. 1 overall pick the following spring. Their panicked rivals rushed to emulate Houston's "Twin Towers" and Boston's enviable tandem of Parish and McHale, and an arms race for bigs officially began. New York decided Patrick Ewing and Bill Cartwright could coexist. Teams drafted an astonishing eight centers with the first 17 picks in 1985; the following summer, four of the first seven lottery picks were centers. When the precocious Rockets lost to Boston in the 1986 Finals, the sight of McHale, Parish, Bird, and Bill Walton battling Sampson and Olajuwon appeared to be the dawning of a new basketball era. Little did we know those teams had already peaked. The Celtics were never the same after rookie Len Bias overdosed on cocaine two days after the 1986 draft.3 And Houston's promising nucleus crashed because of injuries, drug abuse, suspicion, suspensions, and ultimately, Sampson's stunning trade to Golden State.
By the time Olajuwon won consecutive titles in Houston, Sampson was long gone — he played his last meaningful game long before he turned 30. His premature demise opened the door for the Lakers to win two more titles, sabotaged the first decade of Hakeem's brilliant career, and established Sampson as one of basketball's ultimate "What if?" talents. Imagine today's Oklahoma City Thunder never fulfilling their potential, getting sidetracked by injuries and drugs, wiping their roster clean, then winning championships with an aged Kevin Durant nearly a decade later. That's how it played out for the "Twin Towers."
All those quoted are introduced with the job titles they held or positions they played during the 1985-86 NBA season.
THE MAKING OF THE TWIN TOWERS
Before the 1982-83 season, Philadelphia signed reigning MVP Moses Malone to a $13.2 million offer sheet, with Houston receiving Caldwell Jones and Cleveland's 1983 no. 1 pick. Philly won the 1983 title and the Rockets stumbled to 14 wins (and the first and third overall picks). The Indiana Pacers finished with a 20-62 record, worst in the East, setting up a coin flip for the no. 1 pick.
Charlie Thomas (owner, Rockets): My daughter at that time was in her late teens. I came home one night and she said, "What are you going to do about the [1983] coin flip?" I said, "I don't know. It's 50-50." She said, "I think it's going to be heads. I had a dream that it's going to be heads." I said, "I don't mind calling heads." And she went with me and they flipped the coin.
Jerry Sichting (guard, Boston Celtics): I was with the Pacers when they lost the flip. The coin landed on its side and rolled all the way to the wall. Everybody was scrambling to see which way it was going to turn over.
Herb Simon (co-owner, Pacers): I remember the coin rolled on the carpet, on the floor, and [Thomas] had his daughter with him. I had nobody. And of course I lost.
Sichting: Houston got the first pick. Sampson would have been my teammate had it turned the other way. I might have been his teammate instead of getting in a fight with him [three years later].
Rodney McCray (forward, Rockets): The Sunday before the draft, they brought Ralph, myself, and [Steve] Stipanovich to New York for radio interviews. Ralph said the Rockets were going to select me along with him [at no. 3]. That was the first time I heard it.
Hakeem Olajuwon (center, Rockets): Clyde [Drexler] was available and the city and everybody wanted him to stay in the city. Bill Fitch, he had a different vision with Rodney.4
Bill Fitch (coach, Rockets): I'll never be sorry for it. McCray did exactly what we wanted him to do and he was very good. The only time I'm sorry for it is that every time we would play Drexler after, say, five years in the league, he'd just stick it in my ear. If there was a record to be set, he would do it.
Robert Reid (guard-forward, Rockets): After the Rockets got Ralph and Rodney, I got a phone call from Bill Fitch and [Rockets general manager] Ray Patterson. I talked to my wife and said, "Let's go back."5
Fran Blinebury (Rockets beat writer, Houston Chronicle): The first year, they got rid of everybody. It was, "Ralph was there and we're just going to dismantle this thing."
Thomas: We were so bad. We went into a complete rebuilding program.
Blinebury: Fitch wanted [Sampson] to be a center. All he kept saying was "Ralph needs to get a move. He needs a baseline move." Ralph was just never going to be that guy. Bill was always trying to make a square peg fit into a round hole. If anything, Ralph was a triangle or a shape that we hadn't had before.
Reid: Ralph, in the back of his mind at practice, he was saying, "I'm going to be the first 7-foot point guard." Bill Fitch was going to go tackle him if he tried to bring it down again.
Fitch: I used to get on him that he was a center and not an outside player.
Blinebury: Ralph was going to be this game-changing player, a 7-foot-4 guy who could put the ball between his legs, run the court on the break, and shoot 25-foot jumpers. Ray Patterson says, "Not only is Ralph going to be the player of the year, he's going to be the player of the century."
Even with Sampson winning Rookie of the Year, the 1983-84 Rockets lost 53 games and were accused of tanking games down the stretch. Improbably, the team won the coin flip for the right to draft Olajuwon, even though they had only the league's fourth-worst record. Already perturbed by Robert Reid's surprise retirement and subsequent return,6 Houston's rivals now stewed over the fact that they'd been rewarded with successive top picks.
Blinebury: There was a meeting that took place over the All-Star break [in 1984] between Thomas, Patterson, and Fitch. They'll deny it up and down, but they said, "We're not the team of the year right now." Meanwhile, Hakeem was tearing it up at the University of Houston.
Carroll Dawson (assistant coach, Rockets): Every time we weren't playing, I'd go watch [Olajuwon] play because Phi Slama Jama was tremendous. Dream didn't shoot the ball that much. We knew he could dunk. We knew he could block shots. We knew he could rebound and we knew he could run like a deer.
Blinebury: If you look at some of the box scores and lineups and conclude they're doing anything but tanking, then you're far different than me.7 There was one game in Houston where Elvin Hayes, who was about a thousand years old, ended up playing in an overtime game about 50 minutes.
Thomas: We got the first pick again. I don't know if anyone had ever won it two years in a row.
Blinebury: Norm Sonju [then the GM of the Mavericks] was outraged that Houston could win back-to-back coin flips. In 1984 at the Board of Governors meeting, Sonju throws out that he wants to get rid of the coin flip and go to the draft lottery.
Norm Sonju (general manager, Dallas Mavericks): The whole thing was basically people feeling that [the Rockets intentionally] lost games. No one can prove that, but they went down to 14 wins [in '83].8
David Stern (commissioner, NBA): The lottery was created to eliminate the perceived incentive to lose games. Obviously the Rockets became the team on which most people focused. Even if teams were not losing on purpose to better their position, the perception did exist.
Blinebury: It gets changed and 10 minutes after, Ray sees me and says, "Norm Sonju thinks he's so damn smart. He's tired of me winning coin flips. I've got Sampson and Olajuwon. How the hell am I going to have the worst record in the West? But he could have the worst record. He could have just cost himself a one-in-two chance of getting the no. 1 pick." And then he paused and said, "We could be the first team out of the playoffs. I could get into the lottery, win it, and get Patrick Ewing. How would you like me to stick that up his ass?"
Mark Heisler (sportswriter, Los Angeles Times): Hakeem was so good. The heat all went to Portland for Sam Bowie [taken one spot ahead of Michael Jordan]. I love Jordan. He was the consensus third pick. We knew he'd be an All-Star player, but we didn't know he would be that.
Fitch: It was Hakeem all the way. If we didn't take him, they would have burned our houses down.9
Heisler: [The Rockets] never took any heat over it. It seemed logical. They drafted Hakeem in '84 … in '86, they're in the Finals.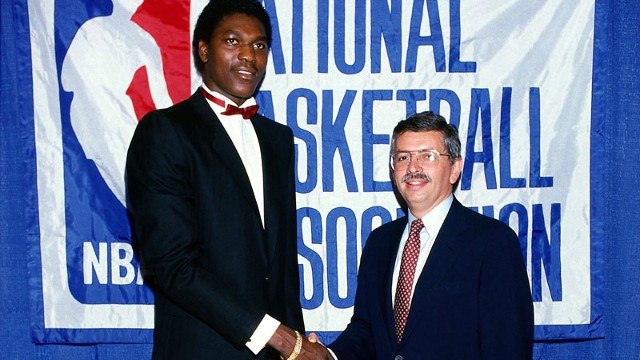 Olajuwon: I was watching Ralph when I first came to college. I was a big fan. The way he caught lobs and was finishing them, it was unbelievable. And now I'm playing beside him and he didn't even realize how much impact he had on me.
Jack McCallum (NBA writer, Sports Illustrated): The Twin Towers concept was really a big deal. The NBA was resistant to change. You went out there and you had a center and somebody else had to be a forward. That's the first time I remember someone doing something different.
Sampson: Most people say it hindered me from scoring more points or getting more rebounds. But every team had to adjust to two 7-footers playing every night.
Dawson: They fit together well. Actually, Ralph might have been better when he moved out a little bit.
Sampson: My skills were a little bit farther from the basket. Hakeem had the body and ability to be in the low post. I could go into the post. He could go into the post and pass out. It became a great fit very quickly.
Fitch: Ralph could pass the basketball. He was never given enough credit for being the passer that he was.
Sampson: My mind-set and skill set at that point of time was to be the best basketball player I could be. Not just the best center. I wanted to play guard. I wanted to play forward. They gave me the opportunity to do that.
CAPTAIN VIDEO
The '84-85 Rockets surprised everyone by winning 48 games. Sampson claimed the 1985 All-Star Game MVP and Olajuwon's offensive game blossomed. Combined, the Twin Towers averaged 42.7 points, 22.3 rebounds, and 4.7 blocks in their first season, and Sampson's wish was granted: He played away from the basket and thrived. Having won a title in Boston just four years earlier, Fitch started wondering if it could happen again, sooner rather than later.
Fitch: My dad was a drill instructor in the Marine Corps. I thought I was part of the Marine Corps until I was 14, shining all those boots and everything. There was a lot of discipline in my coaching that maybe rubbed a lot of guys wrong. But in the long run, it made them all better.
Dawson: He was a drill sergeant type of guy. He was demanding, but fair. He was a coach 24 hours a day. We'd go play a game. We'd go to his room. We'd get the film out. Sometimes, we'd both fall asleep at four in the morning, watching film.
McCallum: The writers were in Houston playing pickup. Fitch was out there watching us, a bunch of asshole reporters. That was sort of his life. He would just sit there and watch a pickup reporter basketball game.
Hank McDowell (forward, Rockets): There was a seat on the plane that no one wanted to sit in — next to Bill. You didn't want to be the last one onto the plane because you knew what seat was there.
Jim Petersen (forward, Rockets): You didn't want to be last. That meant you were going to have to sit through a litany of basketball philosophy.
Blinebury: Guys would run suicides and throw up over the sidelines. Bill would be chuckling. But they don't get to the Finals, they don't beat the Lakers, they don't play the Celtics without Fitch.
Craig Ehlo (Rockets guard): He was called "Captain Video" for a reason. We practiced for two hours and then watched film for two hours.
Petersen: He was really ahead of his time. No one wanted to sit through those long video sessions. We're talking about the mid-'80s when remote controls and VCRs were still new and you can't really pinpoint play sets. He would need to rewind one play and would have his finger on the rewind button for one play, and it would rewind 10 plays. We'd have to sit through the same 10 plays again and he would sit through them like he hadn't seen them before. We'd go, "Oh no. He has his finger on the rewind button again. Why couldn't he have it on the fast-forward button?" He would literally talk about the same damn plays like they were brand-new sets.
McDowell: This is how hard-core [Fitch] really was. We were scrimmaging and Craig Ehlo sprained his ankle. Ehlo's hurting bad. He's wiggling around in the lane. And Dick [Vandervoort], our trainer, he's down there trying to work with him and then 30 seconds go by, a minute goes, two minutes. Finally, I hear Fitch say, "Dick, get his ass off the floor. I'm trying to run a practice." We all looked at each other like "Damn. The guy can't even walk." Dick, who is this little small, thin guy, he's literally down there trying to drag Ehlo off the floor.
Ehlo: He was combative with his players. It was his way or the highway. When Ralph and him were in a fight in practice one day over a play call, you knew Fitch wasn't going to back down and Ralph wasn't going to back down. Luckily, [assistant coach] Rudy Tomjanovich and Carroll Dawson were there to take control and pull them apart.10
McCallum: Ralph was not enough of the run-through-the-wall type of guy to suit Fitch.
Reid: Ralph would complain and he didn't realize, "This ain't college here no more, homeboy. Ain't nobody here to love you. This is business now."
Blinebury: They are completely burned out from all these grueling practices. [As a rookie] Ralph went to Fitch and tells him that.
Sampson: My only goal was Elvin Hayes needed some minutes to get 50,000 and get a bonus in his contract. You weren't playing to win at that point in time. You're trying to get a draft pick, which we did. So I just voiced my opinion.
Blinebury: Fitch tells him, "You don't know what the hell you are talking about. Get out of here." Ralph comes to us in the media and expresses this to the beat guys. Fitch makes him read the newspaper article in the locker room.
Sampson: I had to read it in front of my teammates, which was fine.
Reid: Ralph is reading it and he's reading it kind of slow. "And … we … need … to … understand … that … I … just … feel … we … have … too … long … of … practices." Rodney hits me and he says, "Yo, this is an English major reading like this?" If I had a soda and was drinking it, it would have come out my nostrils.
Blinebury: It pretty much just embarrassed him.
McCallum: I went out to do a story on them [in 1986]. The first part was on how good Olajuwon was. The second half was how much Fitch was pissed at Ralph. I wrote the story and saw Olajuwon a couple weeks later — he stops me and has the second half of the story with circles around all the stuff Fitch said. And he goes, "I talked to you a long time. You didn't even write anything about me. All you did was write about how much Coach Fitch hates Ralph." He only had like half the story. I said, "Hakeem, the story doesn't begin in the middle of a sentence." Ralph must have given it to him. Ralph was all pissed off at Fitch.11
THE RISE OF THE TWIN TOWERS
Despite losing to Utah in the first round of the '85 playoffs, everyone considered the Rockets a legitimate sleeper the following season. Their biggest concern was whether John Lucas — a talented but troubled point guard who had become the team's elder statesman — could remain sober an entire season. The former no. 1 overall pick did two stints in rehab between '84 and '86, although his erratic behavior dated back to his days with Golden State, captured in a memorable Sports Illustrated feature from 1981 called "John Lucas: Picking Up the Pieces." Even if Sampson and Olajuwon were revolutionizing the league, it seemed far-fetched that they could thrive without Lucas leading the way.
Dawson: You could not score in the paint against us. With those two guys, we controlled the paint as well as anyone I had seen in a long time.
Petersen: I tried getting a shot off on Dream one time [in practice] and he smacked it against the backboard. Rodney McCray looked at me and said, "Hey, Pete — you're going to have to take it to another level."
Reid: The late, great Dennis Johnson, one time he brought the ball up to half court and I opened up the gate. He said, "Reid, what are you doing? You ain't going to play no defense?" I said, "Look down there. Do you feel lucky?" He cussed me out.
Lewis Lloyd (guard, Rockets): Playing on defense, I used to let a lot of guys go down there. "Go ahead." I used to tell Hakeem and Ralph that, "If I let them go, block that to me and if y'all keep coming, I'll throw it back to you. If not, I'm slamming it myself."
Rudy Tomjanovich (Rockets assistant coach): Lloyd was a tremendous, special player.12 He had these big, strong thighs and an unorthodox way he played. There was no seam between two guys he couldn't get through with his body.13 [Mitchell] Wiggins was a tough guy. He loved to play defense. He loved to attack those offensive boards.
Allen Leavell (guard, Rockets): They were both amazing. Good rebounders, played good defense. Lew was a flat-out scorer. Mitchell could shoot the ball. He never got credit for it.
Reid: Even from the first day when we started camp [for the '85-86 season], it just felt different. The guys were getting along. After practice, nobody just went their own way. We stayed and practiced longer.
Petersen: John [Lucas] was kicked off the team my rookie year for cocaine abuse [in '84-'85]. We were in Oakland and we had to fly to Seattle. John was supposed to meet us in the bus to go to the airport and never made it. John had a relapse.
McDowell: I can remember sitting on the bus in Oakland looking at the hotel door, saying, "Come on, John. Come on out. Come on out." The bus pulled away and that was the end of John Lucas at that point.
Bob Ryan, (columnist, Boston Globe): John Lucas is a forgotten point guard who in the short term was extremely good. I remember writing about him in terms of the substance abuse and how scary it was and how powerful it must be for a guy that bright with two degrees to succumb to the power of drugs. If it weren't for the drug thing, there's no doubt in my mind that he could have put together a Hall of Fame résumé. We'll never know what he could have accomplished. That's the sad part.
Petersen: Bill brings [Lucas] back in '86. Bill has a big heart and he loved Lucas.
Ehlo: John was playing unbelievable. He was a guy that could go for 20 and 10 each and every night. He was the perfect leader for Olajuwon and Sampson because he distributed the ball pretty evenly between them.
Blinebury: With Lucas, there was no question [of him relapsing]. Lucas was completely out of control.
Reid: Coach Fitch called a meeting. He said, "We can do two things. We can keep John and make sure he stays clean and finishes the season. Or we can let John go and let him go into the clinic, get helped." Me and [Allen] Leavell, by this time, we're the two senior players. We put our hands up and say he's got to get help. These young kids are saying, "Man, you are only saying that because you want his spot." I said, "No, I don't want to see him dead."
Ehlo: We were all selfish at that point. We were going to play for a championship. We were all thinking that John had been the leader of the team and had proven himself every night.
Leavell: We talked and said he might be looking at something more than just a suspension from basketball. It was important to get his self together.
Fitch: John, God bless him, we caught him early enough. I caught enough heat for knocking him out, but I still think John would have been worse off if I hadn't cut him when I did cut him from playing.
John Lucas (guard, Rockets): Bill Fitch saved my life. He was the one coach that told me that enough was enough.
Fitch: I wish he would stop saying that. His enemies keep coming after me.
With 17 games remaining in the regular season, the 40-25 Rockets were trying to stave off Denver and Dallas for the Midwest Division title (and earn a 2-seed in the '86 playoffs). The Twin Towers were coming off their second straight All-Star trip. Lloyd and Wiggins had emerged as an effective platoon at the 2-guard, and McCray had become a legitimate defensive stopper. Just one problem: The Rockets didn't have their point guard anymore. As always, Bill Fitch had a plan.
Dawson: We had lost just about all of our guards. Leavell moves up and he's playing great. It's unbelievable how he steps up. [Then] he breaks his wrist and we're out of point guards.
Leavell: I had a broken bone in my wrist. It wasn't healed. Earlier in San Antonio, someone stole the ball and I was on all fours watching them go down to score and someone landed on me when I was on the ground.
Reid: Bill Fitch called me over and said, "I'm going to start you at point." I said, "You are? OK." He said, "But here it is: If I start you at point, it's going to take you off the list for Sixth Man of the Year." I knew Sixth Man of the Year, if I win, that's going to be a million dollars the next year. I looked at him and I asked him very honestly, "Coach, be honest with me. If you put me at point, do you think we can go to the championship? That's what I need to know." He said, "Yeah, you can take us to the championship." I said, "Let's do it."
Fitch: My best friend Lucas made that decision for me. I always thought I'd like to get a Magic-sized guy playing the point where he could see everything.
James Worthy (forward, Lakers): We saw them emerging toward the midseason of that '86 season. They had a really good team. They were deep, well coached. I think they beat us the last time we played in the regular season. They started to run with us and that was something we had never seen. Lloyd and Wiggins and Reid, they could run. We still thought we had the edge of experience.
Reid: When we got to the second round14 of the playoffs, I saw the [locker room's] board and Ralph wrote "We're going to be number one." I said, "Let me tell you what this means. Right now, it's $75,000. The next round is $100,000. When we win, it's $150,000 and your agent can't touch it. The fans are the ones saying they're number one. This is about getting paid, homeboy."
McDowell: I was surprised to get out of [the second round]. Denver, still to this day, was the loudest arena I've ever been in. It was so loud that all I heard was crackling in my ear. There was no distinction of voice or sound.15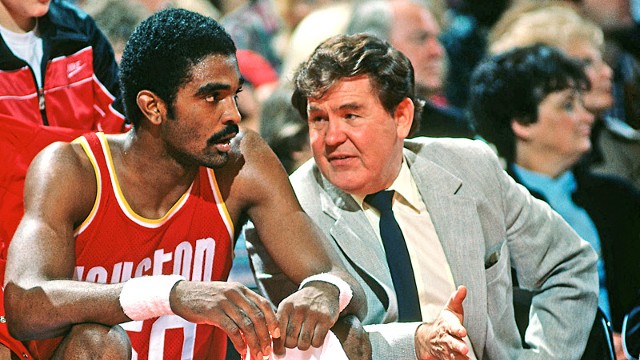 Olajuwon: They had this offense. We called it "Locomotive" because everyone was moving, and in Denver, everyone is struggling to breathe up there.
Blinebury: I'm pretty sure Fitch even brought in oxygen tanks to have on the sidelines.
Olajuwon: Tough series. We flew from Denver to L.A. without going home. The Lakers were waiting for us.
A.C. Green (forward, Lakers): We wanted to let them know this wasn't going to be their year.
Dawson: We go in there for our first game and get our tails kicked. I remember staying up with Coach Fitch back at the hotel, thinking about what we could do. Coach came up with a few things.
Fitch: We made one change with Rodney McCray. We brought him out to a different spot and made a passer out of him. They never adjusted.16
Worthy: They matched up pretty well in every position. I just remember them being really good, really tough to defend. We'd run. They'd run back at us. It was the first time I ever experienced it being tough for the Lakers to get out of the West.