THE MIRACLE SHOT
The Showtime Lakers owned the Western Conference in the 1980s. With Magic, Kareem, Worthy, and coach Pat Riley, they won three NBA titles and four straight conference titles. As Worthy enjoyed his best all-around season, some wondered if the '86 Lakers were their best team ever. NBA fans salivated at the prospect of a third straight Finals between the Lakers and Celtics. After the young Rockets lost Game 1 in Los Angeles, everyone wrote them off.
Ehlo: We stole one from them, then we went home and won our two. We went back there with a 3-1 lead.
Reid: We were just dominating them.
Heisler: Hakeem was so incredible athletically, and he was after the ball all the time. They couldn't keep him off the boards. He was a little too athletic and young for Kareem at that point.17
Kurt Rambis (forward, Lakers): Hakeem had a tremendous amount of offensive plays. We didn't feel like we could stop everything. We just wanted to get him to do turnaround shots. That would eliminate a lot of what he wanted to do and prevent him from getting his own offensive rebounds.
Lloyd: All of them talked trash. It was like a war basically. Magic and them were intense. They were ripping and running. They had a great team. They stayed together for eight or nine years. That's why they were so good.
Lloyd: Kareem used to kill Ralph. He used to get 40 on him every time. Me and Hakeem would sit next to each other on the plane. I said, "Y'all can't do nothing with the veteran, big fella. He's just killing y'all. Y'all haven't even arrived yet." So during the series, I guess I got under their skin. They started blocking Kareem's hook. They were smacking his stuff all around. I guess it paid off. They did the job on Kareem in that series.
Jerry West (general manager, Lakers): I thought we lost our mentality about our best way to play — be really aggressive, run the ball up and down the court. Obviously their size had something to do with that. Olajuwon created so many different problems in terms of his skill and his enormous desire to compete and excel. And they had a team that fit nicely around him.
McCray: They were playing well. We were hanging around. Stay close on the road and in the fourth quarter anything can happen.
Lloyd: I remember stepping to Michael Cooper at the beginning of the game. We were going up and down the court and Magic kept pulling on my trunks. He did it like four or five times. I said if he did it again, I was going to stick him real good. Then he went out of the game and Cooper came in the game and Cooper started doing the same thing. When they called a timeout, I stepped to Cooper and said, "This is my house. We're getting ready to run y'all off the court."
Reid: I was sitting at the scorer's table and Jack Nicholson says, "Robert, why don't you go on and let us have this game?" I say, "Jack, give me five minutes speaking in your next movie and you can have this game."
McCray: In the fourth quarter, they sent Kupchak in to get under Olajuwon's skin and kind of ruffle his feathers to see if they could disrupt his rhythm.
Rambis: [Pat] Riley made a point of agitating everybody to the point that we were so on edge — and I say agitating in a good way — he got the team hyped up, ready to play. And Mitch was always a very physical, hard-nosed player.
Reid: I kept trying to tell Dream, "Don't fall for it. Don't fall for it." But when Kupchak kept poking him in the stomach, Dream said, "Do it again, I'm going to knock you out."
Olajuwon: I don't mind people being physical. But this guy, he had no intentions of playing defense. [He was in] just to rough you up. I had 27 or so points already. He came in and was just too rough. I told myself, "I don't mind physical. I don't back down." So, if that was the game plan it worked perfectly. I got kicked out.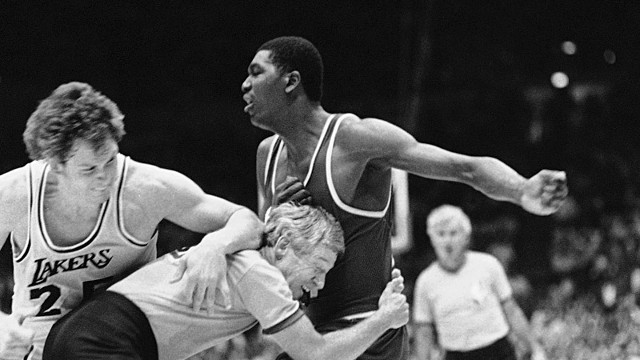 Jess Kersey (referee): I tried to get between Hakeem and Kupchak and had Hakeem around the waist. They were throwing punches above my head because I'm only 5-10. I grabbed Hakeem when he was on his heels and the little bit of body weight that I had, it kind of moved him back a little bit and both of us went down to the floor. People were coming around and they were kicking at Hakeem.18
Rambis: It was a validation, like most NBA brawls, that basketball players can't fight.19
Kersey: Somebody punched me in the head and I yelled up, "I don't know which one of you just punched me in the head, but if I find out, you're going to be ejected." With that, Bill Fitch said to me, "Jess, I know who punched you." Of course in the heat of the moment, I look at Bill and say, "Who was it?" He said, "It was Kareem and Magic."
Leavell: That's the way we played ball back then. You did what you had to do. If you had to play physical to get an edge, that was part of it. You didn't have free dunks like you do now like everybody's getting ready for a picture.
Kersey: Anyone throwing punches had to be ejected. That was automatic. I had to eject both of them.
Olajuwon: Back then, I didn't even get suspended, just fined. You won't be able to do that in today's league. That would be the dumbest thing to get suspended in a series like that.
Mitch Kupchak (forward, Lakers): That was my last game in the NBA. That's not the way you want to go out. Not that anyone remembers.20
Olajuwon: I got kicked out with Kupchak. Who had the better deal?
Tomjanovich: It was my job to escort [Hakeem] back to the locker room.
Blinebury: Hakeem is just thinking, I've blown this thing, sitting back there. He was just fearful of the wrath of Fitch coming in if they had lost the game with him sitting in the locker room.
Sampson: Everybody banded together and said, "Everybody has to step up."
Magic Johnson sank a baseline 20-footer to give the Lakers a three-point lead, but Reid's clutch 3-pointer tied it at 112-112 with 15 seconds remaining. The Lakers had a chance to close the game but Byron Scott missed a jumper with one second left — or maybe even less than that.
Leavell: I was just lucky enough to get the ball and call a timeout before time ran out.21
Dawson: You never knew in those days if it was a full second or how much time was on. It could have just been a tenth of a second.
Reid: Coach wanted Rodney to throw the inbounds. Ralph was going to come down, screen Allen, and Allen was going to take the shot.22
McCray: I'm trying to get the referee to hurry up and give me the ball before the Lakers figure out that the defense they were in would basically allow me a direct line into Ralph.
Kersey: He was yelling, "Hurry up, hurry up."
McCray: Worthy was in limbo. He was asking Coach Riley, "Do you want me on the ball? Do you want me to go back into Ralph's lap?" They were in a little bit of a frenzy.
Worthy: It was a state of confusion — for about a second, I was in no-man's land. I was nowhere. I look back at that kind of like I do that '84 pass to [Gerald] Henderson23 — there's a couple of seconds I wish I could take back. Looking back, I wish I could have at least put more pressure on the passer. Maybe he wouldn't have gotten that pass to Ralph so easily.
Blinebury: Kareem is backing off because he's trying not to commit a foul and send somebody to the foul line. Worthy is kind of frozen.
McCray: Once the referee gave me the ball, I just threw a direct pass to [Ralph].
Sampson: I knew I was above the box. I got position and turned. I just wanted to get it directed toward the rim. I couldn't come down with the ball. I had to turn and shoot it.
McDowell: He's literally on his toes by the time the ball gets there and spinning and throwing it over his shoulder. He wasn't even close to squaring up. Maybe his right shoulder was facing the basket.
Rambis: It was just kind of a bullshit type of shot, like, "There's no way this is going to happen" kind of thing prior to it happening.
Sampson: It hit the front, the back, and dropped in.
Worthy: I don't know if anyone else other than Ralph could catch and turn and twist it up and knock it down.
West: He could shoot that 100 times and never make that again. But good fortune is what makes sports. It was the shot that everyone remembers, but it certainly wasn't the shot that decided that playoff.
McCray: During practice, we've seen him shoot crazy shots before. My first initial thing after the game was to say, "Hey, you finally got one of those shots to go in."
Leavell: If he shot that 500,000 more times, he probably wouldn't hit it again.
Sampson: Every kid in the world wants the ball in the last three seconds and practices just throwing the ball at the basket. Rodney will tell you that it wasn't my shot, it was his pass. So I give him all the credit.
Dawson: I was afraid [Mitchell] Wiggins was going to touch the ball on the rim. Wiggins jumped at it but he didn't touch it.
McDowell: When it dropped through, boom. You propel off the bench and that arena was so quiet.
Dawson: That idiot in the white jacket running out there is me. I didn't know what to do. I was running around looking for somebody to grab.
Lloyd: I almost touched the scoreboard, I jumped so high. That was one of the happiest days of my life, dethroning the world champions.
Green: I was as paralyzed as Michael Cooper was.24
McDowell: I can still see Cooper lying on the floor in the lane.
Lloyd: I seen [Cooper] lying on the ground. Him and Magic were talking all that mess about how they were going to take it one game at a time and they were going to come back. They were blown away. They could have never imagined how we dethroned them like that.
Green: Everything within you, in all measurements of your fanhood, persona, basketball psyche, and knowledge from a fan to a player says, "No way."
Tomjanovich: We were watching the play [in the locker room] and once Ralph shot the ball, Hakeem started moving and bouncing around. When it went in, his feet were moving so fast, he had no traction. We were sort of running around, whooping and hollering. But if you've seen a dog on marble or linoleum, it was like that. He was just so glad we didn't lose this game with him in the locker room.
Olajuwon: I remember when everybody was running toward the locker room, I ran out to meet everybody. We're in celebration. Nobody ever mentioned I did anything stupid.
Pat Riley (coach, Lakers): Bill Fitch tapped me on the shoulder and said, "Tough way to lose." I was tremendously disappointed. Sampson's funky shot raised a question for the Lakers and for me. How were we going to deal with losing?25
Thomas: Jerry Buss and I were 30 feet from the shot. Jerry turned around and said, "Congratulations, Charlie," and we shook hands. Jerry and I were good friends the whole time I was in the league. I went up to the Forum Club with five or six people after and bottles of champagne started being poured to us by people in the club. I couldn't believe it. It was classy. They started hollering, "Charlie, beat Boston."
Rambis: They had a team that was set up to win for a long period of time.
West: With the size of those two guys up front, I think everyone looked at them and said, "Oh my gosh." But we felt we were capable of competing with anyone — we certainly proved that the two years following [both Lakers titles] with very little change to our team. When you watched Houston play, you thought the two big guys together was a tremendous combination. But other times, you thought, offensively there were things you can do. Like if they missed, they wouldn't be able to get back defensively. But they were a team that looked like they were on the verge of being able to win for eight to 10 years.
Heisler: Bottom line, the Twin Towers thing scared the shit out of the Lakers and the rest of the NBA.
THE "BIG-LITTLE MAN FIGHT" FINALS
Coming off a 67-win season and a blistering 11-1 record in the first three rounds — including a 25-0 run in Game 5 of the clinching conference finals game against Atlanta — the Celtics were heavy favorites heading into the Finals. But everyone in Houston had rallied behind the Rockets. Ehlo remembers the team capitalizing on the momentum from the Chicago Bears' "Super Bowl Shuffle" video with something called "The Rockets Strut." Remembers Ehlo, "We actually spent a lot of time filming it. The "Super Bowl Shuffle" was done really well. Ours was kind of pieced-together and turned out to be a disaster. It wasn't a good showing, but it was fun making it. I'm hoping it's been destroyed, but it was funny. They gave us each a line like, 'My name is Lewis Lloyd and I'm filling the void.' It was stupid stuff like that." And no, it hasn't been destroyed.
Meanwhile, the Celtics easily captured the first two Finals games in Boston before Houston squeaked out Game 3 behind Sampson's 24 points and 22 rebounds and Wiggins's late tip on an offensive rebound. That set up a suddenly dramatic Game 4 in Houston.
Sichting: As a Celtic, we were a little bit surprised and a little bit disappointed that we weren't playing the Lakers. It was my first year, but the guys who had lost the year before really wanted to play the Lakers. We beat them both times in the regular season.
Robert Parish (center, Celtics): I was disappointed. I wanted to redeem ourselves [against the Lakers after the '85 Finals], but it didn't work out that way. It was the Rockets' time, obviously.
Olajuwon: I have great respect for that team. If you want to put an ideal basketball team together, that would be the team. A basketball team is supposed to be big. They had a big front line. And they're very smart. They don't waste opportunities. If you take a bad shot, they're going to capitalize.
Lloyd: You talk about our Twin Towers. They had Kevin McHale,26 Robert Parish, Bill Walton. Big, big, huge guys.
Parish: We didn't have a mismatch with those two 7-footers. We only had somewhat of a mismatch with Larry because [McCray] was somewhat shorter.
Petersen: Being a [Bill] Russell fan and a fan of Dave Cowens, I grew up appreciating those teams. I was drafted with Olajuwon; Dream and I were pretty close. I remember both of us walking into the Boston Garden for the first time. You've got to walk into the building from the street and you get off the elevator and it smells like stale beer. When we walked in the first time into the entrance of the bowl with all the banners and — I was a huge hockey fan, too, being from Minnesota — it took my breath away. But I'm standing next to Dream and not saying a word and he looks at me and says, "What a dump."
Fitch: I recognized an awful lot of the plays they ran against us. In fact, I was tempted to go down to their bench every once in a while during a timeout and tell them they were messing up one of them. I figured Bird would probably kick me out.27
Sichting: Fitch was the only other X factor. A lot of guys liked him. They respected him. They kind of quit on him his last year there, I think. They all were respectful of what he did, but since we weren't playing the Lakers, that added more motivation to win.
Parish: I have a great deal of respect for Coach Fitch. When we won the championship in '81, he was the main reason why we won. We were down and he never let us doubt ourselves.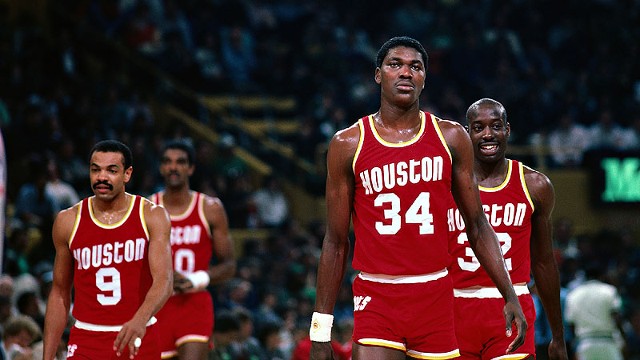 Fitch: I knew Bird as well as I knew any player. But that doesn't mean you're going to stop him.28
Olajuwon: I was a shot blocker jumping three or four times in the air and they are passing the ball three times before they shoot a basket. How many times am I going to do that before it's the fourth quarter and I'm tired? A shot that I would normally block from some players, they dish it off. You're just jumping all over the place.
Parish: The Rockets never gave up. They were in each game. I definitely had more respect for them after the series.
Lucas: It was really tough for me — we just didn't have enough movement and versatility at point guard.
Reid: I was good at point guard, but I wasn't getting those 12 assists that Lucas [could get] easily with us and still get his 12 points. I got us into our offense. I wasn't Magic. I could lead the break, but not at a shifty level.
Blinebury: They missed Lucas. It finally caught up to them. They needed him to settle them down and set the break. They just looked like they had finally gotten a little bit over their heads.
Ryan: Game 4 was the best NBA Finals game in the previous 10 years. It was one of those high-level games and the deciding thing in the game, from the Celtics' point of view, was it was the only time all season that [Boston coach] K.C. Jones let Walton finish the game instead of Robert Parish. He went on a whim and Walton came up with two offensive rebounds and a couple of great finishes to end the game.
Olajuwon: Walton, I remember clearly, he made a basket that I touched. That was the deciding basket. Walton was such a smart player. He kept the ball up. That's what experience is. Normally, I would block that shot from a lot of people. But with him, I touched it and it still went in. That game was most painful to me.29
Dawson: That was in our place. You remember the ones that hurt more.
After their emotional Game 4 victory, everyone expected the Celtics to finish things off in Game 5 and cement their status as one of the NBA's greatest teams ever. The game ended up being remembered for something else: Sampson's bizarre fistfight with Boston's Jerry Sichting in the second quarter.
Parish: I couldn't believe, of all people on the court, an altercation broke out between those two.
Danny Ainge (guard, Celtics): We [would] run a play where we set back picks on the free throw shooters to try and advance the ball down the court. After Ralph shot his free throw, throughout the series, we would have a guard screen him. Finally, I think he just got really frustrated and threw an elbow and the next thing you know, there's a brawl going on.
Sichting: I was kind of shocked the whole thing happened. I was used to taking shots from big guys. When you're small, you're always going to get knocked down, have hard picks set on you, and all those types of things. We came down on a break and [Sampson] actually put his forearm down and hit me in the back of the neck because I went over to try and block him out. I wasn't on the ball. I just tried to go over and got into his legs.
Leavell: I don't believe that. Every time he went through a screen, he gave a little bump. Ralph just got fed up.
McCray: Big men, we don't like short men — whether they're boxing us out or being pesky, because they're so low to the ground. Something had to precede that in order for something like that to happen during the course of the game.
Parish: Jerry is not known to be a dirty player or somebody that's going to provoke the outburst that happened.
Sampson: Whatever tactics were used at that point of time were used. It's the Finals.
Sichting: He hit me. They blew the whistle and called a foul. I turned, I kind of had both hands up, saying, "What are you doing?" because he just whacked me and then he just punched. Then, it just got crazy.
Parish: You have two mild-mannered personalities and it escalates to the level it escalates to … I was shocked.
Reid: He's swinging — at 7-foot-4 — at a 6-foot-1 guard like he's Joe Frazier.
Jerry Sichting vs Ralph Sampson Fight (1986)by kevin-garnett123
Parish: It was not a fight. If you are a parent, that would be like you fighting your child. It was such a mismatch.
Dawson: I remember getting a hold of Ralph's waistline. I was trying to pull him back and he elbowed me right in the temple. I was seeing stars.
Ehlo: I lost a lot of money in that. [Dennis Johnson] caught an elbow in that whole thing. I handed D.J. a towel to wipe his eye where he got cut. When I took the towel out to him I had left the bench area.
McDowell: I ran straight down the baseline and grabbed Olajuwon. For $500, I'll do it. Ralph was gone. I had to make sure Olajuwon doesn't somehow throw a punch.
Dawson: [Losing Ralph] was another rallying point. I think we went on a 20-10 run right after that happened and went on to win that Game 5.30
Ainge: Nobody was saying a word, which was not like the personality of our team. It was quiet on the plane ride back. As soon as we landed in Boston, we had a practice and the practice was incredibly intense and focused and very short. K.C. [Jones] called it off because he knew that we were ready.
Dawson: Ralph was not a real welcome guy in Boston.
Sichting: In those days, some fans would go out and meet the team coming in. They weren't charter flights; everybody flew commercial. [Boston] was a tough place to play.
Reid: It's a different atmosphere when you got Boston fans really pinpointing you. When they're after the team, it's one thing. But when they're attacking one guy and then when we land to go up to the gate, we had to go to the tarmac because of a bomb threat. Then we get to the hotel, another bomb threat, and that starts to get in your mind. What's these fools doing?
Blinebury: [Sampson] just shrank when they went back up there. He just faded away. The Boston fans got on him and he was intimidated.31
McCallum: We show up there and Boston Garden is like 900 degrees and they go out and somebody has hung up a noose with a message to Ralph Sampson.
Sam Vincent (guard, Celtics): That was probably as loud as I've ever heard anything.
Ryan: The crowd was all over Ralph. He was public enemy number one at that point and he could not handle the pressure at all.
Sampson: It didn't affect me at all.
Ryan: It was on the list of top-five Bird games. It was my personal favorite of all. If you go look at that tape, you will see a man play as good of an all-around game that is seemingly possible to play.
Petersen: Larry was fearless out there and so supremely confident. He was cold-blooded. That whole team had a swagger.
McCallum: Hakeem was playing so well that game. Without him, Houston would have lost by 70.
Worthy: It's almost like [Houston's] goal was to beat the Lakers. When they got into the series against Boston, they just seemed to lose their composure a little bit. It's just like in '84, Boston kind of took us off our tracks with their physical play. I don't think they were ready for that. They didn't have anybody on that team that really had that experience, other than the coach himself. Sampson was just totally distracted. They could just never find their game.
The Celtics took the Finals in six games, defeating the Rockets in the Boston Garden behind a Bird triple-double to claim their 16th title.
Lloyd: When it ended, we felt we were going to be here for the next five, six, seven years.
Olajuwon: We had the confidence that we could beat anybody. The foundation was there. We are the future. We believed that.
McCray: I was like, This is how it's going to be for years to come. Us and the Lakers battling to get to the NBA Finals.
Tomjanovich: That team was ready to go on a run and compete for championships.
Ainge: It was just the savvy veterans going up against the two up-and-coming stars. In my unbiased opinion, of course, I think the '86 Celtics team was as good as a team that's ever played. You saw the Rockets upsetting another dynasty in the Lakers right before us and then losing in six games to the '86 Celtics. It was reasonable to believe that that team was the team of the future.
Ehlo: Anywhere we went, people were trying to buy your dinner — and that was even for me being the 12th man on the bench.
Reid: We all had a great summer. We had a great camp, and that first game against L.A., we beat them by 24. We knew it was on.32
Petersen: We were going to be back every year. We had Sampson. We had Olajuwon. We had depth. We had young players. It was all gone in two years.