The Grantland Oscar Roundtable
It's going to get ugly, folks — real ugly
By

Zach Baron, Sean Fennessey, Molly Lambert,

and Mark Lisanti on
When Grantland last checked in on the 2012 Oscar race, it was July, and all anybody wanted to talk about was Matthew McConaughey's glistening lizard torso in Magic Mike. Now it's December. Awards season is very much here. So for this week's Cinemetrics, we thought we'd have a roundtable with a mad oracle's row of Grantland writers and editors: Mark Lisanti, Molly Lambert, and Sean Fennessey, with your Cinemetrician, Zach Baron, playing host. Was 2012 the best year for movies since 2011? Is Tom Hooper going to King's Speech us all again? Will Ben Affleck stand nude in the flickering light of a single Yankee Candle? Behold, your 2012 Grantland Oscar Roundtable …
Baron: Dear fellow Grantland movie illuminati,
Maybe it's the DeSean Jackson jersey I'm wearing right now, or the giant Abe Lincoln beard that has somehow sprouted from my face, or the tiger who is just sort of hanging out in a kindly, existential way on my couch, but I feel compelled to start this discussion with a bold and probably totally irrational claim: As of this first week in December, with Kathryn Bigelow's Zero Dark Thirty, Peter Jackson's The Hobbit, Tom Hooper's Les Misérables, and Quentin Tarantino's Django Unchained all still to come, we are living in what may well be one of the best film years of my adult life. (Over by the minibar in the seedy airport hotel room to which I've checked in to write this, a naked stewardess nods solemnly; cheerful big band music can be heard coming from the yacht full of cult members bobbing at the dock outside.)
I want to do some Oscar handicapping here. But I also want to kick this notion around, even as we continue to labor under the whimsically silent sign of last year's underwhelming Best Picture winner The Artist, that 2012 has been special. There were this year's uncommonly entertaining January doldrums films (The Grey, Haywire); its early awards contenders (Moonrise Kingdom, Beasts of the Southern Wild); its uncommonly good blockbuster season (which began with The Hunger Games and continued, in dizzying fashion, through The Avengers, Prometheus, an improbably charming Spider-Man reboot, and the conclusion of Christopher Nolan's Batman trilogy). There was Magic Mike, 21 Jump Street, the rise of Channing Tatum as Hollywood's most likable leading man. There were Cosmopolis and Holy Motors and Lawless. And then came the heavyweights, the Oscar contenders: Paul Thomas Anderson's The Master, Ben Affleck's Argo, Steven Spielberg's Lincoln, Ang Lee's Life of Pi, David O. Russell's Silver Linings Playbook — to which list we could easily add Michael Haneke's Amour, Robert Zemekis's Flight, and Joe Wright's Anna Karenina, along with the aforementioned Beasts and even Moonrise Kingdom.
To me, this is clearly the best slate of movies we've had since at least 2009 (The Hurt Locker, Inglourious Basterds, Avatar), if not 2007 (Michael Clayton, No Country for Old Men, There Will Be Blood), if not, well, long before either of those two years. So my questions to you, esteemed nerd-colleagues, are (a) just how much Stockholm syndrome am I laboring under, having spent the better part of the year writing about movies for this website, and (b) as Academy Awards voting begins in a couple weeks, what would you like to see happen? What would qualify as justice, and what would qualify as Extremely Loud & Incredibly Close?
Lisanti: I'd agree without hesitation that 2012 has been a great year for movies. It just has that feeling of quality, from pole to pole; when I start to think back on everything I've seen since January, there's none of the uncontrollable shuddering I experience when trying to recall last year. (Though to be fair, most of that is probably due to Transformers: Dark of the Moon, which was like being hit in the head with a Hefty CinchSak full of rusty car parts while Michael Bay screams at you through a megaphone to "do it again, but way hornier.") But it's also possible you are experiencing a touch of the Stockholm syndrome after (1) spending the better part of the year marinating in this stuff for us, and (2) comparing this year's high-end films to last year's mediocre Best Picture crop. (To review, for anyone who doesn't have that window open, listed from "Sweet God, why?" to "Oh, that was actually good": Extremely Loud & Incredibly Close, The Artist, War Horse, The Help, Midnight in Paris, The Tree of Life, The Descendants, Hugo, and Moneyball. Your order may vary, incorrectly.) There was so much more to get excited about from 2010's awards contenders, even if, in the end, the stuttering king whupped up on the Coen brothers, Darren Aronofsky, David Fincher (it rained for weeks inside his house after that Oscar debacle), David O. Russell, Danny Boyle, Chris (I call him Chris) Nolan, and the Unrelenting and Merciless Pixar Excellence Machine. That is a directorial murderers' row. So let's rightly call 2012 great, but it might be only the best since two years ago. Again, because last year, the dog and the tap-dancing mutes won.
What's justice for this go-around? Even though I've already written thousands of insane words over the past few months deconstructing its ludicrous Oscar pedigree, justice is Lincoln hanging on to front-runner status for at least a little while longer, while everyone figures out if the recent, intense Zero Dark Thirty and Les Misérables buzz is for real or just the inevitable Shiny Object Period that late-game contenders always enjoy. Lincoln was very, very good, with Daniel Day-Lewis slipping into his Honest Abe SkinSuit to cavort in dramatically lit halls of power with the best and most elaborately bearded character actors to ever share a 30-page call sheet. Nothing about a Lincoln win would bother me, even if I might like to see The Master stumble back into the race, pig-fuckingly hammered on freshly squeezed torpedo juice, and give the Great Emancipator a menacing handjob in front of a bathroom sink in the Dolby Theater. (And I hereby reserve the right to turn on Lincoln with a despicable quickness whenever I get to see Django Unchained, because I am so deep in the tank for Tarantino that I need James Cameron to retrieve me with one of those submarines he uses to hang out with bioluminescent ghost-sharks on the weekend.) Gloriously, there doesn't even seem to be anything ridiculous in the running for a nomination at this point, unless the Les Mis hype is coming from the same unfortunate place that leads people to watch Smash, or a bored Harvey Weinstein decides he wants to run The Artist out there again just to prove he can win with anything. The only scenario I could probably get upset about is Argo taking Best Picture, and that's not even because it's bad (it's not; it's very good, if maybe a tiny bit overrated), it's because Ben Affleck has to answer for the crime of putting Ben Affleck in his movies and then seducing himself into taking his shirt off for no defensible reason. Let's not think too hard about how that casting couch worked. (Some scented Yankee Candles, 15 minutes of awkward small talk about the quiet brilliance of his Hollywoodland performance, and a dropped hint about the unbearable tension that builds in one's shoulders after a 14-hour day of location shooting in Charlestown.)
Anyway: Yeah, 2012's been pretty damn good. The Oscars should be fun.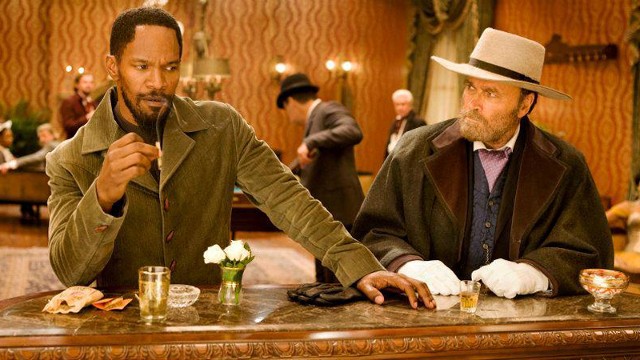 Lambert: Many serious film scholars agree that the copious selfie shots of Ben "Mendez" Affleck's glorious chest's brunet underbrush dusted with silver threads, hip bones pointing toward Valhalla as he contemplates imminent political futures and the price to license a Led Zep song, are in fact the greatest moments in all of film history, beating out the opening of Citizen Kane AND the end of Vertigo in every poll ever conducted by me on myself. Oops, there Argo his hands up under his shirt! Oscars! Or at least that's how it goes in my own awards-season narrative. If we're going to hammer Affleck it should be for the highly questionable racial stuff in Argo and not for showing off his incredible 40-year-old body. Besides, I had to tolerate all that gratuitous camera ogling of Jennifer Lawrence's perfect tits and ass in Silver Linings Playbook that David O. Russell thought it was fine to toss in because hey, being slutty is just part of her character. Or how about the sexy underage girl from Moonrise Kingdom and her nebbishy child boyfriend (ooh, are you uncomfortable? It must be ART jk lol). All I ask is that I periodically get to see Ben Affleck's minimally clothed body on a big screen, so that I might mime Argo's hostage negotiation on it using animal crackers. Don't you dare try to take that from me, Mark Lisanti.
I agree that this year is a lot better than last, and not just because Spielberg is entering a movie named Lincoln and not one called War Horse. I would be more interested in a potential Lincoln win if they'd promise to leak transcripts of the text messages Daniel Day-Lewis sent to Sally Field while in character ("we r not enemies but friends. we must not b enemies"). I'm ready for Django, but having just watched the trailer garner absolutely no response in front of a packed weekend-night house, I'm not entirely convinced. Quentin's interview in Playboy made me intrigued but also wary as fuck. I'm more stoked for Zero Dark Thirty, whose foreboding tone and genuinely serious subject matter could waterboard Xtina Nolan's chances at a Bat Oscar. Then again, I'm still recovering from the emotional investment I put into the 2010 race when my beloved David Fincher lost to Tom Hooper and I screamed at the TV like an Eagles fan. But I'll be there opening day for Tom Hooper's Les Misérables, dressed like a castle on a cloud. It's an exciting race because the contenders are all so wildly different. Personal preferences for Best Picture or Director will be influenced most by which genres of movie you happen to like. I'm particularly interested in Les Mis because it seems like the musical that even people who don't like musicals will love. All the biggest Les Mis fans I know are straight guys. Who isn't excited to see Wolverine sing his adamantium abs off? Sorry I'm so abs-focused right now. That's what you get for bringing up The Yankee Candle Seduction of Ben Affleck.
Fennessey: Guys, hold on, closing all my topless Affleck tabs … OK.
I should say that, like much of the world's population, I am still without the knowledge of Zero Dark Thirty, Django, and The Hobbit — also, hate you, Les Mis, because I'm an ogre — so I don't feel totally comfortable calling this a great year at the movies. And not because I want to troll you, but because that seems to indicate that this year has seen some sort of corrective. (So-called franchise films still comprise all five top-grossing slots and 10 of the top 15.) But something has changed. As Michael Cieply wrote in the New York Times this week, this is the first time the major studios have done the Oscar-movie thing right in a long time. It has been five years — five! — since a major house won the Best Picture Oscar, when Warner Bros. reeled one in for The Departed (an unlikely, extremely violent winner at that). Bear in mind, these are the wealthiest, most powerful companies in the industry. They make the most movies, by far. If they want to commit to great art, they can. And they did, mostly, under the cover of "indie" shingles like Paramount Vantage, Warner Independent, and Fox Searchlight for the past 10 years. Most of those sub-companies have folded under the pressure to make more profitable cheap movies that then got too expensive, because the system is broken, which left the studios to fend for themselves come award season. And what's come from that appears to be some down-the-middle thinking.
Which isn't necessarily a bad thing when you get movies like Lincoln and (I am assuming, because if I am wrong I will impale myself on my life-size Jessica Chastain cutout) Zero Dark Thirty. But what about the rest of the bunch? A beloved musical starring several previous nominees and directed by a former Best Picture–winning director? Not exactly a bold move. A drama about perseverance, love, dancing, and mental illness? Oscar Bait 101. A docudrama about revolution, terrorism, and a movie star's ribcage topiary? Straight from the '70s playbook. A scrappy Sundance indie about small-town struggle and the wonderment of childhood? It's happened before. Even the great, stirring, thunderously beautiful Lincoln is at its core our most celebrated playwright and our most celebrated director shining up a statue to American history. And no matter how grim and procedural-ish Zero Dark Thirty turns out, it is still a ripped-from-the-headlines crowd-pleaser. (Spoiler alert: The bad guy dies in the end.) It doesn't take a Louis B. Mayer to green-light that movie, crippling industry idiocy or not. (Though in this case that Mayer-esque figure is the young producer Megan Ellison, whose Annapurna Pictures bankrolled ZDT, The Master, and Killing Them Softly, bless her director-stroking heart. She deserves her own award, shaped like Joaquin Phoenix's hips.)
We don't know how many Best Picture nominees we'll have yet — as many as 10, as few as five. I'm betting on nine, which I've listed below. My demeanor will brighten and my heart will burst if both The Master, an unerringly weird movie cloaked in prestige auteurism, and Django Unchained, by all accounts a sustained stream of exploding limbs interspersed with a maniacal Leo DiCaprio cackling, get in under the gun. But the Academy is an ever-conservative institution. When they expanded their field to include as many as 10 films in 2009, many pointed to the exclusion of The Dark Knight the previous year as the reason. Now it looks like the follow-up, The Dark Knight Rises, won't even get a victory-lap nom. So maybe you're right. Maybe this is a great year. Or maybe the studios figured out how to goose the system again.
Before we go, I'd like to hear from you guys about individual nominations, who needs to work on their Loser Face, and which movies you loved that have no chance of sniffing Maria Menounos on the red carpet this year. (Mine is a small, intentionally unlikable, but also fascinating thing called The Color Wheel.)
The Locks
Argo
Les Misérables
Lincoln
Silver Linings Playbook
Zero Dark Thirty
The Likelies
Beasts of the Southern Wild
Django Unchained
The Hobbit: An Unexpected Journey
Life of Pi
The Let's Hope So
The Master
The Maaaaaybes
The Dark Knight Rises
The Sessions
Moonrise Kingdom
The Nice Tries
Flight
Anna Karenina
Skyfall
Magic Mike
Amour
The Impossible