The 2012 TV Faceoffs
Homeland vs. AMC's prestige shows, HBO's Girls vs. Bravo's Girls, and the Kardashians vs. other Kardashians in our year-end television reckonings
By Grantland Staff on
We live in front of the television. We eat our meals before it, we neglect our families in favor of it, we are sung to sleep by it. We get into oddly personal arguments at the office the next morning because of it, and then we retreat back home to lick our wounds in front of it. Now is the time of year when we reflect upon the past 12 months of our seemingly bottomless consumption of our flickering overlord's largesse, and we've once again asked the Grantland staff's obsessives to pick two shows (OK, in one case three shows) and consider them together, hoping that through this series of personal and idiosyncratic pairings, the overall shape of the year in TV will come into better focus. If not, well, it was fun to make people connect the dots between Downton Abbey and Game of Thrones,Luck and The Walking Dead, and those twinned Kardashian shows only one of us is insane enough to watch.
Homeland vs. Mad Men and Breaking Bad
By Chuck Klosterman
Let's pretend you own the worst TV set on Earth. Let's pretend your television is only functional for one hour every week, and — once you program that specific window into the hard drive of your DVR — you can never change it again (you can switch the channel, but not the time frame). Obviously, your life would border on the unlivable. But if you had to live this way, at least the decision about which hour to select would be easy: You would pick 10 p.m. EST on Sunday. It's the only valid choice — you could spend one-fourth of the year watching Mad Men, one-fourth of the year watching Breaking Bad, one-fourth of the year watching Homeland, and one-fourth of the year waiting for these three shows to come back. For a variety for reasons, 10 p.m. on Sunday is where great shows are now supposed to live. The only snag is that one of these aforementioned shows is not, technically, "great." Homeland is merely "good" (sometimes "very good," for never more than). And I think I've figured out why.
On Homeland, something always needs to happen.
I like Homeland, and I will watch it until the very end. It validates the existence of Showtime. But its problems are deep, and that makes it a second-tier program. If Mad Men and Breaking Bad were SEC football teams, Homeland would have to play in the Pac-12.
In every episode of Homeland, at least one scene is wholly implausible, and all the romantic relationships feel rushed and unconvincing (particularly — and most problematically — the main one). This is not the fault of the actors, or even the overall premise. It's mostly because Homeland is a high-end version of how television used to be in the 1980s, before TV got good. It's consumed by the tropes of traditional television, which is why it dominated the 2012 Emmys — it was, quite simply, less artful and less challenging than its competition (which, in the context of an awards show, is usually an advantage). Its plot mechanics are excellent, but they're over-emphasized. The plot and the pacing are absolutely everything. And once a show becomes mortally dependent on narrative, its verisimilitude and depth start to erode. Getting from point A to point B becomes the totality of the Homeland experience. The show's creators end up forcing profound events into every single episode, which is how we end up with preposterous murders and silly sex scenes and random dumb moments that only serve to remind us that we're watching conventional TV.
This, I think, is what makes Breaking Bad and (especially) Mad Men so vastly different: When nothing happens, nothing is lost. The quiet moments are better than the loud ones. There is subtext in everything — the language, the clothes, and even the semiotics (once, on a JetBlue flight, I watched an early episode of Mad Men without audio and was amazed by how much could be deduced, simply by the various characters' posture and where they happened to be standing around the office). A week in which nothing happens might still be the apex of an entire season. Breaking Bad and Mad Men are just richer, better products, which doesn't make Homeland bad; it simply means certain 10 p.m. programs deserve to be taken more seriously than others. Time will validate this. I don't care how many Emmy awards Homeland ends up winning. It will still have to settle for the Rose Bowl.
Downton Abbey vs. Game of Thrones
By Brian Phillips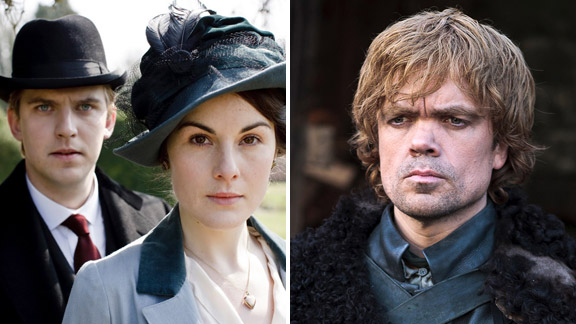 Nobody rules the world without paying some sort of price. You can be poisoned, burned alive, drowned, besieged, locked in the Black Cells, decapitated, bludgeoned, dismembered, or sort of whirled around and dropped to your knees mid-combat in such a way that the 6-foot-3 warrior woman behind you can reverse-Excalibur her longsword right into your cervical vertebrae; or else you can sit there, you can just SIT THERE and know, I mean KNOW, that they all think they're better than you, they're prettier, they're cleverer, they're more likable, and it's not as if you ASKED to be the middle daughter, is it? It's not as if you WANTED this. If it were up to YOU you'd marry some square-toed country squire who'd let you pootle about in his Renault at the week-end — it was you who learned to drive, after all, YOU, not the others, though (as usual) it's not as if anyone noticed. Sometimes — yes! — you'd like to chuck it all in, the servants, the tea sets, the easy epistolary access to your contacts at major Anatolian embassies, and take up with a farmer in a cottage somewhere. It wouldn't matter where as long as you could lead an honest life, baling hay through the tender evenings, stealing a warm kiss whenever his wife pipped in to knead corn meal or whatever it is they do. But why are you imagining him with a wife? YOU'RE HIS WIFE. You can't even daydream properly, can you? Your sister REVOLUTIONIZES CLASS RELATIONS by marrying the only other qualified driver in Yorkshire and you're making a mess of your own fantasies. Why, if it were up to you they'd ALL be burn victims, wouldn't they? IF IT WERE UP TO YOU THEY'D NEVER HAVE ENDED THE WAR.
So, yes. One way or another, dear member of the ruling class, you will suffer. You will be shot, possibly by crossbows, certainly by breathtaking wide-angle camera lenses. Iain Glen will try to marry you; the carnage will be horrific. You will be haunted by relics from an older world whose power far exceeds anything the present comprehends. They may be dragons; they may be Maggie Smith. The night is dark and full of vapours.
The biggest difference between these shows is that in Westeros, no one survives war but everyone survives sex. I know where I would choose to live. Sorry, Lady Edith.
The Killing vs. Community
By Mark Lisanti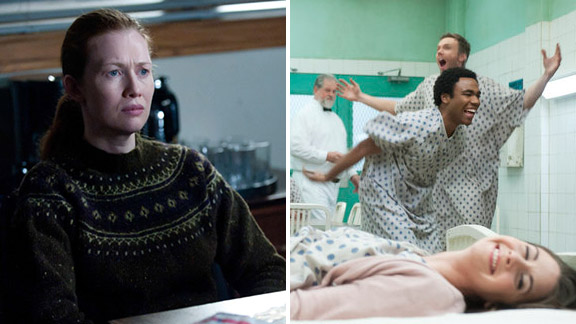 A funny thing happened to The Killing after it was stuffed in the trunk of a car and rolled toward the inky oblivion of Lake Cancellation after its exhausting, poorly received second season: That trunk flew open and AMC fished it out of the murk in a last-second change of heart. Though the interested parties seem unwilling to confirm that the wildly disliked show is returning for a third season no one asked for, possibly shared between the capricious cable network and port-of-last-streaming-resort Netflix, its writers are already back at work devising new and exciting ways to blue-ball its core viewership of anhedonic hate-watchers carving rage-tweets in the still-suppurating wounds inflicted by its Season 1 finale. See how negative this got? The Killing has a way of doing that to people. It's unloved and unkillable. It's Jason Voorhees in a damp, oversize sweater, trying to murder us all with a fish from Pike Place Market. And then the two lead detectives on that homicide investigation will squander 26 days trying to pin the crime on Detlef Schrempf.
Then we have Community. When its time comes sometime next year, 13 half-hours after the February debut of its tragically premature final season, its obsessed fans will probably Kickstart a couple of million dollars to ousted creator/folk hero Dan Harmon to produce a run of renegade webisodes in which the Greendale study group will be played by decorative salt-and-pepper shakers, then use any excess contributions to send charred peacock carcasses, outfitted with darkest-timeline beards, to NBC. But even if the inevitable pleas for Netflix salvation go unanswered (and don't discount that possibility until we see how Arrested Development's unlikely resurrection turns out), the fiercely beloved Community feels like a show that's going to live forever. It's also unkillable, even if NBC doesn't lose its nerve as the car rolls toward the lake.
The Walking Dead vs. Luck
By Sean Fennessey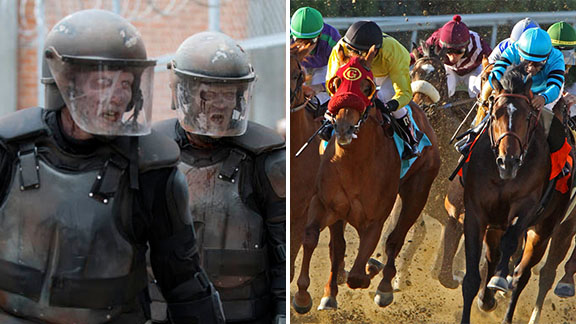 If you walked away from The Walking Dead after Season 2, I understand. Because that season was hot garbage — limp, needlessly ponderous, agri-centric, devoid of Wolfenstein-style kills. Season 2 ended on March 18. One week later, Season 1 of Michael Mann and David Milch's HBO series Luck ended. It would not be back for another. At the start of these respective seasons, there was hope, optimism, excitement. Luck's fate is well documented. Troubled by multiple horse euthanizations, HBO couldn't justify the expensive production under the harsh light of PETA and other animal-rights groups. The only people protesting The Walking Dead were for the ethical treatment of televisions.
Luck was never the majestic must-watch I wanted it to be, even though its existence felt like a stolen entry from my dream journal: gnarled, angry, middle-aged men played by some of the best actors of their generation harrumph about crime, competition, mortality, and women in Milch's crinkled, oblique phrasing. Plus, horsies and Jill Hennessy. Unsurprisingly, there was something impenetrable about it. Likewise The Walking Dead, a show with a great premise and all the tact of a machete to the cortex. Luck never really had a chance — I've long suspected HBO's decision to ax the series two episodes into production of Season 2 was as much a last-minute audible from the accounting department as it was a heed to the call from animal-rights groups. The Walking Dead needed two full seasons and a change in showrunner to figure things out. Luck wouldn't have needed that much. But it never had a chance. The Walking Dead now averages 13 million viewers a week. The lesson: Undead humans > dead horses.
The Newsroom vs. The Vampire Diaries
By Emily Yoshida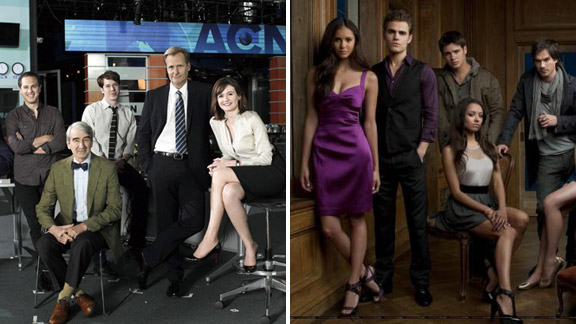 In an age of 3,000-word recaps, post-show podcasts, and all-caps live-tweets, sometimes it's easy to forget that it's often just as legitimate, maybe even preferable, to watch a show solely at face value, to resist playing critic while combing through rich texts, second-guessing the showrunners, and revising your prognosis for the show and/or Contemporary Television on a weekly basis, and just have fun getting swept up in a twisty plot and a juicy 'ship. For the last couple years, one of my favorite shows to watch almost purely as a fan is the perennially much-better-than-it-has-any-right-to-be Vampire Diaries, which this season cashed in on a "will they or won't they" three and a half seasons in the making, leading its huge, often terrifying 'shipper community to trumpet their momentary victory from the rooftops. But the climactic moment, with all its breathless, vamp-on-vamp passion and sexy lighting you couldn't have fanfic'd better yourself, was intercut with a revelation that immediately cast doubt on the union; producers Kevin Williamson and Julie Plec know what they're serving up and how to cook it with optimal deliciousness that still leaves you wanting more. I've never had to write about The Vampire Diaries critically, and I'm glad; it's too much fun just going along for the ride, bawling when I'm supposed to bawl (R.I.P. Alaric) and gasping when I'm supposed to gasp (Damon and Elena!!!).
Perhaps it was my history of watching shows like The Vampire Diaries that made me feel like it would be fun or subversive to cover Aaron Sorkin's latest drama/blogbait The Newsroom like a CW teen show; surely it was an absurd idea, since The Newsroom is on HBO and boasts an award-winning cast, and The Vampire Diaries' monster cliff-hangers are punctuated by Noxzema ads. What I didn't expect was that (1) a show ostensibly about modern-day television journalism would offer so much fodder for that kind of coverage, with more relationship angst week-to-week than a Degrassi box set, (2) a pretty active real-life 'shipping community fueled by sentimental GIFs and utterly serious fanfic would rise up around it, and (3) that the show was actually more fun to watch as a soap anyway. There's still a lot that is wrong with The Newsroom; it's occasionally jaw-droppingly out of touch and didactic and sometimes weirdly racist, but I'd be lying if I said I wasn't excited to see what happens in Season 2. #Slon Forever, baby.
Girls vs. Gallery Girls
By Molly Lambert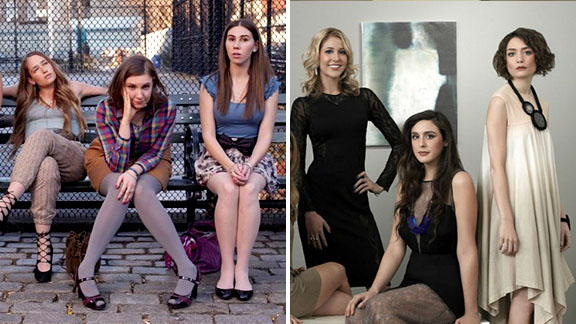 Six years and 12 location-specific series deep, it's easy to forget that Bravo's now unstoppable Real Housewives franchise was originally just the upstart cable network's attempt to cash in on the success of ABC's then-hot Desperate Housewives. Thus began Bravo's habit of doing mockbuster versions of popular TV shows, bringing us treasure like the excruciatingly funny reality rip-off of Gossip Girl known as NYC Prep. This year Bravo blessed us with Gallery Girls, a not-so-subtle attempt to cash in on the deafening buzz around Lena Dunham's controversial HBO breakout comedy Girls. Employing a setup similar to Girls, docu-soap Gallery Girls follows a gaggle of driven young women as they try to find places for themselves in the cutthroat New York art world. While several of the Gallery Girls were endowed with deep pockets, seemingly none of them had been gifted with self-awareness. Girls also explored the divide between grandiose self-perception and humiliating truth that afflicts a certain sort of overly educated urban dweller in the years directly following college (or art school) as they navigate life, love, and the crushing realities of capitalism.
While Girls could easily claim "satire," the cast of Gallery Girls had only the reality show trap of "misleading editing" to blame for the fact that the characters mostly came off like complete assholes. On both shows, our first impressions of the girls and their worlds were continually spun around to reveal interesting new facets. Perfect-seeming relationships are revealed to be skillful façades (Girls' Marnie and Charlie, GG's Chantal and Spencer). Egomaniacs are shown to be vulnerable and insecure (Girls' Hannah, GG's Angela). Jerks demonstrate their softer sides and good girls reveal an ability to be dicks (Girls' Adam, GG's Claudia). Over the course of a television season or your early 20s, you watch as weird strangers and random acquaintances slowly somehow become your closest friends.
Girls and Gallery Girls made the American would-be intelligentsia cringe with recognition as they witnessed the extreme ridiculousness of their own world blown up like a Chuck Close photograph to show everything in unflattering hyperrealistic detail. The dullness of fancy parties, the proliferation of "live/work spaces" with custom built-ins and midcentury-modern décor, the urban overflow of cocky guys with dumb names who date only models and beautiful artsy girls with avant-garde haircuts who speak with vocal fry. Art gallery openings, literary readings, and warehouse parties on the outskirts of town. All the places with free drinks where young people spend their nights searching for someone to go home with, feigning prematurely jaded attitudes but dreaming of a real connection. The fate-dictated disparities in money, beauty, and (closely related) employability that are deemed too socially sensitive to discuss or acknowledge but run like rivers beneath all interpersonal interactions. The strains of anxiety, depression, and uncertainty that permeate even the most glamorously fast-tracked young lives. It was all there on screen, making us just as uncomfortable as Maggie in Brooklyn.
Nashville vs. Smash
By Tara Ariano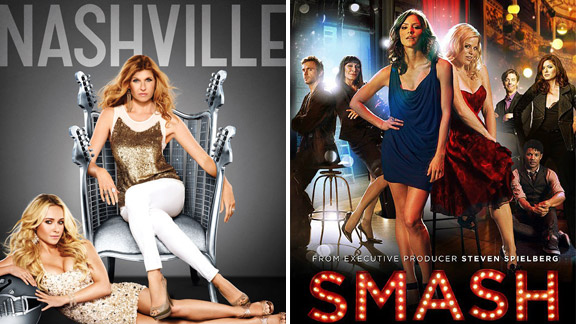 NBC's Smash will undoubtedly end its first year of life by showing up on TV critics' "worst" lists, which is fair and deserved. It's not a good show, and even with a change of showrunner (playwright/series creator Theresa Rebeck has been replaced by Gossip Girl's Joshua Safran), a guest cast including Jennifer Hudson and Liza Minnelli, and a new story line that will, one hopes, allow some peace for the restless ghost of Marilyn Monroe, there's no reason to expect that it will get better. Its characters will still, across the board, be unsympathetic jerks; it will still posture like a prestige drama while falling into every teen drama cliché; I will still look forward to it every week, for its (actually pretty great) original music and the promise of crackling banter between its female leads.
Given that these are the elements I love in Smash, a bad show, you can imagine how excited I was to see them recur in Nashville, which promised to be a good show. Like Smash, Nashville came from a celebrated writer — in this case, Callie Khouri, a screenplay Oscar winner for Thelma & Louise. Like Smash, Nashville would feature a contentious pair of female antagonists — a seasoned veteran vs. an upstart who hasn't paid her dues — in an iconic musical setting. Like Smash, Nashville had a polished, exciting, nearly perfect pilot. And like Smash, Nashville is getting harder and harder to defend.
Why do we have to waste so much time on Teddy (Eric Close) and his mayoral race? We can already tell that he's unworthy of his wife, Rayna (the luminously perfect Connie Britton); why is their seemingly inevitable breakup taking so long? Why hasn't anyone on the Nashville writing staff pointed out that all this political business is just as dull here as it was when Smash's Dev (Raza Jaffrey) started having work problems at City Hall? Why did we have to wait until the penultimate episode before the Nashville winter finale to see Rayna and her rival, Juliette (Hayden Panettiere), performing together?
I'm not saying I'm ready to give up on Nashville yet, but this last problem is particularly damning when you consider that it's one front where Smash — dumb, terrible Smash — surpasses Nashville. Smash's Ivy (Megan Hilty) and Karen (Katharine McPhee) were in each other's faces in virtually every episode, singing together and/or trying to outshine one another, vying for the favor of both their director and the audience. Why hasn't the same been true of Juliette and Rayna? THESE TWO SHOULD BE SPITTING NAILS AT EACH OTHER EVERY WEEK. Fix it, Callie Khouri, or I will make them take away your Oscar.
Breaking Amish vs. Pretty Little Liars
By Rembert Browne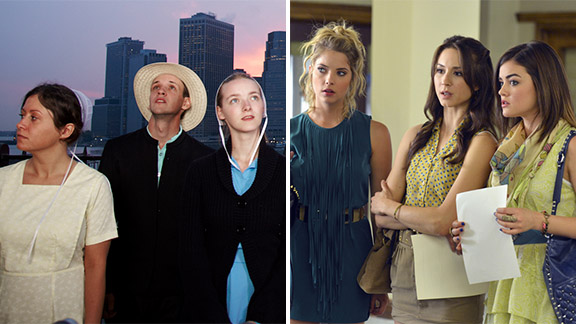 When I look back on my television viewing in 2012, it will sadly be filled with memories of my rewatching 24. I'm not proud of this, especially in the age of Homeland being but one click away, but I contend there is nothing more satisfactory to watch while waiting on Thai delivery to arrive at your doorstep than Jack Bauer getting answers from terrorists of every ethnic group that has ever been ethnic.
With that said, there were two shows, and only two shows, that I eventually watched full seasons of, two polar-opposite shows, both accidentally revolving around a singular premise.
LIES.
You know you're getting lies and deceit with a show called Pretty Little Liars. Actually, the name of the show is a giant spoiler: They lie, and the little ones (sometimes referred to as "young women") are pretty. My viewership of this show, now on hiatus in the middle of its third season, has gone from a joke to genuine enjoyment to obsession to a man in dire need of his weekly fix. I couldn't stop if I wanted to. On the other hand, Breaking Amish turned out to be the exact opposite of what the title suggested. I was thoroughly excited to watch this seemingly genuine (for once) reality show about four young Amish adults (and one Mennonite) who muster up the courage to finally leave their traditions and home and make a life for themselves in New York City.
And then, less than two episodes in, we learn that it's pretty apparent that every cast member has long been "broken" from the Amish life, and, potentially, that the entire show is staged.
LIES.
I signed up for ABC Family's lies, not TLC's, which is why Breaking Amish will always be something that just came and went in 2012, whereas PLL will continue to be the super-attractive, highly hormonal, potentially homicidal gift that keeps on giving well into the new year. Well, that and Jack Bauer.