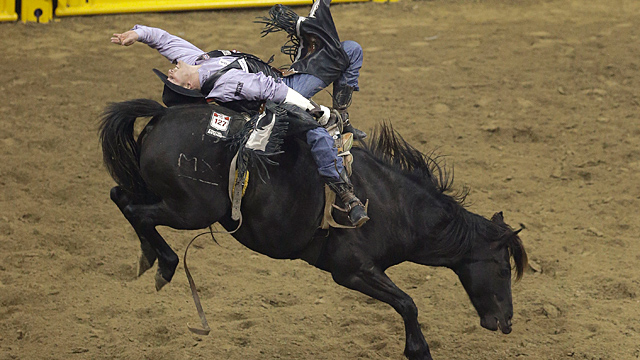 For a lot of American tourists, coming to Las Vegas is probably the closest they ever get to visiting a foreign city. I don't mean that as a nod to the Epcot-of-commerce dimension of Vegas, the hotel-casinos built up as tiny simulacra of actual foreign cities — the fake Eiffel Tower and fake Egyptian pyramid and fake St. Mark's Campanile, all right there on the Strip. What I mean is that the Americanness of Las Vegas is so pronounced, is such a heightened version of itself, that it allows Americans to approach their country as a new, or at least greatly intensified, medium. All that buying and selling, that intermixing of reality and its opposite, that intoxicating proximity to the hidden font of money. It's expensive; it's magical. For someone from the mail-order-catalog states, it's like being a fish that's spent its whole life in an aquarium and then suddenly been dropped in a lake.
They put a conveyor belt in the fake Rialto Bridge so you don't even have to wear out your legs to go over it; that's what I'm talking about. When I stand my way across this landmark, I am passed, on the opposite-direction conveyor belt, by a battered, tobacco-stained, maybe 75-year-old man, astonishingly sorrowful of face, who is wearing a three-foot-high top hat made out of green balloons. And that is also what I'm talking about.
I spend a couple of days walking around, Thursday and Friday, taking in the sights. I had a ball at the rodeo, but I won't lie, there's something about Vegas that does not do wonders for my mood. The pageant of the human comedy pursuing happiness: I would like to enjoy this in a worldly way, but somewhere around the 30th time a hander-out of street flyers in a GIRLS GIRLS GIRLS T-shirt thrusts in my face a flyer promising GIRLS GIRLS GIRLS direct to my door, I start to suspect that my fantasies mostly involve escaping other people's fantasies. You haven't left the airport in this town before you're seeing billboards inviting you to the machine-gun shop. You don't even have to buy one, just come by and hold one in your hands. Pump a few dozen rounds into the body-outline of whatever's troubling you. The days are hot, then cold, then hot again, cloud shadows skating across the Bellagio's fake Lake Como. Based on extensive observation, I start to make a list of the true hierarchy of human desires, Las Vegas version:
1. Gambling
2. Fucking
3. Shooting things
4. Whimsical and vaguely melancholic acrobat/clown-mime performances
There's an incident outside the Bubba Gump Shrimp Co.; an obviously inebriated Spider-Man — paunchy, but with a perfect Peter Parker voice — has made an inappropriate comment to some guy's wife, and is now lobbing aggressively homophobic remarks at the guy ("I meant her, not you; no offense, but you're not my kind, pal") while a Dark Knight–style Batman tries to make peace. Confused little kids are waiting to have their pictures taken. Wasn't there a Buzz Lightyear outside the Margaritaville, Dad? I'm probably not the first working rodeo journalist to find that there's a distinct category of sadness for people who are professionally alone in resort places. Not that it's deep, but hell is other people's vacations.
I call my wife, who has a knack for getting things in perspective for me when I, e.g., start to panic for no reason in the sportsbook at Caesars Palace.
"It's exactly like in Oklahoma!," Siobhan says. My wife knows her golden-age Broadway. "It's the farmer versus the cowman. The farmer wants to cultivate the land, to build stuff, and the cowman wants to keep the land wild, just leave it for the animals. Vegas is the ultimate expression of farmer-dom, stuff piled on top of other stuff to the point of total absurdity. The rodeo is the last bastion of the cowman. I'm not surprised the contrast is freaking you out. Frankly, I think it's a deep-seated confusion in your character."
On Friday the news comes in about another mass shooting, all those poor little kids in Newtown, and it's surreal, how little the slot machines seem to notice. Later that day there's a shooting right here, right across the street from where I'm staying, a murder-suicide in the lobby of the Excalibur. The gambling floor of my hotel fills up with Excalibur players. The machine does not stop, and why would it? They've saved their money for this, maybe for years, for the blorps and cheeps and whirrs. They've dreamed of it. The aesthetic of the slot machines, overwhelmingly romance-novel and dog-fancy and Team Edward–kitsch based, is impervious to tragedy anyway. Jaguar Princess, Vampire's Embrace. Maltese Dreams. You were already here to escape, right? So get on with it.
Sometime between Thursday and Friday, the city fills up with cheerleaders. There's a cheerleading summit in town. All the major clans are represented. By Saturday, you can't take two steps without being knocked aside by some hundred-strong pack of tiny, uniformed tweens. Cheerleaders in numbers you have not previously imagined, like seeing the ocean for the first time. Waves of cheerleaders spilling out of elevators, crashing down escalators, flooding the MGM food court. The cowboys are still out in force, but they're outnumbered 20-to-1. You see helpless horsemen carried off, clutching their hats, in a riptide of elfin girls dressed in spangled Desert Storm jackets. Desert Storm is the name of a cheerleading club. Demography is destiny; the balance of power has shifted. I don't know why, but this cheers me up a little. (The cheerleaders performing their sacred task!) Maybe because we've gone over into pure ludicrousness, maybe because America is so abundant that it will keep overflowing whatever late-empire signage you try to freeze it in. Depressed as you become, America can always surprise you with sheer irrelevance.
Then Saturday night, in one of the innumerable non-specific chandelier-and-green-carpeting spaces at the hotel, I pass a wedding party on the way to the chapel. I mean an honest-to-God, groomsmen-in-tuxes-with-red-vests, they-were-definitely-given-shot-glasses-as-thank-you-gifts type wedding party. The bride's wearing white dollops, looking like the prom-catalog version of an unmade bed, and I want to kiss her, because what I hear her saying, in her broad Southern accent, is: "Well, y'all, I'm never gonna find a husband dressed like this!"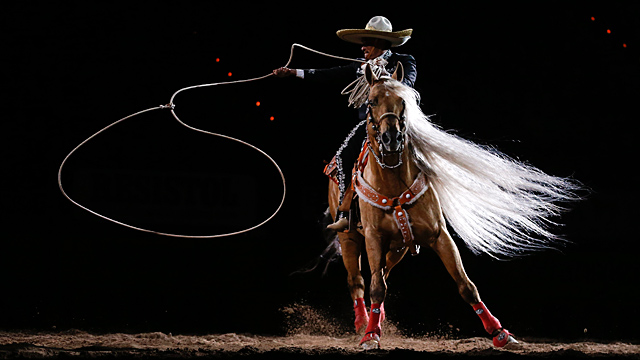 Back to the rodeo, my last night. The NFR press room is a warehouse-like gray space, lined with long black tables. It's normally UNLV's basketball team's practice court, but for the NFR, they've laid down some sort of temporary gray vinyl flooring, probably to save the maple from 400 pairs of cowboy boots. The basketball hoops are folded up against the ceiling like car visors. I am in here with my people, the rodeo journalists, my fellow speakers to the vast and invisible America that's waiting on the news of tonight's go-rounds. Unlike me, my brethren have this thing down. They, how should I put this, "clearly know what they're doing." Their cowboy hats are already bent over their laptops. I am eating Pepperidge Farm cookies in a way that I hope will convey a seen-it-all insouciance to the writer from Equestrian Influence.
We're watching on three 40-inch flat-screens that are mounted on the black curtain dividing the media center from the interview area. There's a lot of typing on iPhones, a lot of loading of websites. It is not low-tech, the rodeo media room. There are stretches of cabling, banks of outlets, Ethernet jacks, under every table. The rodeo may be grounded in reality, as I thought when I first came here, but it is not immune from being transformed into YouTube clips.
Before the night gets under way, there's an opening prayer, followed by a message. The message is kind of part of the prayer, and kind of an addendum to the prayer; the boundary is porous. I couldn't tell you who the speaker is. But the opening prayer-message is, I'm sorry to say, both hard-hearted and stupid, a float in the long parade of American frontier nihilism. I can't quote it precisely, but I'm also not deliberately misrepresenting it. The jingoism would probably only sound empty if the timing, right after Newtown, didn't make its vaguebook xenophobia indecent. We begin with a brief word of sympathy for the victims in Newtown. Then we get: Folks, the only reason that we're able to have a prayer like this is that we live in the greatest country in the world. Because we have freedom. We are a country whose flag stands for one thing: the blessings of liberty. And they're burning that flag, they're burning Old Glory, in foreign lands around the globe, when all she ever tried to stand for was freedom. There are those who say she's tattered, who say her day is done. But don't you ever try saying that to a cowboy. Because a cowboy will stand tall against any enemy who tries to run down Old Glory. Because a cowboy will fight to protect her. Because a cowboy is proud to live in the greatest country in the world … the greatest country in the history of the world … the United States of America.
Then a kid comes out and does a frenetic lasso routine along with a laser-light show. The lasso routine is amazing.
Although it's still plenty exciting, watching rodeo on TV turns out to be less exciting than watching it live. You lose the sense of animals' sheer mass, the interplay of weight and speed. You know how the camera adds 10 pounds to a person? It subtracts 500 pounds from a bull. Still, there are things it's delightful to notice in close-up: the way the bareback riders' hats go flying off Willie Mays–style, the way the handlers hoist themselves up over the yellow fences when one of the animals comes charging in close. There's also more visible violence on TV. A clown takes a blunt horn right in the face during the bull riding, and you can see the blood pouring out of his nose. There's (obviously) a whole animal-welfare case that exists against the rodeo, which basically says Why should a calf be slammed to the ground and hogtied for your entertainment? I had a cheeseburger for lunch, so I'm aware that there are layers here. But the case seems stronger when you're watching on TV. The bulls are genuinely tormented. Maybe it's an acceptable level of suffering, I don't know; there are safeguards. But whatever counts as a happy eight seconds for a bull, it is not this.
Everybody else is happy, though, all the humans, and it's infectious. The rodeo is just a happy place to be; I don't know how to describe it. In the press room, it's like family. The winning cowboys get hugs and handshakes and gender-determined cheek-kisses from the media when they come down for interviews. There is not exactly cheering in the press box, but there are occasional Western-enthusiastic yips. Everyone's spent time on the circuit, and everyone knows everyone else. Hey, look who I found! The vibe is that of the annual reunion of a large, sassy, affectionate family that enjoys the chance to hang out once a year. But then combine that with the vibe of a successful and well-run business, and you can see why these people would be proud.
I feel it myself, that if you could just put aside your political squeamishness, learn the appropriate responses, slip into the parallel culture, it could be a lovely place to be. (That's the wrong language, though, "lovely.") This keeps hitting home for me during the interviews, full of just basic niceness. Here's Tom Lewis, who won the steer-wrestling go-round with a time of 3.5 seconds:
Q. Given your late start getting involved in the sport, did you ever imagine you could get to the NFR?
A. You dream. I came here and we used to sneak into the warm-up arena and we used to watch Joe Beaver and all those guys warm up. Everybody who rides a horse dreams about going to the NFR, but did I really understand what it would take and the sacrifice to get here? No. I've given everything I've had in my life to be here, and it means a lot.
Q. What does it mean, then, to win your first NFR go-round?
A. Sometimes you doubt yourself. I'm a weekend warrior, circuit guy, cracked out [= competing full time] one year, and to be able to be here and compete with these guys — these guys bulldog so good. It's just awesome. They don't give these back numbers away … That go-round buckle, it means a lot to me and my brother. He has a lucky feather, and he drove down from Lehi today to watch me and brought the feather and said, "Let's change your luck."
A lucky feather! Well, what else would you bring to Las Vegas? By this point, I am sporting a sentimental yearning/disgust complex for the prairie such as I have not known since, say, the summer after my freshman year of college. I worked in a bank, as a teller, and everyone who came into the bank asked me how school was going. They all pronounced it "skewl," and I noticed. It's not easy, being anyone. You either build something or you fence something in. I have no idea which one I am doing.
Afterward, it's raining, and I am of course the only male creature in the parking lot who bothers with an umbrella. Yeah, but I'm dry, dude, I broadcast to the cowboys I pass. I get in the car and drive away; I honestly can't say whether it feels like an exile or an escape.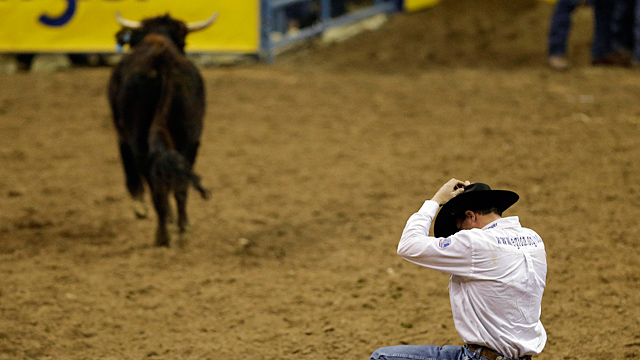 There's one last thing I want to see before I leave Vegas. I can't sleep, because my (palatial, spectacular) room looks out over the lot where my hotel-casino compacts its trash, and all night long they are out there processing garbage. It sounds like a million glass objects breaking, because it is. So I get up in the middle of the night and drive out to find Vegas Vic, the famous cowboy sign of the old Pioneer Club. The one you know from the movies. I want to pay my respects.
On Las Vegas Boulevard, the roller coaster is ribboning along above New York–New York, past the fake Chrysler Building and the fake Statue of Liberty, the wild ride of civilization in the West. But Vic is up north, near the shittier and possibly more fun downtown casinos: Binion's, the Golden Nugget. In 1994 they enclosed five blocks of Fremont Street under an elaborately lit-up dome, making a sort of neon arcade called the Fremont Street Experience, which sounds like a band that opened for Love in 1969, whatever. They had to chop off part of Vic's hat to make him fit under the roof.
But they did it, and there he is, blazing orangely over the late-night crowd, puffing his neon cigarette. Probably buzzing like a nest of hornets, though you can't hear anything over the music. The Pioneer Club doesn't even exist anymore, but a souvenir shop keeps him lit up, a landmark sign in a city that's absolutely full of them. "Me, pardner," he declares, aiming his thumb at himself. The world still needs cowboys, if only to remind you that it does.
Had I really wondered about the connection between the rodeo and Las Vegas? This city they built out of nothing, out of sand? It seems so obvious. It's, and I apologize for the neatness of this phrasing, but it's that it's easier to tame nature than to tame human nature. You can domesticate the wilderness, but simply having done it doesn't cancel the urge that made you want to do it. You have to domesticate it again. You have to make it a game. You have to keep body-slamming steer, building higher and more lurid towers, chasing whatever you're chasing, roping whatever you can rope. All Vegas does is to lay bare the real rodeo, the one in your head, the one that never stops. Try to keep your balance for eight seconds. There are worse monsters out there than bulls, and they are within and around us.
It's Vegas that's the real thing; the rodeo was always a metaphor.
I go home to polish my Chelsea boots.