Riders in the Sky
A week in Las Vegas for the National Finals Rodeo
By Brian Phillips on
Several beautiful women and I are making our way down a dirt-packed tunnel beneath UNLV's Thomas & Mack Center, walking carefully to avoid stepping in horseshit. It's 5:50 p.m. on Wednesday, December 12, and we are on an all-access VIP tour of the 2012 Pro Rodeo Cowboys Association National Finals Rodeo, the veritable Super Bowl and Mecca of the rodeo, the seventh of whose 10 nights kicks off in less than an hour. The tunnel's warm air pulses faintly but steadily with the music from the parking lot outside, where a crowd of 17,000-plus mingles in the presence of orange-cone-waving traffic guards and spotlit Wrangler signboards and corn-on-the-cob trucks.
We are passing, the girls and I, through scenes of calm last-minute preparedness. Purposeful cowboys ride by on massive horses, or else walk by, the older guys' weird, hitched gaits pivoting around belt buckles the size of ostrich eggs. They're carrying ropes, straightening bandannas. The whole left side of the tunnel's length is taken up by a holding pen packed jigsaw-puzzle full with placid, blinking steer. A steamy, neutral odor emanates from the pen, like body heat under a blanket. Everybody's cheerful. The girls are trying to spot the rope cans of their favorite cowboys, laughing when they find one they recognize. Our tour guide, Kendra, the NFR's director of communications, who is wise-eyed and funny and reminiscent of the sort of high school guidance counselor who is loved by all the students, calls out hearty greetings: "Well, look who I found!" or "Hey how you been, Travis?" or "Good luck out there tonight."
I'm the only man on the tour, though it's possible that the cowboys we meet would object to that characterization.
I've been invited to tag along on the VIP tour because I'm working the rodeo in a journalistic capacity for a well-known media outlet. The girls are here as representatives of the Rodeo Historical Society. The precise nature of their role is something I am never able to journalistically clarify, however, because the one I make halting small talk with, I mean interview, turns out to possess social graces at a judo-master level and whenever I ask her a question I wind up talking about myself without having any idea how it happened. Sara is from North Dakota and maybe 23 and just heart-splinteringly pretty. She is thrillingly fascinated, I am horrified to report, by information about my recent connecting flight. I grew up in Oklahoma and probably once knew the countermoves for this, but I've lived on the East Coast too long and now North Dakota politeness works on me like witchcraft.
At the end of the tunnel Kendra leads us through a door into a warren of hallways, the connective backstage grid of the area. We look into fluorescent-lit rooms where cowboys are being stretched on massage tables, Wrangler-clad legs bent back at crazy angles, trainers leaning two-handed on their boots. We meet the long-faced barrel clown, J.J., in costume but not yet in makeup, who coaxes one of the Historical Society girls into his Coors Lite–branded barrel, then claps me on the shoulder and yelps "Have a great rodeo, fella!" At one point we find ourselves outdoors, looking into a kind of open hangar where riders are warming up their horses, taking large, casual circles at a trot. When the horses come close enough, you can see that they have eyes like bashful koi. They almost look like they're swimming in the wrong medium.
It's been years since I was at a rodeo. My hometown is the site of a famous old ranch, the 101, which a century ago was celebrated for its sprawling and almost operatically cursed Wild West show. The young Tom Mix and the elderly Bill Cody were both on the payroll, but the production was brought low by a long cascade of train wrecks, typhoid epidemics, and international disasters. In England, the show's horses were confiscated by the military during the buildup to World War I. In Germany, its Sioux performers were arrested on the let's-go-out-on-a-limb-and-say-unfounded suspicion that they were Serbian spies. It was no picnic, running a Wild West show in the 1910s. My grandfather, in his youth, had known one of the 101's greatest performers, Bill Pickett, in his old age. Pickett was the African American cowboy who perfected the art of bulldogging, a lavishly dangerous form of steer wrestling in which the cowboy leaps onto the steer's back and controls the animal by biting its upper lip. It sounds crazy, but in the 1920s he was famous enough to star in a couple of movies. So we used to go to the 101 Ranch Rodeo every few years, whether out of lingering respect or just because it was something to do in a small-town Oklahoma summer.
I remember two things, chiefly, about the 101. The first is the endless, unendurable wait for bull riding, the closing event of the rodeo and the only one that mattered to greenhorn town kids like me. The second is the effortless way I would slip — instantly, as it seems in my memory — into the parallel, behind-the-bleachers kid culture that always springs up around outdoor small-town events. There was a fight brewing, constantly, between two older boys, and you sensed it as soon as you set foot in the place, you knew the names and the grievances, and you roamed the grounds in small, tight packs, hoping to be there when it broke out. Sometimes you'd catch a glimpse of one of the antagonists, surrounded by his people at the nacho stand, looking scared and flushed with importance.
Sara is wearing a raccoon. By that, I don't mean that she's wearing part of a raccoon, or that she's wearing raccoon fur. It is an anatomically complete, face-and-legs-sporting raccoon, probably but not verifiably dead, draped around her neck as a sort of loose cravat. This is not unusual, in context. Women everywhere are in second-skin jeans, fringed white jackets, knee-high glitter-adorned cowboy boots. There are beads on everything, shawls, hats, back pockets, in swooping, unidentifiably tribal Southwestern patterns. I try to figure out the name of the turquoise stone that I keep seeing studded on Western shirts, until it finally hits me that it's turquoise. On the men, big-brimmed black or white cowboy hats are de rigueur. The hats stay on indoors. There's a sense, sartorially, of a subculture coming together, putting itself on display. I see drooping white mustaches, black vests with red neckerchiefs, shearling jackets with 11-inch fringe running down the arms. Real Jeremiah Johnson getups, amazing stuff. The more formal guys are wearing these high-fastening Western frock coats with two silver conchos on the back, on either side of the pleated back vent. I'm stuck in dark Levi's and a plain dress shirt, hideously inadequate to the occasion; every rodeo person we meet writes me off, correctly, as a non-threatening alien.
I'm wearing boots in the hope of fitting in, but the only pair I own are Chelsea boots.
I'm here for the National Finals Rodeo, but I'm also here for Las Vegas. Not to gamble — I know how that would end — but just to look. The two motives are connected. Starting weeks before I got on the plane, a question had been twisting back and forth in my mind, a question that I will be the first to admit is categorically problematic, maybe to the point of being, in any precise form, unvocalizable. But let's assume you are willing to grok my shorthand. The question is: What does it mean for rodeo, a sport of deep and abiding realness, to hold its biggest event in Las Vegas, probably the most artificial city in the world? That rodeo, a sport that goes back to the land, to the campfire, to open pre-civilized spaces, would suddenly be enclosed in this city of weightless light? They've held it here every year since 1985, and if you haven't been, I'm telling you: It's resonant. I saw it the night I landed. I was driving down the Strip — that green-blue radiance, those palm trees — and half the crowd reeling between casinos was made up of cowboys. Not smirking dudes with little fratty tattered hats and too-tight T-shirts; fricking square-built, big-jeans-wearing ranching men. I ducked into a bar on the floor of my casino-hotel, and it was like, here's Vegas, the fake bells blinging, the slot machines blurring themselves, the purple-orange-brown carpet-walls-everything, and here's the Old West; now superimpose them like two translucent slides. Grizzled sideburned men in hard-beaten dusters plugging the "Jocasta, Mermaid Princess" slot machine. Broncos kicking on every bar TV. I watched a couple of bruising cowboy-behatted brothers taunting the animatronic crocodile outside the Rainforest Cafe.
"Coyt! You durr me to bulldog this big basterd?"
"Shit, I'll make it easy, I'll unplug 'im fer ya."
In Wyoming and Montana they are surfing Travelocity for this. It's a strange thing, seeing the wealth of the West — and there is a sense precisely of wealth among the rodeo crowd, of money stretching its legs after a long sleep — flowing over the counter into the Cirque du Soleil ticket booth. I realize that cowboys and saloon gambling aren't exactly strangers; also that it's a fallacy to look at the big-sky West as somehow historically remote from the drift of culture generally. But still. For a clueless quasi-urbanite, even a working rodeo journalist like me, the visual is startling. It's like seeing Vegas fill up with punks, or Trekkies — maybe stranger than that, since these aren't costumes.
I went to Starbucks and Starbucks was full of cowboys; picture that.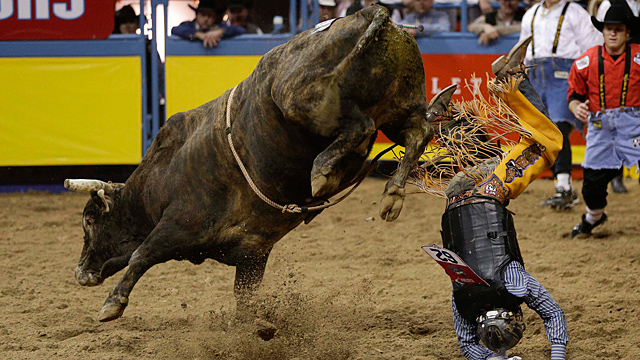 Huge explosions and judders of light. Gouts of fire from the arena's dirt floor. Bone-wrenching guitar rock. It's 7 p.m., post-tour, and we are under way at the jam-packed Thomas & Mack Center. I'm sitting second-row center, four seats down from the announcers, close enough to the action that as the evening progresses I will be repeatedly showered with dirt. The NFR's pace is on the breakneck side of relentless. The flame-spurts have barely died down before the cowboys are galloping in rings around the arena floor behind their state flags — Utah, Idaho, a million guys from Texas; there are no cowboys from Massachusetts — and we have barely breathed farewell to the galloping cowboy-rings when the first gate opens and a bronco comes flying out trying to buck off the first bareback rider. Heavy rap-rock-type guitar crunches along to this and every other routine. If this freaks out the animals, they do not show it, though in the broncos' case it's hard to see how they could possibly freak out more than they are already doing.
Bareback riding is so viscerally savage that even my extensive pre-rodeo Wikipedia reading has left me unprepared for the experience. The cowboys lie nearly flat atop horses that catapult around the floor like electrocuted Slinkys. A rider has to jimmy his legs and flail his non-holding-on-for-dear-life hand, trying to stay on for the eight seconds it takes for the ride to count for a score; it's like watching someone luge down a 20-story staircase on a cafeteria tray. It's not clear how their spines withstand it, but they do; when Jessy Davis of Power, Montana, is thrown, he pulls himself up and limps off with a rueful grin. This is fun, his smile says, and (I translate) I am clinically a lunatic.
Here's how this works, structurally: Cowboys qualify for the NFR by winning a certain amount of prize money during the rodeo season. Over the NFR's 10 nights, they compete for more prize money during 10 "go-rounds," which is the name for, basically, a full rodeo session. So the bull riders ride one bull a night for 10 nights, the steer wrestlers wrestle one steer a night, etc., with weirdly specific amounts of prize money handed out each night: Winning a go-round in bareback riding is worth $18,257.21. At the end of the 10 nights, whoever's winnings are highest — regular-season plus NFR — wins the gold buckle (!) as the world champion in that event. There are other buckles awarded for things like "highest average," and an overall cowboy buckle, but it's the single-event championship buckles that most of the cowboys are chasing.
Practically the instant Caleb Bennett wins the round by riding Times Up to a score of 85, a steer comes tearing across the floor pursued by a cowboy on a (non-bucking) horse. We are on to steer wrestling, which is a rapid-fire pageant of men hurling themselves off galloping horses onto fleeing steers, seizing the steers, and flipping them onto their backs. Steer wrestling is timed and — did I mention the rodeo moves fast? — most of the routines take three to 10 seconds. Steers are occasionally lifted completely off their feet and body-slammed, WWE-style. I would not survive one day as a cowboy. The steers are surprisingly mellow about getting up and trotting down the exit chute after they have received their flippings. They have a little-brotherly aspect, possibly an artifact of the castration. A cowboy named Casey Martin who hails from Sulphur, Louisiana, walks past me wiping steer drool off the brim of his hat. Todd Suhn of Hermosa, South Dakota, obliterates his steer in 3.6 seconds and takes home tonight's steer-wrestling prize of (yes) $18,257.21.
The rap-rock guitars alternate with a running commentary from the two arena announcers, who for some reason I nickname "T.R. and the Duke." T.R. is smooth and knowing and just slightly transgressive in a drive-time radio way; the Duke is more raw and tends to address the contestants directly. "Don't rush her — she's a mare," T.R. jokes when one horse is reluctant to leave the gate. "That dog won't hunt!" the Duke rasps about a disappointing score. T.R. has a "10,000 frequent-flier miles" joke he likes to pull out when a cowboy really goes flying, but he leans on it a little heavily, is my take.
In between go-rounds, pretty lady riders in satiny red, white, and blue cowgirl outfits gallop around the arena streaming the names of casinos behind them on banners.
I am less excited for the roping events than the riding events. They are technical and unlike, say, bull riding, never make you feel like Moby-Dick is playing out in the dust. The crowd eats them up, though. When Trevor Brazile, the now-10-time NFR all-around champion (he clinched this year's title before I even flew into town), misjudges his throw and loses the steer, there are audible groans and gasps. I am looking at the ad boards that line the arena: Coors, Justin Boots, Dodge Ram, Wrangler, Hesston by Massey Ferguson (no idea), Resistol (a hat brand, I think?), B&W Trailer Hitches (self-explanatory). Some of the steers wind up stretched out like ropes in a tug-of-war. I'm close enough to see their eyes rolling.
Saddle bronc riding is next. It's like bareback riding, only (stand clear: professional rodeo journalist at work) with saddles. Horses bucking like demons; pure frenzy. The contestant numbers stuck to the cowboys' backs are red and white like Marlboro cartons, and during the rides they flap like clipped birds' wings. The cowboys wear fringed leather chaps and what can only be described as sensationally cool blue jeans. They bend their knees back when the horse is on its back legs and then kick their legs way out when it bucks forward. I'm sorry, the rest of us are doing jeans wrong. Jesse Wright, who's leading in the world standings with $188,016 in winnings this year, takes the round, bringing him (yes!) $18,257.21 closer to his first gold buckle. T.R. drive time–ily glosses one rider's dismount as resembling that of "a 13-year-old Chinese gymnast."
Tie-down roping is next, and because I'm still not sold on roping and because the brain-shredding pace and het-up guitar music has me on the verge of an emotional collapse, my mind starts to wander. I'm thinking about the history of the West as the story of the commodification of survival, the spread of civilization, how the rodeo is in many ways a dance dramatizing that complex and brutal transformation. The whole idea of a sport emerging from the interplay of the natural and human environment rather than as a pure simulation of war. A lot of other stuff that would probably net me an ass-kicking if I started throwing it around in the parking lot. Tie-down roping is presided over by a primly fat judge on horseback who drops a little red flag when a calf has been successfully roped. The cowboys' Western shirts are so stiff they look like sailcloth. The PA plays the riff from "Ice Ice Baby."
There's a surprisingly long pause before barrel racing, which Kendra, who's sitting next to me, calls "our seventh-inning stretch." Apart from T.R.'s Chinese-gymnast quip, this is the one time I hear an allusion to any other sport besides football. A stagecoach carrying a lieutenant general from the Marines emerges and does a lap of honor around the arena. The general's face is solemn and dutiful. There is a strongly pro-military vibe from the 17,000. T.R. and the Duke emit high-intensity respect.
Then: barrel racing! This is the one women's event at the NFR and it is tremendous fun. Riders come screaming in at approximately light speed, maneuver their horses in tight turns around three equally spaced barrels, then go galloping down the chute in a hell-for-leather sprint. It's simple, like all the best ideas. Mary Walker of Ennis, Texas, a 53(!)-year-old rookie, is dominating the NFR with earnings of $76,857, bringing her season total about $13,000 ahead of second-place Brittany Pozzi, and she wins again tonight. The gold buckle is hers to lose, T.R. and the Duke agree. I was rooting for Lee Ann Rust, on account of both her name and the fact that she is 54 years old, but you can't win them all in barrel racing, or even stop to breathe, or to think about what it means that contestant Trula Churchill has just been described by T.R. as "a teacher in a two-room schoolhouse," because the rodeo does not stop, ever, and now J.J. ("have a great rodeo") the barrel clown, in full makeup, is setting up in his barrel in the middle of the arena and HOLY MOTHER OF WHAT THERE IS A BULL LOOSE OUT THERE.
Because it's time for bull riding, as if the rodeo hasn't crashed my adrenals enough. It's like bareback riding, only the ridden creature weighs 2,000 pounds, has horns, and is enraged to an idiomatic degree. Let me be clear: We are talking about extreme, furious beef. Individual muscles sliding beneath the bulls' ripply hides are themselves human-size. Trevor Kastner of Ardmore, Oklahoma, wins 10,000 frequent-flier miles when he's thrown what looks like 35 feet in the air. Forget scores; the crowd loves anyone who can stay on one of these steaming terrors for the full eight seconds. Not many do, and there is a note of tragic melodrama in bull riding that is absent from the other events: "That young man can use your hands and your heart," T.R. warmly urges us when another cowboy goes pinwheeling. The bull riders wear little plastic helmets, like X-wing pilots. Bulls that throw their riders get to spend time thundering around the arena, presumably looking for unicorns to murder. If you wanted to devise a metaphor about mankind taming nature, and the courage and arrogance that requires, and how nature maybe feels about it in return, you could potentially use bull riding, I'm just saying. Finally the wranglers and the clowns coax the loose bulls through the chute. Brett Stall posts an 88.5 to win the round. His bull is called Cowboy Compactor. Then they play "Cowboy Town" by Brooks & Dunn. Then everyone gets up and leaves the rodeo.
The folks I talked to backstage, before the rodeo, when I told them my deal — 101 Ranch, haven't been in a long time, excited to be back — all said the same thing: "I think you're gonna like it." And they're right, I really do. It's fast and loud and wild and the crowd is delighted to be there and there's a sense of pride in this tradition, what it represents, that gives the whole thing a feeling of larger purpose. It's no great surprise that watching a human being voluntarily submit to being slammed around by a giant bull would put the NFL in a different context, athletically. But the rodeo is more than athletics; I think most of my new friends at the rodeo would agree. It is a way of life, choreographed.