Who Won 2012?
Our totally definitive, highly scientific, extremely annual Year-End Bracket
By Rembert Browne on
July 12, 2012, was a bad day. Not the absolute worst day of the year, but easily top seven. Why? Surprisingly, it's not John Carter or Somethin' 'Bout Kreay–related; they allegedly came out on March 9 and September 14, respectively. On that 12th day of our seventh month, a Thursday, Facebook decided to make an update. They unleashed the "engagement" feature on the handful of us that use the social-networking platform, giving Internet-happy couples multiple days of real estate in the Northeast quadrant of the page.
If you're, say, 43 and have no idea what I'm talking about, this may not have been such a rude disturbance to your life, but as someone who is in his mid-twenties, the second half of 2012 felt like friends, associates, enemies, frenemies, and people you're convinced hacked into your account to confirm a friendship were losing bets/getting punk'd/punk'ing themselves/ falling in love and prepping for a wedding celebrations on a daily basis. The most neutral, inoffensive word that I can think of to describe this phenomenon: startling.
I bring this up not simply to vent and/or abuse this platform, but rather to provide an example of an entity, Facebook, that will not be included in our annual field of 32 dedicated to answering the question "Who Won 2012?" Getting to this answer is a complicated process. Ground rules need to be laid, constants and variables need to be established, and one soul (mine) needs to be searched. Last year, a similar task was carried out, with the Final Four represented by Timothy Tebow, Twitter, Ryan Gosling, and The Knowles-Thrones (Bey, Jay, 'Ye). The title went to Twitter, and because of its win, as a nod to TRL, it has been retired from the contest. It's the "Tearin' Up My Heart" of end-of-year, post-Christmas brackets.
As for this year's bracket, here's how it works. There are four categories: Sports/Athletics, Celebrities/Entertainers, Technology/Internet, and Movements/Phenomena. Eight people/teams/entities/things are in each category, which is how, with some quick mathematics, we make it to 32. Before getting into the bracket, here are the disclaimers:
The Deceased: Not included. Sometimes those who we unfortunately lose gain in popularity, post-mortem, but there's no way you can ever really call that a "win."
The Lochte: Not included. Not even an honorable mention. I know you want to think he came out positively in 2012 because he was such a heartthrob, became easily meme-able, landed a cameo on 30 Rock, and even performed well in London. It's natural, but know that he's snowballing downhill. A quote from his Wikipedia page:
On August 1, Lochte trademarked the phrase "Jeah" with the U.S. Patent & Trademark Office. Lochte will have a guest appearance on 90210 in late 2012. Lochte has shown interest in being a celebrity on Dancing With the Stars.
He's a successful Olympian, but somehow is having a career trajectory that mirrors a retired NFL player crossed with an America's Next Top Model runner-up. So no. Just no.
The Honorable Mentions: So many had great years, but there are only 32 spots. It's rough out there. The following were considered but then dismissed:
2 Chainz, Daniel Day-Lewis, Kendrick Lamar, Missy Franklin, Pablo Sandoval, Rap Genius lol, Cinemagram, Being Famous and Bad at Sexting, Mitt Romney, Katie Holmes, Mayans, Adele, Call of Duty, RG3, Red Bull, Gay Weed-Smokers in Washington State, Oscar Pistorius.
The Really Honorable Mentions: And these are the ones that, at one point, were on the bracket, and then got the last-minute ax:
Miguel Cabrera, The USA Women's Gymnastics Team, Eli Manning, The San Francisco Giants, Live-Tweeting Everything, Jeremy Lin, Rookie QBs, Honey Boo Boo, Nate Silver, One Direction, Pete Souza's Camera, Seth MacFarlane.
The Seedings: Objectively subjective. Last year, the seedings were based on the number of Twitter followers (objective), and if an entry did not have a verified Twitter account, I gave myself the freedom to pick any semi-related account to determine its placement (subjective). While the subjective aspect remains the same this year, in an attempt to become increasingly well respected in the math and science community, I have tweaked the objectivity indicator, making it not simply about number of Twitter followers, but …
# of Twitter Followers divided by # of Twitter accounts Followed.
THAT'S MATH, BABY.
If JoJo, Improper Bostonian, were in this contest (which she's not, but, based on this, will be making a strong push in 2013), 620,166/424 = 1,463 = her WINNING INFLUENCE BRACKET SEED SCORE (WIBS, duh). If it were last year's contest, those 620,000-plus followers would have gotten her a 3-seed. This year, it's a 6-seed. Love you, boo, but 3-seed you are not. THE SCIENCE HOLDS UP.
What's important to note, though, as I wrap up this session of showing off the fact that I know how to use the calculator on my iPhone, is that seedings don't even matter. Advancement from round to round is also both subjective and objective: the former because I'm making these decisions without consensus or a quantitative rationale, and the latter because the conclusions I've come to are correct.
OK, enough with the disclaimers and rules and TED talks. On to the 32 winners.
Categories
Sports/Athletics
LeBron James: G/F, Miami Heat/The United States of America. @KingJames.
Andy Murray: Professional Tennis Player, Great Britain. @andy_murray.
Michael Phelps: Swimmer, The United States of America. @MichaelPhelps.
Johnny Football: QB, Texas A&M (Formerly "Johnny Manziel"). @JManziel2.
Usain Bolt: Sprinter, Jamaica. @usainbolt.
Lionel Messi: Forward, FC Barcelona/Argentina. @AndresLionel10.
Alabama Football: College Football Team, SEC. @AlabamaFTBL.
Gabby Douglas: Gymnast, The United States of America. @gabrielledoug.
Celebrities/Entertainers
Channing Tatum: Actor/Stripper. @channingtatum.
Lena Dunham: Actress/Author. @lenadunham.
Frank Ocean: Singer/Tumblrer. @frank_ocean.
Taylor Swift: Singer/Girlfriend. @taylorswift13.
Danny Boyle: Director/Olympian. @SirDannyBoyle.
E.L. James: Writer/Sexter. @E_L_James.
Jennifer Lawrence: Katniss. @JennifLawrence_.
The Knowles-Thronedashians: The American Family. @Beyonce + @S_C_ + @kanyewest + @KimKardashian.
Technology/Internet
GIFs: Like a video, but... @Mark_Sanchez.
Pinterest: Like Etsy, but... @Pinterest.
Tumblr: Like Xanga, but... @Tumblr.
Google Maps: NOTHING LIKE APPLE MAPS [SMH SHAKING MY HEAD]. @googlemaps.
Spotify: Like Grooveshark, but... @Spotify.
Instagram: Like being a photographer, but... @instagram.
Samsung Galaxy SIII: Like the iPhone, but... @SamsungMobileUS.
Reddit: THE ENTIRE INTERNET. PERIOD. @reddit.
Movements/Phenomena
Obama 2012: They. Won. @Obama2012.
#YOLO: Live. Once. @yolostuff + @YOLOmeme + @YOLO_YODA + @yolo.
The Scooter Braun Factory: Pop. Music. @scooterbraun + @justinbieber + @carlyraejepsen + @psy_oppa + @thewantedmusic.
Club Paradise: Take. Care. @Drake + @kendricklamar + @asvpxrocky + @JColeNC + @WakaFlockaBSM + @MeekMill + @2chainz + @FrencHMonTanA.
Electronic Dance Music (EDM): Build. Up. @deadmau5 + @NeroUK + @Avicii + @steveaoki + @Skrillex + @CalvinHarris + @swedishousemfia + @davidguetta.
Linsanity: Landry's. Couch. @JLin7.
Boy Bands: Chris. Kirkpatrick. @onedirection + @thewantedmusic + @bigtimerush + @JLSOfficial + @MindlessBhavior.
McKayla Maroney's Face: Never. Impressed. @McKaylaMaroney.
For the 10 percent of you that I haven't lost in this Guetta-esque buildup, follow James of Trinidad's instructions for six minutes, check your heart rate, wipe your brow, and then let's do this.
Still there? OK, let's do this.
—-
Round of 32
I Just Met You Region
Instagram (1) vs. Danny Boyle (8): If you're wondering what Danny Boyle, director of 2008's Slumdog Millionaire, is doing on a bracket about the best of 2012, you forget that he pulled off perhaps the greatest spectacle of the year, Isles of Wonder. You know, the almost four-hour extravaganza that was the 2012 London Olympics Opening Ceremony. Boyle's production was the most viewed opening ceremony in both U.K. and USA history, with a worldwide audience estimated at 900 million. Just to put that in perspective, there are around 7 billion people on Earth. So yeah, about 13 percent of the human race. NO BIG DEAL. With all of these aforementioned accolades, it's really unfortunate that Danny got stuck against Instagram in the first round. Fifty-two Opening Ceremonies couldn't have helped him pull off this upset. Not to be a spoiler, but one of the questions you should be asking in this contest is "who/what can beat Instagram?" (haven't decided yet). It went from a popular photo-filter-brunch-puppy-Jordans-selfie app that was rapidly catching on in 2011 (please note its 2011 Sweet 16 loss to Adele) to perhaps the tech MVP of 2012. There's more to say about Instagram, but I'm in no rush. Will pace myself. I think. Bye, Danny.
Reddit (5) vs. Obama 2012 (4): Obama 2012 was not about a man, nor was it really about politics. It was a movement that, at first, struggled to match its 2008 cult-like status, forcing it to find new, creative ways to permeate the cultural landscape, all in the hopes of winning that wacky Electoral College thing come November. One of the ways it did this was by letting Pete Souza, official White House photographer, take the greatest pictures of all time. OF. ALL. TIME. Another way was by this sentence: "Hi, I'm Barack Obama, President of the United States. Ask Me Anything." Obama hopping on Reddit was possibly the coolest nerd move that's ever happened in the history of the presidency. It wasn't just great for the campaign, though. His half-hour session also gave Reddit some mainstream acceptance and positive press (which couldn't hurt, following 2011's "Jailbait" child porn scandal), and was also aided by the fact that Obama's final update was "By the way, if you want to know what I think about this whole reddit experience — NOT BAD!" Just incredible. While this moment, along with other great findings/events, were great for the website, this campaign got Barack reelected, something that looked iffy at certain points of the year. For that, they advance. But yeah, seriously, shout-out to Pete Souza. GREATEST. PHOTOS. EVER.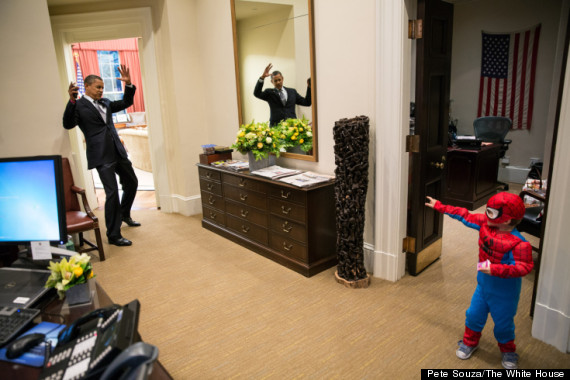 Channing Tatum (3) vs. Club Paradise (6): Last year, there were two guys, Ryan Gosling and Michael Fassbender, who dominated through a combination of making multiple films, being man-desirable, causing Internet hysteria, and getting naked. In 2012, these two men and their past accolades were rolled into one jacked soul: Channing Tatum. He was a presence for the entire calendar year, from February's The Vow to November's People magazine "Sexiest Man Alive" cover. And there was another small film somewhere in the middle that got some humans very riled up about his existence. Pitted against him is Drake's Club Paradise tour. Yes, it was the most successful hip-hop tour of 2012 (seventh-highest grossing tour worldwide, through June), but that's not what made it a phenomenon. In a genius move, Aubrey rounded up almost every rapper who could potentially be described as 'competition' and either had a song with them or put them on his tour. Kendrick, A$AP, J. Cole, Waka, Meek, French, and Tity 2 Chainz. That's a substantial chunk of hip-hop in 2012. The lineup was great, the live show was great, and perhaps best of all, they played basketball together between shows. In this 8 vs. 1 contest, strength in numbers does play a part, but not even writing this while blasting "Pop That" can push them past The Channing Tatum. He's like a late-'90s B-side Will Smith who hates wearing pants. There is no higher compliment.
Boy Bands (7) vs. Pinterest (2): It took me weeks to figure out Pinterest, but all that proves is that I'm an idiot. I tried to get involved, not because I have any real interest in pinning, but because I'm a follower and heard people buzzing about it left and right. Oh, and by "people," I mean "ladies." Ladies be buzzing. Related: boy bands. They're back and, like Pinterest, LADIES [younger] BE BUZZING. The best thing about them, perhaps the single largest sign that the movement is back, is that boy bands are beefing. If you don't know about the One Direction vs. The Wanted beef, I don't know what you're doing with your life. Dudes with names like "Zayn" and "Max" are taking to Twitter in the most vicious tiff since EAST [hampton] vs. WEST [egg]. Yes, these bands are cranking out jams and selling out arenas, but boy-band beef alone gets it to the next round. Easily.
This Is Crazy Region
Taylor Swift (1) vs. Jennifer Lawrence (8): This is a matchup that dreams are made of. Two talented women, born eight months apart, both with a monstrous 2012, meeting in the first round, forcing me to officially take the side of #TeamSwift or #TeamNotSwift. What's going for Taylor: her fourth album, Red, sold 1.21 million in the first week, which I'm pretty sure is more than all the other albums in 2012 combined. Seriously, though, that's the highest first-week sales tally since The Eminem Show, which came out in 2002, which is insane. What's going for Jennifer: She played the lead role, Katniss, in The Hunger Games, which grossed $152.5 million in its opening weekend, the fifth-largest opening weekend in history, and then turned around and received a Golden Globe (and highly probable Oscar) nod for Best Actress in Silver Linings Playbook. So what now? I guess the next logical step is to figure out which one dated a high school kid and which one seems to have a super-mature take on relationships. This quote: "You don't want your relationship to be in the press, but at the same time, and this is only a theory, the more you try and keep it secret, the more the media tries to crack it open," was said by Jennifer Lawrence. Taylor Swift? She dated Conor Kennedy, an 18-year-old SAT-taker. So yeah, #TeamNotSwift. UPSET, BABY.
McKayla Maroney's Face (5) vs. EDM (4): Last year, electronic dance music took over the airwaves and infiltrated other genres. Or, better said, artists in other genres looked to EDM to stay fresh. This year, the genre moved beyond simply popular singles and became the official background music to the year. Brands raced to EDM DJs to use their loud sounds in ads, from gum to cell phones to liquor to sodas to clothing lines. It seemed as if 2012 was the year the transformation became complete, from underground movement to household sound. Something very different than everything written above: gymnast McKayla Maroney. She didn't win the Olympic vault gold, an event she was favored in, and that, along with the sass that she brought to her loss, became the best thing that's ever happened to her. Why? Because this in August: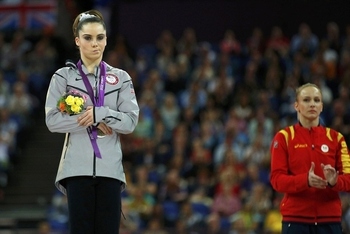 Turned into this in November:
MCKAYLA'S FACE WINS. LANDSLIDE VICTORY.
#YOLO (3) vs. Gabby Douglas (6): So both are inspirational, one in the best and worst way ever, and the other only in the best way ever. Yes, "you only live once" suggests seizing the moment, being like Aubrey and whatnot, but it also makes people be the worst, and unfortunately has become associated with (not responsible for) some really sad events. And then there's Gabrielle, pictured below with spirit mother HARPO.
If you think this entire bracket is an excuse to potentially pit Gabby vs. McKayla, you're not wrong.
GABBY ALSO WINS. ALSO A LANDSLIDE VICTORY. #YOLOLYMPIAN
E.L. James (7) vs. Usain Bolt (2): While E.L. James's Fifty Shades of Grey was released in 2011, this year is when it truly became a phenomenon. And while the book (and its readers) was wildly mocked (the term "mommy porn" became closely associated with the series), Ms. James quietly got the last laugh. She was named the 2012 "Person of the Year" by Publishers Weekly and one of Time's 100 Most Influential People in the World. All of these accolades! And for someone who used to write under the super-emo pen name "Snowqueens Icedragon"! Going against James is Usain Bolt, the fastest man in the world. Again. I could go on and on about how impressive it is to repeat as the world's fastest man when you're getting older and your competition is getting younger, but I think this does a decent job of articulating the matter at hand:
"The most naturally gifted athlete the world has ever seen."
Good god. I completely forgot who Usain was going against. Doesn't matter. He wins.
Here's My Number Region
The Knowles-Thronedashians (1) vs. Spotify (8): As previously mentioned, one of last year's finalists was The Knowles-Throne triumvirate. Well, in 2012, 'Ye found love in a once-Ray J'd place by way of Kim Kardashian, and suddenly a company of three became a crowd of four. At July's BET awards, the Knowles-Thronedashians were out for all to see, not only dominating the front row: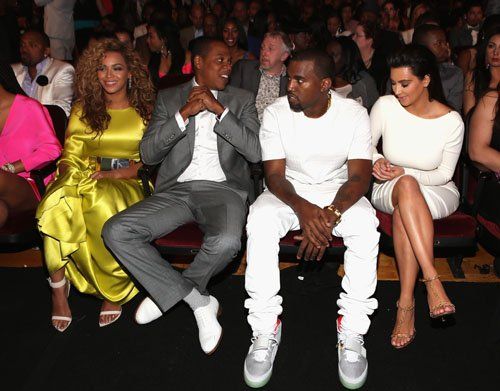 But also doing that diagonal, organize-yourself-by-latitudinal-position-of-eyes thing.
CLOSER:
Anyway, while adding the "-dashian" to the crew has a large number of naysayers, there's no denying the media frenzy it created. And that's in addition to the massive, media-frenzied year had by 3/4ths of the crew with actual jobs. I could counter this with positive thoughts about Spotify, which became the single most important music-playing entity of the year, but there's just no way it knocks out these four. Shout-out to Spotify Premium, though. Such a game-changer.