Q: The House vs. Cousin Sal showdown is the most legitimately intriguing ESPN production since "The Decision."
—Matthew Ludtke, East Lansing
SG: That might be the best backhanded compliment of all time. For anyone who doesn't listen to the B.S. Report, we've been promoting a special Super Bowl Saturday edition of "House Eats" called "House Eats: New Orleans" in which Sal and House keep eating Cajun food until one of them either taps out or dies. The fellas at sportsbook.com became so excited about it that they semi-jokingly posted a line (House as a minus-130 favorite), followed by House drawing enough action that they had to make him a 2-to-1 favorite before a late surge of Sal action after I made an impassioned case for his underdog chances in Monday's pod. Now House is a minus-150 favorite, Jim Gray is clamoring to be involved, listeners are asking to attend the event, and I'm more excited for this contest than for Sunday's game. Fine, the Jim Gray part wasn't true. (Although I bet he'd want to be involved. What would be more emotionally scarring for Jim Gray — thinking he was going to get trampled to death during the Artest Melee, or getting thrown up on during "House Eats"?) This entire paragraph is either the highlight or the lowlight of my career.
Q: Watching the Redskins/Seahawks game on Sunday, I started to wonder what will happen when Dr. James Andrews eventually retires/dies. Will American sports suffer noticeably? Shouldn't all the major players' associations get together to form some kind of contingency plan? Can we at least get an America's Next Top Sports Orthopedist reality show out of it? Also, can you remember another instance of a figure who is only tangentially related to sports becoming this famous because of it? At this point, doesn't every serious sports fan know who Dr. James Andrews is?
—Alex D, Alamo, CA
SG: The biggest flaw with your argument: It's unclear if Dr. James Andrews will ever die. These past 20 years, I've had a sneaking suspicion that he's been clandestinely pulling blood cells and hemoglobin from the world's best athletic specimens, then going back to his Alabama mansion and injecting that stuff into his own body so he can live two more centuries. If you think I'm crazy, just wait until he inexplicably becomes an All-Pro receiver, wins a 2016 Olympic gold medal and finishes second in the 2019 Boston Marathon as his new wife Katherine Webb Andrews cheers him on. You wait.
But that shouldn't stop ESPN from green-lighting America's Next Top Sports Orthopedist for a revamped Tuesday-night lineup of edgier shows like Shirtless PTI, Drunk Around the Horn, and Rob Parker's provocatively uncomfortable new game show, Are You a Cornball Brother? (Whoops, they just canceled Are You a Cornball Brother? My bad.) As for a contingency plan, I'm more interested in why his competitors have publicly conceded that entire territory to Andrews. Given that he makes somewhere between $50 million and $10 hundred billion kajillion per year, isn't it amazing that none of his competitors repeatedly slandered him to the media, ran election-style attack ads or framed him for a murder? Where was the carefully leaked "Griffin's injury may have really been Dr. Andrews's fault" article this week? If this were a scripted FX drama, at least two hot-shot competitors would have come after Andrews by now and at least one of them would have drugged him right before he operated on Kyrie Irving in a special two-part God Hates Cleveland episode.
Q: Did you see this in the Wall Street Journal today?
The Infidelity Phone that you jokingly championed during the Tiger Woods saga is now a reality. I'm a lawyer. Say the word and I'll get the lawsuit started. You are owed money my friend. You are a visionary.
—Paul Allen, Philly
SG: If it's all right with you, I think I'll avoid any situation that results in me telling my wife, "So I'm suing for royalties for that new cell phone they made for cheaters … "
Q: After the formal introduction of Andy Reid as Kansas City's new head coach, do you realize the Chiefs have hired two more of your "Flabbergasted Four" as head coaches, giving them three in all (Herm Edwards, Romeo Crennel and Andy Reid)! Can I get a "ladies and gentlemen your Kansas City Chiefs?"
—Chris James, Blackstone, NY
SG: And don't rule out the Chiefs firing Andy in 2016 and hiring Brad Childress to complete the Flabbergasted Four Trifecta! (Wait, what? They're already talking to Brad about joining Andy's staff? Are we sure?) In all caps … LADIES AND GENTLEMEN … YOUR KANSAS CITY CHIEFS!!!!!!!!!!!!!!!!!!!!!!!!!!!!!!!!!!!
Q: You wondered last week who would win the Bernard Karmell Pollard award. I'd like to nominate the Redskins' franchise for their abhorrent field, which was littered with bodies, mudslides, and James Andrewses. They were cruising until it destroyed the franchise savior's knee (Griffin) and then it blew up the ACL of the winning team's best pash rusher (Chris Clemons). It could possibly swing the playoff hopes of two teams, no small feat. Brutal.
—Greg, Baltimore
Q: The playing surface at FedEx field is another reason why Goodell is such a hypocrite with player safety. He allows billionaire owners to make players use crappy field conditions. It wasn't even grass half the time, just dirt. The number of injuries that occurred (RG3, Clem, Hauschka) was simply ridiculous and needs to be fixed. Eff you, Goodell, you dirty owners' butt-kissing hypocrite.
—Troy S., Seattle
SG: Here's how I felt about that e-mail.
Q: Shouldn't the Bernard Pollard Award (for the "Totally Random Player Who Affected This Year's Playoffs The Most") really be called the Mo Lewis Award? Lewis made a good play and knocked Drew Bledsoe out of an early regular season game. This good play though inadvertently caused the Patriots to win the Super Bowl that year and to dominate the Jets for 12 years running. (Doesn't that feel good to say?)
—Matt Buehler, Boston
SG: You're exactly right, Matt. Mo Lewis knocked Drew Bledsoe out of that game and allowed Tom Brady to start playing, and that's worked out pretty great for Bill Belichick and the New England Patriots. If something happens that enables something better to happen, that's pretty good. It makes more sense to call this "The Mo Lewis Award." So Matt, you're exactly right.5
(Sorry, I let Troy Aikman answer that last e-mail.)
Q: I was wondering if it would be possible if I could get a picture of Mr. Babe Ruth signed by his daughter Dorothy. My dad, Mr Ronnie dove really loves baseball and I would love to give him this hand drawed picture. Thank you in advance. Wayne
—Wayne Smith, Aberdeen
SG: You forgot to include your address — should I just FedEx it right to the Weirdo Clinic in Aberdeen?
Q: Have you realized that if Peyton's Broncos beat the Patriots this year, Tom Brady & the Patriots will most likely have been denied four additional Super Bowls directly because of the Manning brothers? This got me thinking of a movie idea, involving Bill Belichick as an evil mastermind (not too far off from real-life), who creates a time machine and sends Brady back to the 1970s to stop Archie Manning from conceiving his two sons. With all the different time-travel rules the movie could play with, the possiblities are endless. Wouldn't this be a must-own Blu-ray?
—Adam, Lexington, MA
SG: I knew this was a great idea because it could easily be a movie or animated series, but also, it's something I spent about 15 seconds mulling over while thinking, Wait, what if this could actually happen in real life? (Build Belichick a time machine and, at the very least, I think he strongly considers it.) But you left out a crucial part of the plot: Roger Goodell catching wind of Belichick's scheme, then going back in time himself to stop Brady (like Robert Patrick in Terminator 2) so he can protect a future world where the Mannings rule football. Oh, and he could spend his spare time convincing thousands of 1970s players to sign documents releasing the league from all accountability for their future health issues while he's there. Here's $1,000 up front … just sign this. Trust me, I'm from the future! My biggest question: What would this movie/cartoon be called: Zero Dark Manning? or The Manning Terminator? You could talk me into either.
Q: As a Bills fan, I for one am very excited for the Doug Marrone era. Look at those credentials! He coached the Saints offense for three years, an offense that has seen no drop in production since Marrone left and arguably has gotten even more high-charged since 2008 under a guy named Pete Carmichael, who's also being interviewed for head coaching positions that was totally available! And what a sterling tenure at Syracuse! 25-25 with two Pinstripe Bowl wins? Sounds like major success at the NFL level is right around the corner! I can't decide is what's funnier: That the Bills hired a mediocre college coach with so-so NFL success to replace their mediocre college coach with so-so NFL success they had just fired (And I'm completely unsurprised by this), or the chain reaction of hilarity of the Browns reacting by re-booting their coaching search. So I guess in summary, while I can't wait to watch the 2015 Toronto Bills hire Ron Turner away from Florida International, thank God we're not Cleveland.
—Trevor, Naperville, IL
SG: Hold on, we're not done.
Q: After the Browns coaching hire, I'm curious as to how many "God hates Cleveland" e-mails you get in a 24-hour span vs "Your 2013 CLEVELAND BROWNS!" e-mails. I'd lean toward God on this one, mostly because I'm pretty sure the new coach's name can only be pronounced in Aramaic.
—Bill, Hartford
SG: A 12-hour inbox survey after the hiring was announced revealed that readers went with "God hates Cleveland" over "Your 2013 Cleveland Browns!" by a 3-to-1 margin. (The lesson, as always … ) I'd urge Browns fans to give the new regime a chance if only because new Browns president Alec Scheiner is (a) highly respected within the sports community for everything he accomplished with the Cowboys (including putting together their new stadium), (b) someone who embraced the statistical revolution as early as anyone in football (and will hire the best possible people to help the Browns there), (c) a huge Bachelor fan who could hold a conversation with Chris Harrison for at least 20 minutes, (d) someone who once outdrank my buddy J-Bug (who weighed 280 pounds at the time), and (e) someone persuasive enough that he convinced his wife, who loved Texas, to move their family from Dallas to Cleveland. I'm not saying those five things, when combined into a larger package, necessarily translate into massive success. But you have to give him a chance, right?
Q: A Denver vs. Seattle Super Bowl appears as a very real possibility. I don't think it's a coincidence that both Colorado and Washington legalized pot during this season. Thoughts?
—Mark, Richmond
SG: The Pot Bowl! I just bought www.thepotbowl.com just to be safe. While we're here: I tweeted two days ago that "Within 10 months, Seattle might have Russell Wilson, the Sonics and legalized marijuana. I'm putting my house on the market." I forgot Felix Hernandez. My bad, Felix. Please forgive me. You helped me win the 2007 League of Dorks title; I will never forget what we had. Don't think otherwise. But can Denver really make it past Round 2? Please take a deep breath and prepare yourself for the next e-mail.
Q: Since somehow you've gotten sick again this week (16 times in 8 days has to be a record for consecutive illnesses to start a year), I'd like to help you with your Broncos-Ravens Pick. The weather is expected to be freezing that day (a high of 23). I'd like to remind you that the Broncos starting QB is 36 and coming off 4 neck surgeries. Hmm 36 year old QB in cold weather, were have I read this before … oh wait, you wrote it! Come back with me to Jan. 2008 when you wrote …
The Bill Simmons Award for "Most obvious gambling story line that everyone completely missed."
On paper, it seems absolutely incredible that Eli totally outplayed Favre in Lambeau in the third coldest playoff game ever. I never would have predicted this in a million years, especially given Eli's past performance in cold weather. Then I thought about it afterward and realized something: Favre is 38, Eli is 27 and the weather was minus-4. Who's more likely to be affected by bone-chilling temperatures — a young QB with little wear and tear on his body, or an old QB who has started 270 consecutive games, battled an addiction to painkillers and probably takes 15 minutes to get out of bed every morning? Wouldn't it be the old guy? Why didn't I think of this before the game? I hate myself.
There is your argument for the Ravens.
—Chris, Salem, OR
SG: You're right! There's my argument for the Ravens! You even left out five things …
• Manning has never won a playoff game when the temperature was lower than 40 degrees, going 0-3 and throwing one TD and seven picks in those three games.
• Manning will be wearing a special glove during Saturday's game to help with his grip. Why? Because his grip is weaker in colder weather because of nerve damage from those four surgeries. I am not making this up.
• As my buddy Cousin Sal points out, for the past SEVEN postseasons, at least one prohibitive or semi-prohibitive favorite has crapped the bed at home in Round 2: the 2011 Packers (8-point faves, lost to Giants); 2010 Patriots (9.5-point faves, lost to the Jets); 2009 Chargers (9-point faves, lost to the Jets); 2008 Panthers (10-point faves, lost to Arizona); 2007 Colts (11-point faves, lost to San Diego); 2006 Chargers (5-point faves, lost to New England); and 2005 Colts (8.5-point faves, lost to Pittsburgh). For the streak to continue, either the Patriots or Broncos would have to blow their home game this week. I'm just sayin'.
• One last Manning-Brady battle in the AFC title game is just too delicious on paper. Look at this photo. We're one weekend away from it happening, with a trip to the Bowl on the line. Someone has to screw it up, right?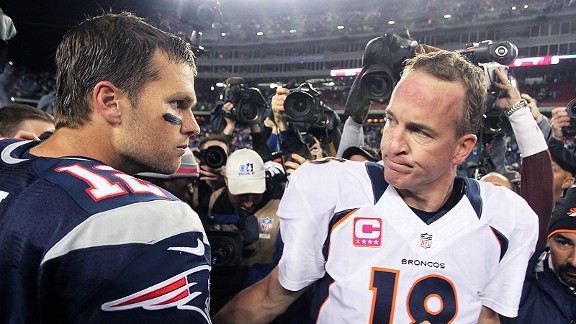 • In a vacuum, I think the Broncos are better than the Ravens — something they proved a few weeks ago with their butt-kicking of the Ravens in Baltimore (even if the Ravens were missing Bernard Pierce and two defensive starters). But if you're picking a big road dog, you want to make sure they can block (they can) and make at least one big special teams play (and the Ravens have a great special teams). You want to make sure they're experienced, and that they won't be even remotely afraid, that they'll be almost irrationally confident that they can win the game (3-for-3 for the Ravens). You want to make sure they're well coached (yes for the Ravens), and that they have a quarterback who's won big games on the road before. (Say what you want about Flacco, but he's 6-4 in the playoffs and came within that Lee Evans strip of making the Super Bowl last year.) You want to make sure they can throw the ball downfield (they can) and that their big-play guys can make two big plays (yes for the Ravens with Ray Rice, Torrey Smith, Anquan Boldin and even Bernard Pierce), and that they're on something of a mission (Ray Lewis's announcement clinched that). You want to make sure they can handle the January elements (no problem there). And if there's a dash of "Nobody Believes In Us!," even better (and there is).
Here's the point: There's enough going on here that I don't feel comfortable laying 10 points with the Broncos. More on this in a second.
Q: So I was watching and old episode of Jackass where Johnny Knoxville gets a colon cleansing and it got me thinking. Did you know that you can lose about 15 pounds from doing one of those?? This led me to think, couldn't this be used to some sort of advantage? You'd be dropping 15 pounds without losing ANY muscle or athletic ability. Kobe (because if anyone would take advantage of this, it'd be Kobe) is listed at 205, if he dropped to 190 while not losing any muscle wouldn't he be strikingly quicker and have a higher vertical? If you're exploring every facet of improvement, wouldn't someone like him consider it?
—Chris, Las Vegas
SG: Uh-oh, we're in range …
Q: While reading your column about your laptop going on the fritz, I was surprised to learn you didn't convert your old computer (the one you compared to Charlie Batch) to a porn machine. Once you get a new computer, it is customary to convert your old computer into a device that's sole purpose is to download pornography. Since you don't want to ruin a perfectly good computer, you always have a back up. Sure I'll click on this link, I don't give a crap if it's infested with viruses, this is no longer my computer, it is a porn machine.
—Hudson, Ithaca, NY
SG: Yup, these are my readers. Time for my Round 2 picks …
Home teams in caps
Ravens (+10) over BRONCOS
Too many points. I keep staring at this game thinking, Wait a second, the Ravens have a chance. Worst-case scenario: Manning comes out firing, Flacco gets the Joe Flacco Face going and I end up feeling like a moron by the second quarter. Believe me. But I have a weird feeling about this game. Can't explain it. Even called Mike Lombardi this morning just to make sure, leading to this exchange.
Me: "Am I crazy or can the Ravens win this game?"
Lombardi: "You are NOT crazy."
I don't think I'm crazy. I don't think I'm crazy. I don't think I'm crazy. I don't think I'm crazy.
The Pick: Baltimore 27, Denver 24
---
Packers (+3) over NINERS
My fears for picking against the Niners: The inevitable split-screen shot of Jim Harbaugh vs. Mike McCarthy that will make my stomach sink … any shot of Dom Capers in the booth … Kaepernick scampering around and doing Kaepernick things … Randy Moss haunting the Pack one last time … the 57 replays they're going to show of T.O.'s superhuman catch to beat Favre's Packers in the '98 playoffs … what happened in Week 1 … the thought of the Packers dominating the game and somehow blowing it because of poor clock management, shaky kicking, poor tackling and all the other stuff that submarines a team in the playoffs. God, I wish I trusted their defense more.
My fears for picking the Niners: Backing a first-year starter … going against Aaron Rodgers in Eff You Mode … no Mario Manningham … going against Aaron Rodgers in Eff You Mode … a limited Justin Smith … going against Aaron Rodgers in Eff You Mode … what Brady did to the Niners in the second half of their game (and the similarities between Green Bay's offense and New England's offense) … this clip.
I can't do it. I can't go against Rodgers. I just think the guy is great.
The Pick: Green Bay 31, San Francisco 27
---
Seahawks (+2.5) over FALCONS
My fears for picking against the Falcons: Taking three road teams in Round 2 … going against Matt Ryan in what's clearly a "My Career Is On Trial" Game … the "Nobody Believes In Us Even Though We're A No. 1 Seed" thing … the Georgia Dome getting louder than loud (especially if the Falcons go up early) … Seattle's pass rush falling apart without Chris Clemons … Pete Carroll turning into 2006 Rose Bowl/1998 Patriots Pete Carroll … the Frightening Roddy White and The Even More Frightening Julio Jones … the inevitable "Tony Gonzalez jumping over two guys in the back of the end zone" touchdown catch … the fact that everyone seems to love the Seahawks (gulp) … the fact that Seattle always seems to play these dramatically tight road games (and the Falcons have been pulling those games out of their butts all season, regardless of how they played in the first 50 minutes of the game).
My fears for picking the Falcons: You can do whatever you want against their defense (literally, whatever you want) … Matt Ryan's playoff history … Mike Smith on any borderline fourth-and-short call … the fact that Seattle has "the look" (as Lombardi loves to say) … Marshawn Lynch going into a Beast Mode against a D that probably won't do a good job tackling him … Seattle's oversized cheating cornerbacks matching up nicely with Atlanta's oversized receivers … that Packers-Seahawks rematch lingering, and really, seeming predestined when you remember that we'll always remember 2012 as the Year of the Replacement Refs (so why not have that become a subplot to make the Bowl?) … the slight chance this really might be the Year of Russell Wilson.
When in doubt, take the points … and take the team you think is better. I think the Seahawks are better. They don't have any holes. They've proven themselves over and over again. They've earned our gambling trust. We will see. Either way, I think this one is coming down to the final two minutes — that's how the seasons have gone for both of these teams. It's destiny.
The Pick: Seattle 27, Atlanta 24
---
PATRIOTS (-10) over Texans
Keep this in mind: The Patriots haven't submitted a dominant playoff performance against a quality team in years. (No, you can't count the Denver Tebows last January.) You'd have to hearken back to their snowy shellacking of Manning's Colts (Pats 20, Colts 3) in January 2005. I just think they're due for a monster game.
And if you're thinking big picture, we're going on eight years since the last Lombardi Trophy here. That's two presidential terms. Tom Brady is 35 years old. Bill Belichick is 60 years old. Bob Kraft is 71 years old. It's been 11 years since that first Super Bowl victory in New Orleans, back when Bledsoe and Ty and Willie were still around, when the Patriots franchise was still something of a joke, when the Boston sports scene was stuck in a rut, when it seemed absolutely inconceivable that the New England Patriots would ever win anything other than a booby prize. They ended up winning three Bowls. With a couple of breaks, they could have won three more. Time is running out. I think the Patriots know it. They're two wins away from returning to New Orleans with a totally different team, and with their three essential characters at totally different points of their careers and lives. But the mission will remain the same. And it starts this weekend.
The Pick: New England 45, Houston 20
Playoff Record: 3-1
Regular-Season Record: 132-120-4