A Battle for the Best Chappelle's Show Sketch Ever
(page 2 of 3)

By Rembert Browne
Beautiful Region
Pixies (1) vs. Two-Minute Special (16)
Oh, the "Pixies" sketch. If you're a fan of the show, it's uncomfortable to watch this sketch, not because it's so racially in-your-face, but because it's widely considered to be the sketch that drove Chappelle away from the show. I happen to think the sketch has some hilarious parts, but I can see why a man would question his larger goals of helping the greater racial dialogue after promoting a sketch like "Pixies." Going against this sketch is "Two-Minute Special." This is one of those Chappelle sketches that is so simple, it's hard to believe no one had ever thought of it. Of course someone should make fun of that overexaggerated period of time when someone is making his way to the stage. It's hilarious. From the very slow walk to the touching of the soundboard (which consists of adjusting absolutely nothing) to the long chug of water, he hits on every point of absurdity. I love "Two-Minute Special," and even if the "Pixies" sketches weren't the beginning of the end, I'd still have them falling in this matchup. Buh-bye, no. 1 seed. And good riddance.
Making the Band (8) vs. Roots Bloopers (9)
Fans of the "Making the Band" sketch get understandably caught up in all things "Dylan, Dylan, Dylan, Dylan, Dylan." While that line is hilarious, it isn't even the funniest thing Chappelle as Dylan said in the sketch. I invite anyone to tell me something funnier than Dylan saying:
"I already had about five labels call me today, 50 labels called me total, and there's only six."
That pile of mathematical nonsense gets me every time. It's so dumb and perfect. Anyway, obviously Diddy, Chopper, Babs, and the rest advance. The fake bloopers from fake Roots are great, but Diddy's wet, shiny, Chapstick-covered lips are even greater.
Reparations 2003 (5) vs. A Gay World (12)
Yes, there are a few funny segments in the "A Gay World" sketch, but the handful of seconds during which we, the viewers, are privileged to see that man sashay across the grass with his lawnmower and his booty shorts is amazing.
AMAZING.
I could also go into the segment about the gay chapter of the KKK, but it's a moot point, seeing as this sketch is going against "Reparations 2003." To say this sketch is important is a gross understatement. In addition to being hilarious, it introduced the world to (1) Chuck Taylor, (2) TRON, and (3) the sound bite used for the ending credits, "I'm Rich, BEEATCH [honk honk]." That's about a third of the things I love about Chappelle's Show, all stemming from one sketch. Anyway, this grossly undervalued sketch wins in a landslide, and I feel bad for any other sketch in its path.
Samuel Jackson Beer (4) vs. Zapped (13)
I mean —
"Good muthafucking choice, muthafucka. Samuel Jackson, made painstakingly by me, Samuel L. Jackson. It'll get you drunk. You'll be fucking fat girls in no time. You might even fight a nigga or two. MM-MMM, BITCH. [Breath.] How's it taste, muthafucka? Huh? [Rudely interrupted and asked to stop yelling.] No, I can't stop yelling, 'cause that's how I talk. You ain't never seen my movies? JUICE? That was a good one. Deep Blue Sea? They ate me. A FUCKING SHARK ATE ME. DRANK, BITCH. Jurassic Park? Samuel Jackson. It's my beer. YES, THEY DESERVE TO DIE, AND I HOPE THEY BURN IN HELL."
I love a good sketch about a misguided prank/hidden camera show, but I neither want to die nor burn in hell, so Samuel L. moves on.
White People Dancing (6) vs. Make a Wish (11)
Ladies and gentlemen, the worst rap verse in American history:
"I'll battle any sex or any race. You beating me is like Billy Crystal playing Scarface. I can't see it, blind to the eyes. Came up in your face. OOPS POW SURPRISE, ohhhhh."
It's so bad, it's beautiful. That's all I'm saying about this. Bye, "Make a Wish." Ohhhhhhhh.
World Series of Dice (3) vs. Law & Order (14)
This is the hardest matchup of the first round, hands down. Both of these sketches are legendary. One has Ashy Larry and the other has some remarkably comical animal cruelty. Don't take me as someone who enjoys watching bad things happen to animals — quite the contrary, but in the first scene of "Jury Selection" when the police blast through the house, roll a grenade toward the golden retriever, and then shoot the dog in the head, I can't help but die laughing. IT'S FUNNY, I'M SORRY. Not only is this flipping of the script of the justice system (in the eyes of Dave) extremely clever (especially when they show the "jury of your peers"), but it gave the world another classic Chappelle quote: "I plead the fif."
Just fantastic.
Equally fantastic is the "World Series of Dice." Yes, there are other characters than Ashy Larry, but for chrissakes there's not much funnier than Donnell Rawlings covered in chalk, squandering his family's money away in a dice game in the middle of the Marcy projects. And it only gets better when he introduces himself by "Ashy Larry, Marcy Projects, Marcy Son, What." It's too good. I can't believe one of these sketches has to get knocked out this early, but that's how it works, and that sketch is "The World Series of Dice." Ashy Larry, Grits N' Gravy, and Leonard Washington are wonderful, but Tron holding up his sign is simply too much.
Howard Dean (7) vs. Fisticuffs (10)
If the "Fisticuffs" shtick was two hours long, I would still be amused and still laugh when he complains about the velvet in the headphones, when he can't hear the beat, and when the beat drops how he wasn't prepared for the beat to drop. For some people with weird senses of humor, this is one of the funniest comedy sketches. Ever. I happen to be one of those people. Going against it is the "Howard Dean" sketch. My two favorite parts about this sketch are the fact that they left in the part when he directly addresses Tom Harkin, and then at the end, after six or seven "byaaaahs," he drops the mic. Always a great move. So yeah, solid sketch, but no way it outperforms Fisticuffs. Not even close … Tom Harkin.
Clayton Bigsby: Black White Supremacist (2) vs. Roca Pads (15)
The Clayton Bigsby sketch is so good, not even a Rashida Jones cameo in "Roca Pads" could save it. I will always love Dame Dash for doing this sketch, but this is Clayton Bigsby we're talking about. Even Dame would understand.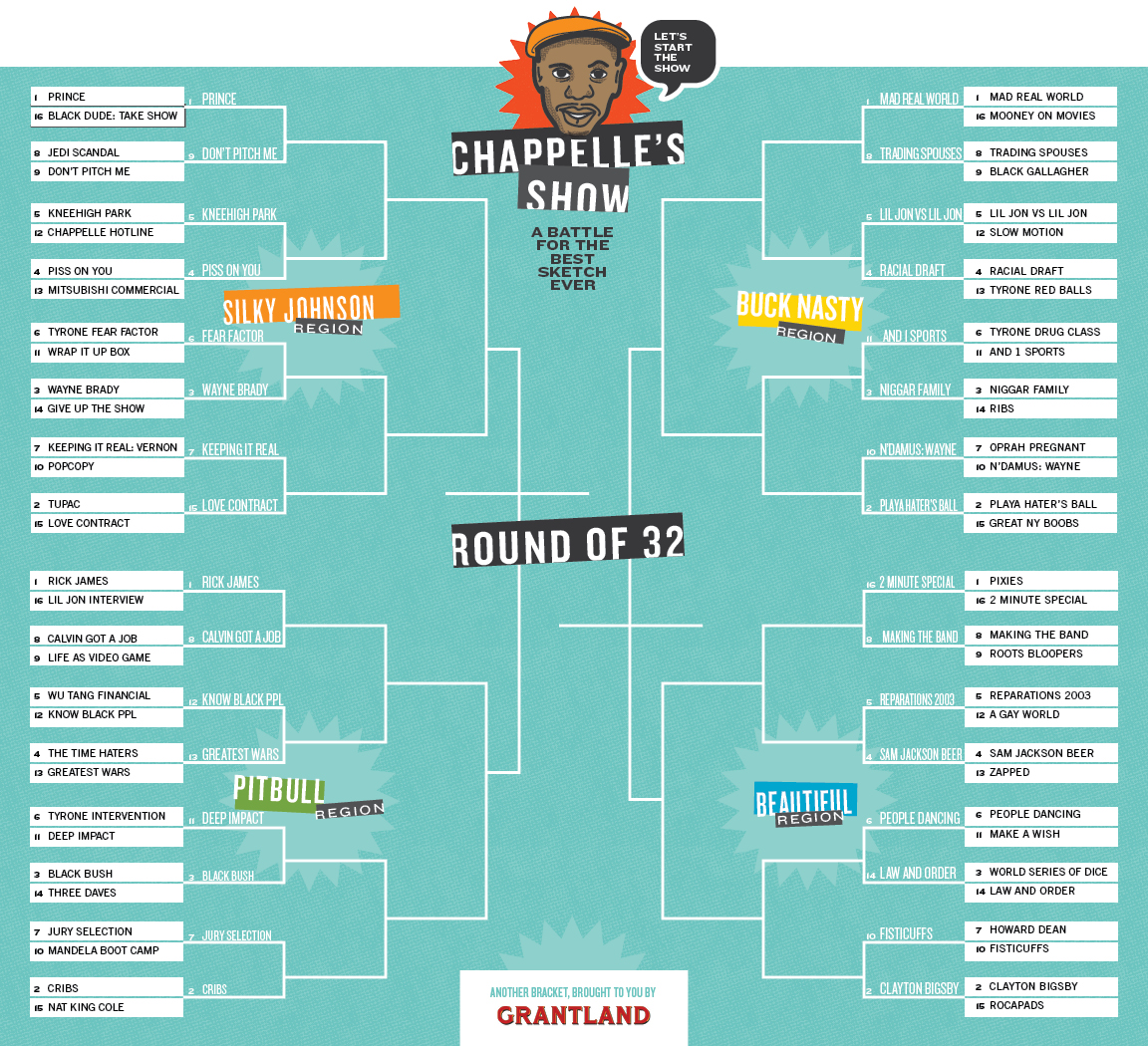 Round of 32
Silky Johnson Region
Prince (1) vs. Don't Pitch Me (9)
So, in addition to Arsenio complaining about the cheese, you also have Dave rapping as a half-man/half-sheep. Very great. Oh, and a shirtless Anthony Anderson rubbing himself down with rose petals, à la American Beauty. Also great. The problem, however, is that only one of these sketches has the line "Why don't you purify yourself in the waters of Lake Minnetonka?" And that would be Prince. So, yeah — bye, Arsenio.
Kneehigh Park (5) vs. Piss on You (4)
It's weirdly fitting that these two get matched up with one another. Both are highly inappropriate, both have singing, both involve sexual deviancy, and both are funny in the sense that you don't want to laugh, because you shouldn't be laughing, which ultimately makes you laugh even more. The major difference between these two sketches, however, is that whereas a few jokes fall flat in "Kneehigh Park," "Piss on You" (and the accompanying remix) never falters. Every single lyric is golden. The song is so good, I once had it on MP3. What we have to remember is that before we all knew it would turn into "Piss on You," we sat and watched for the first 20 seconds as Chappelle changed the lyrics to a familiar track, "Feelin' on Your Booty." There was no way to really expect the song to take a turn for "Take me to your special place, close your eyes, show me your face. I'm gonna piss on it." That was truly a moment and set the stage for two more minutes of increasingly insane lyrics. The sketch was rightfully a phenomenon, and for that reason, in addition to the fact that it's just funnier, it advances to the Sweet 16.
Tyrone Biggums: Fear Factor (6) vs. Wayne Brady (3)
If this was a bracket of "most shocking Chappelle's Show moments," a no-brainer Final Four entry would be the moment Donnell Rawlings screams, "Oh shit, it's Wayne Brady, son!" and proceeds to get shot repeatedly by a AK-47–wielding, "RIVERSIDE, MOTHERFUCKER!"–yelling Wayne Brady. Anyone who says they figured that was the direction the episode was going is a liar. As soon as that happened, you knew you were in for one of the wilder comedy sketches in the show's history. And it didn't disappoint. No disrespect to Fear Factor, Joe Rogan, and Mr. and Mrs. Biggums, but you ran up against a big dog. Just know there's no shame in a loss to Wayne Brady, son.
Keeping It Real: Vernon Franklin (7) vs. The Love Contract (15)
I won't lie, Rashida will definitely help a sketch get through the first round, but after that her powers are rendered almost useless. Almost. "The Love Contract" is a great sketch, but not a Sweet 16 sketch. It's one of the better fake product advertisements Chappelle ever ran, but it's hard to justify it as one of the 16 best sketches, especially when it's going against Dave as Vernon Franklin, boardroom flipper-outer. I've got to be honest, this is a pretty easy win for "When Keeping It Real Goes Wrong," and I'm happy to see it still alive. The more Wu-Tang–related sketches in the Sweet 16, the better.
Buck Nasty Region
Mad Real World (1) vs. Trading Spouses (8)
Not to be too rude, but while this is a fun matchup of spoofs of television shows, deciding the winner in this contest is very, very easy. One of these sketches is funny and the other has a character who gets his girlfriend stolen and then his dad gets stabbed. One of these sketches is clever and the other has a character named Lysol. I love Leonard Washington, but the Tron + Tyree two-hit combo is not something to be taken lightly. "Mad Real World" was one of the first sketches to really send Chappelle's Show into the cultural stratosphere, and it is easily deserving of a spot in the Sweet 16. Easily.
Lil Jon vs. Lil Jon (5) vs. Racial Draft (4)
Both of these sketches deserve to go on to the next round (this is about to be a recurring problem). The problem is that Dave has more than 16 classic sketches, so from here on out it's about to get unfairly hard. The Lil Jon sketches were some of the most popular on Chappelle, with "Lil Jon vs. Lil Jon" serving as the "this joke has officially come full circle" sketch. Fully understanding that and appreciating what this sketch means to the show, it's still going up again "Racial Draft." People still reference the idea of racial drafts in present day, less for reasons of obtaining people from other races, but more by way of snide comments about giving away celebrity X for being a complete embarrassment. The idea is genius, and it's carried out in a pretty flawless manner. So yeah, no real discussion on who is advancing. I wouldn't have predicted a Lil Jon–less Sweet 16, but these things happen.
And1 Sports (11) vs. Niggar Family (3)
So here's the thing. Watching Dave mock the And1 basketball phenomenon makes you sit back and think, Dave might be a comedic genius. Watching "Niggar Family" unfold before your eyes, however, makes you gasp in amazement, while thinking, Dave might just be a genius. So yeah, that's really all I have to say about that. Shout-out to Hot Sauce.
Negrodamus: Wayne Brady (10) vs. The Playa Hater's Ball (2)
In the first round, I didn't even get to the actual "Playa Hater's Ball" sketch because the intro alone was enough for a win. Not much is different for this matchup, with a single joke from "The Playa Hater's Ball" completely TKO-ing "Negrodamus." Silky Johnson:
"And of course the so-called Beautiful, why don't you click your heels together three times and go back to Africa."
Be offended all you want, blacks, but that's about the funniest joke I've ever heard. The haters Silky, Beautiful, Buck Nasty, and Pitbull (also the namesakes for the four bracket regions) are going to have a hard time losing in this tournament, I'm just throwing it out there. AND I HAVEN'T EVEN BROUGHT UP THE ANNUAL PHOTO FLIP YET. Goodness gracious.
Pitbull Region
Rick James (1) vs. Calvin Got a Job/WacArnold's (8)
I've been talking a lot about Dave Chappelle and perhaps not enough about his co-stars. Season 1 introduced the world to Charlie Murphy, but with Season 2's "Charlie Murphy's True Hollywood Stories," Eddie's younger brother finally became a household name. Yes, the star of the first installment of this series is Dave Chappelle as Rick James, but the story doesn't reach the cult-classic level it has without the storytelling capabilities of Charlie Murphy. Yes, Rick's antics are beautiful, but some of Charlie's quotes are even funnier than Rick's. Example 1 of 50:
"Things escalated to the point where, you know, my man got too familiar and I ended up having to whip his ass, man, you know, 'cause, you know, he would step across the line. Habitually. He was a habitual line-stepper."
English has never sounded so violently sweet. Bye, WacArnold's.
I Know Black People (12) vs. History's Greatest Wars (13)
I've found that many people who claim to know a lot about Chappelle don't really remember "History's Greatest Wars." It's phenomenal, and because I always felt as if it was my secret sketch, I've long had a special relationship with it. Going into this bracket, the sketch was going to be my sleeper to pull upset after upset. Well, seeding-wise, it pulled one in the first round, but unfortunately it has just run into "I Know Black People." I have no problem admitting my biases, but I can't allow myself to just be flat-out wrong. "I Know Black People" is a classic. The part where "Get out and vote" is the only wrong answer to "How can black people rise up and overcome?" is so messed up, but, like most things on Chappelle, it's kind of true. There are tons of other quotables, but the entire episode is a buildup to that line. So good. I know "History's Greatest Wars" lost, but watch this again. Ppppprrrrr.
Deep Impact (11) vs. Black Bush (3)
This contest, overdramatized earlier to be a matchup of two black presidential sketches, is just a complete blowout. "Black Bush" obviously wins. Easily. I'm not even going to waste time explaining why.
Jury Selection (7) vs. Cribs (2)
"Cribs" is great, but "Jury Selection" just has too many great lines. His take on O.J. is amazing:
"I'd have to be real confused, 'cause nobody in my family would beef with O.J. like that. And we would've killed O.J. after the first time he beat my sister. We'd have whooped his ass, we'd have made real orange juice out of that nigga."
As for one of his many explanations of Michael Jackson's innocence, he throws out one of the more purposefully confusing quotes of the series.
(Lawyer = Bold, Chappelle = Italics)
"He has been accused of this more than once. Some people say that cucumbers taste better pickled. What? Huh? What? Huh?"
Awesome. If you don't think about that line once a week, you aren't living right. Anyway, it's just a wonderful sketch, and there are few things I find funnier than people admitting the irrational biases for their own race. That move is always a winner. So yeah, good run, "Cribs," but c u l8r.
SEASON 3 IS GONE. REJOICE. HARK! THE HERALD ANGELS SING.
Beautiful Region
Two-Minute Special (16) vs. Making the Band (8)
The "Two-Minute Special" sketch is hot off the ultimate upset, trying to continue its '98 Bryce Drew/Valparaiso Cinderella run with a second-round win as well. Unfortunately, dreams do not come true since that just isn't happening. I don't even really feel right going deep into "Making the Band" until it has some real competition, all disrespect intended. So yeah, just know that.
Reparations 2003 (5) vs. Samuel Jackson Beer (4)
This might seem unfair, but one of the main things "Reparations 2003" has on a sketch like "Samuel Jackson Beer" is purely the length of sketch. The Samuel L. sketch is barely a minute long, whereas the two parts of "Reparations 2003" are about seven minutes total. It wouldn't matter, though, were not all seven minutes hilarious. Even within the first minute, with the black lady outside the store fanning herself with money and upon seeing a white reporter, yelling, "Hide the money, y'all, there's poor people around … wit 'cha broke ass," you know it's going to be a great sketch. I love wearing a pirate hat and yelling like Sam as much as the next guy, but the reparations sketch goes beyond funny, whereas "Samuel Jackson Beer" never really makes it out of that stage. So yeah, this is the end of the road, Samuel. Also, as an aside, if "Reparations 2003" wins the bracket, the sketch comes true. FINGERS CROSSED.
White People Dancing (6) vs. Law & Order (14)
I'm shocked so few people have watched the Chappelle "Law & Order" episode. It coming in as a 14 seed is a travesty, but that's further proof that seeds don't matter. "White People Dancing" has a lot going in its favor (Questlove, a barbershop, pre–David Duke John Mayer, crazy white people, and Spanish gibberish over a megaphone). That's a ton. But it is missing something — something that unfortunately not every sketch can have. That something? TRON. I'm sorry, but Tron is easily the funniest recurring character on Chappelle's Show. He's such a jovial drug dealer, with impeccable style and a fantastic tendency to run his mouth to no end. It's no surprise: With "Law & Order" advancing (which it is), Tron has a role in three of the Sweet 16 sketches (including "Mad Real World" and "Reparations 2003"). His character just makes sketches better, especially when he graces a sketch with lines like "When I get out, can I still traffic rocks to the community?" and "You're right, sellin' rocks would be wrong. [Laughter.] Jail's the shit!" He's the 2 Chainz of Chappelle's Show, which is the highest compliment known to man.
Clayton Bigsby: Black White Supremacist (2) vs. Fisticuffs (10)
On the very first episode of Chappelle's Show, Dave got away with having a black, racist, blind man say:
"My message is simple. Niggers, Jews, homosexuals, Mexicans, Arabs, and all kinds of different chanks STANK and I hate 'em."
So yeah, just keep that in mind. This contest just got a little too real for "turn my headphones up."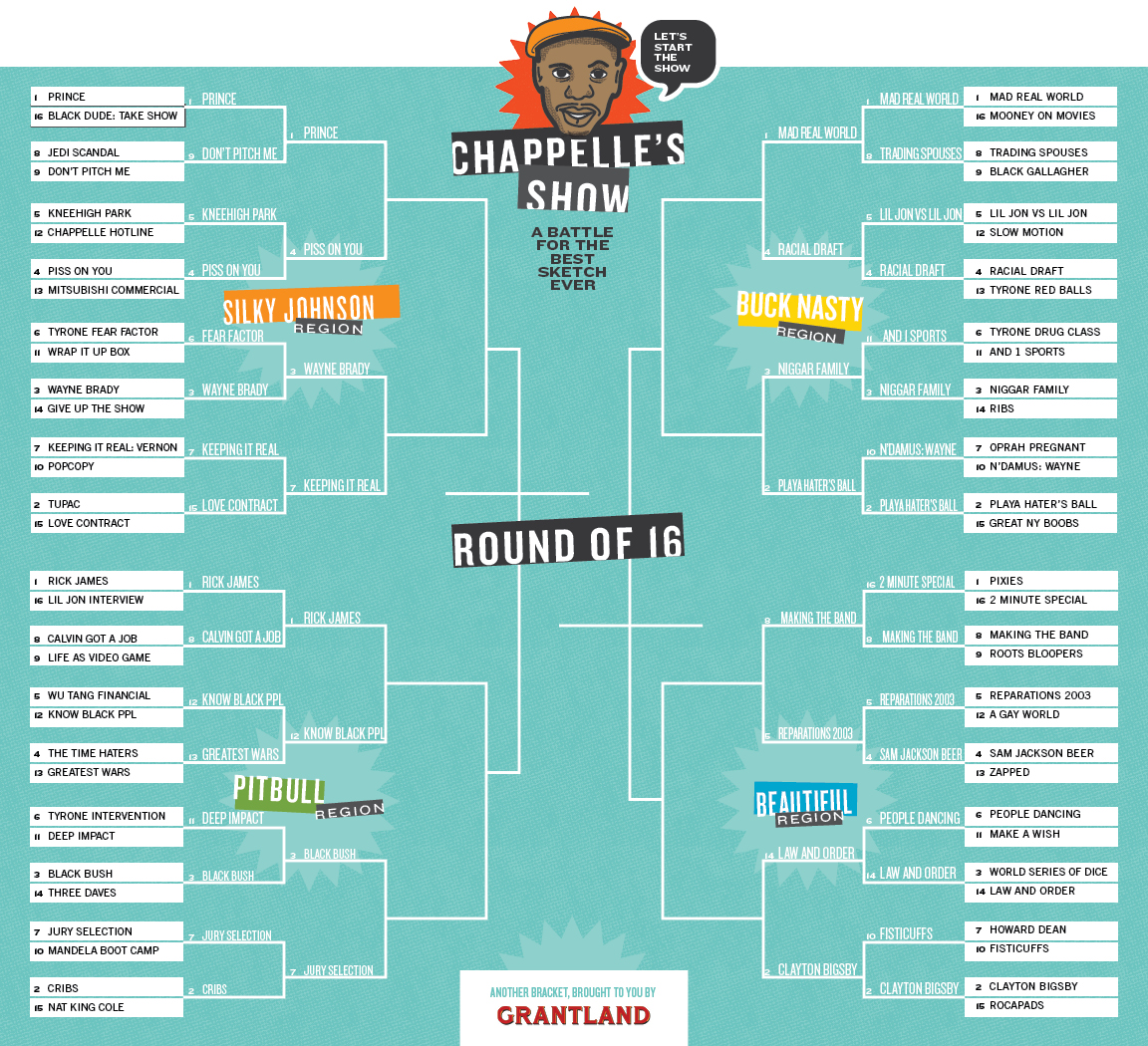 Sweet 16
Note: Just looking at what's left, 11 are first-ballot Hall of Famers, another two are extremely close, two more are underrated classics, and one had an easy draw and snuck in. Also, everything in the Buck Nasty region could be in the Final Four. That's enough, I've said too much.
Silky Johnson Region
Prince (1) vs. Piss on You (4)
At this point in the tournament, using "funny" as the sole indicator of advancement is no longer appropriate. Every sketch that has made it this far is, by definition, hysterical (even the one that snuck in). Because the majority of the remaining sketches are multidimensional, some of the non-funny aspects of the sketches are important with regard to advancing to the Elite Eight and beyond. The Prince sketch is a perfect example of this. Yes, it's funny, but the story that Charlie Murphy tells is simply impeccable. They are branded as "True Hollywood Stories," but it's impossible to truly know what to believe as fact and what is exaggeration. Did the Revolution really not change clothes for basketball? Can Prince really hoop like that? Did Prince really end the game with a dunk, levitate, and then float back to the ground? These questions may never be answered, but the story is so good it ultimately doesn't really matter. "Piss on You" is a musical, comedic tour de force that really doesn't let up until the last note is over (there's actually a tank labeled "R. Kelly's Doo Doo Butter"). It's comedy gold, but that's it. At least that's how it feels, compared to Prince. Did he really make them pancakes? Is Micki Free really not a girl? I could go on with these questions, and I probably will in the next round, because the sketch is advancing. GOOD.
Wayne Brady (3) vs. Keeping It Real (7)
Not to put a sketch on blast or anything, but one of these two sketches was the one I was alluding to when I mentioned "had an easy draw and snuck in." This sketch is an above-average piece of comedy and has rightfully defeated its initial competitors, but the end is near — in about 50 words, to be exact. The "Wayne Brady" sketch stemmed from Dave making fun of Wayne in a "Negrodamus" sketch, and the next thing you know Wayne's on the show, mocking the very notion that he's not tough. It's egoless, it shows a real sense of humor, and the end result was a classic. Of course Wayne and Dave's intense "blacktors" field trip makes it to the Elite Eight.
Buck Nasty Region
Mad Real World (1) vs. Racial Draft (4)
As previously mentioned, this region has four classic sketches that are worthy of advancing to the Final Four. Even as I write this, I'm not sure which way this should go. The one thing I can't shake, however, is that while "Racial Draft" is completely unique with regard to Chappelle sketches, "Mad Real World" is one of a few sketches in which Dave and the crew make fun of a reality show. While it was the first, looking back on all of them, it's not the best. If I want to see Chappelle make fun of a reality show, I'm finding the "Making the Band" sketch, without hesitation. There wasn't really anything like "Racial Draft" before it and there hasn't successfully been anything like it since. While "Mad Real World" had a template — an already ridiculous one — to work from, "Racial Draft" came just from the evil-genius minds of Dave and co-creator Neal Brennan and attacked the issue of multiculturalism head-on. It has to advance.
Niggar Family (3) vs. Playa Hater's Ball (2)
It has taken months to finish this project, less because of the amount of content to digest, and more because of fear. I've reached different points, at different occasions, where I couldn't make a decision, prompting me to put it on the shelf for a series of weeks. This matchup was one of those points.
"Playa Hater's Ball" is, without exception, the most quotable sketch in Chappelle's Show history. For the duration of the sketch, it doesn't calm down one bit, just hitting you with line after line. I'll never get over the fact that, during the photo flip, Dave said that Diddy looked "like Malcolm X before he converted to Islam." And the decision to use the take when they all explode in laughter after the Rosie O'Donnell line "she wears underwear with dick-holes in them" was just genius. "Niggar Family" has fewer memorable lines, but what it lacks in quips it makes up for by being one of the smartest comedy sketches. Ever. He gave a white family the last name "Niggar." When the mom officially breaks the seal by commenting on a family picture, saying, "She's got those Niggar lips," it's cripplingly uncomfortable and hilarious. Watching and hearing white people say "Niggar" over and over again, in the masterful context that Chappelle set up, is still jarring, even when you've seen the sketch hundreds of times and know when it's coming. And then there's Chappelle's milkman character. Between "I know not to get between a Niggar and their pork — might get my fingers bit," "I know how forgetful you Niggars are about paying your bills," and "All right, peace, Niggar," there's just no way this doesn't make it to the next round. It seems weird to knock out "Playa Hater's Ball," given that I've quoted it twice today, but this is the end of the road.
Pitbull Region
Rick James (1) vs. I Know Black People (12)
You've got to applaud "I Know Black People" for making it this far. When speculating what the Sweet 16 might look like, I hadn't immediately thought of the sketch, but it definitely deserves to be among the likes of "Piss on You," "The Racial Draft," and "Making the Band." "Rick James," though? Questionable. They are both very long sketches, so that's something they have in common, but the long amount of time with Rick is noticeably more hysterical than with Dave and his contestants. Yes, the barber is the greatest game show contestant not named John Carpenter, but there's no Charlie Murphy, no China Club, no UNITY rings, and no licking of faces. So yeah, "Rick James" advances. Easily.
Black Bush (3) vs. Jury Selection (7)
Why does "Black Bush" dominate "Jury Selection"? Answer: "Black Bush" spent 46 seconds talking about "yellow cake." That's just phenomenal. Yes, Chappelle as Bush is great, and yes, Mos Def as "black head of the CIA" is just ridiculous, but few things top Anthony Berry (as "Some Black Guy") and his two lines: "cradle of fucking civilization" and "pray to God you don't drop that shit." Chappelle talking about O.J. and MJ is great, but it's got nothing on yellow cake, or the other seven classic minutes. The idea of Obama watching this sketch and smiling while eating some White House yellow cake is the greatest mental image that currently exists.
Beautiful Region
Making the Band (8) vs. Reparations 2003 (5)
While it is hard to imitate any real person, it's even more difficult to pull it off when the person is currently relevant. The parody of Rick James worked for many reasons, but one was that he was such a legendarily absurd character from the past, Dave could essentially do anything and people would buy into it. The idea of Rick making girls flash them upon arrival to the club didn't even seem absurd, because you just always heard tales of Rick as a wild guy. But when it's someone like Diddy, someone whom everyone knows everything about, one can't be as liberal in just making things up. Luckily for Dave, sticking to the script with Mr. Combs still provided him with a sizable quantity of material. And the extent to which he nailed it makes it really the only Diddy impersonation that matters. The juicy lips, the earpiece in, the absurd demands, the tendency to not walk without assistance, the Harlem shake tick, the catchphrases, and then this speech.
"If I had my way, I'd never work. I'd just stay home all day, watch Scarface 50 times, eat a turkey sandwich, and have sex all fucking day. Then I'd dress up like a clown and surprise kids at schools. Then I'd take a dump in the back of a movie theater, and just wait until somebody sat in it. Hear it squish. That's funny to me. Then I'd paint, and read, and play violin. I'd climb the mountains, and sing the songs that I like to sing. But I don't got that kind of time."
Just excellent. I love the breast milk out of you, "Reparations 2003," but your time is done. Diddy said "squish." That's amazing.
Clayton Bigsby (2) vs. Law & Order (14)
Sometimes Chappelle did things that I still can't believe made it on television. Three of those things are Clayton Bigsby's books, titled N----- Stain, I Smell N-----, and N----- Book. That's incredible, and it took place in the first minute of the sketch. Following the listing of those books (and Dump Truck — we can't forget about the first book), there's eight more minutes of "I also can't believe that made it on television." Everything about the "Law & Order" sketch is great, especially the smart premise of switching the roles and races within the court system, but it's not on the same level as the black white supremacist. I can't believe Dave picked those names for those books. First episode. Amazing.