A Battle for the Best Chappelle's Show Sketch Ever
(page 3 of 3)
Sixty-four sketches. One winner. Ten years later, we determine the champ.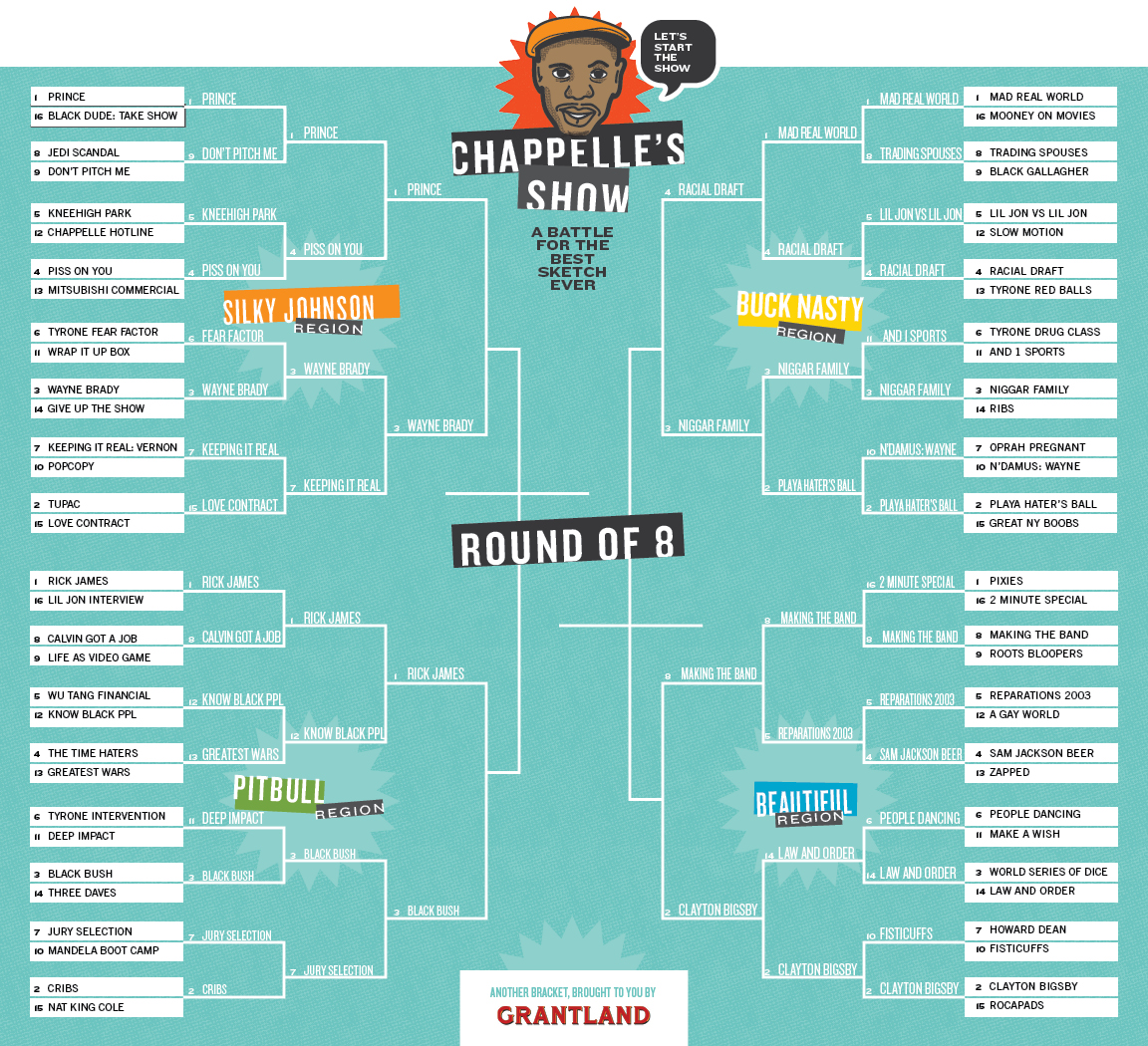 Elite Eight
Note: Prince, Wayne, Rick, Bush, Clayton, Diddy, a draft, and some Niggars. That's it. There are no more weak sketches. I think this is the best thing ever.
Silky Johnson Region
Prince (1) vs. Wayne Brady (3)
This is like having to pick your favorite mom when you have two moms. It's rude, there's no real right answer, and it's just not fair. Also, there's no going back on this decision. Once you pick one, the other knows how you feel and it'll never really be the same. This is, hands down, the most difficult of the four matchups that lead to the Final Four. On multiple occasions, I've penciled in both "Prince" and "Wayne Brady" as the Silky Johnson representative in the Final Four, panicked, and then erased the winner. I'm stalling so hard right now, not because I haven't made up my mind, but because I can't believe I'm about to knock out "Prince."
So yeah, "Prince" loses.
"Wayne Brady" wins.
One reason and one reason only: shock factor. They're equally great sketches, but the stage had already been set for "Prince" (the first Charlie Murphy's True Hollywood Story, "Rick James," aired the previous week), but there wasn't a single warning for "Wayne Brady." Wayne was on the show because Dave had made fun of him in a previous episode, so the absolute last person you were expecting to make an episode-long cameo was Wayne Brady. But that's why it's one of the best: the context that surrounds the entire absurd episode. And on top of all that, clean-cut Wayne has guns, drugs, and hookers. I'm not saying that the Prince sketch was predictable by any stretch of the imagination, but some of the newness that existed with Rick James was lost by the time Prince came around. This is all I have to say about this, because if I keep rambling, I'm going to change my mind. So yeah, blouses out, Brady in. Someone's going to off me for this one.
At least it won't be Wayne.
Buck Nasty Region
Racial Draft (4) vs. Niggar Family (3)
These are two of the smartest, simplest Chappelle sketches out there. They are simple because each takes something the public is extremely familiar with (a draft, a family) and, with a single tweak, completely turns it on its head. It doesn't take a paragraph to describe each sketch, it only takes a sentence. "It's like a normal draft, but the teams are races" vs. "It's a white family, but their last name is Niggar." That's it. Like the previous matchup, what a win comes down to isn't "which is funnier" but an external characteristic of the sketch. That external characteristic is longevity, and there's no denying the continuing significance of the idea of a racial draft some eight years later. The fact that that sketch has taken on a life of its own beyond Chappelle is pretty remarkable, but none of it would be true had the sketch not been spot-on in every aspect. From the newscasters, to each race's representative, to the picks, to the side deals, it's hard to imagine a real-life racial draft that didn't play out just like Dave predicted. Bye, Niggars. Thank you for all you do.
Pitbull Region
Rick James (1) vs. Black Bush (3)
Here's an old-school SAT analogy:
"Hey Ya" : OutKast :: Rick James : Dave Chappelle
OutKast will never be as popular as they were when "Hey Ya" came out, and it elevated them to another level, but it's also this weird curse that they'll never really escape. This is exactly the way Dave Chappelle and his show are with the Rick James sketch. Without the sketch, it is a considerably less well-known show, but the mania surrounding the sketch at a certain point began to dwarf the rest of the show and the man behind it. It's the gift and the curse of extreme popularity. Dave mentions this in his stand-up special For What It's Worth when he speaks on being at Disney World with his kids and having people in the park come up to him and say "I'm Rick James, bitch" and him responding with "You mind not calling me a bitch in front of my kids? Time out, motherfucker, can we take a day off?" Even with some of the negatives that have come with the "Rick James" sketch, there's no denying its legacy, its complete domination of our popular culture, and its status as the most widely known Chappelle's Show sketch. If "Black Bush" goes against a few of the other Elite Eight sketches, it probably makes its way into the Final Four, but not when it goes against "Rick James." "Black Bush" is classic, but "Rick James" is forever.
Beautiful Region
Clayton Bigsby (2) vs. Making the Band (8)
Seven of the Elite Eight are sketches from Season 2. Seems lopsided, but the truth of the matter is that the second season is much, much better than the very good first season. The remaining one, from Season 1, happens to be in this very matchup, with "Clayton Bigsby: Black White Supremacist" going up against Diddy and Da Band. While "Making the Band" would be a pretty solid representative of the inaugural season, purely on number of laughs alone, it doesn't have a defining moment like the point at which Clayton Bigsby snatches off his KKK hood, exposing his black face to the white-supremacist crowd. The buildup to that ends up being more exciting than the repeated plots of "Making the Band" that essentially were band fights, Diddy shuts down studio, Diddy makes them do something ridiculous, Diddy opens studio back up, band fights, etc. "Making the Band" is an exceptional sketch, but it just can't compete with the in-your-face final sketch of the first episode of Chappelle's Show.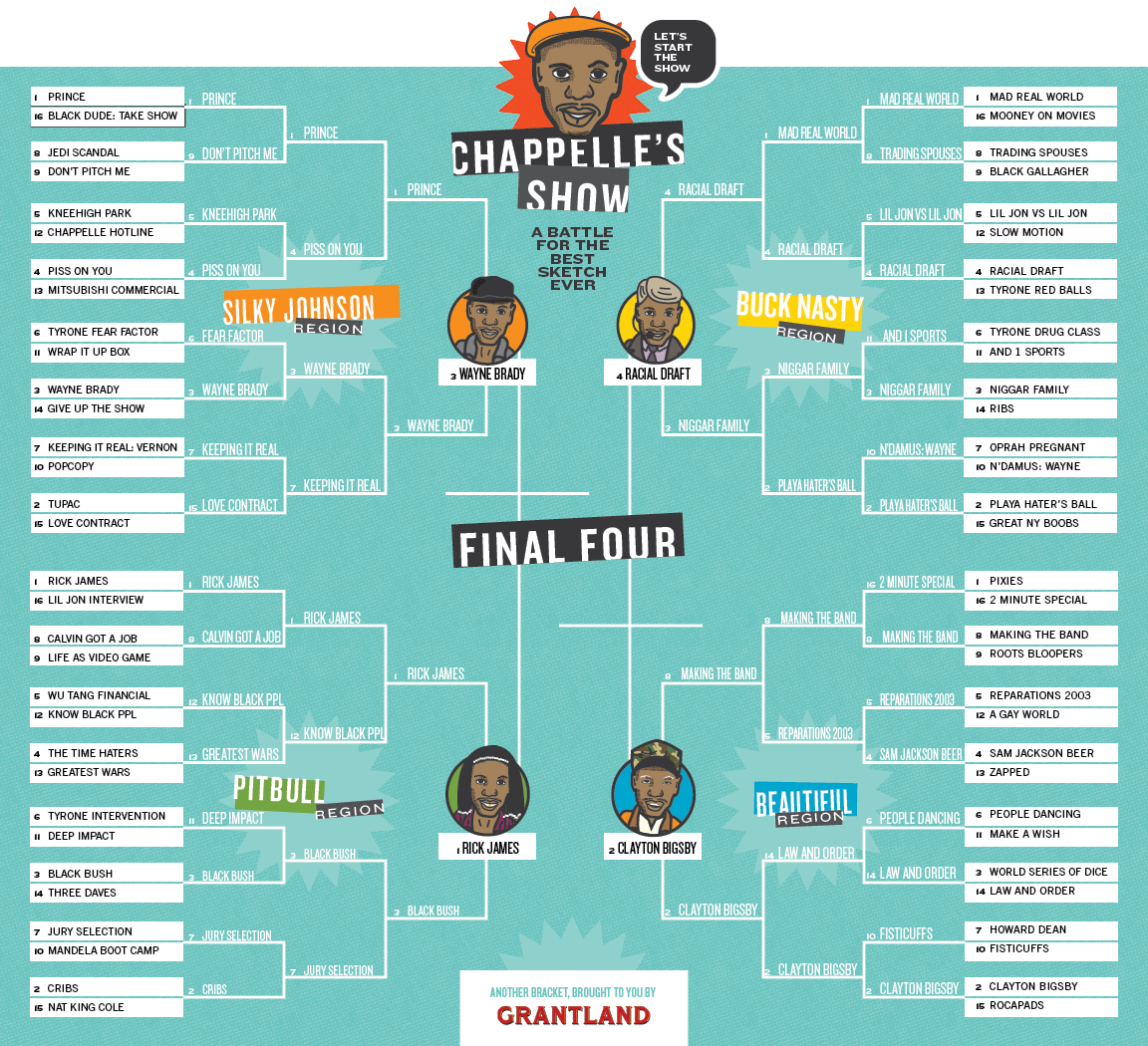 Final Four
Note: No more regions. No more seeds. Just the GOATs.
Rick James vs. Wayne Brady
All of these lines happen in less than three minutes.
"Nice place, nigga." — Dave as Rick
"Fuck yo couch, nigga." — Dave as Rick
"Buy another one, you rich motherfucker." — Dave as Rick
"See, this is long before Wesley Snipes. Back then, we were the blackest niggas on the planet, according to Rick James." — Charlie Murphy
"See, I never just did things just to do them. Come on, what am I gonna do? Just all of a sudden jump up and grind my feet on somebody's couch like it's something to do? Come on. I got a little more sense then that … Yeah, I remember grinding my feet on Eddie's couch." — Rick James
"See, I never just did things just to do them. Come on, what am I gonna do? Just all of a sudden jump up and grind my feet on somebody's couch like it's something to do? Come on. I got a little more sense then that … Yeah, I remember grinding my feet on Eddie's couch." — Rick James, rewound
"AHHHH, you darkness, you black midnight evil motherfucker. Black magic, darkness, you raw, darkness, you fucking delirious motherfucker." — Dave as Rick
"You are cold as ice." — Dave as Rick
"His legs was like linguini." — Charlie Murphy
"I've been kicked out of better homes than this. They never shoulda gave you niggas money. What I'ma do about my legs, Charlie Murphy?" — Dave as Rick
The level of condensed hilarity in this scene, one in which we see Dave (as Rick) stomp into Eddie Murphy's living room, stomp his muddy boots on Eddie's white couch, and then proceed to get his legs beaten, is unparalleled. And that's just one of the many scenes within the Rick James sketch. So it has to win, right? Right?
Weirdly enough, no. Here's why.
The "Wayne Brady" sketch is fantastical, but at its core it's a complete self-takedown of the two main characters, Wayne Brady and Dave Chappelle. Coming into the sketch, Dave is the crude black guy who will say anything, push the limits, and generally live his life without fear of repercussions, while Wayne is the safe black guy whom people's grandmothers love and probably hasn't committed a vile act a day in his life. That is the reputation that each built for himself, and this was reinforced by Dave making fun of Wayne in an earlier episode. They were polar opposites of the black-actor spectrum, seemingly having no overlap when it came to their common craft of joke-telling.
Then eight minutes go by and, at the end of the sketch, they have forced you to imagine a world where everything you assumed was wrong, with Wayne not as safe as you thought and Dave not the tough rule-breaker you've grown to believe him to be. And then, stepping outside of the sketch, it hits you that what they've shown by collaborating and sharing a stage is that they aren't polar opposites of the black-comedian spectrum. It's a spectrum, and they're showing its fluidity.
But it goes even further than that. This sketch is probably the one time in the three-ish seasons of Chappelle's Show that Dave so clearly played second fiddle to another actor. Dave has a tendency to dominate sketches, through no fault of his own, but simply because he's usually the funniest man on screen. The "Wayne Brady" sketch trucks along not because of Chappelle, but because of Wayne Brady. Dave's role is to simply be a scaredy-cat and react to the craziness that Wayne gets them into. Yes, it's all very funny and that's the initial attraction to the sketch, but it's also a great moment in comedic collaboration that no one could have seen coming. Comedians make a living off having whipping boys. Very rarely do they then work with those people, and then even more rarely do they give them top billing. It's a beautifully egoless moment for both men.
Yes, Rick James is the character that Chappelle will always be known for, and it marvelously did wonders to introduce a new audience to the legend that was Rick James (airing only a few months before his unfortunate death, rightfully giving the man one last breath of stardom). The Rick James sketch is also the most consistently funny sketch, impressive considering its length. But when I think about Dave Chappelle, the writer, the comedian, and the guy who was accidentally (and purposefully) revolutionary with the content he put on the air, the Wayne Brady sketch is one of the biggest tricks he ever had under his sleeve.
So that's it. Wayne and Dave are championship-bound, Rick is gone, and I think I'm finally OK with that decision. And if it means anything to you, know that it took two months to make that pick, and then another month to write some sort of rationale. Again, let me move on before I change my mind.
Clayton Bigsby vs. The Racial Draft
Dave Chappelle really knew how to kick off a television season with some controversy. Two of his most overtly racially charged sketches, "Frontline: Clayton Bigsby" and "Racial Draft," were the final sketches of the first episodes of Season 1 and 2, respectively. Both set the tone for the rest of the season, letting the viewer know there were no limits to what could be discussed if the subject matter was attacked in an intelligently humorous way.
"Racial Draft" makes that clear from the outset, by using very stereotypical caricatures from each race serving as the representatives. And then this exchange between Chappelle and his two white co-commentators took place:
White Commentator 1: Believe it or not, the blacks have won the first pick.
Dave: Wow, that's the first lottery a black person's won in a long time.
White Commentator 2: Yes, and they'll probably still complain.
[White commentator laughter.]
Dave: Man, fuck you.
Love that. And then there's the time Tiger Woods got drafted by the blacks and then lost all his endorsements, prompting Dave to say:
"Tough break, nigga. There's always FUBU."
I also love that. And then there's the Colin Powell–Condoleezza Rice–Eminem–O.J. deal between the blacks and the whites. Rude and fantastic.
It's all very racial, filled with generalizations, and funny if you have a sense of humor about these things. Compared to the black white supremacist and the story of Clayton Bigsby, however, it comes off like an Upper East Side prep school assembly on post-racial America. While "Racial Draft" aims to make you laugh while thinking about race, the black white supremacist sketch was put on this earth to make all passersby feel uncomfortable. Uncomfortable to watch it alone, uncomfortable to watch it in mixed company, uncomfortable to laugh, and uncomfortable to then talk about. There's nothing quite like it.
The first 15 seconds:
And then, soon after, your fears (or hopes) come true as you learn that that was an old white guy saying this. Before even meeting Clayton, or learning that there would be a black character whose blindness allowed him to be a white supremacist, we're greeted with these two slides, which let us know this is about to be some controversial goodness.
This matchup isn't as hard as the other Final Four matchup, because it's clear that one completely eviscerates 99.999 percent of comedic racial commentaries ever put on television. Yes, "Racial Draft" was extremely important because it let us know that Season 1 wasn't a fluke and Dave still had it, but the black white supremacist showed us from the starting block that this show would be more than simply a variety sketch show. Leave that 2004 simple stuff for Nick and Jessica.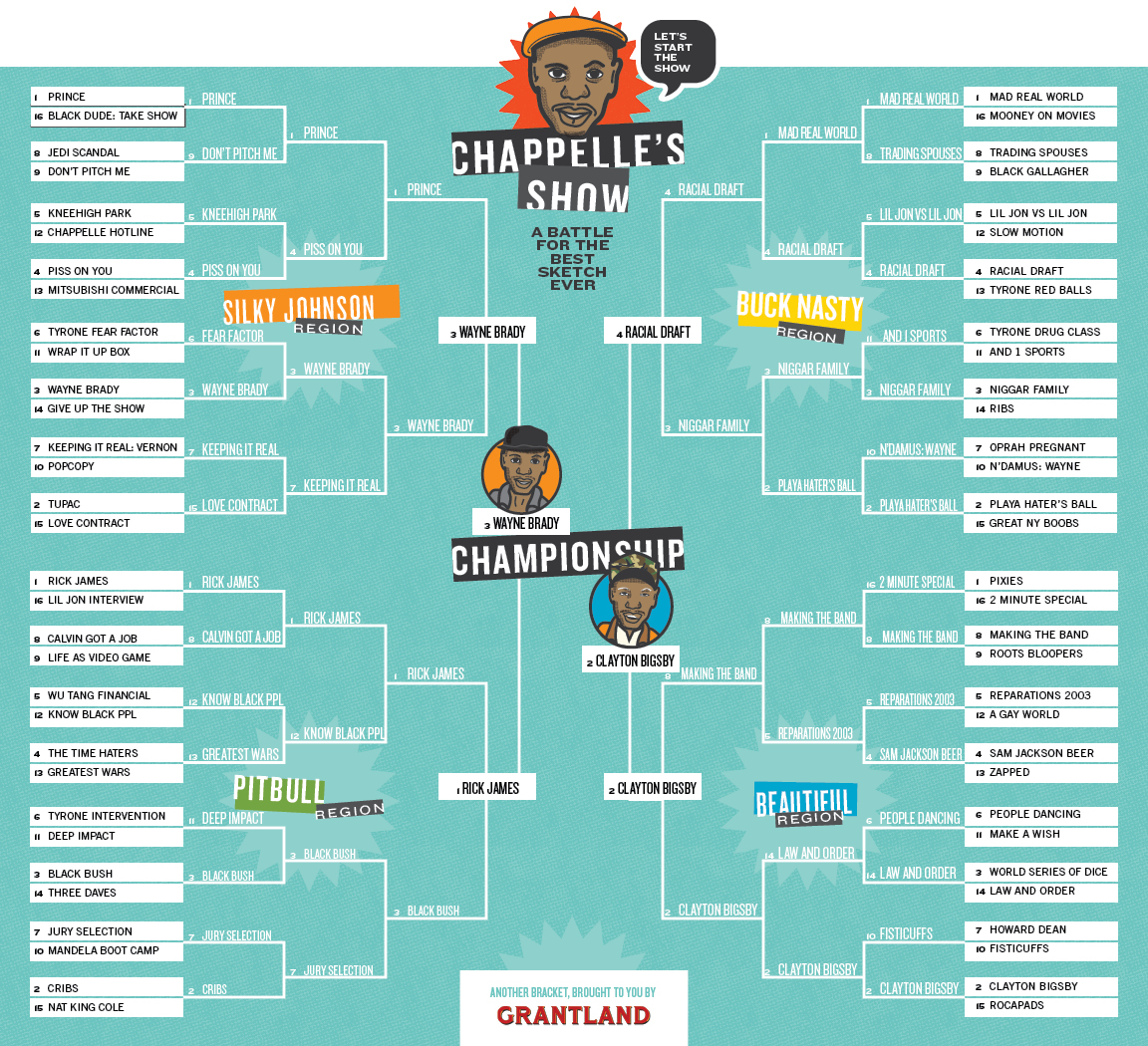 CHAMPIONSHIP
Clayton Bigsby vs. Wayne Brady
The last 22 seconds of "Clayton Bigsby":
Thanks for playing, everyone.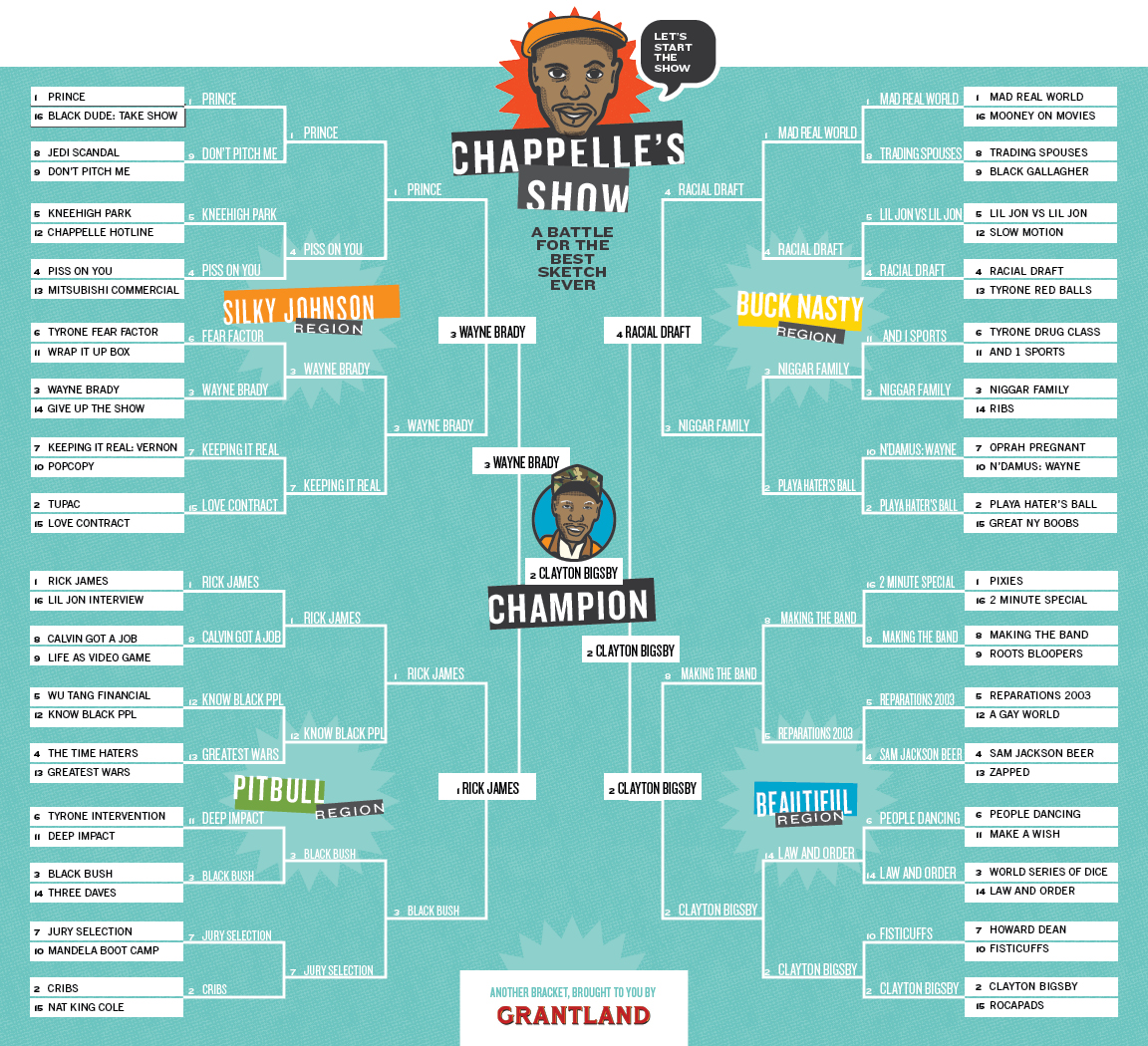 There was never any question of what would win this bracket. "Clayton Bigsby" is Dave's Illmatic. You get the feeling he'd been playing around with the idea of a black white supremacist for years, so it should be no surprise that it came first. The Nas analogy is accurate, because it's not as if he peaked and then slowly declined or faded into obscurity (I didn't say "Clayton Bigsby is his Introducing the Hardline According to Terence Trent D'Arby"), but his greatest contribution to his craft and the culture and the social commentary just so happened to occur at the very beginning.
You have to be extremely creative and talented to successfully mock racism. The mistake that most make when trying to mix satire with racial commentary is that it either comes off too cautious or it lands on the other side of the spectrum and simply comes off as racist in its own right. Dave found the balance throughout this show's run, but his first attempt was his riskiest and his best.
Many of the other popular sketches became such classics because they were so quotable. Between "Playa Hater's Ball," "Rick James," "Prince," and "Black Bush," I can think of 50 lines that my friends of all races and I have traded over the years. "Clayton Bigsby," not so much. It's so purposefully inflammatory, it almost has to exist in its original form, on-screen, digested by those who appreciate its genius through repeat viewings instead of simply trading quotables until you've narrated the entire sketch. Almost.
Today marks the 10th anniversary of the airing of this sketch, but this still isn't a world where "I'm in no way, shape, or form involved in any niggerdom" is universally acceptable to be said by anyone, to anyone. In a way, I think that's a net positive, that this sketch didn't get the Rick James, "Fuck yo couch, nigga" mass-appeal treatment — and has been taken slightly more cautiously by the public, even as the sketch has many points at which laughing and participating is by all means encouraged. This is true because, at its core, this is a serious sketch. Dave didn't put on a full KKK white robe and hood just to make people laugh. The humor was present to cut the tension from an all-out assault on racism. Who knows, but if my hunch is at all correct, then bless this sketch for existing. At the time, we all needed it, and we still do.
This has been great. Thank you for existing, Chappelle's Show. Every generation, group of friends, and individual needs that cultural event that they can always relate to their formative years. I know I speak for many when I say I'm extremely lucky and thankful that Chappelle is mine, and not Love & Hip Hop: Atlanta. Thank you so much.