Welcome to the Retro Photo Diary
(page 2 of 3)

By Bill Simmons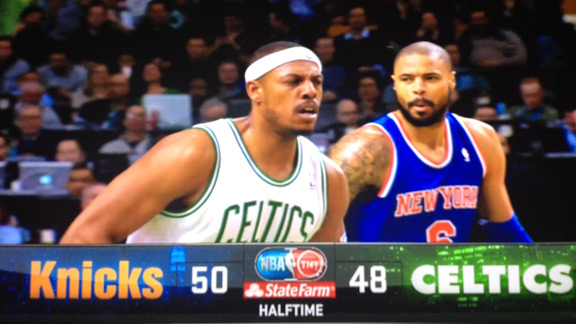 Relevant first-half info: Carmelo missed nine of 13 shots; Amar'e looked good off the bench; J.R. Smith couldn't hit the side of a barn; Pierce scored 19 and kept his Knick-Killer reputation going; National TV Rondo showed up; and Boston's crowd was surprisingly cordial to Carmelo. I thought they'd be chanting "Honey Nut" and prancing around dressed in giant Cheerios boxes. Nope. It's hard to overstate how bummed out everyone is about last Sunday's Ravens game, as well as the real possibility that Bernard Karmell Pollard is the Boston Sports Antichrist.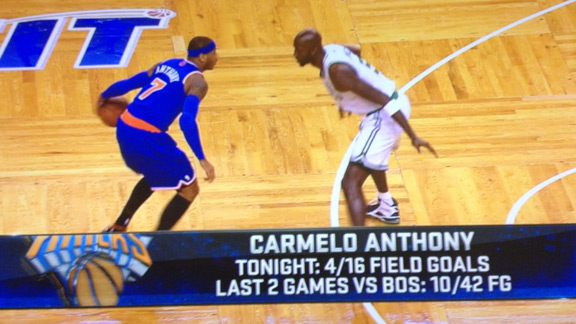 Check it out — if Carmelo goes two for his next eight, he's going to win tonight's MVP award.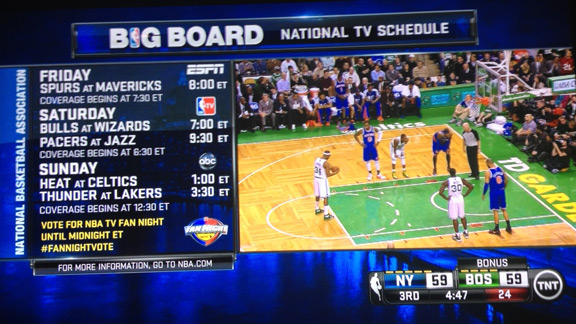 (Shameless promo alert!!!)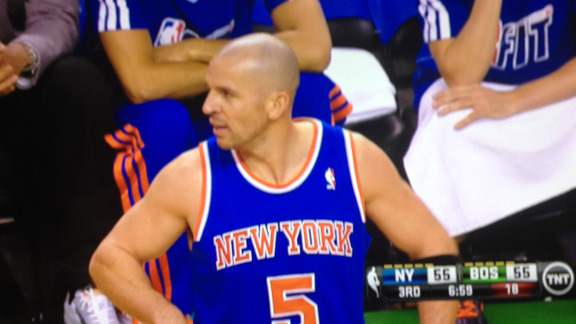 How often do you think Jason Kidd high-fives himself for fleeing Dallas at the absolute perfect time? Once a day? Five times a day? Once an hour? I'm beginning to think he can keep going until he's 50. Jason Kidd has reinvented himself as The Old Guy In The Pickup Hoops Game Who Might Be Washed-up But It Doesn't Totally Matter Because He Still Knows What He's Doing. Doesn't everyone love playing with that guy?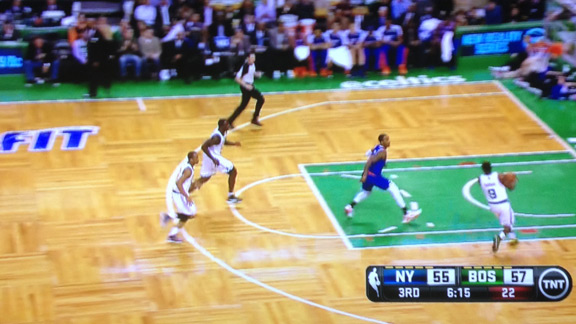 Did Rondo stupidly pass the ball here over just taking the easy layup and/or getting fouled and going to the line? Of course he did. Did it lead to a turnover and a basket on the other end? Of course it did. There's like a 21 percent chance he's trying to murder Tommy Heinsohn every time he does this.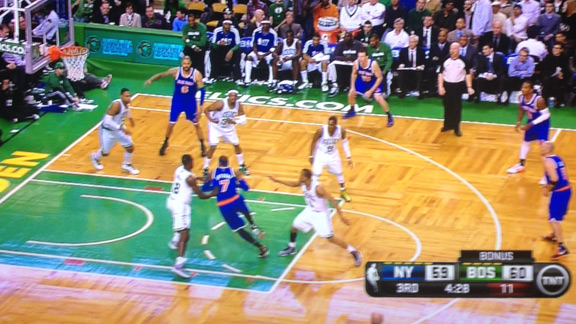 Just a classic Jeff Green sequence here. First, he gets abused off the dribble by Carmelo for an easy bucket …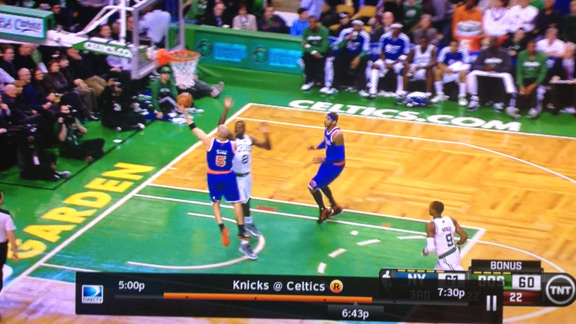 Then, he immediately throws the inbounds pass to Jason Kidd for a Knicks layup. You spend a lot of time yelling "NO!!!!!!" or "WAKE UP!!!" when Jeff Green is on your team. Classy guy, good teammate, survived a life-threatening surgery, occasionally looks like a poor man's James Worthy … and yet, he's badly overpaid (four years, $36 million), he's untradable, he's one of the most frustrating Celtics ever, and he's a big reason why the Celtics have been underachieving this season.
(Hold this thought.)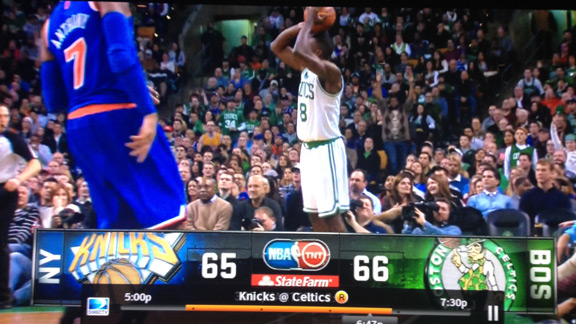 Did Jeff Green nail this wide-open 3 and get the crowd fired up? You betcha! You really run the gamut of emotions from game to game with Jeff Green. His nickname should be "The Gamut."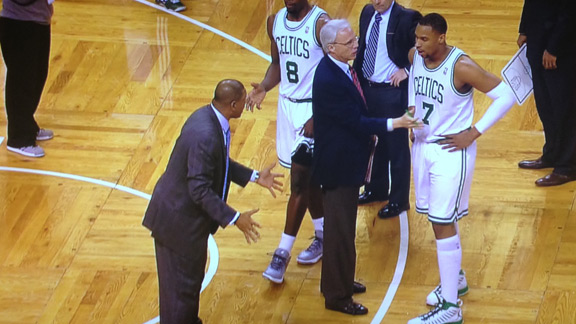 It's probably a bad sign when The Gamut and Jared Sullinger are botching their defense of the Carmelo/Chandler high screens so egregiously that Doc Rivers has to run a mini-coaching clinic for them during a timeout. (By the way, I love Sullinger. Wish he played more.)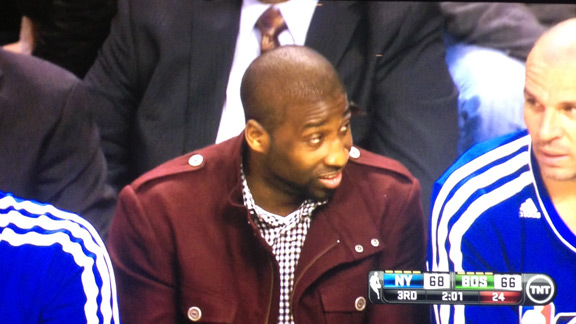 "Hey, Jason — I totally forgot this game was on TNT tonight. Why didn't you tell me? I would have worn a suit instead of this jacket from my uncle's store. You don't think they're showing me on the bench, do you?"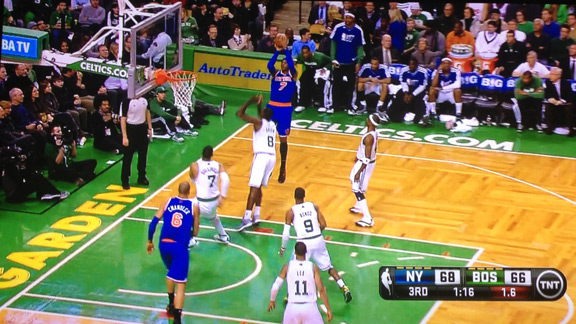 Uh-oh … Melo is heating up. Just made four of his last six. There are seven "Uh-oh, he's heating up" scorers in the NBA right now: Durant, LeBron, Kobe, Melo, Harden, Kyrie Irving and Jamal Crawford. This is why some people (stupidly) believed that Jamal should have made the All-Star team — that list speaks for itself.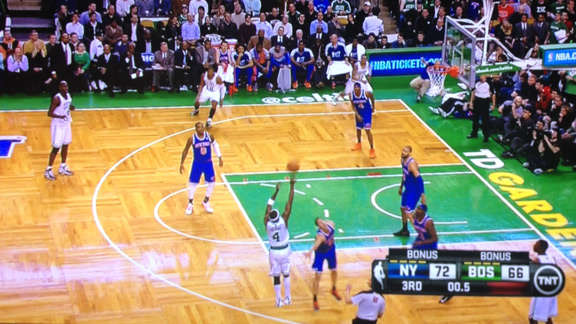 If you look closely, you can see the salad fork sticking out of Jason Terry's back. He finished 1-for-6 in this game. His January numbers: 22.0 MPG, 5.9 PPG, 39% FG, 28% 3FG, 57 derisive comments from my dad along the lines of, "It's just too bad Jason Terry isn't still alive." Meanwhile, here are Courtney Lee's December-January numbers: 48% FG, 39.6% 3FG. Oh, and he's an above-average defensive player … and Jason Terry's defense is so atrocious, it's hard to believe the Lakers haven't traded for him yet. How is Terry still getting more minutes than Lee? Unless the answer is, "Shut up, dummy, we're trying to make the lottery." Fine, I'll shut up.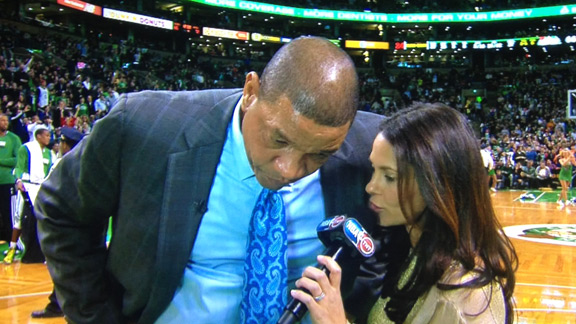 "Doc, how f---ed are you guys this season on a scale of 1 to 10?"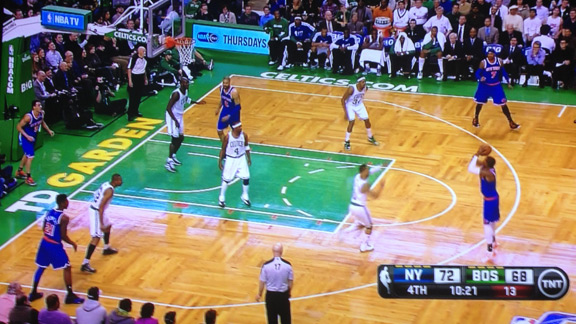 You know when guys get snubbed from the All-Star team and go nuts in their next game? J.R. Smith got "snubbed" — even though he really didn't when you consider he shot 34 percent in December and January combined (28 percent from 3) — then got his revenge by going 3-for-16 in Boston. This was a sneaky-big play — Smith bricked this 3, but Prigioni grabbed the rebound and found Carmelo for a 3, followed by every Boston fan saying, "Who the hell is Pablo Prigioni? Wasn't he one of the bad guys in Man on Fire?"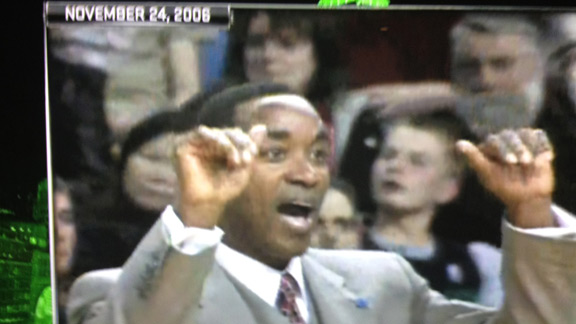 The last time the Knicks beat the Celtics in Boston, this guy was involved …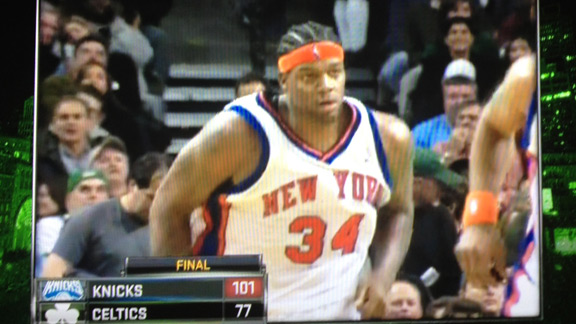 And so was this guy!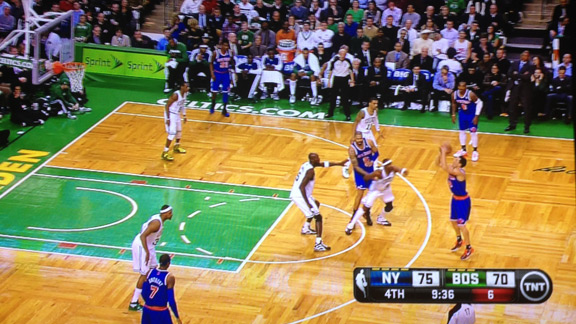 I'm both ashamed and delighted to announce that Pablo Prigioni and I have the exact same jump shot.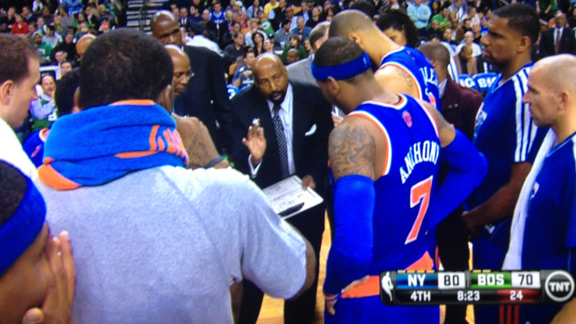 "Hey, guys, we're up 10 … just keep jacking up 3s, and then, if that doesn't work, maybe you could jack up some 3s. And when all else fails, go back to the basics and fire up some 3s. I'm gonna keep holding this clipboard and shouting out fake plays to throw them off. Cool?"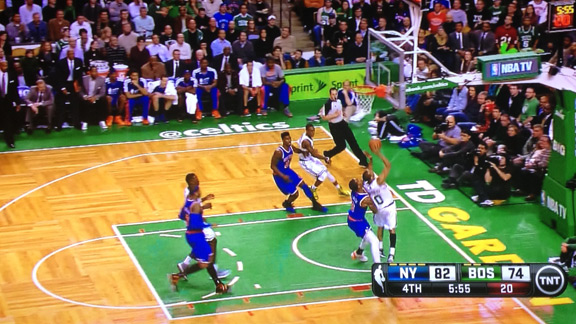 Here's a rare moment for the 2012-13 Celtics: a fast-break layup. So that's what that looks like!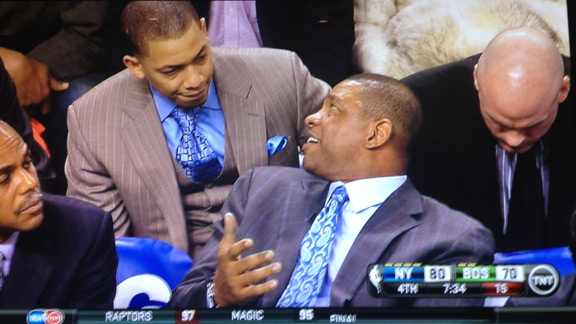 "I mean, Danny spends just over $35 million combined on Bass and Terry, then he spends another $36 million on Jeff Green. How can you splurge on three untradable guys in the same summer? Even Prokhorov won't take those guys in a trade! We couldn't be more screwed. I told Danny, 'I don't care how badly my son is playing in New Orleans — if you don't trade for him within the next six weeks, I'm quitting after the season and doing TV.' Every night, I go home and cry. I'm not kidding. I take my suit off, I run a bath, I climb in, and I just start sobbing."