Welcome to the Retro Photo Diary
(page 3 of 3)
Taking in Knicks-Celtics with a few words and a bunch of pictures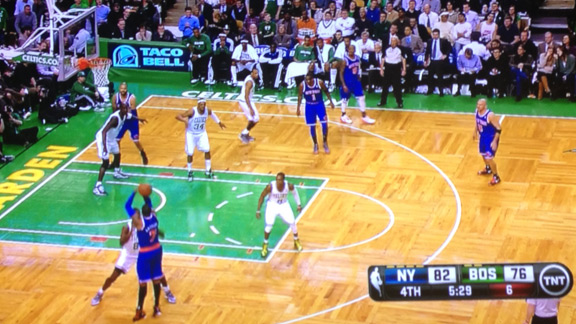 Carmelo's best talent other than challenging opponents to fights near the team bus as long as 10 people are standing between them: He goes from "holding the ball innocently 20 feet from the hoop" to "suddenly being in the middle of a jump shot" faster than any player in basketball. Even Durant. Look at Jeff Green — he hasn't even started jumping to contest the shot yet. Carmelo Anthony is incredible. I don't think the Knicks can make the Finals (it's just too easy for good defensive teams to lock them down, and they're not good enough on the other end), but could they make some 3s for two weeks and ride a red-hot Carmelo past anyone in the NBA except for Oklahoma City? Absolutely.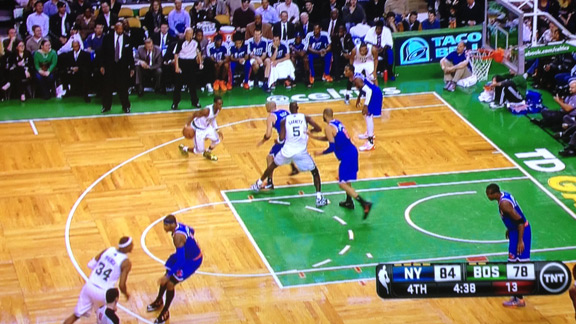 KG and NTVR (National TV Rondo) pull off a pretty pseudo-high screen that starts like this …
And ends with NTVR taking it hard to the hoop and getting a bucket. I love National TV Rondo.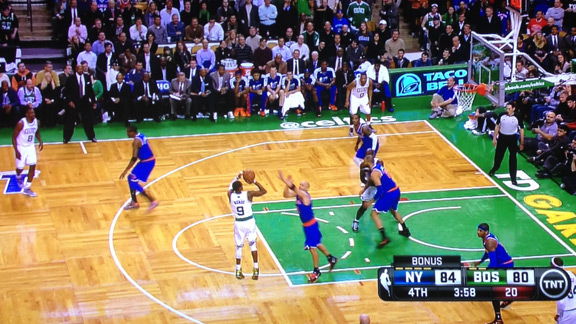 Ronnnnnnnnnnn-do!!!!!!!!!!!!! (This went in!) The monkey wrench to remember about any possible Rondo trade: What if he reinvents his game halfway through his career and develops 3-point range like Jason Kidd did? Remember when we were calling Kidd "Ason" because he didn't have a "J"? He willed himself into becoming a long-distance shooter. What if Rondo does that? That's one of my four biggest fears of any Rondo trade, right up there with, "What if he's pissed off and unleashes a slew of Eff You seasons in revenge?," "When has trading the best player in a blockbuster ever really worked out for the team that traded him?," and "NBA history says you should trade FOR a guy like Rondo, not trade a guy like Rondo."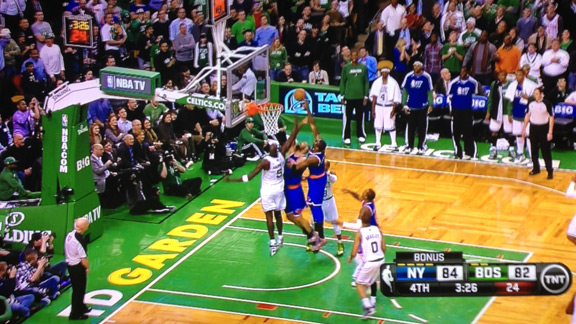 Backbreaking tip-in by Amar'e Stoudemire here. At this specific point of the game, the Knicks had an 18-0 advantage in second-chance points. I'll say it again: Amar'e looked good coming off the bench. Thought he was effective. If he breaks down again later this season, don't forget to blame Mike D'Antoni for running him into the ground during the first two months of that 2010-11 season. He hasn't been the same since.
(Cut to the Knicks fans screaming, "TRADE HIM! TRADE HIM FOR GASOL RIGHT NOW! TELL OUR BUMBLING LEGACY-KID OWNER TO CALL THEIR BUMBLING LEGACY-KID OWNER AND GET THIS DONE!")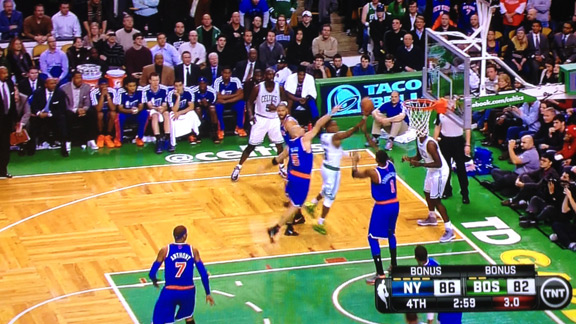 Rondo! I've written this before, but having Rondo on your favorite team is like having a cat: He's moody, he's unfriendly, he disappears, you can't count on him, you can't figure him out … and then, out of nowhere, he'll jump on your lap or start playing with a ball of string. And you're like, "I love having a cat! This is great!" That's the Rondo Experience.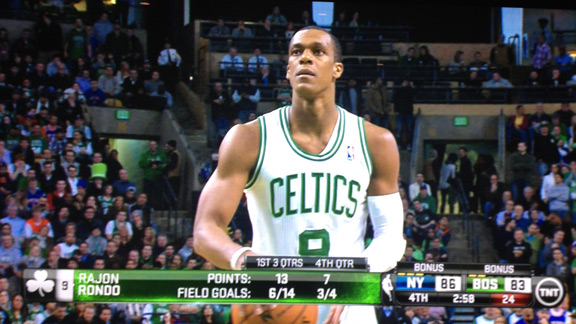 Right now he's playing with a ball of string and heading for a triple-double (final numbers: 23-11-10). I wouldn't trade him for, say, a Ty Lawson–Kenneth Faried package. I'd need a blue-chipper back plus one or two other players. An offer like "DeMarcus Cousins, Jimmer Fredette and Chuck Hayes" would get my attention. That's about it. I'd miss seeing him play with that ball of string. Tomorrow? I might feel differently.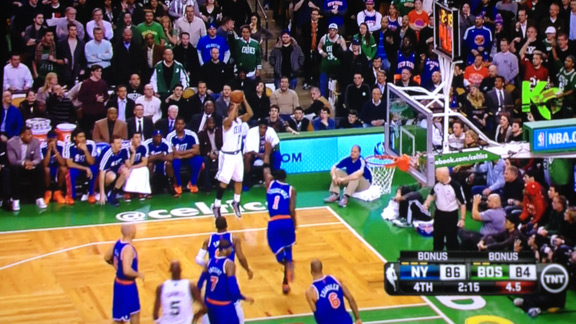 Avery Bradley misses the biggest shot of the game: a wide-open 3 that would have given Boston the lead. Love his potential, love his hustle, love his defense … but it's hard to understand why Doc isn't playing Courtney Lee in this spot. At least until Bradley starts banging home this specific shot again. This fourth quarter was really the 2013 Celtics in a nutshell: no second-chance points, no easy baskets, missed 3s, mediocre defense, crucial offensive rebounds allowed at the worst possible times, and if Pierce isn't making shots, then it's up to Rondo to create every single basket or we're screwed. There's a reason this team fell under .500, with a first-round massacre against Miami looming. I'm depressed. I might pour myself a stiff cocktail before we finish this column.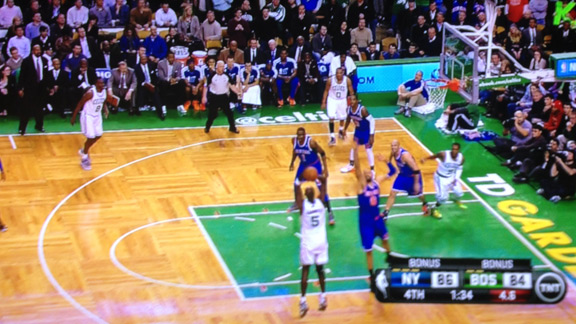 Garnett (8 points, 12 rebounds, 0 derisive comments that may or may not have been spouse-related) misses the second-biggest shot of the game: a wide-open 16-footer that was set up beautifully by Rondo's slash-and-kick. That was one of those "Uh-oh, we're gonna lose" misses. I hate those.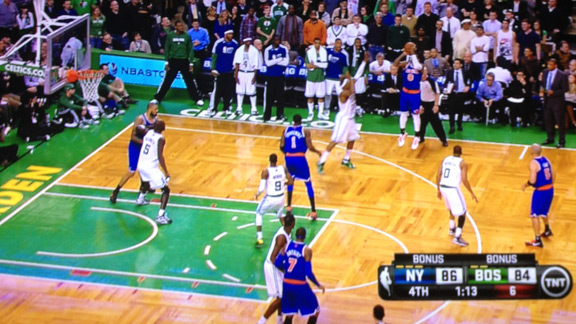 J.R. Smith missed 13 of his 16 shots in Boston. This wasn't one of them. I really think they should give out the Irrational Confidence Guy award every season, like how they give out Most Improved and Sixth Man. Why not?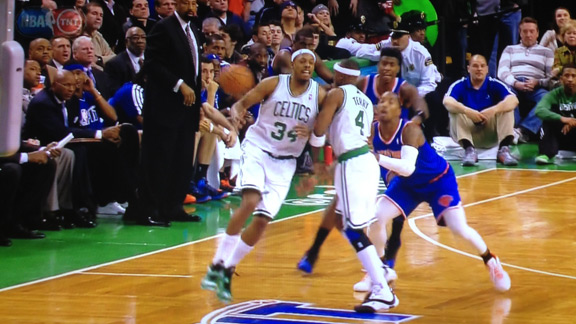 The Celtics call this crunch-time play "Two Old Guys Collide and Inadvertently Knock the Ball Out of Bounds." Total points for Paul Pierce in the second half: three. He's the same age as Tom Brady … and I don't know who should be more bummed out about that, Pierce or Brady. Actually, I know the answer: I'm the most bummed out.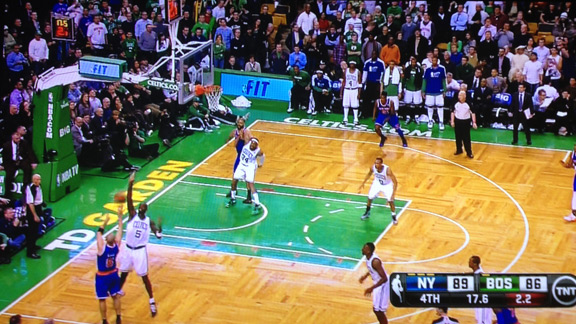 Even though he's 50 years old, every big Jason Kidd shot in Boston still gives me the shakes after the way he eviscerated us in the 2002 and 2003 playoffs. Thought this one was going in. It didn't go in. One more chance. Down by three, 13 seconds to play.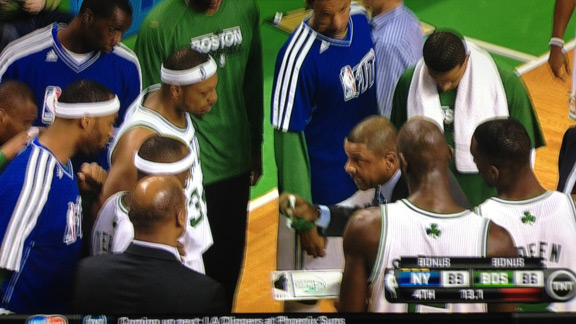 "OK, let's run the play where Ray comes off the double screen and … wait a second, where the hell is Ray???"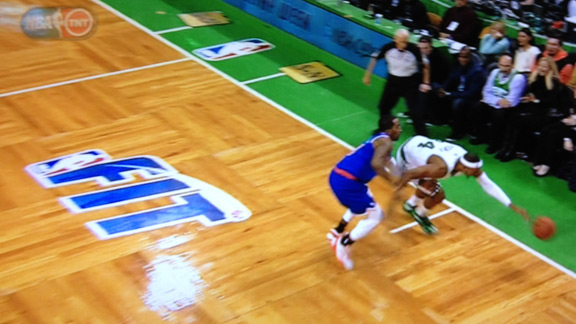 So much for the "Paul Pierce Owns the Knicks" era. I might start crying.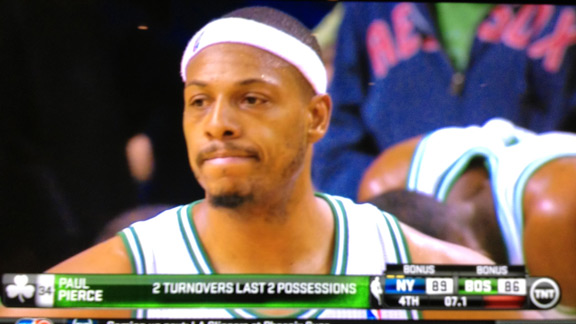 That face is telling me, "Hey, Simmons, you should go on draftexpress.com and start familiarizing yourself with the 2013 lottery picks."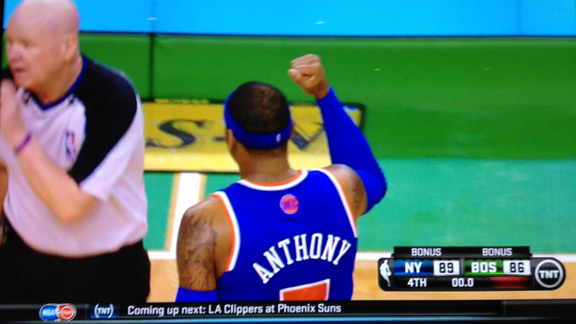 Your final score for Honey Nut Bowl II: Celtics 86, Knicks 89.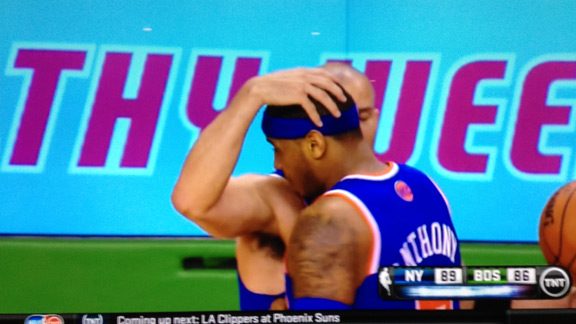 "Good job, buddy. You handled all the Cheerios jokes from the fans really well. I'm proud of you. Now smell my armpit."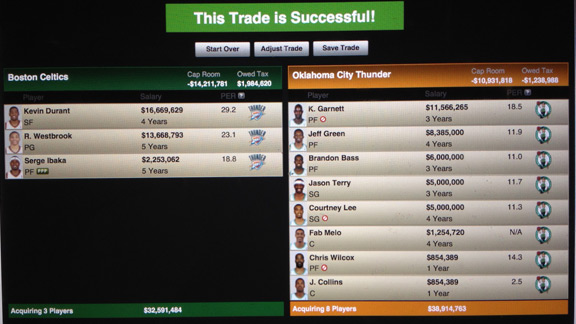 Don't worry, we can still turn this season around.