Welcome to the Retro Photo Diary
Taking in Knicks-Celtics with a few words and a bunch of pictures
By Bill Simmons on
I have very few rules in life, but here's one of them: Anytime a Knicks-Celtics grudge match causes Carmelo Anthony to hire a bodyguard, Boston fans to wave Honey Nut Cheerios boxes, the NBA to assign Dick Bavetta AND Joey Crawford, and my dad to say the words, "I feel like the entire season is on the line tonight," I have to create a totally new gimmick for a column. Introducing the Retro-Photo Diary! Let's get it on.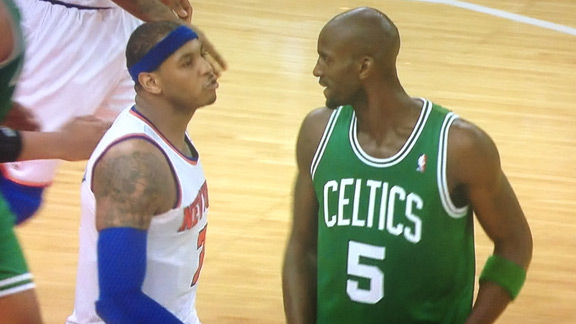 If you missed what happened last time these two teams played, here's a quick recap …
"Did you just tell me that my wife tasted like Honey Nut Cheerios?"
"I did."
"THAT MAKES ME VERY ANGRY! I'M VERY ANGRY RIGHT NOW!"
"I don't care."
"I WILL SEE YOU AFTER THE GAME, MISTER! AND WE WON'T BE EXCHANGING CHRISTMAS GIFTS, I CAN TELL YOU THAT MUCH!"
"Fine with me."
"BE THERE OR BE SQUARE!!!!"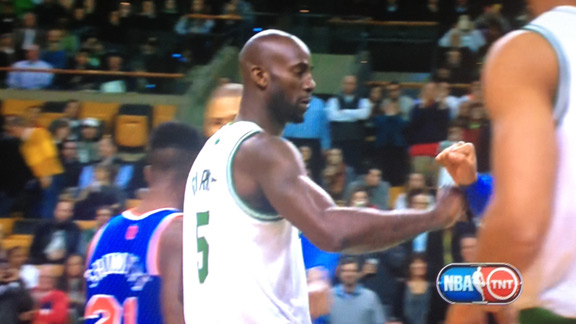 Right when KG and Carmelo approached each other last night for their inevitably awkward fist-bump, TNT's director inexplicably switched to a close-up of KG and blew the fist-bump. (You can only see Carmelo's hand right there.) I can't wait to see where this ranks in Bleacher Report's "The 25 Biggest Blown Fist-Pump Shots" feature this weekend.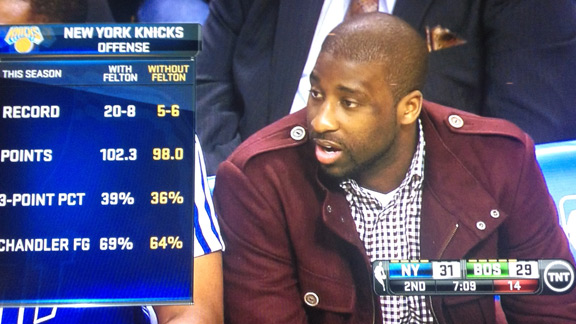 As the numbers show, the Knicks need Raymond Felton more than you'd think. For whatever reason, he showed up for tonight's game dressed like an usher at Magic Johnson Theaters.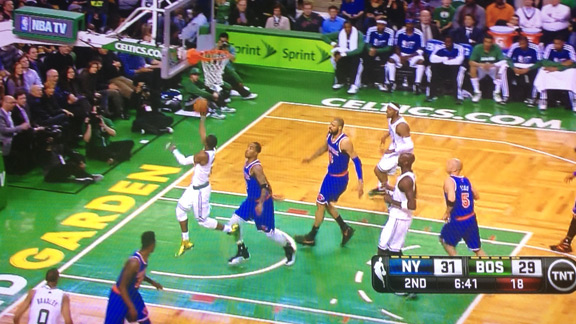 You know within about five minutes which Rajon Rondo showed up: Either it's Local Cable Rondo (the guy who settles for jump shots, refuses to drive to the basket and only cares about padding his assist count), or National TV Rondo (the guy who attacks the basket, plays aggressively, flirts with a triple-double and generally makes you feel like he gives a shit). Last night's game was on TNT, so … I mean …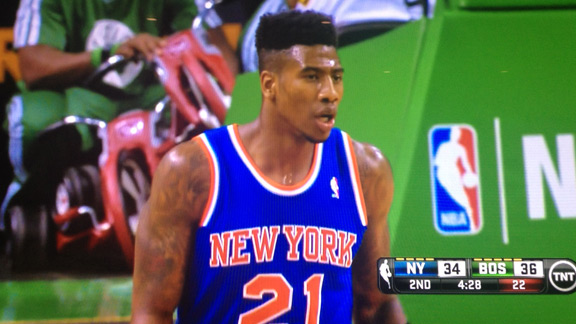 Iman Shumpert and Norris Cole are embroiled in a fierce battle to bring back the early '90s. There's only one way it can be settled: We need to find out who's more down with OPP.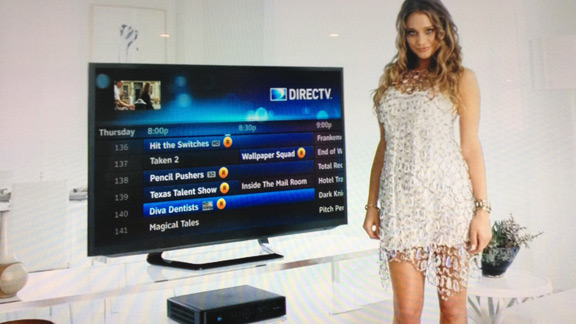 I get more e-mails about the DirecTV Genie girl than anyone basically ever. My readers are super-horny. And yes, I know she has a history with Derek Jeter. You don't have to keep telling me.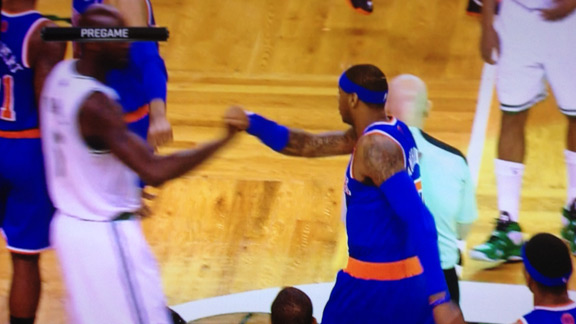 TNT responds to intense Twitter pressure and retroactively shows the fist-bump, but only after digitally adding the ghostly visage of Joey Crawford in the background.
It's one of my favorite winter traditions, right up there with Christmas and the NFL playoffs … that's right, it's Danny Ainge's annual "I swear, we're not trying to blow this team up!" denial. It always seems to come right as he's juggling about 244 possible deals with 17 different teams. Playing for the Celtics in January and February is like being on The Bachelor — it's just a good idea to pack your suitcase before every Rose Ceremony no matter how safe you're feeling.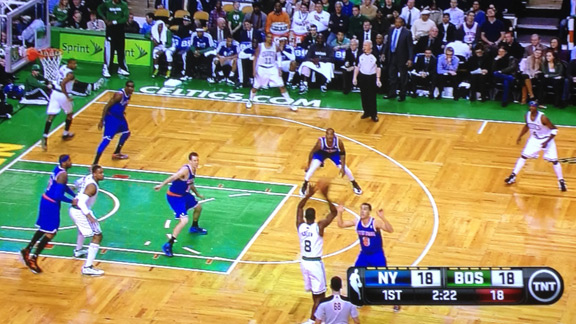 The Knicks threw out a zone defense in the second quarter. You do these things when Steve Novak, Pablo Prigioni and Amar'e Stoudemire are coming off your bench. (PS: It actually kinda sorta worked!) It's hard to overstate Amar'e's X-factor potential as a bench scorer (assuming he buys in for the rest of the year), if only because he's so overqualified for that role. He'd finish this Celtics game with 15 points and nine rebounds in 20 minutes. Those are "Bob McAdoo in 1982" numbers.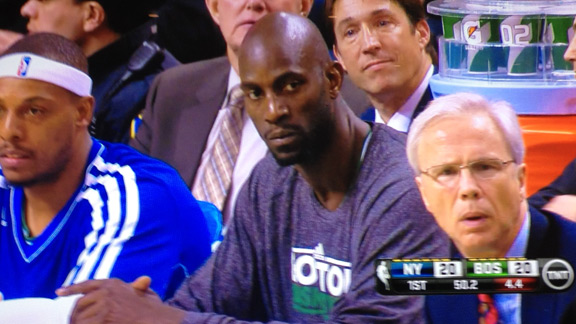 "I should have retired. I could be living on the beach in Malibu right now. It was probably like 80 degrees there today … "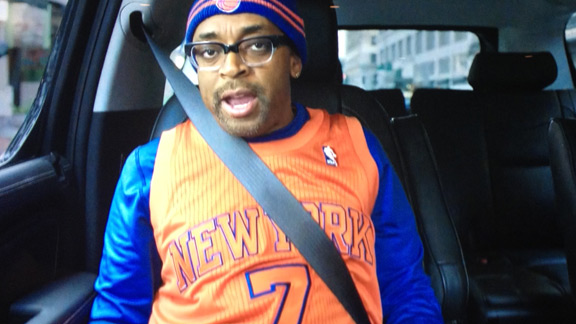 Spike Lee needs to make a movie about two die-hard Knicks fans who get so tired of Spike Lee that they kidnap him during the 2013 playoffs. That would be the best Spike Lee Joint since Inside Man.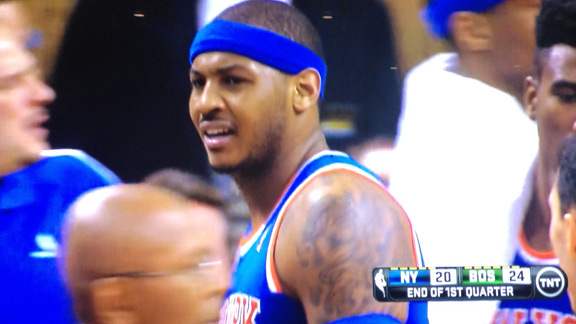 "This sucks. I hate the way this game is going. And by the way … my wife does NOT taste like Honey Nut Cheerios. OK?"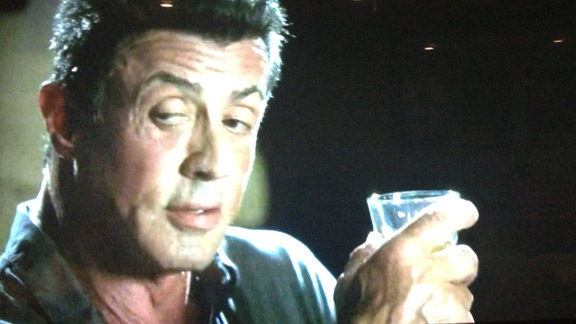 Wait, is Bullet to the Head Sly Stallone's new movie or the upcoming 30 for 30 about the 2012-13 Lakers? I can't remember.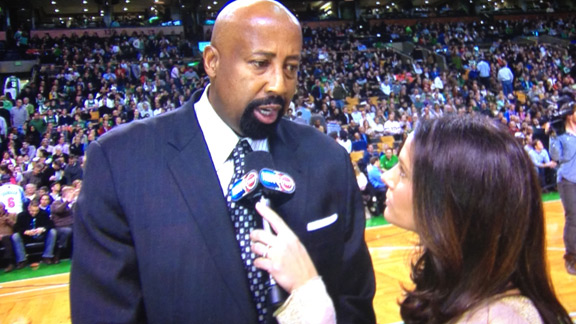 "Coach, I know Bernie Mac isn't with us anymore, but do you still keep in touch with Cedric the Entertainer and D.L. Hughley?"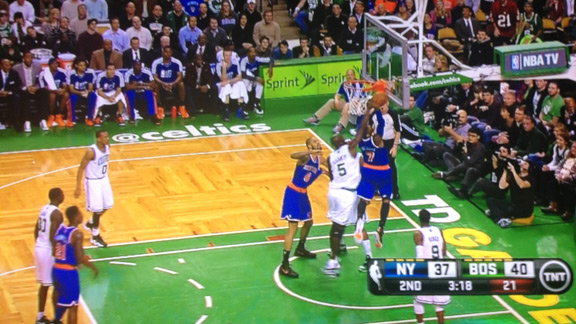 Get that shit out of my Cheerios bowl! Serious question: Why didn't Honey Nut Cheerios offer $3 million apiece to KG and Melo to film a surprise commercial that could have debuted during this game? How great would that have been? There's still time, Honey Nut Cheerios! Do it for All-Star Weekend! As Rasheed Wallace would say, CUT THE CHECK! CTC! CTC!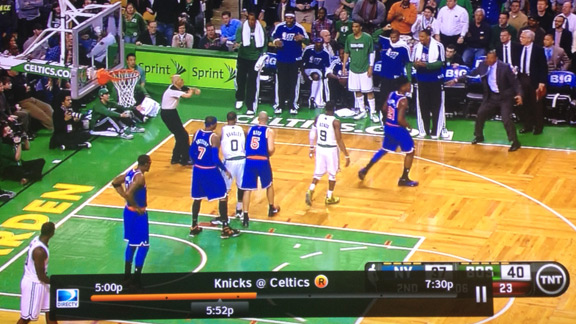 Check out Dick Bavetta making a traveling call in front of a totally horrified Doc Rivers. For the record, Dick Bavetta is three years older than David Stern, five years younger than Bud Selig and 101 years younger than John Wilkes Booth.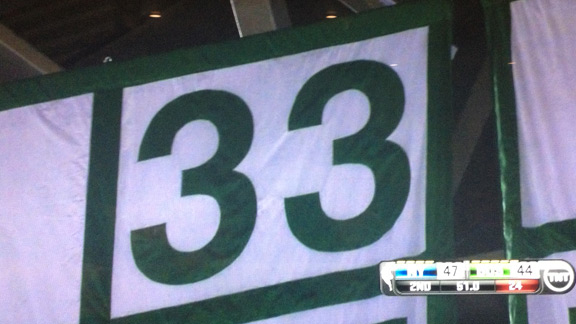 Hold on, I'm not done wiping the tears of joy from my eyes.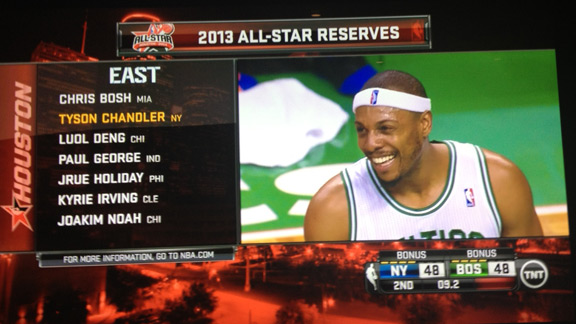 Maybe it wasn't a travesty along the lines of Art Carney winning the 1974 Best Actor Oscar over Pacino in The Godfather: Part II and Nicholson in Chinatown, but Chris Bosh making the All-Star team over Brook Lopez was pretty reprehensible. The Nets are 24-11 when Lopez plays. He's their go-to guy down the stretch. He gets routinely double-teamed. He's turned himself into this generation's Rik Smits. Meanwhile, Chris Bosh made the New Year's resolution, "I'm gonna stop rebounding in 2013 and see what happens." Ridiculous. And yes, Pierce should have made it over Garnett. In case you were wondering.