Oral History of 'The Super Bowl Shuffle'
The making of the 1985 Chicago Bears' iconic music video
By

Jake Austen

on
As the Super Bowl returns to New Orleans this week, arguments will again heat up about whether the 1986 Super Bowl champion Chicago Bears are the best team in NFL history. But with personalities like Mike Ditka, Walter Payton, William "The Refrigerator" Perry, Richard Dent, Dan Hampton, Steve "Mongo" McMichael, and Jim McMahon, it's hard to argue against them being the most character-laden team ever. Their on-field highlights en route to a 15-1 season (the only loss a high-profile Monday-night drubbing in Miami, where members of the undefeated 1972 Dolphins watched from the sidelines) were impressive. But for many fans, that season is summed up by a silly video featuring jinx-taunting boasts, amateur rapping, and the all-time best saxophone solo by a running back. "The Super Bowl Shuffle" was wide receiver Willie Gault's pet project, designed to showcase the players, raise money for charity, and jump-start a fledgling local record label. But it became a juggernaut, earning a gold record, a platinum video, and a Grammy nomination. One measure of its popularity is that no one remembers that the previous Super Bowl champions released "We're the 49ers," their own funky fight song. "When the 49ers did their song, people thought of it as kind of a joke," recalls Bay Area–bred Bears defensive back (and Shufflin' Crew backup dancer) Ken Taylor. Although many also laughed at Steve Fuller's moves or William Perry's youthful bravado, the "Shuffle" was no joke. It became a cultural milestone that brought the NFL into the MTV era and helped change the status of athletes as celebrities. Its history is a story of football triumphs, personal tragedies, great and awful business decisions, an attorney general's investigation, a blackface minstrel backstory, and a lot of feathers ruffled. This is the oral history of "The Super Bowl Shuffle."
SPEEDY WILLIE RUNS WITH IT
Willie Gault (Chicago Bears wide receiver, 1983-87/Chicago Bears Shufflin' Crew): In 1985 I was working on my acting career. I had already shot my part for About Last Night when I met Dick Meyer through my Hollywood agent. Dick was the owner of Red Label Records, and he had a music video he wanted me to be in called "The Heat in Me" by Linda Clifford where I'd play a fireman. After we shot that, Dick and I were sitting around talking and we said it would be fun if we did a video for the Bears.
Howard Rockman (Dick Meyer's attorney): Dick Meyer was originally in advertising. He did successful work for Jovan [a brand of perfume] and was hired by the company, eventually becoming president. He was tall and liked to use his height to show people he was in charge, but he was affable.1
Fred Breitberg (recording engineer, "The Super Bowl Shuffle"): Dick was 6-foot-7. He was Cazzie Russell's backup at Michigan.
Gault: Later, we had several meetings at his house where we talked about who would be in the video, what was the concept, what were the guys' personalities.
Breitberg: Dick was a pioneer in many ways. He was the first person to have a major corporation underwrite a rock act. It was "Jovan presents the Rolling Stones" in 1981, first corporate sponsorship for a [rock] tour. It is de rigueur now. He also invented the talking box. It was a box that talked. It said, "This is the story of this Jovan musk perfume, blah blah blah."
Shaun Gayle (Chicago Bears defensive back, 1984-94/Chicago Bears Shufflin' Crew chorus): Keep in mind, before we did that song there was a lot of notoriety swirling around that team with the characters and the media coverage. Things already were at this feverish pitch.
Calvin Thomas (Chicago Bears running back, 1982-88/Chicago Bears Shufflin' Crew saxophonist): William [Perry] did a lot of commercials, Mike [Ditka] did a lot of commercials, guys on the team were always getting offers.
Steve Fuller (Chicago Bears backup quarterback, 1984-86/Chicago Bears Shufflin' Crew): Our star players were getting so much attention that secondary players were actually getting the overflow.
Gault: We were so big that year. There had been the Black and Blues Brothers poster for the linemen, and a lot of commercials, so it wasn't against the norm to do this. It was just like a commercial, almost. Except that this would be for charity. Everyone in the video would be paid some nominal fee, but the main purpose was we would give money to the neediest families in Chicago. Red Label agreed to that.
RED LABEL RECORDS
Breitberg: I got involved with Red Label when I was working at Streeterville studio downtown [in Chicago], and a fella I knew was building Dick's studio in his house. Meyer had bought the former Bensinger mansion in Winnetka, which looked like a baby wing of the Museum of Science and Industry. When he bought the mansion he was married to Judy Sharp. She was a singer/actress/model, and he was working on an album for her. The property had a full bowling alley in the basement, which Dick turned into a good-sized studio. I recorded Koko Taylor there, Albert Collins, Edgar Winter. Dick liked what I did and offered me a job. We did the album for Judy, it may have come out — I don't remember. I was shocked when they wound up divorced around '86.
Bobby Daniels2 (cowriter/drum programmer, "The Super Bowl Shuffle"): Dick Meyer was a touch of class. He was GQ down — an elegant statue of a man.
Breitberg: After he built the studio he started a record label and got a distribution deal with Capitol Records. Richard Tufo, who'd worked with Curtis Mayfield, ran the label. Some of the acts were Osbourne and Giles, the Silent Treatment, The Buckinghams, The Innocent.3
Tim Breitberg (Fred Breitberg's son, then 12): Dick Meyer was totally nice. The studio was in the basement and they also had a bar and I used to be able to get my own soda through the spray machine, and there was a movie theater that had a projection-screen TV with LaserDiscs. Sometimes his butler would take me to rent movies, but otherwise I'd watch what they had, which was Animal House, Xanadu, and Airplane!
Breitberg: During the seventh week of the Bears season we had our weekly production meeting in our downtown office and were told we were going to do a rap record and could actually get the Bears to be on it. That weekend we were at the studio trying to produce a track, and nothing really came together. Tufo had been a keyboard player and arranger for Curtis Mayfield, so he was working with our production team, percussionist Richard Milasky and keyboardist Gary Jones. We didn't get anything on tape, it didn't work out. After that Meyer decided to resurrect the "The Kingfish Shuffle."
Daniels: I flew up to Chicago for overdubs with Linda Clifford. It was about 2:30, 3 in the morning, and Richard Tufo said it might be cool if we did a rap on Amos and Andy and Kingfish from the old Amos 'n Andy show.4 We had a guy go out and rent a bunch of old Amos 'n Andy tapes. So we put on the first tape and we didn't even get through one show when I said, I got it! Here's the video: Kingfish and Amos trick Sapphire, and they're going to go down to the lodge, and this is in black-and-white. When they get there, as soon as the door opens they go into an in-color situation, with one of those disco balls that was real popular back then. Kingfish's cigar drops out of his mouth, and Amos asks him, "Man, what are we gonna do now, Kingfish?" And Kingfish says, "I don't know what you're gonna do, but I'm gonna do the Kingfish Shuffle!" And the music hits!
Derrick Lee (Keyboards, "The Super Bowl Shuffle"): It was a wonderful experience: We started the record in hopes to do a 12-inch on Amos 'n Andy and we ended up having "The Super Bowl Shuffle."5
Daniels: I had just gotten the Linn 9000 [sequencer/drum machine] and had put down a four-bar groove just to see if the battery would hold it. When I turned on the Linn the groove that became "Super Bowl Shuffle" was still there. This was an accident — I didn't strategically come up with the groove or that little drumbeat at the beginning that's so stupid it's good.
Lloyd Barry (co-writer/keyboard programmer, "The Super Bowl Shuffle"): The song came together very easily, just working at Bobby's house. Within a few days we had cut that recording of "The Kingfish Shuffle."
Daniels: Mel Owens wrote all the lyrics and sang all the voices. He made that record great. "We are the Kingfish shuffling crew, shuffling on down doing it for you … " He liked to make people laugh. He was just nutty. I never saw a dark side — Mel brought sunshine in the room with him.
Michael Snow (Nashville producer): Beneath the fun-loving exterior was a rather lonely guy. His father was a retired infantry colonel, very spit-and-polish, who didn't approve of Mel's music career, although Mel had done his bit in the military himself, serving on a naval gunboat up the Mekong Delta in Vietnam.
Shannon "Shan de Bayou" Williford (harmonica, Delicious Blues Stew, Owens's last band): Mel's issues involved smoking weed and drinking beer, and he was diabetic, but didn't take care of himself. He was an odd man, lived with his mom until she died.
Daniels: We sent the tape to Red Label and they tested it around the Midwest but decided not to put it out. The next thing you know, they want me to send them the instrumental tracks to put the Chicago Bears on it. The truth of the matter is that everything you hear on "The Super Bowl Shuffle" is "The Kingfish Shuffle," and the lion's share of the lyrics are by Mel Owens. All that happened was they changed it to be about McMahon and Payton and not Amos and Andy.
Gault: Dick Meyer said, "I have this song. It might work." I never heard the original lyrics.
GETTING THE CREW TOGETHER
Gault: It was one of those things where I had to approach them with kid gloves because not too many guys would be thinking about doing a rap song. Otis and Richard Dent said great.
Richard Dent (Chicago Bears defensive end, 1983-93, 1995/Chicago Bears Shufflin' Crew): Willie approached me, and first I wanted to hear the sound. The beat was nice — we can dance on this in the clubs.
Gault: Walter, who was a singer anyway, he said, "I'm in." He loved doing stuff like that.
Jeff Pearlman (Walter Payton biographer): Walter Payton was a very old-school football player, who put down his head and got his yards without flash. He was never a shit talker, so the boastful side of "The Super Bowl Shuffle" might not have appealed to him. But he loved music. He was on a local dance show when he was at Jackson State, and even made it to a dance-off on Soul Train.
Jarrett Payton (Walter Payton's son): He was in a band playing drums before he was even into playing football. He was a busy man, but he always found time for music. He had drums in the house. He played bass.
Brittney Payton (Walter Payton's daughter): My dad was also an amazing whistler. He had the largest collection of records you could imagine, [The Rolling] Stones, [Bruce] Springsteen, Michael Jackson, Motown. He was a big lover of jazz.
Jarrett Payton: He was even into hip-hop. He liked Notorious B.I.G., Kool Moe Dee. He and Busta Rhymes had met, and Busta wanted my dad to be in a video but my dad was too sick by that time.
Gault: Steve Fuller we had to talk into it.
Fuller: I have absolutely no musical background.
Gault: We really wanted to use Gary Fencik, because he's like the white guy in the group that's really cool, and he's been around for a while and he's a really good-looking guy.
Gary Fencik (Chicago Bears safety, 1976-87/Chicago Bears Shufflin' Crew): I was doing Cadillac commercials, so I thought I knew what this was going to be. I didn't really give it any thought.
Gault: McMahon did it because everyone else was doing it. He was pretty cool. Fridge was doing everything that year. Hampton and those guys we knew would be tough because they're a little more conservative. Mike Singletary, he's conservative but cool, he thought the idea was great.
THE RECORDING
Breitberg: We got the tracks, and over the weekend, Week 8 of the season, we start working on it, and Dick modified the lyrics. The choruses are exactly the same as "Kingfish Shuffle," but other than a few lines he rewrote the verses completely.
Gault: Dick and I sat down and talked about the personalities, then Dick Meyer wrote out lyrics. I helped write my own lyrics. I also think I added to Mike Singletary's. At the time we had no idea about producer's credit or writer's credit or things like that. I got the lyrics to the guys so they'd be able to study a little bit.
Dan Hampton (Chicago Bears defensive tackle/defensive end, 1979-90): They had approached me to be in the thing and I refused because of being superstitious. I thought it was presumptuous to say, "Oh yeah, we're going to the Super Bowl" when the franchise had never been in one. Willie gave me lyrics, I can't remember, "something something Danimal," or something, and I said there's no way. They hastily rewrote it and went to McMichael and he'd seen that I wasn't doing it and asked why, and I said, "You idiot, you're more superstitious than I am, I ain't gonna jinx this," and he said, "You're right, I ain't going to do this either." It ended up going to Mike Richardson.
Mike Richardson (Chicago Bears cornerback, 1983-88/Chicago Bears Shufflin' Crew): We went into [Meyer's] house and I wasn't on the lineup. I just went over there with Richard to check out the taping, and Dick Meyer wrote me up something that day. The guy said, "Where you from?" I said, "L.A.," and he put something together, and "L.A. Mike" pretty much became my nickname that stuck like glue from that point on. I thought the guy was a phenomenal writer for him to just write me in the way he did, and some of the other guys, the way he tailor-made their parts, it was magical.
Fencik: They gave me lyrics and said, "You can change them." I'm sure if I knew then what I know now I would have looked more carefully. "Ring my bell" are not words I'm particularly proud of.
Breitberg: The following weekend we prepped the thing and had background singers singing the chorus. The Bears are on there, too, but we had them sing over real studio singers. The next Thursday, seven out of the 10 players came, everybody but McMahon, Walter, and the Fridge. The seven guys were there and we did each of their verses. Dick came in prepared. He had everything done but a couple of things that we finished together. I think we wrote, "I'm your man Dent … the quarterback's gonna get bent." Not rocket science.
Dent: Each person's lines fit them pretty good. I don't remember changing much. They captured everyone's personalities, I thought.
Breitberg: We'd rehearse them in the control room until they sounded confident, then record their part. Singletary was very businesslike. Otis was very comical. It was clear that Willie was the one guy there that wanted a Hollywood career — he was treating this like it was real. But the others were all groovy, they just had bigger fish to fry and weren't taking this too seriously.
Ken Taylor (Chicago Bears defensive back, 1985/Chicago Bears Shufflin' Crew chorus): Willie told me that Mike Singletary got his part down in the first take. That's Mike for you, 100 percent in.
Breitberg: Then on Saturday, around 10 a.m., Singletary, who was taking a lead role, making sure this came together, brought the rest of them. Walter was a prankster and he liked to grab your hamstring right up by your nuts, and it was very painful. So I had this wooden mallet and I said, "If you grab me one more time … " We were having a great time. McMahon was nondescript, but Fridge was like a kid in the candy shop. He was such a bright spirit and enamored with everything and he was just fabulous, he had the best personality of anybody on the record, we thought. I also recorded Steve Eisen, who did the sax solo.
Steve Eisen (saxophone, "The Super Bowl Shuffle"): Freddie called me about it on a Saturday morning. He didn't say what it was, he just said it was lean bread because it was a benefit. I think it got $65. He said, "You'll be in and out in a few minutes, you just have to overdub a solo." It was at a studio in the basement of a mansion in Winnetka, and I went in and there was a very narrow hallway, with a huge human being in it. It was impossible for me to pass by this guy. I looked up and it was the Fridge! So I managed to get by him and I see Walter Payton, and I see Willie Gault, and I said, "What is this?" They filled me in, and I was done in probably half an hour, but I stuck around because they were really fun guys to hang out with. The chemistry between Walter Payton and the Fridge was really something, with the veteran giving the rookie phenom a hard time, but in a very humorous way. Willie Gault seemed to be the guy who was overseeing a lot of what they had to do and would coach guys a little bit. They were just trying to get them in the groove, and some guys stuck to it like glue and other cats took a little time.
Breitberg: I mixed it the Sunday they beat Dallas 44 to nothing, and sent it out to Wally Traugott — he's the guy at Capitol who mastered all the Beatles' crap. He mastered it and they stopped their entire pressing operation and shoved "The Super Bowl Shuffle" in there and pressed it.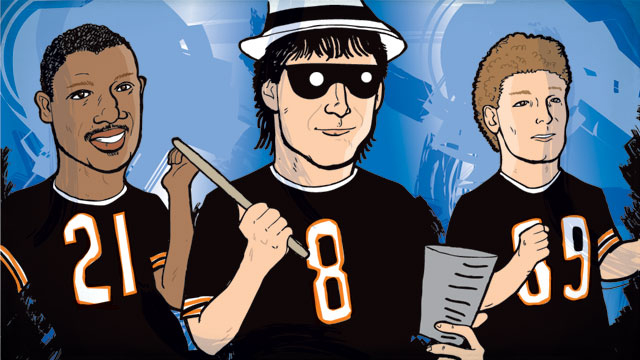 TELLING THE PARENTS
Ken Valdiserri (Chicago Bears director of public relations/director of marketing & broadcasting, 1984-2000): The Bears organization didn't find out about this until they already had made the recording and were planning the video. We had to be brought in the loop because of trademarks and copyrights and proprietary issues. We didn't like it from two different perspectives. One, it came to us in such a hurried and quick fashion, and secondarily, the whole concept of being presumptuous about the team going to the Super Bowl could make us look foolish. Rather than creating total internal chaos within the rank and file we decided to enable it, and that created the need to take it up the ladder not only with team but league officials.
Mike Ditka (coach, Chicago Bears, 1982-92): I didn't know anything about it. It surprised me when I found out. But we had a fun group of guys, and I never discouraged them from having fun. That wasn't the way I did things. Did I think it was inappropriate? No. If you don't think you're going to win, then you're not going to win, that's why I thought [the song] was pretty much a symbol of the fact that they thought they were going to win.
Don Levey (cover photographer, "The Super Bowl Shuffle" record and video): Dick [Meyer] calls me and says, "You want to make history?" I met the players at Halas Hall. It seems like they were having a chalk talk about the game the previous Sunday. I was given a racquetball court to set up in, and the players trickled in one by one. It was a quick photo shoot, 15 to 20 minutes, two and a half rolls of film. Hampton and McMichael were doing catcalls from the top of the court, kidding them while they got their makeup done.
Hampton: We always ripped on and mocked everybody on the team, and they gave it back as good as they got it. We weren't mad at them. Even though we didn't want to be on it, we gave the other guys our blessing.
Levey: The main thing I remember is that Walter is a big pincher, pinching people in the butt … with a grip like a bear trap!
Breitberg: When the vinyl came back from Capitol, that record became the fastest to get played in the history of WLS radio. I walked it in, gave it to my fiancée, who was the promotion director, [and] she gave it to the program director, who walked it into the studio and put it on. I believe it hit the door and was on the air in two and a half minutes. Pretty soon every radio station in Chicago was playing it.
Daniels: Dick also put it on cassette so people could listen on the way to the ballgame or while tailgating. It was really an innovative thought, the first time that a single had been put on cassette.
Maury Buford (Chicago Bears punter, 1985-86, '89-91/cowbell, Chicago Bears Shufflin' Crew): Willie Gault put it out to everybody that they were shooting the video the day after the Miami game.
Gault: Even though there are only 10 of us on the record, we had wanted everyone to be a part of it, so that Saturday I was letting everyone know that we needed them there at the shoot the next week because it was part of the look of the video, to have the whole team there. I made the music available and they heard some of the guys rap, and they thought it was funny and interesting.
Jim Morrissey (Chicago Bears linebacker, 1985-93/Chicago Bears Shufflin' Crew chorus): I was asked to be in the video on the Saturday flying down to Miami. Willie Gault came over to my seat on the plane and said, "What are you doing on Tuesday?" I said, "Nothing." I was the rookie, living with my grandparents, I didn't know what it was he was asking about, I just knew it was something that was going to keep me busy for a day.
MAULED IN MIAMI
Fencik: Going into Miami we had won our two previous games with, what, a combined score of 80 to nothing? So mentally we maybe weren't prepared for the game.
Taylor: I had noticed during warm-ups that the Dolphins from the 1972 undefeated team, Larry Csonka and those guys, were standing lined up on the sideline, one by one, with their arms folded, watching us. It was the weirdest thing. They put a voodoo on us.
Buford: The Orange Bowl was the loudest stadium I had ever been to in my life. It was a tough damn environment.
Gayle: At the time that was the most-watched Monday Night Football game in history.
Richardson: Looking back on some of the plays in that game, it really wasn't meant for us to win. Marino throws, I'm lined up for an interception, and it hits Dan Hampton in the helmet, goes right over my head for a touchdown.
Fencik: I remember walking off the field with Hampton after that and we both looked at each other and said, "It ain't happening tonight." My own view is that it was the best thing that could have happened to us. Your goal going into an NFL season isn't to go undefeated. It's to get to and win the Super Bowl.
Fuller: I hurt my ankle in the game. I was disappointed, certainly, because it was a big moment for me to try to get in there and coax a win out of that situation. But we only got as close as 38 to 24.
Ditka: We went in there and Coach Shula outcoached me and they outplayed us. I thought it helped us refocus and get in the right direction going forward.
Stefan Humphries (Chicago Bears offensive lineman, 1984-86/Chicago Bears Shufflin' Crew drummer): Anytime you lose it's hard, especially a loss that takes away a perfect season.
Gault: After the loss everybody was down and sad, and people didn't know if we should do it — "maybe it's a sign." I was like: It's not, we've already done it, we're committed to it, these guys have spent a lot of money, and people are going to benefit from it. We just have to do it. It wound up being OK. Jim McMahon and Walter didn't come, but everybody else showed up.
THE VIDEO SHOOT
Valdiserri: After a somewhat humbling first loss on Monday night, we arrived [in Chicago] probably at three in the morning. This thing had been scheduled for an eleven o' clock taping at the Park West. This was not ideal, because we had unnaturally worn our home uniforms for an away game at Miami, and those uniforms had to be cleaned, so we had to get our equipment manager to launder the uniforms and I had to physically take them down to the Park West.
Mike Fayette (owner, Post Effects, production company for "The Super Bowl Shuffle" video): The crew had a 7 a.m. call but didn't know what to expect. Because of the loss, there was widespread expectation that they wouldn't show up, and some of them didn't. Dick was very relieved when the first guys dragged in around lunchtime.
Stephen Cardwell (cameraman, "The Super Bowl Shuffle"): It was regarded as just another day at the office for us jaded TV crew guys.
Taylor: I remember going through the doors, not knowing what to expect, and there's this huge Hollywood set, Bears colors everywhere, the "Super Bowl Shuffle" sign, and cameras following you around.
Morrissey: Being a rookie and strictly a special teams player, I was basically along for the ride. At the start of the "Making of" video, you can kind of read my lips saying, "Why are you filming me?"
Tom Kruc (production assistant, "The Super Bowl Shuffle" video): The mood was a little subdued. The production crew and the guy who wrote the song [Meyer] were excited, but obviously the team was pretty down. Once the music started blaring through the place, it kind of brought the mood together. It was interesting to watch Mike Singletary be the leader during that video shoot. When guys were getting down he kind of rallied the players, much like you'd see him do on the sidelines.
Dent: After a loss, it didn't feel good being somewhere the next day after getting home after two in the morning. I didn't feel up for it, but I had a couple of drinks there and kind of got in the mood.
Fencik: They told us, "We're going to put on the music and you're going to sing your song, and if you have any dance steps you can do those as well." I hadn't really thought about any of that. I'm sure Willie had choreographed his moves, but I hadn't spent a minute on mine.
Gault: Actually, I didn't plan it, I just went with the beat. It was totally ad-libbed. It may have seemed like I did because it was so smooth, but there goes that smooth-as-chocolate-swirl thing.
Fuller: I was in a walking cast from an ankle injury in the Miami game. Obviously my dancing prowess was not great anyway, but if you look closely I did have a big heavy wrap on. I thought about not doing the video, especially coming back on the plane, but we had it iced down pretty good and I think the swelling and the flexibility actually got a little better on the trip home, and I was getting around way better on Tuesday. But I doubt the dancing was good therapy.
Dent: I was trying to help Fuller out because he had a broken foot, so he was all off-beat.
Fencik: People today say, "At least you were a better dancer than Steve Fuller!" They are kind of damning me with faint praise. Steve could only move one leg.
Richardson: We only did a couple takes. We were there several hours. Guys did their part and kept on moving. I still say, without the technology I was probably the best two-step dancer on the video.
Fencik: In retrospect, the most important thing about the video is that I had a date that night. I said, "Guys, I have one more take, because I have a date and I'm not missing it." So I left and they kept shooting and I went to Dee's on Armitage for my first date with my wife. We've been married for over 20 years.
Tim Breitberg: My dad invited me and I was doing homework in one of the booths while they shot it. The one thing that sticks out in my mind is that the woman who plays the referee was Dick Meyer's girlfriend, and it took her about 40 takes to get her whistle blow right.
Breitberg: Dick had met Julia that summer at [the nightclub] Faces and they started dating. I think she became his fiancée around the time of the shoot.
Fayette: The director, Dave Thompson, had won an Emmy or two, but I can understand how people might have thought Dick Meyer was the director.
Paul Natkin (photographer, "The Super Bowl Shuffle" video shoot): Dick was running around, directing the players, getting onstage in between every take, showing people how to move and that kind of stuff.
Tyrone Keys (Chicago Bears defensive lineman, 1983-85/Chicago Bears Shufflin' Crew keyboardist): Dick Meyer was telling us to shake it, bobbing and weaving around the stage.