What Makes Larry Run?
What is Hall of Fame coach Larry Brown doing down at SMU? The answer is complicated. Very complicated.
By

Neal Gabler

on
At the age of 72, with the Naismith Hall of Fame on his résumé and his standing as the only basketball coach ever to have won both an NCAA championship and an NBA championship, you have to wonder why Larry Brown is riding the team bus nearly four hours down I-35 through Waco, Georgetown (not that Georgetown), Round Rock, and Austin to San Marcos and Texas State University; why at six one morning, he drives his Chevy Malibu to a Houston high school to scout a kid while Coach K flies in on his private jet; why last July alone he hauled himself around the country to Philly, Indiana, Las Vegas, Orlando, two outposts in the Texas hinterlands, and Hampton, Virginia, where John Calipari of Kentucky and Bill Self of Kansas, two of Brown's closest friends, sat seigneurially in the stands focusing on three or four prime recruits; why he spends his afternoons on the practice floor teaching basketball to hardworking young men who are not and will never be among the basketball elite and who, Brown jokes, have to Google him to find out who he is; why he tolerates games in half-empty arenas where the cheerleaders are louder than the crowd and where he can't help but pop up off the bench during nearly every possession, gesticulating at his players like a ground crewman directing a plane to the gate, and why he risks suffering the losses even though his veins bulge, his face reddens, and he has been known to break out in a rash during a game; above all, why he has left his family back in Philadelphia — his beautiful young wife and his teenage son and daughter, whom he adores — to live in a residential hotel in Dallas, where he eats takeout food and spends most nights alone.
"He doesn't need this," admits his assistant coach, Tim Jankovich. "He could be drawing a 4-iron around a tree."
So why is Larry Brown subjecting himself to this?
Brown's career seems to invite metaphors, and you can find one in the grind of the metal saws, the deafeningly rapid ca-chug, ca-chug, ca-chug of the jackhammers that fill the air around his office during the $57 million renovation of 56-year-old Moody Coliseum, where the Southern Methodist Mustangs play their home basketball games. (You can also find it in another SMU rehabilitation project directly across from Brown's office on Dublin Street: the George W. Bush Presidential Center, scheduled to open later this year.) But it is not only the stadium that is being renovated. The Southern Methodist University basketball team, Brown's latest stop in his 40-year coaching career, is also undergoing massive reconstruction. Brown has always considered himself a reclamation expert. "One place had a winning record that I went to," he says of his 14 basketball stops, "and that was Detroit. Rick Carlisle laid a foundation that gave us a chance to win a championship. The reality is that I never felt I left a place in worse shape than when I got there."
But SMU is a challenge even for Mr. Reclamation. Set on a pastoral campus in an upscale patch of Dallas and with a student body of 6,000, SMU has little basketball tradition. It has made just 10 appearances in the NCAA tournament over the school's nearly 100-year history, the most recent in 1993. Last year's team, under Matt Doherty, finished second to last in Conference USA. Doherty had recruited fairly well under the circumstances, and he attracted transfers from Nevada, Kansas State, and Texas, but the horizons weren't bright, especially considering that SMU is headed next year to the Big East, which is one of the main reasons Brown was hired.
And then there is the history. SMU's football team in the mid-1970s through the early 1980s had committed transgressions so egregious, mainly paying players large sums from a slush fund, that the NCAA did what it had never done before and hasn't done since: It sentenced SMU to the "death penalty," canceling the entire 1987 season and all the home games in 1988 — though the school inflicted an even tougher punishment on itself by canceling the road games, too. That was 26 years ago, but the cloud still hangs over the school. Athletic director Rick Hart admits that it "is part of our culture" and "something we have to be cognizant of as we develop plans and build relationships."
But Brown has a vision. "I see what John Thompson did at Georgetown," he says. "He went from [being] a high school coach and built that program to where it was as good as any." Brown is betting he can do the same thing in Dallas.
But that's not what brought him to Dallas. Like everything with Larry Brown, that's more complicated than it sounds — very complicated.
Here's what you probably know about Lawrence Harvey Brown. You know that he is regarded as one of the greatest basketball coaches of all time, with what the New York Times once called "one of the most impressive résumés of any player or coach." You know that he is a disciple of Carolina great Dean Smith, who coached Brown there in the early 1960s, and that Brown's mantra is The Right Way, which means that basketball isn't just about wins, it is about process. As Eric Snow, who played point guard for Brown on the Philadelphia 76ers and whom Brown brought to SMU as his director of player development, explains Brown's philosophy, "You always care about your teammates and you care about the game." You comport yourself with dignity both on the court and off. In effect, you follow what amounts to a Poetics of basketball on the basis that basketball isn't a game but rather a way of life.
This approach has made Brown a coaches' coach, a guy who sanctifies the game, so much so that one of his rivals for Texas recruits, Trent Johnson at Texas Christian, often praises Brown to the kids they are competing to sign. "It's not normal," Brown says proudly of his friend's endorsement. "But it's the way it should be. We should all care about each other." Though he has stirred controversy, Brown has dozens of friends in the coaching fraternity, many of whom got their starts as Brown assistants or players — everyone from Calipari to Self to Mark Turgeon at Maryland to Gregg Popovich — many of whom invoke Brown the way Brown invokes Dean Smith. They revere him.
But if Brown is a coaches' coach, he is notoriously hard on players, mercilessly hard. It was said that Brown yelled so much at Eric Snow because he couldn't yell at Allen Iverson, but Snow avers, "He yelled at Allen, too." Those Iverson clashes were legendary. Iverson wanted to win just as badly as Brown, but he wasn't about to subscribe to a Poetics of basketball. His basketball was war — not The Right Way but The Tough Way. And there is Brown's preference for veterans over youth, which earned him opprobrium when he sat LeBron James during the 2004 Olympics and the team wound up with a disappointing bronze medal — a black mark on his record that Brown defends by saying that many prospective players bailed after 9/11 and that the team barely had time for practice. And he was so insistent on doing things his way, The Right Way, that he was likely to play a less talented player who got it than a more talented one who didn't. "He's going to bruise some egos and brush some people the wrong way," Jerry Stackhouse once said. "He has everywhere he's been."
And that's the other thing you know about Larry Brown. He leaves. He always leaves. Even when he says he is going to stay, he leaves — 11 times and counting. At Davidson, his very first head coaching job, he departed even before he began. (He says they reneged on some promises.) Sometimes it seems he leaves because he wears out his welcome. Sometimes it seems he leaves because the fit isn't right or the vibe is off. Sometimes it just seems like he leaves because of wanderlust. And sometimes you get the feeling that leaving is so endemic to him that even he doesn't know why he leaves. When he was named head coach of the Indiana Pacers in 1993, one general manager quipped, "And what team will he be coaching on Tuesday?"
With the nomadism often came the drama. At UCLA there were recruiting violations, though Brown says that he was fully exculpated. "I happened to be the coach when they finally made the ruling, but I wasn't involved with any of that." At Kansas he was embroiled in a scandal over $1,244 being given to a potential transfer from Memphis State named Vincent Askew. (Brown admitted that he gave Askew $364 for a plane ticket to visit his ill grandmother, who died soon after, telling the New York Times, "I'd give it to anybody if they told me his grandmother was passing away.") The investigation closed with a three-year probation, including Kansas's forfeiting the right to defend its national championship.
In Los Angeles, there was the Danny Manning drama — Manning, who had been Player of the Year on Brown's 1988 NCAA championship Kansas team but who, as a pro, was tired of Brown's negativity and balked at playing for him. At Philadelphia, there was the Iverson drama. "There were so many things that went on!" Brown laughs now. "I didn't think I could make it to the next practice let alone the next day or the next week with Allen." But for all their confrontations, they are close now. "I know God put me here to coach him," Brown says. "I'm convinced of that." At Detroit, there was the health drama, when Brown had to leave the bench for treatment of an ailment and the Pistons management felt he was keeping them dangling as to whether he would be able to return. At New York, there was … well, what drama wasn't there? And at his last stop in Charlotte, there was the Michael Jordan drama, when Michael insisted Brown just decided to up and leave and Brown insisted that Michael fired him.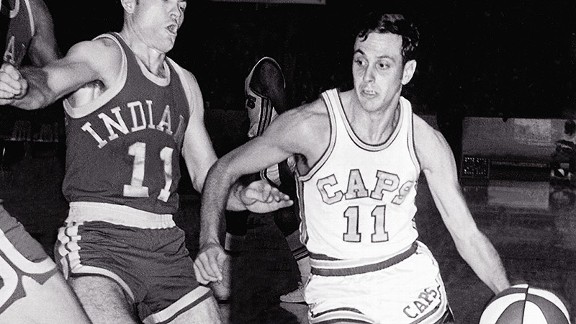 So that's what you know about Larry Brown. Here's what you think you know about him if you're a longtime basketball fan. You know that he is never satisfied. Never. You know that he is a perfectionist who cannot seem to find the perfection he craves. "Why would you want to do something and not be special and want the best?" he says, nonplussed. You know that he is, in the words of his old Carolina Cougars and Denver Nuggets GM Carl Scheer, an "enigma" who is often his "own worst enemy." And you may know that he is, again in Scheer's words, "fighting the demons inside," whatever those demons may be. Another old ABA compatriot, Doug Moe, is blunter: "Larry is not happy unless he's miserable."
"Everyone wants to psychoanalyze me," Brown says. "I don't know why." His life, however, certainly provides loads of material. Brown's maternal grandfather, Hittelman, was a Jew from Minsk who claimed to have baked for the czar. ("That's what I heard," Brown laughs. "Why change the story?") They immigrated to America in 1910 and opened a bakery in Brooklyn. "We moved like Gypsies," Brown's mother, who died two years ago at the age of 106, once told Sports Illustrated, anticipating her son's famous migrations. She met Milton Brown when she was 26, and they married soon after, then had two sons, first Larry's older brother, Herbert, who has been an NBA head coach, and then, four and a half years later, Larry. Milton was a furniture salesman who had migrations of his own, living in Brooklyn but covering the territory of West Virginia and Ohio. In 1947, after suffering a heart attack and then getting a promotion to cover Pennsylvania, he resettled his family in Pittsburgh. Four months later, when Larry was only 6, Milton died suddenly of an aneurysm. Larry wasn't told of the death until a month later, instead being reassured that his father was just out on the road.
"I lost my dad, but I inherited all her [his mother's] brothers and uncles and everybody," he remembers. "I had so many people who took a personal interest in me — male figures." His mother's family was all back in New York, so that is where the Browns moved — first to Brooklyn, then with his aunt to a cramped apartment and then to rooms above the family's new bakery in Long Beach, out on Long Island. There Larry slept in the attic with his brother and sometimes, when his grandfather was too tired to walk home, with Grandpa Hittelman, who, Brown remembers, snored furiously so that Brown had to time his breathing in sync so he could sleep.
What Brown also remembers is that while his mother was busy at the bakery, working from 6 a.m. to 10 p.m. every day, he was across the street at Central School on the basketball court. His mother said that Larry and Herbert loved to play ball with their father, and whether this was compensation or not, Larry says that he would spend hours there, often alone, shooting basket after basket after basket, until the sun would set and his mother would blink the lights in the bakery window, signaling that it was time to come home. Brown was a gifted athlete — maybe a better baseball player than a basketball player. But he loved basketball with an almost metaphysical devotion, became a high school star, once scoring 45 points in a game, and was recruited by the great Frank McGuire to play the point at Carolina.
It is easy to surmise that basketball became a kind of connection for Brown to the missing man in his life. It is also easy to surmise that having lost his father, Brown was always looking for surrogates and stability. He met Joe Glass when Brown was a summer camp counselor to Glass's children in the Poconos. The Glasses virtually adopted him, and Joe Glass eventually became his agent, though the relationship remained much more familial than professional. When Corinne Glass died in 2011, and Joe Glass passed away three months ago, the death notices listed Larry as their son.
But if Brown was searching for a family to replace his broken one, it was as a player at Carolina that his search and his love of basketball conflated. McGuire became another father figure, and when he left after Brown's sophomore year to coach the Philadelphia Warriors in the NBA, Brown cried. It was McGuire as much as anyone else who taught him that his deportment off the court was as important as his deportment on it. Fortunately, McGuire was replaced by Dean Smith, and what Brown learned from Smith was something even more profound. He learned that The Right Way created a basketball family every bit as tight and as loyal as his own, maybe tighter and more loyal. Family was everything, and basketball was family.
To his admirers, it is as much the essence of Larry Brown as it is of Dean Smith. He is fiercely loyal, and he thinks not only of his team but of his coaching tree as family. As assistant coach Jankovich puts it, "He's very gracious to so many people." Brown and Calipari even instituted a yearly retreat, ostensibly to bring coaches together to share ideas, but also to help out-of-work coaches network. And Brown is constantly making calls to members of his "tree" trying to find positions for friends. In fact, when you ask Brown about the role that Judaism may have played in his career, he mentions Knicks coach Red Holzman, a fellow Jew, occasionally stopping at the court where Brown and other Long Beach Jews played basketball, but mainly he mentions the way that Jewish immigrants took care of one another when they settled in New York.
And that's precisely what mystifies some people. How can Brown continually go to a team, preach the idea of family, and then abandon it? And that is also what has prompted some amateur psychologists to attribute Brown's apparent dissatisfactions and his restlessness to a fear of getting too close and then being abandoned again as he was by his father, or to his fear that the family will eventually disappoint him, as families invariably do, and so he better leave before it does. Whether these are the demons that are supposed to haunt him, one family friend from childhood once described young Larry to Gary Smith of Sports Illustrated as ineffably sad, with "rings under those big dark eyes that made him look like he was going to cry."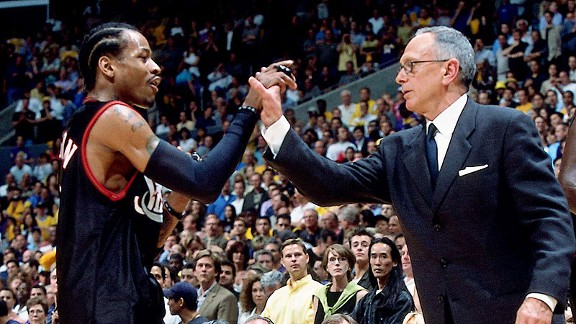 Brown dismisses all the psychologizing. In the first place, he says that far from being tortured and glum, "I love every moment that I'm around," which may seem a bit Pollyannish for someone who has so much trouble staying put. In the second place, he says that he always had a reason for leaving every situation, a "really good reason." He left UCLA because J.D. Morgan, the athletic director who had hired him, died. He left Kansas because his wife at the time didn't like it and his marriage was falling apart. He left San Antonio after management had made some changes that disturbed the chemistry and, more, disturbed David Robinson, who is, says Brown, "a very sensitive kid." When the team got off to a slow start, owner Red McCombs called Brown early one morning and asked him to his office, where he fired him. Told about the firing, Gregg Popovich, a Brown assistant and one of his closest friends, remonstrated with McCombs to rehire Brown, which McCombs tried, but Brown felt it was time to go. Within two hours of the firing, Brown got a call from the Clippers. The offer had an unexpected bonus. While house hunting in L.A., Brown met his third and current wife, Shelly, who was the Realtor. "If she comes with the house, we've got a sale," he joked to a friend who had introduced them.
There were other times when Brown left because he and his superiors didn't see eye to eye or he felt undermined or, in Detroit, he had what he calls a "revision" to his hip surgery and his bladder shut down. (He wound up at the Mayo Clinic, where doctors thought they saw a cancerous spot, even while the Pistons brass felt he hadn't needed the hip surgery in the first place and that he might be malingering to get out of town.) In short, Brown says he never left a job on impulse or to seek greener pastures or to assuage those alleged demons lurking in his soul. In fact, Brown professes to have liked just about everyone for whom he worked, even the Knicks' Jim Dolan, who all but called Brown crazy.
And Brown goes even further. If there were problems along the way, Brown says, "I blame myself." Wanting so desperately to be part of a family, wanting so desperately for things to be harmonious and happy, something he has seldom had in his personal life, he admits, "I always followed the chain of command" rather than try to form a "personal relationship" with ownership. Brown says that having that relationship would have been disrespectful to management and presumptuous of him. "Every owner that I ever worked for wanted me to have a relationship with him," Brown says, "and with very few did I feel like I could do it and [not] overstep my bounds." And again, Brown talks about a "vision of how it works." In the vision, the entire organization is a band of brothers. "There can't be any separation," he says. Everyone in the executive suite as well as on the court works together. Everyone understands The Right Way. There is no infighting or dissension. His model now is San Antonio, where they are "all my guys."
But none of that really explains what he is doing at SMU. To begin to understand that, you have to understand not only that he loves basketball, but also just how much Larry Brown loves basketball; how obsessive he is about basketball; how, when he goes for his long daily walks with members of his staff, he talks basketball incessantly; how, as he and Jankovich begin comparing notes before practice, the hours melt away; how, when he was a senior at Carolina, he was briefly suspended for making an illegal turn, which Coach Smith erroneously believed was due to drinking, and Brown thought "my life was over." You have to understand how deeply he has internalized basketball so that he is utterly bereft without it. And you have to understand what happened when it was taken away from him after more than 50 years, and when he doubted he could ever get it back. You have to understand that for the first time in his life, Larry Brown was in basketball exile.