God Needs a Hobby
Thirty-six hours on the road — and in the bar — with exiled TV genius Dan Harmon
By Alex Pappademas on
Don't cry for Dan Harmon. Yes, he's still the most famously unemployed writer in television. Yes, two people who are not Dan Harmon are now running Community, the cult sitcom Harmon created in 2009 and was fired from by NBC three years later.1 But things are looking up. A few days ago, Harmon handed in a pilot script to CBS. Today they called and said they liked it, that everybody liked it, all the way up the chain to Les Moonves, the president of the network. There's a certain Famous Comedic Actor on whose participation the show's future kind of depends, but that's between the network and the Famous Comedic Actor's agents. And there's still the small matter of the other pilot script Harmon's supposed to be writing, the one he owes to Fox, the one he jokes about not having written a word of, the one of which he maybe really hasn't written a word yet — but that'll happen when it happens.
Right now it's dusk in Portland, Oregon. Harmon's had a couple of afternoon drinks, and now his old friend Robby is driving Harmon, Harmon's girlfriend Erin McGathy, a documentary filmmaker named Neil Berkeley, and me across the Willamette River in a Mercedes, to a comedy club above a bike store, where Harmon and his partner Jeff Davis will get onstage and record a live podcast called Harmontown in front of a sold-out crowd that has paid money to watch Harmon drink more drinks and say whatever comes into his head.
Harmon tells Neil the news about the pilot, and there's some talk about whether Sumner Redstone is Les Moonves's boss or it's the other way around, and about what an excellently wizardy-sounding name "Sumner Redstone" is, and then Berkeley says, referring to the pilot, "So, what happens next?"
"Well," Harmon says, like a seasoned television veteran about to drop some hard-won knowledge, "now Les Moonves has to go to the Temple of Mumm-Ra and turn into Sumner Redstone — they're both mummies, but one's bigger than the other — and fight Lion-O. Then I have to use the Sword of Omens to get Sight Beyond Sight. And if I'm approved by Panthro, I will go to green-light on Endor. Which — a lot of people don't know this — is just a moon. Just a moon. Feels like a planet.
"This is how TV works," he says. "It's all run by a giant diamond robot named Sal Whitwind, who was once human but who encased himself in diamonds so that he'd survive in space … "
"His cheeks are always red, but ice-cold," Erin says.
" … and he has a giant umbilical cable going from his crotch to the stratosphere, which depletes the ozone but provides entertainment," Harmon says. "And once he's done filling the Earth with television, he will start to fuck Jupiter with his giant robot dick. Terraforming, they call it — brought to you by Snickers! What was the real question? You wanted to know what happens? You get a production order for a pilot, and then the pilot either gets picked up or not. A series order. Could be six, could be nine, could be 13 — all that stuff still confuses me. Then you eat the fat of an unbaptized baby."
Like I said — he's had a couple of drinks. He and Erin keep kicking the joke back and forth, making each other laugh. The sun is going down; the network-television development process seems far away and abstract, something for giant insane diamond-skinned robots to worry about. Harmon is in a state of grace. On January 3, he turned 40 years old; one week later he and Davis and McGathy and a small group of co-conspirators boarded a bus and set out on a 20-city tour. Harmoncountry, as it's been hashtagged, is a three-week birthday party for Harmon — a Viking funeral for his youth, after which McGathy will move into his house in Los Feliz and they will begin the process of getting a puppy. It's a chance for him to get out there and meet his fans, and accept their hugs and their fan art and their homemade baklava, and sign whatever they put in front of him, and repay some of the love-hours they've put into his work over the years. And it's an excuse for him to put off writing — a process he's compared to being locked in a prison cell with God and letting Him have His way with you — and sail across this great nation on a river of Ketel One. Not necessarily in that order.
These days the people who make television are expected, for a variety of promotional and fan base–stroking reasons, to engage in something resembling dialogue with their viewers. But Harmon was the first showrunner who seemed like he was creating a TV show in order to have that dialogue. Community was Harmon shooting off a flare gun to attract like-minded weirdos, articulating a worldview — institutions are bad, individuals are good, normalcy is an illusion, people who feel uncomfortable on the planet constitute a kind of sociocultural 99 percent, what we all have in common is our brokenness. Every character represented a facet of his personality; every episode was packed with callbacks and homages and fractalized sub-references aimed at people who, like him, had been warped and saved by pop culture at an early age. And he wanted us to know he was doing this. He didn't just want the attention that came from blogging, tweeting, Reddit-ing, and annotating every episode for the A.V. Club — he seemed to need it, for reasons deeper than ego or vanity. He wanted to be out there in direct communication with the small but passionate group of people who liked his TV show because he wanted to connect.
"Other people consider it, like, a weird flood that you have to put a gate up to control; for me, it's like there's a drought," Harmon says. "There's still not enough understanding between me and other people. I don't know if there ever will be, so the more I can get, the better. I'm bad on the phone; I'm bad at therapy; I'm bad at one-on-one; I'm bad at playing board games; I'm bad at hanging out. But I'm OK at talking to people in a big group. The permission to keep rambling without having to apologize. When I put the thoughts that rattle around in my brain into a microphone and hear a bunch of other people hear them and either not react to them or laugh at them, something happens to me that makes me feel like I might live another day without an ulcer or a tumor or something. Like, I feel like I'm getting something done emotionally."
When he started doing Harmontown with Davis in 2011, it was an extension of that same impulse. The conceit, at first, was that the show was a town hall meeting, at which Harmon and the audience would discuss how to build a new and improved society, possibly as a secessionist lunar colony. Harmon was the mayor of Harmontown; Davis — an actor and improv comic who was a regular on the U.S. version of Whose Line Is It Anyway? — served as "comptroller," which in the context of Harmontown meant he sat behind a podium at stage left and did the work of an announcer, interlocutor, musical director, and traffic cop, depending on what the moment required. Davis always wore a suit and tie; Harmon dressed like the TV writer he was, usually in jeans and something plaid and wrinkled. He'd show up without a plan, drink Ketel on the rocks out of a red Solo cup, and say and do whatever he could think of to provide the audience with $10 worth of entertainment. Davis was in charge of flow, judging when to bail Harmon out of a spiraling tangent or let him dangle for the audience's amusement.2
Harmon was still doing Community back then, and sometimes he'd take questions about the show — and speak candidly about the frustrations of producing a low-rated network sitcom. "When I'd feel like a fraud, or like I didn't do a good job on this or that episode, I would talk frankly about it," he says. "And I would say to the audience: 'Please don't record this and YouTube it. Let's have a social contract where, because you won't do that, I'll continue to feel free to talk about this stuff.'"
And what happened at Harmontown stayed at Harmontown, until early 2012, when Harmon played the crowd some angry voice mails from a seemingly inebriated Chevy Chase — they were feuding, and Harmon had insulted him in public at a Community wrap party. Someone posted audio from the show in a Harmontown thread on Reddit; the story jumped from there to Deadline Hollywood to TMZ.
Within a few weeks, NBC had fired Harmon as showrunner of Community. It wasn't because of the Chase thing — "They were like, 'Who gives a shit?' about that," Harmon says. Under Harmon's stewardship, the show was consistently over schedule and over budget and didn't pull the kind of ratings that would have made those issues ignorable; Harmon doesn't dispute this. (Hang out with Harmon long enough and eventually he'll talk about why he was fired, ping-ponging between self-deprecation and self-aggrandizement within the space of a sentence; you've heard most of it before.) With the leak of the Chase thing, Harmon says, "the perimeter had been breached"; plus he no longer had a job to protect. They began posting each Harmontown show online in July.
"There is nothing interesting left for me to say," Harmon announces near the beginning of the first episode. "I am Ace Rothstein in late Act II of Casino: 'And another thing, Mr. Governor … !' I'm third-act Lenny Bruce."
This was a rare example of false modesty on Harmon's part. He always has something to say. You could tell that being fired, and being at the center of a minor media circus as a result of having been fired, was unpleasant and weird for a guy like Harmon, that it was a little like Charlie Kaufman entering a Malkovich portal and becoming Charlie Sheen — but it was clear there had been something magical and transformative about it, too. On that first podcast, he spoke of "achieving weightlessness." He was Sheen, a little bit, but at certain moments he was also the disc jockey Dick "Pepsodent" Gibson in Stanley Elkin's novel The Dick Gibson Show, dismissed from a strange radio gig in Nebraska, drifting home by bus, lost and elated. "There's a certain kind of disgrace," Gibson says, "in declining fortunes."
And a certain kind of excitement in disgrace. This was a sort of ill health — an illness of recuperation. Oh, how weak I was, how vulnerable to everything. Dizzy as a lover. My pores were open, goners to drafts. I mean my spirit was such that I could have caught cold or picked up bad germs. Just to stand up straight made me giddy … I had this power of the has-been like a secret weapon. How sweet is weakness! How grand it makes us feel when we really feel it, how happy and how solemn!
If you listen back to the last year or so of Harmontown podcasts, one of the things you'll hear is a fired TV writer taking refuge in the arms of his superfans, retreating to the nerd-cave to go on breakneck conversational tears about Joseph Campbell and RoboCop and race and writing and evolution for a self-selecting audience that can't get enough of his hyperarticulate bullshitting. The fact that this show was born in the back of a comic-book shop is symbolically crucial; Harmontown is a geek utopia, a Dreamatorium, a place where a Neil Gaiman joke gets a laugh and a sub-reference to Ford Prefect within that joke gets a bigger laugh.
It's a place where people will pay to watch Harmon, Davis, McGathy, and the occasional almost-celebrity guest (Greg Proops!) play Dungeons & Dragons onstage, as they do at every show, with help from a Dungeon Master named Spencer Crittenden, a burly, bearded, Sphinx-ishly deadpan 23-year-old who resembles a River's Edge extra but actually works in the stockroom of an Apple Store in Simi Valley. One night Harmon — who was heavy into D&D when he was a kid3 — asked if there were any DMs in the crowd who could help set up a campaign; Crittenden raised his hand. Since then, he's been a part of every show; he's become a cult figure4 and the subject of lovingly detailed fan art; Harmontown is the kind of place where of course a guy like Spencer becomes an instant star.
But it's also a place where Harmon can be honest. About everything. Dig into the archives and you'll learn about how frequently Harmon poops his pants (more than you'd expect), and about his panic attacks, and his fetishes (red hair and nylons, first and foremost). You'll learn that he's hopelessly devoted to the people who are hopelessly devoted to his work — that he reads comment threads, peruses the fan Tumblrs where his quotes and blog posts and Instagram pictures are clearinghoused,5 and sees no point in lying about it.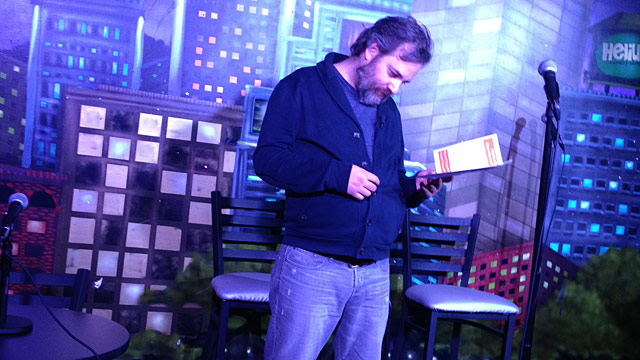 You'll also learn that Dan smokes weed — it's L.A., he has a prescription — and that much of the second season of Community was brought to you by Adderall, and that he does cocaine on occasion, when it's around, usually to stay awake and keep drinking, even though he feels it's a "grody, Don Johnson–y" drug to take. You'll learn what he and McGathy fight about, and occasionally you'll hear them fight. No subject is too small — in the weeks leading up to the tour, Harmon started doing a regular feature called "Things Dan's Afraid to Complain About Because It'll Make Me Sound Like an Asshole" (example: Dan and his decorator both agree that Dan's gardener is doing a bad job).
It's not stand-up, it's not theater, and it's not a lecture, although sometimes it feels like all those things. (Maybe not theater.) It's filed under "comedy" in iTunes, which isn't wrong, but its best moments belong in some imaginary genre alongside books like Ben Lerner's Leaving the Atocha Station and Sheila Heti's How Should a Person Be?, the parts of Marc Maron's WTF podcast where you're listening to Marc Maron talk to himself about Marc Maron, the self-deconstructive nonfiction of David Shields's last few books, maybe the instantly legendary "cancer set" comedian Tig Notaro recorded at Largo last year, maybe Frank Ocean's Channel ORANGE — autobiographical work that derives its charge from a compulsion to confess, narrated from an in-the-moment POV by people not particularly concerned with their likability.
So Harmon gets up onstage, confesses to the crime of being Dan Harmon — bad boyfriend, high-functioning alcoholic, approval-hungry self-Googling6 mansion-owning gardener-having man-baby, petty, loathsome human — and somehow the results are cathartic and funny, and the essential truth that we are all shitty people and therefore we are all in this together is affirmed.7 Sometimes it's like being at a weird college seminar run by a substitute teacher in the middle of a drunken meltdown and sometimes it's like hanging out in Dan Harmon's living room. Sometimes people from the audience wander onstage; sometimes when this happens (or when Jeff says something like How's everybody doing tonight? and Harmon interrupts and tells the crowd that they don't have to answer that with applause if they don't want to) it feels like all the basic assumptions and rules of entertainment are up for debate. It's almost never boring, it's usually funny, and whenever the energy flags, Jeff Davis will cue up a hip-hop beat on his iPad and Harmon will start freestyle rapping, usually about fucking somebody's mom, and dancing like a 3-year-old in footie pajamas who's been allowed to stay up late to put on a show for cocktail-party guests.
"We've asked ourselves what the point of Harmontown is," Jeff Davis says. "Dan's never really had a good answer for it yet. [But] I really think it's the idea that self-love and self-hatred are the same thing. Dan hates himself; he also worships himself, and the fact that 90 people will come to every show that we do, and they'll love him — I think it's an experiment in finding out whether or not those people are being sincere. 'Do they really like me, or do they like the idea of me? Am I good person? What if I came out onstage and didn't do a show? What if I just rapped about fucking your mother? What if I didn't do anything? What if I took my shirt off, and I'm fat? What if I go off my diet? What if my girlfriend came out and told you I called her a c---?8 Would you still like me?'"
Which is how you get to something like the Sharpie story. It happened late last August. I was in the audience; so, for some reason, was a man Harmon introduced — midway through the conversation I'm about to describe, rendering it that much more bizarre — as Henry Kissinger's son.
Davis and Harmon had been talking about Harmon's fetishes, and specifically about a phase of intense solo sexual exploration Harmon went through in the '90s, in which Harmon attempted to streamline his sex life by figuring out exactly what he was and wasn't into. Harmon detailed his crush on Cynthia Kereluk, a Canadian aerobics instructor from the '80s; Davis told a story about driving with Harmon to buy a cardboard box of tights-and-pantyhose fetish-porn videos from a sketchy guy in the parking lot of the El Pollo Loco on Sunset and La Brea. This led to a conversation about a period in which Harmon was into mannequin parts, and then — while they were on the subject, just to get it out of the way — Harmon volunteered that around the same time, he'd purchased a RealDoll.
Everyone knew right away that he wasn't joking, and nobody laughed. I don't think I've ever heard a room go quiet that fast; it was like we were on a spaceship on which some kind of explosive decompression had occurred. There was a split-second pause that felt like it weighed a thousand pounds. "It costs a lot of money," he explained, "and they send you a fake woman in a crate." (He'd just sold a pilot to Fox and was flush with cash.) Jeff joked about how nobody saw Dan for three months after that, and then told a story about trying on a girlfriend's fishnets, and then Harmon said, "Uh, you know what I did once?"
Then he said that what he was about to say was something he'd never told anybody, except the Community writers' room, in hopes of fostering a climate of openness and write-what-you-know confessionalism. Suddenly the air was charged: What else could he possibly say? Harmon savored the moment: "Isn't that a refreshing thing, though?" he said to Davis. "To not know for sure that what I'm about to say isn't going to make your eyes fall out of your head?"
"I used to fuck a plastic lady, but here's something I've never told anybody," Davis said.
And then he told the Sharpie story. Harmon read something in Penthouse's advice column about prostate stimulation, decided to try it: "I thought, I'm not gonna put my finger in there, because it's a butt. That's gross … So it's foreign-object time." The story itself isn't that important. He keistered the Sharpie, he masturbated, he finished, he immediately lost interest in having things in his butt and threw the Sharpie away.9 The point was the tension before the story — the raising of the possibility that what Harmon might say next would be genuinely horrifying, would violate the strictures of entertainment in some irreparable way and ruin everybody's night.
Where was he going with this? Was it somewhere we'd want to go? Would we regret having come here tonight, would we leave hating Dan Harmon and too weirded-out to watch his stuff anymore? When he told the story and it turned out to be merely gross and absurd — as all envelope-pushing jerking-off stories tend to be — the laughs it got were one long rolling sigh of relief, like we'd just watched Harmon bring a plane down safely on one engine. All of us in that room were together and alive in that moment, and I swear to you that if we'd tried we could have levitated that comic-book store with our minds — although, at some point soon thereafter, I noticed that Henry Kissinger's son had left the room. He never came back.