How Soccer Explains Israel
Jerusalem's FC Beitar signed two Muslim players from Russia in February and — intentionally or not — stirred a national controversy
By Amos Barshad on
On the last Saturday in January, with most of Israel shut down for Shabbat, Beitar Jerusalem FC — the only soccer team in the Israeli Premier League to have never signed an Arab player — announced that it had picked up two Muslim players from Chechnya: Dzhabrail Kadiyev, 19, and Zaur Sadayev, 23. The first response from fans was nonviolent but brutal: At the team's next match, members of Beitar's proudly racist ultras group La Familia unfurled a giant yellow banner in Teddy Stadium's Eastern grandstand. It read, in a surreal echo of Nazi terminology: "Beitar Will Be Pure Forever." The next response was arson.
In the early morning of February 8, two men (later identified as members of La Familia) hopped a 10-foot steel fence outside Beitar's offices, smashed a window, poured gasoline through the glass shards, and set fire to the room. The room belonged to building superintendent Meir Harush, who had spent nearly 20 years fashioning his office into an unofficial Beitar museum. Game-used cleats, signed jerseys, and championship trophies all went up in flames, and what had long been Israeli soccer's secret little shame catapulted itself into the nation's consciousness. That evening, the Channel 2 nightly news dedicated half its program to the story. Beitar assistant coach Jan Talesnikov, clearly shaken, suggested on air that if "they're burning buildings now" they might just "burn people next." Even prime minister Benjamin Netanyahu weighed in. "We cannot countenance such racism," he said. "The Jewish people, who suffered from boycotts and ostracism, must be a light unto the nations."
By Beitar's telling, La Familia represents a small, disproportionately loud sliver of the crowd at Teddy, a sliver that bullies, intimidates, and disrupts the peaceful majority. "There are 500 fans here who hold the entire club as hostages," general manager Itzik Kornfein said days after the signing. "A few hundred who hold tens of thousand of hostages." It's a sliver the team has attempted to contain before. As recently as 2005, they signed Ibrahim Nadallah, a Nigerian Muslim. He lasted half a season, saying, in a quote that has been gleefully re-created on La Familia banners, "I don't recommend a Muslim to join Beitar — the extremists won't change." But after the fire, the consensus quietly insisted it was time to take a stand.
"Every time there was an opportunity to bring Arab players to Beitar Jerusalem, a group of fans would fight it and the team would break backwards," Shlomi Barzel, a veteran sportswriter for the Israeli newspaper Haaretz, told me. "This time the club said, 'We're not breaking. Doesn't matter what will happen, we're not breaking.' For the first time the club didn't get scared." As much as La Familia spat and cursed and burned, Beitar had decided the Chechens would stay.
All of which loomed over Beitar's next match, its first with Kadiyev and Sadayev. The next Sunday night, at Teddy, Beitar was scheduled to play Bnei Sakhnin, the league's foremost Arab team. Knowing how combustible the post-signing atmosphere could be, Beitar lobbied the Israeli Football Association for permission to play matches without fans — a common punishment enforced against clubs for the violent or racist transgressions of their fans, but one that is almost never requested by a team. The club had actually filed its request beginning with the game before the Sakhnin contest, and perhaps would have kept its fans from attending several matches had the association not demurred. Instead, the IFA decided to bar only a handful of specific supporters, and the Israeli national police mobilized more than 700 officers for the Sakhnin match, including special patrol units, border police, and undercover agents. Teddy braced for impact.
On the train to the stadium for the Bnei Sakhnin game, I come across my first batch of diehards. A group of about 15 teenagers — in track jackets, white sneakers, kippahs, and the glaring yellow and black of Beitar Jerusalem — happily rumbles into the car. "We came with a purpose — to see sport, to see soccer," Moshiko, who looks about 16, tells me. "Not politics, not to curse Arabs, not to curse Jews. We're against racism, against violence — the whole word 'racism,' everything to do with it, we're against." And when the racist chants start? "We don't sing. We shut our eyes and ignore it." Another boy, Dan, interjects: "But [Bnei Sakhnin supporters] have to weigh their words. Don't let them yell mavet" — death — "to the Jews."
As for the burning of the Beitar offices, they equivocate. "Go'al nefesh" — a horror of the soul — but "believe me, it's happened lots of times," Noam insists, vaguely. "They" — an undefined "they" — "have burned clubs, they have burned history." And who did it this time? "Probably Sakhnin fans. They waited until there was balagan" — trouble — "at Beitar and then they could do what they want."
Onel, a smiley, slightly cross-eyed kid, is not so sure. The signing of the Chechens, he says, "was playing with matches next to benzene." It's a nicely phrased sentence, and I ask him to repeat it, to make sure I understood the Hebrew. And then the hoots and hollers start. Moshiko steps in: "What, he said something smart! Let him show off! Show it to Obama — we're not a racist group! We're not a racist group!"
A 20-minute drive from the sloped, twisted alleyways and ancient stone walls of Jerusalem's Old City is Teddy Stadium, a utilitarian white-brick and cement structure. Across the street is the Malha Mall, where, after a March 2012 Beitar win, fans stormed the food court, chanting "Muhammad is dead" and assaulting Arab workers. Ringing the stadium are dirt lots and idle construction sites marked off by rickety makeshift fences. And, tonight at least, there are cops — in trucks, on horses, in battalion formation. They mostly look bored; a few are eating pitas. Several TV news crews have also arrived to cover the game, and the cameramen dart around, ready to capture anyone willing to offer a sharply worded opinion.
Outside the stadium, three teenagers are handing out flyers. They read: "Beitar, the flag of the country, racism destroys every corner." I ask one of the kids how long they've been fighting racism. He can't be much older than 14, although he answers, sullenly and through a cheek full of sunflower seeds:1 "Forty years. Sixty years."
Nearby, a fortysomething man offering a placid explanation of the situation to a cameraman is bumrushed by a twentysomething with the slick-gelled faux-hawk, three-day stubble, and diamond earrings characteristic of the arse — a particularly useful Hebrew word for the kind of foolhardy young man you wouldn't want dating your daughter. "It's good this happens?" the arse yells over a string of car horns while lighting a cigarette. "All this balagan? There's a media that wants to ruin the team!"
The cameraman tries to rein in this explosive little gift. "We're German TV," he says. "We don't know the whole situation — " He's cut off by a small man standing behind me, in sandals and shorts, yelling "Nazi!"
I ask another portly arse nearby how they'll react to Kadiyev and Sadayev. "We'll continue coming to games, and we'll continue behaving how we behave," he says. And how's that? "What do you mean, 'how's that?' We'll keep doing what we do." A pause, and then: "We're against the Arabs!"
Down the road a peace protest is taking place. About 35 people are huddled together behind a banner that reads "Beitar — Tolerant Forever." They're holding yellow balloons while Avraham Burg, a former Speaker of the Knesset,2 talks into a microphone: "If the question is, could you have stopped these things 10 years ago, when they were small, the answer is yes. And if we don't do anything today, we'll come back in another 10 years and they'll say, why did you come 20 years too late?" Then, from across the street, comes a fusillade of sonic warfare — two guys in a beat-up gray sedan, cursing Berg and laying on a car horn. The cops move in, swiftly but not emphatically, and quiet them. Two nearby hot dog vendors have been watching the scene, and they can't stop laughing.
A few minutes later, a new speaker takes the microphone and pleads for "patience, patience, patience." A pair of border police walk by and one mutters, without almost any emotion, "Patience for your mother, you bat zona." Technically, the term means "daughter of a whore," but a better English equivalent would be "motherfucker." Then Avi, one of the hot dog vendors, offers his opinion: "Arcadi" — that'd be Arcadi Gaydamak, Beitar's absentee Russian billionaire owner — "wanted headlines. Publicity. Action. They knew what would happen." But never mind that — "the time is here that there would be a Muslim player on Beitar." His pal, laughing once again, says to Avi: "God will burn you, you dog, you garbage!" In the moment, I can't tell if he's joking.
Over by the main gate a crew of Bnei Sakhnin supporters have assembled. Police escorted most of the Sakhnin fans to their seats, but these guys don't look too troubled to be on their own. One directs traffic with a smile, calling out orders in Arabic as he helps his buds pick up tickets.
He says he believes the team is changing. He says Beitar finally got the right owner and the right coach. It's a cautious kind of optimism. "The guys who ruin the office, who ruin history — they call them fans," he says. "But the supporters of Sakhnin — we say 'Allahu Akbar' — it's a legal word, totally legitimate. And they say 'terrorist.'"
Not far away from the Sakhnin fans I find Elad, a solidly built man huffing his way to the stadium with a group of friends. He's pissed, and he blames Gaydamak, the owner: "He said it's only to make history in Beitar. He wants to destroy our team. That's it. But it won't last. One week, two week — the Chechens will be gone. It won't pass in silence."
But don't you care to see how they play first? "We don't want Muslims on the team," Elad says. "Doesn't matter how they play."
Right before I enter Teddy, I meet a cheerful, wizened little man who's been following Beitar for 40 years. He says he's a saroof supporter — colloquially meaning "fanatic," but literally meaning "burned." "In the rain, whenever — I'm there. Saroof!" He likes Kadiyev. "The kid'll be a star," he says. "They put him in today and he scores a goal, he's bought his world in Beitar." I ask what he thinks will happen with La Familia. Would they really just stop coming to games? "If they'll come," he says, "they'll come quiet. They'll come like cats." And then, as we say good-bye: "They call me Erez, I'm from Hod Hasharon, and I fear no one."
You could start in 1923, at a Jewish youth meeting in Latvia, when the hardline movement Beitar was founded to promote the creation of the State of Israel. You could start in 1936, when Beitar spawned a soccer club, Beitar Jerusalem FC, in what was then the British Mandate of Palestine. You could start in 1948, when Israel was founded through military action — known as the War of Independence on one side of the conflict and the Catastrophe on the other — against Syria, Egypt, Iraq, and Jordan. You could start at any point since then, as Beitar Jerusalem, with its crest of the menorah and its cry of "Beitar Forever," has become an uneasy symbol of the city. And you'd still have a hard time explaining what the hell is going on here.
The Beitar movement was founded by Ze'ev Jabotinsky, a Ukrainian war reporter turned militaristic Zionist. To Jabotinsky, the only response to Europe's murderous anti-Semitism was the training and arming of the Jews. Beitar's oath, as stipulated by Ze'ev, read, "I devote my life to the rebirth of the Jewish State."
During World War II Beitar sent scores of ships carrying Jewish refugees, illegally, into Palestine. Politically, the group enjoyed its greatest success in 1977, when Menachem Begin, leader of the Polish branch of Beitar, became Israel's prime minister. For the past few decades, however, Beitar has been a political nonentity. There's an active chapter in South Euclid, Ohio, and not much else of any consequence.
That a soccer team would be associated with a lapsed political movement is not as strange as it might sound. Most Israeli sports clubs have political affiliations: Maccabi teams were traditionally associated with the right wing, Hapoel with the Socialist left. The affiliations are vestigial now, but the Beitar extremists at Teddy seem to see themselves as carriers of a cooked-down version of Jabotinsky's message — even if many La Familia members wouldn't be able or willing to articulate it as such. They are the defenders of Israel, the land of the Jews. And they believe that the soccer team of Jerusalem, the capital of the Jewish people, should belong only to Jews.
In January, Israelis went to the polls for the most recent national elections, and what was supposed to be a landslide for Netanyahu's right-wing party, Likud, was mitigated by the surprising turnout for Yesh Atid, a centrist party fronted by former TV news personality Yair Lapid. The optimist would take that to mean the country isn't drifting away from the prospects of peace talks, as was widely assumed as recently as December. The pessimist would point out that Lapid himself is no dove.
Not that any of that really matters for what we're talking about here. At any given time, Israel's hopes for peace reside somewhere along a spectrum. Where exactly they reside on that spectrum, and where exactly they should reside on that spectrum, is constantly being debated by — and I don't mean to exaggerate here — everyone. But the fault lines have been the same since 1948. And Beitar vs. La Familia exists on those familiar fault lines.
"If you ask most fans of Beitar, do you want an Arab player? The answer is 'no,'" Barzel, the Haaretz sportswriter, told me. "Will they protest? No, they won't protest. If the team decides that an Arab player will play, most will accept it. La Familia — these are a specific socioeconomic cut. Really uneducated people, failed people. And you ask them, do you want an Arab player? 'No!' Will you protest? 'Of course, of course!'"
Never mind that Kadiyev and Sadayev aren't Arabs, and that Muslim Chechens have their own tragic history of ethnic strife — a secessionist battle with Russia that has nothing to do with the Arab-Israeli conflict. For La Familia's purposes, Kadiyev and Sadayev represent the enemy, and the battle has to be fought in the stands at Teddy.
In America, we struggle sometimes to ascribe significance to sports. In Israel, the significance can suffocate.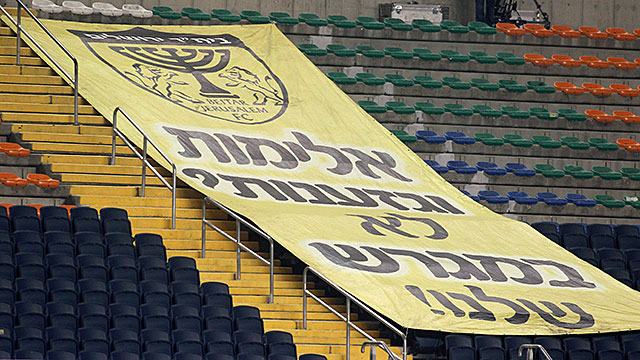 Inside the stadium, Beitar Jerusalem sprints onto the pitch for warm-ups, and for a few seconds I can't believe so few people are making this much noise. Whistles are the preferred tool, some of the physical kind but many more of the two-fingers-in-the-mouth variety. A staccato burst peals out: "Fuck you, fuck you, Kadiyev!" If Sadayev hadn't been out with an injury, that one presumably would have lasted longer.
I'm in the Northwest grandstand, looking at an empty Eastern section. Following the "Pure Forever" banner, the Israel Football Association censured Beitar on charges of racism. The punishment was a five-game shutdown of the Eastern and a 50,000-shekel fine — about $13,400. Where La Familia would usually be present, there's a sign reading: "The Eastern Is Against Racism."
I start talking with the guy next to me, a lifelong Beitar diehard named Alon who also happens to be a political science grad student specializing in extreme ideologies. He fills me in on the regular protocol at Teddy. "The top part of the Eastern — that's the violent fans, the ardent fans," he says. "We" — the non-extremists — "sit over there, too, in the lower part. In regular games you see those sides shouting at each other." I ask why he thinks the team has dug in for this fight. He tells me it was the "Pure Forever" banner. "It shocked everyone. As Jews. In Israel. Pure?"
Tonight most of the Eastern transplants have relocated near us, in the Northwest.3 The majority of the more sane fans gather in the sections to my left and right. They're banging drums and waving anti-racism signs. To my far left are the Sakhnin fans, in red and white — sequestered for their own safety. All around me, cops are dragging kids out by their jacket collars.
In front of me, a sharply worded, multi-person argument about the Chechens is taking place, but without much hint of violence. "I'm explaining that Arab and Muslim isn't the same," a guy with a shaved head and a yellow bubble jacket says. "We need to respect all religions. A Muslim player can play on Beitar. He prays in a mosque, everything's good and pretty. But he's playing for Beitar, he's playing for the symbol of the menorah." He tugs and yanks at the fabric around his heart: "So the minute you talk about an Arab, I do have a problem with it. Now if an Arab comes and says, 'I recognize the State of Israel and I recognize Jerusalem as the capital of the Jewish nation … ' But let's be honest — no Arab will do this."
Meanwhile, the Northwest chants toward the Sakhnin fans: "The Temple Mount is in our hands! The Temple Mount is in our hands!" They're quoting the famous words of IDF commander Motta Gur, as he claimed the Old City during the 1967 Six-Day War. It's a particularly contentious phrase, touching on the origin of the occupied territories of the West Bank and Gaza as well as Israeli control of the Temple Mount, one of the holiest sites in both Judaism and Islam. The ambition of the rest of the chants isn't quite as lofty. They're mostly variations on calling Beitar general manager Itzik Kornfein4 a ben zona — son of a whore.
There's the simple "Itzik's a ben zona." There's the more direct "Itzik, your mother's a zona." There's the impressively self-aware "Itzik Kornfein, it's not the minority — the entire crowd hates you!" And there's also a long, singsong one, the culmination of which is "Itzik resign, we don't want you anymore! Go home, you ben zona cop!" (Believe me that it rhymes in Hebrew.)
Peppered liberally through the section are crudely printed "Itzik, Resign" T-shirts. Hanging over a railing behind me is a 7-year-old with a buzz cut, and he's screaming along with as much fervor as anyone. On the ground below him are piles and piles of makeshift yellow confetti. They are the ripped shards of flyers handed out earlier, which read: "We are asking you to focus solely on cheering on the team, and encouraging them forward, with no reference to the opposing team's identity."
Amid the ceaseless chanting, it's easy to miss that the game has actually started. Kadiyev's on the bench and not yet a target for the extremists. Besides, the Beitar fans have a bigger problem right now. Sakhnin striker Mohammed Kalibat has been breaking away from the kickoff, and by the 27th minute he finds himself on the right side of the field with the ball at his feet and a full head of steam. Once inside the box he feints right, then squirrels left past two Beitar defenders, and fires a dribbler that bounces into the back of the net. Mayhem. He trips and falls on the shot, then hops to his feet and sprints to his nearest corner to find the elated Sakhnin supporters, who are dancing in the aisles. He dives to his knees then puts two palms down and kisses the ground. Meanwhile, his teammates gather behind him and lock into a bit of choreography, bouncing on their heels in a circle and raising their arms to the sky.
The Northwest responds by doubling down on Kornfein: "Itzik, you ruined the team!" But 10 minutes later the wind is taken out of their sails when Kalibat receives a beautiful feed on the right wing and barrels down on Beitar's keeper for another shot. The goalie stops it, but the ball rebounds back to Kalibat's left foot, and this time he buries it in the top left corner. Teddy is stunned.
Hands fly to foreheads, fans stomp away in disbelief, anguished cries of "oish" ring out. Next to me, a kid who'd just been screaming "Itzik, you're a ben zona!" drops down to his seat, wraps his hands around his all-black kippah, and rocks back and forth. Another supporter is lamenting, to no one in particular: "We were good before all this balagan! Why did we need all this balagan?!" At halftime, with Beitar heading into the locker room down 2-0, the stadium has gone quiet and I can cleanly hear the sharp sound of peace protest balloons being popped.