King of the Nerds
A not-so-brief conversation with the writer behind Lost, Prometheus, and this weekend's box office–dominating Star Trek Into Darkness
By Alex Pappademas on
Damon Lindelof walks into a conference room on the Paramount Pictures lot, moving at something less than warp speed. It's the morning after the Los Angeles premiere of Star Trek Into Darkness, which Lindelof cowrote, and he seems to have left some portion of his katra behind at the after-after-party. "People were smoking inside," Lindelof reports, "which is as close to a speakeasy as Los Angeles gets. Literally, people could be doing lines of coke and I'd just be like, 'Oh — we're in L.A.' But smoking inside? Oh my God."
An assistant takes Lindelof's coffee order and we get down to business. In the course of almost two hours, Lindelof discusses the future of the Star Trek franchise, the mysterious Disney movie he's got cooking with Brad Bird and George Clooney, the TV series he hopes will be his (and your) next life-consuming obsession, and why it's sometimes necessary to annoy your fan base by keeping secrets. "I'll take the abuse until the day I die," Lindelof says. "My gravestone will say HERE LIES DAMON LINDELOF — OR DOES HE???"
Fair warning: This Q&A contains major, major, MAJOR SPOILERS for Star Trek Into Darkness, so if you haven't seen the movie yet and you're hoping to experience it with its twists intact, stop here, for real.
Has it been frustrating to be out there promoting this movie without being able to talk about who the villain is?
Yeah, yeah. At first it's kind of, ooh, you know, we're planning a surprise party for someone, and they kind of know their birthday is coming up and that some sort of shenanigan is happening, but — and they're playing along, so that's phase one. But then you enter into phase two, where it's like, "OK, come on. My birthday is tonight: What should I be wearing? How many people are in on it? Because I'm talking to my friends, and I don't know who you've invited, and is it going to be small?" Now we're into the "Let's get it over with; just tell us everything" zone.
You know, as a fan of other movies, I totally get it. I kind of feel like once a movie is actually released that if people are still being coy then, they should get punched in the face. But this weird thing happened where we were in the U.K. — you know, it'll have been out for two weeks in the U.K. by the time it comes out here. So we're in the U.K., and they want us to talk about the movie, and we can't, because whatever we say will go online. And it's like, we've sat on this stuff for so long. I'm mixing metaphors with surprise parties and Christmas morning, but it's kind of like going into your kid's room on Christmas Eve and saying, [whispers] "It's a bike. You're getting a bike." You've waited so long: You just might as well let them come down the stairs.
Yeah. I'm surprised nobody's blown it.
That Benedict is playing a bike?
That he's playing a bike, which is so weird.
It's strange.
I guess it's hard to explain.
Yeah, it is. It's like, how does that even work? And you go, "You have to see it."
He's a great actor.
You have to see it to believe it, because when you first see it and you're like, "Is it a trike? No, wait, it's only two wheels. It's a bike."
The CGI is just incredible.
It is.
The technology didn't exist to do this before.
No, when we first started explaining, that that's the big secret, he's a bike — we got blank stares. It kind of must have been what it was like for James Cameron when he was talking about that water creature in The Abyss. It's like, "What? I don't under— it has a face? How … but it's water!" "No, no, no. We have computers that will make it have a face."
Do you think keeping the secret put too much onus on it?
My perception is — and again, you know, what do I know — that there are two different groups of people. There's Trek fans, and then people who are just kind of like, "Oh yeah, I saw the first movie" — you know, the 2009 movie, J.J.'s movie — "and I really liked it, and I'm interested in this movie." Or "I didn't even see the first one, but I heard it was good." And so you're speaking to those two groups in the same voice.
The group who doesn't have any Trek lexicon doesn't care who Benedict Cumberbatch is playing, any more than I did when I saw the first Trek movie I ever saw when I was 9 years old, which was Wrath of Khan. I didn't see Star Trek: The Motion Picture, and I was coming in as a Star Wars fan. I loved it. From the moment that Chekov and Paul Winfield kind of wander into the Botany Bay on Ceti Alpha V and then Chekov starts getting really scared, I was like, "OK, this guy, whoever he is, he's scared. He's run into this dude before. This is a bad dude."
And then Montalbán shows up and just monologues about how much he hates Kirk, and I knew Kirk. So that's all I needed to know. By the time Spock dies at the end of that movie, I was deeply and profoundly emotionally affected, as much as an 8- or 9-year-old could be, because you're not supposed to do that. Like, I knew that Mr. Spock was, like, the star of Star Trek in my opinion, so: He's dead?! Like, what?! And so without any working knowledge whatsoever of Star Trek, I was able to completely and totally fundamentally accept that movie, without having to go see "Space Seed" or having anything else explained.
So we're talking to that audience for this movie, which is, you know: "Hey, Benedict Cumberbatch is a bad guy who blows shit up, and Chris Pine and Zachary Quinto are going to go and get him!" The other conversation, which is the conversation that we find ourselves having 100 times for every one time that the other conversation takes place, because they don't care, is: "Is it Khan? Are you doing Khan? Don't do Khan! You guys shouldn't do Khan! You have to do Khan." Like, it's just all different iterations of that conversation, and that started during the first movie, [which] was: "Are you going to do it? Don't do it! Do it!" Just all that.
And that's the worst thing you can say to someone. I mean, I'm not — I like watching sports, but I'm not good at them, but I consider myself to be highly competitive, and J.J. and [Into Darkness co-screenwriters] Bob [Orci] and Alex [Kurtzman] and [producer] Bryan [Burk] are all like-minded like that, and it was just — we were getting briar-patched, you know? It was a good old-fashioned Brer Rabbit–ing, when people were saying to us, "Don't do it." It was like: We either do it now, and we do it as much of a touchstone back to that original movie as possible, so that no one will ever ask us after this movie comes out again, "What are you doing from the original series?" Because it's like, that's all they were really asking us, is "When are you going to do Khan and how are you going to do Khan, and how reminiscent of The Wrath of Khan is it going to be? Are you doing 'Space Seed'1 or are you doing Wrath of Khan or are you doing both or whatever?"
Now, that question goes away, and so really, what is there left? Are people really going to be asking us, like, "So, are you going to do Gary Mitchell now, or the mirror universe, in the third movie?" OK, those things are in play, but now we've kissed the ring, y'know? We did our best version of it. I'm sure there are better versions of it, but we did our best, and now, now it can go to places that don't service the original series in a way that I don't think that we could've done in the second movie had we not leaned into the Khan of it all.
Do you really feel like this is going to put an end to the questions about which original-series things you're going to reboot?
It might or might not. There are villains and touchstones in the original series and in The Next Generation and beyond — like, yeah, it would be cool to see Borg at some point, or Ferengi. But most people just don't care about that stuff — whether or not we do it — in the way that they cared about whether or not we were going to do Khan.
And what was interesting, and when you talk to Nick Meyer — not like he's my good buddy, but I've heard him talk about Khan — and it's not like "Space Seed" was this iconic episode in the original series, and when you ask even people who are die-hard Trekkers or Trekkies or whatever the cool thing to call yourself is as a Trek fan or not, no one says, "'Space Seed' is one of my favorite episodes." It's a pretty mediocre episode, actually, of the original Trek, as far as just pure ideas go, but it's Montalbán that's amazing.
That's an amazing guest-star turn, yeah.
Yeah, exactly. I mean, the majority of that episode is basically him romancing the ship's historical expert and these crazy close-ups of her eyes and his eyes as she's under his romantic spell. And then a rather fantastic fight between Kirk and Khan, where, like, no attempt is being made whatsoever to disguise the fact that they're stuntmen. Those are the two sort of memorable takeaways.
Was it always going to be Khan? Was there another idea for what this movie was going to be?
I think that there were two conversations happening simultaneously, if memory serves. The first and foremost conversation was: to Khan or not to Khan? You know, we thought we were very clever; we had this list that we made, "Pros and Khans," but then we got really confused, because the pros and the Khans were the same thing. It was like, "OK, so, just … we'll call it 'Khans and Not-Khans' … 'Khan or Not to Khan' — and then it was like, "Fuck it! We're doing it!"
There was that conversation, of whether or not it was going to be him, and then the secondary conversation — which became the dominating conversation in terms of the early story process — was, what do we owe because we blew up Vulcan? The thing that we decided that happened was, wouldn't it be cool if Starfleet starts to militarize? They've been attacked. This crazy fucking Romulan with a drill destroys Vulcan, which is sort of the founding planet in the Federation, and then comes after Earth. So, essentially, is Starfleet going to say: "Phew! That was a close one! Now back to exploring!" No! The hawks in Starfleet are going to say: "This can never happen again. We need to start militarizing." And we thought that was a really interesting story, and in the spirit of Gene Roddenberry: "Let Star Trek basically reflect the time in which Star Trek is being written, as a 300-year-in-the-future mirror of the time that the audience is watching it."
And obviously we don't want Starfleet to militarize, so that's going to be the force of antagonism in the movie, is that that's happening, either in secret or openly. And then our protagonist is obviously the crew on the Enterprise — those guys have to fight for the soul of Starfleet somehow; they have to sort of make an argument against militarization. That being said, that's going to be a hard argument for them to make, because maybe Starfleet should be militarizing. So the bad guy in the movie is going to be a guy who's, like, going one step too far. It's Jack Nicholson in A Few Good Men. We want him on the wall, but he's lying about the code red. Spoiler alert: He's lying. Jessup is lying.
So now we've spoiled that and Wrath of Khan.
Yeah, exactly. And then we were like, "So if Starfleet's the bad guy, how does Khan fit into that mix? Somewhere in this movie, someone's going to have to say, 'As a result of the destruction of Vulcan, dot dot dot, which led to Khan being woken up earlier.'" And we didn't want to do 'Space Seed' — the original series already did that. The whole reason that we're doing these movies is these things are unfolding somewhat differently. So wouldn't it be cool if Khan actually got woken up before this movie started, and he's in play? Once we came upon that idea, then it became absolutely mandatory to call him something else, because if Kirk and the crew of the Enterprise didn't know who this guy was or were being lied to about his identity, we needed to replicate that process for the audience.
And so while none of us felt comfortable lying to the audience — you can't say, like, "He is not Khan" — we had to say, like, "He is John Harrison. He is a terrorist. He is inside Starfleet." We just wanted to make sure that when the audience went to see the movie, that they were having the same subjective experience that Kirk and Spock and the crew were, so that when Kirk and Spock and the crew hear his name for the first time, that's when the audience is — you know, the savvy audience, the fanboys and -girls — are getting confirmation of something that they really intensely suspect, but weren't sure of until it happens.
What was the best theory you heard about who it was, aside from Khan? Were there any that made you think, Wow, actually, that would have been cool?
Gary Mitchell was a popular one. But one theory was that he was Spock from the mirror universe, but he'd had reconstructive surgery done — because [Benedict Cumberbatch] looked Quintoesque enough. Can you imagine the expository scene where he has to explain, "I am you, Spock, and I had some facial reconstruction, and I'm from" — like, how could we pull off such a thing? But, you know, that was a good one.
The fans would have been mad at you for not giving him the goatee.
Of course. Yeah, that's hubris.
It's so important. To do the mirror-universe Spock without the darkest-timeline Vandyke —
I think you can not do the Latino accent, but if you don't do the goatee — and Kirk would need a 'stache.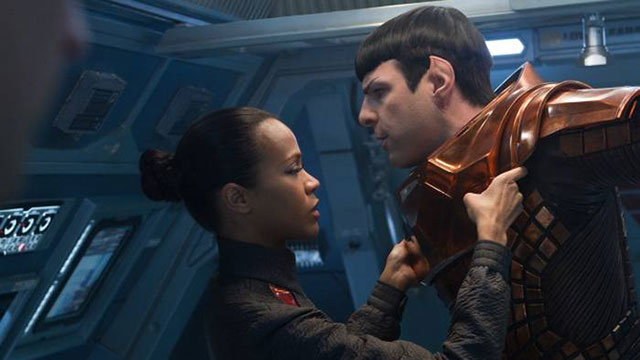 Do you know what your future is with this franchise, post-J.J.? I assume that conversation has started by now.
It started in London, yeah. Up until that point, I think that there was a fundamental understanding, like, yeah, let's keep making these. And then reality intervenes. Between the first and second movie, we were much more specific in saying, "There is going to be a second movie," but it was like, "Well, see you in a year before we even start talking about this." This time, it's a lot different, because there's no way that Paramount is going to wait four years again for the next movie to come out. J.J. taking the Star Wars gig — that's pretty much going to be two years of his life.
So for me personally, the only way that I can answer the question is, right now, what I am doing is I'm shooting this HBO pilot. Peter Berg is directing it. In New York, this summer, essentially the month of July we're shooting it, and the month of August we'll be posting it, and then HBO will decide whether or not they want to make it, and if they want to make it, I will immediately convene a writers' room, and we'll write however many episodes they order, but if it's HBO, it'll be somewhere between 10 and 13, and that will be my fall. Because if I'm running a show, that's all I can be doing. When I was doing Lost, the only movie work that I was able to do was producing the original Trek; that was during the fourth season. There also happened to be a writers' strike, which made me more available to produce Trek while it was in production, and then I did, like, a draft of Cowboys & Aliens between Seasons 5 and 6, I think, with Alex and Bob. But other than Lost, that's the only work that I was able to churn out.
So if The Leftovers goes, I don't think that I'll be able to engage on Star Trek this year, in 2013. And then on top of that, this Disney movie that I'm producing and I cowrote with Brad Bird, who's directing it, Tomorrowland, we start shooting that in August. But the real wild card for me is if The Leftovers gets picked up to series — and I hope that it does — I won't be available until, like, next spring, and I just don't know if Paramount's going to wait that long for me, and they probably shouldn't. But that's my answer to that question. I don't know what the other guys are doing — they're all kind of trying to figure things out for themselves.
Is that also why you're not going to be involved in Episode VII?
Yeah, look, I'll be completely honest with you: It's not possible. I remember what it was like to be doing Lost and how creatively immersive it was. I just couldn't really engage on anything else, other than Lost; I was just thinking about it all the time, and then there was just the pure workload, the 70- or 80-hour weeks. And Carlton [Cuse] and I were doing that show together. So, The Leftovers I'm doing with Tom Perrotta, who wrote the book. It's going to be an incredibly immersive experience — which is just a very fancy way of saying if J.J. asked me to work on Star Wars, of course I would.
But there's no way that I could be writing it, and no reason that I should be. I mean, Michael Arndt, that guy — you're just supposed to say nice things about other writers, but I worship Michael Arndt. I mean, when I first read the announcement that Disney had bought Lucasfilm and there were going to be more Star Wars films, I think, like, two days or three — maybe it was just a week later — Arndt's and [Lawrence] Kasdan's names came up, like, "These guys have actually kind of been working on Episode VII." I was, like, (a) super jealous, and (b) super psyched, in equal parts, and both of which are good signs for the movie.
And then, you know, it's easy to think that my shtick is like, oh, I'm self-deprecating and blah blah blah. That's not [my shtick] — that's what I am. Like, I really believe that I suck a lot of the time, and my Twitter feed was confirming that on the day that the Star Wars news leaked. Because there was, for a short period of time, this assumption: Because we hadn't revealed that 1952 was, in fact, Tomorrowland, that, like, 1952 — well, 5 plus 2 equals Episode VII. And so we actually had to come out and say, "1952 is not Star Wars: Episode VII."
But for that brief period of time, people weighed in on what it felt like for me to be writing a Star Wars movie. Everybody was very excited about the fact that Brad Bird might be directing one, but it was like, "Oh, good God. Keep Lindelof away." So that part of it, there's a certain degree of — like, I'm sleeping really well. Like, uncharacteristically well right now. But if I was writing on Star Wars or working on it even producerially or my name was attached to it in any official way, the fact that everyone I met and everyone that I interacted with, both in a virtual space and a real space, would be asking me: "What is it? What's it going to be? Is it going to suck? Are you going to screw it up? Are you going to fuck it up? Who the hell do you think you are?" — all that stuff I've kind of been spared. It is a comfort, and I'm not just talking myself out of it. Like I said: Honestly, if J.J. said, "Will you read this" —
Of course.
But I see what it is now to be Michael Arndt. He was at the premiere last night, and he's carrying it very well, but every single interaction that he has with every human being on the planet — like, I introduced him: "Hey, Steve, this is Michael Arndt," and I could see Steve's brain instantly go "I'm going to need to ask him 50 million questions about Star Wars, and I know that he can't answer any of them, but I'm going to ask them anyway." And I sort of felt like, "OK, it's kind of nice to not have to be that guy this time." Now, it does sound, based on what I'm hearing, like Disney is going to make 14 Star Wars movies a year, maybe 15 if they can squeeze it in.
I've heard that, yeah.
So there'll be a January Star Wars movie, a February one —
Holiday specials.
I joke, kind of, but clearly, they've got a number of different projects, and if I were a betting man, I'd say they're going to have to flirt with killing the golden goose, and then they'll pull back. But I'd say over the next decade, you and I are going to get five Star Wars films, and it won't be Episode VII, but I may be involved in one of them when the pressure isn't as intense.