People ask me 'Where did it all go wrong?'" Young told Hicks. "After the lockout, after my rookie summer. I had a good summer and then the Pistons, they called me in the office, and I hear the bad news."
Young was devastated by the news. It was his first real taste of failure.
"That really messed me up because I didn't want to leave. I was in a childish mind-set that this was my home now. I didn't feel like I could bounce around. That summer I was depressed, with $300,000 [in the bank]. Endless money. I could do what I want. But I wasn't happy because I wasn't in Detroit no more. So that summer I went and bought $120,000 worth of jewelry and then the next year they robbed me in Philadelphia when I was walking in the middle of the city. I only had $30,000 insured. I had bad guidance, made terrible decisions by not just insuring it … "
Hicks stopped him: "Korleone, you said, 'I made some mistakes, like not insuring it.' Is that really the mistake? That statement you just made right there is a perfect example of how a kid will go out and get a job and make a thousand dollars, and go and pay for $800 worth of jewelry, instead of thinking, I need to take care of my rent. I need savings."
Young tried to talk over Hicks again, but the pastor was persistent. "Forget that you were robbed. What is the lesson now that you can use to teach somebody else?"
"Responsibility," Young said.
"Responsibility," Hicks echoed. "I should have insured it. No, you shouldn't have spent it."
---
T

hough he was never as highly touted a prospect, Young's free fall stands in stark contrast to Garnett, McGrady, and Bryant. The Postons, Young said, told him that they do not represent minor league players and ceased their partnership after he failed to secure an NBA roster spot. For years, Young toiled in basketball's lower rungs. His first layover was with the Rockford Lightning in the Continental Basketball Association, where he averaged 18.3 points and 7.3 rebounds under former Bull Stacey King.

He had mostly stopped talking to reporters during this period. "My dream is to play in the NBA again," he told the Wichita Eagle in a rare interview in June 2001. "That's where I belong."

Stacey King ran the Triangle offense and Young's knowledge of the system eventually earned him an invitation to the Lakers' summer league team in 2001. He was still only 22 years old. "The most intriguing thing right now, in addition to the things that got him drafted three years ago, is his age," Lakers general manager Mitch Kupchak told the Los Angeles Daily News.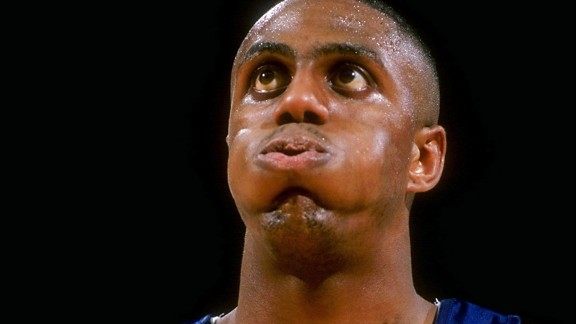 But he failed to make the roster and spent that fall with the Canberra Cannons of Australia's National Basketball League. His career eroded from there. He ruptured his Achilles in his first Australian game. The following January, Young crashed his car while driving in Canberra, Australia's capital city. He had been at a club, drinking. A friend offered to drive him and teammate Emmanuel D'Cress home. "Man, I got it," Young replied.
In his haze, Young drove as though he were in the United States and not Australia. He went the wrong way on a roundabout. He avoided hitting another car, but swerved his Holden into a ravine. Young's airbag deployed and knocked him out. The radio had been tuned to a fast beat before the crash. Young awoke to the radio playing in slow motion. He believes his seat belt saved his life — he carries the scar it left across his neck to this day.
When he regained consciousness, his senses slowly returned. He looked at D'Cress, still knocked out. Young said he carried D'Cress nearly two miles back to his apartment. Young called his coach and informed him of the crash. D'Cress was left with a broken neck. Doctors, Young said, later told him that if he had carried D'Cress much farther, D'Cress would have never walked again. The Cannons and Young agreed to terminate his contract after the accident — with Young's visa now voided. He contemplated retirement.
Instead, Young embarked on a self-destructive cycle. Though there was still interest from overseas teams, he let himself slip out of shape. He treated the tryouts with foreign squads like paid vacations. Young did stints in Australia, Russia, China, and Israel from 1999 to 2006. The farther he traveled, the further he got from his dream of returning to the NBA. He started to think of himself as a victim. He drank. He smoked. He partied. He struggled with depression, wracked by the mistakes he'd made.
"Shit, I was so dumb," Young said. "I leased shit then. I had a Ford Explorer. I had a Chevy Corvette. I had a couple mopeds. I was a big kid. I had toys, man. Kids have toys."
During this time, Young employed a financial adviser to oversee his affairs. But he'd sabotage himself. He'd tell the adviser, a young woman, that he planned to visit his daughters in Houston for a couple of weeks. The adviser would give him the money he needed for the trip, then Young would leave Houston after a couple of days, return home, and burn the surplus on more cars and clubs, and on fronting money to more friends and family. His father asked for money every once in a while. Young said he gave what he could when he could.
"[The adviser] couldn't tell me what to do," Young said. "She answered to me. It was the complete opposite. I should have been answering to her."
This cycle continued until Young could no longer secure a roster spot on a team overseas. Back in Wichita, police arrested him for missing a hearing over child-support payments. Young said that he could not afford to pay them at the time. That was four years ago.
---
Y

oung exhaled.

"I've tried to right wrongs," he said. "But depression and self-medication was so hard. I'm one of those athletes that never smoked marijuana until I got grown. You experiment with that stuff in high school. I didn't try it until I was an adult. I drank a little beer and stuff. My mom drank Colt 45. Sometimes a few would come up missing. But I went through a self-medicated depression. I was reckless."

Hicks listened quietly. He thinks Young has the chance to help kids who were once like him. There are more than 4,000 gang members belonging to between 40 and 50 gangs in Wichita, according to the Wichita Eagle. One hundred thirty kids attended Hicks's summer camp this year. Twenty-five had to be removed for fighting. Earlier that day, Young chatted with a neighbor who had lost two of her children to violence. Her husband was attending a funeral for a recently killed neighbor. Hicks said Wichita needs Korleone Young, now more than ever.

"You will never fulfill a purpose until you start," Hicks said, "and right now, you have a problem starting."

"This is really setting on my heart now, because I don't live in the same city as my children," Young said. "I'll always be a 'daddy from a distance.' Because me and their mother will never be together. And I will never live in Houston … I tell men that I talk with that there's some things that we just can't do anything about in the past," Hicks said. "But I think every man has a responsibility to be in their child's life, whether they're married to the mother or can even get along with the mother. They have a responsibility to be in that child's life. Now you won't end up being in that child's life if you don't pay child support because the mother ain't gonna let you. That's why we have to pick ourselves up and become men. We have to pick up ourselves, get jobs, and find ways to take care of our children. We have to be in our children's lives. We have to be. And there comes a time when it almost is too late. I said almost because there's always an opportunity to get involved in their life whether they're grown or not."
---
A

s his life unraveled, Young sheltered himself from the outside world. A tragedy forced him back out. On the evening of January 19, 2011, Young gathered with family and friends to celebrate the 41st birthday of his cousin, Deon White. They shot dice, drank, and watched the Dallas Mavericks host the Lakers. Young settled into what he thought would be another lazy, enjoyable evening in Wichita. Then a bang on the door came and all hell broke loose.

Terrell Cole and Andre Lovett were behind that knock, there to break up the party. Cole had served prison time for a drug conviction in 2002 and was paroled in 2006. After he was released, he partnered with Lovett, an avid sports fan who had played Biddy Basketball in Wichita a few years after Young started his hoops journey in the same league.

Allegedly, Cole and Lovett had heard that a high-stakes dice game was taking place. They intended to rob the house.

Young answered the door, saw a gun in Cole's hand, and bolted out the door. Cole allegedly fired in Young's direction as he raced through the doorway. The bullet instead struck Lovett in his abdomen. Everyone at the party fled. Later that evening, a blue Chevrolet Uplander dropped a bleeding man at the entrance of Wesley Medical Center. Lovett, 30, died the next day.

Authorities interviewed Young as a primary witness in Cole's trial. The prosecution later played a videotape of Young's questioning. "He rushed in, cocked the gun, and I'm gone," Young told detective Dan Harty, according to the Wichita Eagle. "All I can say is it was a black, African American individual … if you had a silhouette [lineup], maybe I could match the silhouette."

Young's attitude changed when Officer Stella Boyd replaced Harty and his partner, the newspaper reported. He treated her like a friend. "You know I live around here," Young told her. "People recognize me. People are going to be suspicious if I come in here and talk to police." The Eagle reported that Young, in tears, eventually folded a lineup sheet containing six pictures until Cole's photograph appeared, alone.

Cole was also charged with aggravated intimidation of a witness for allegedly firing shots into a house four days after Lovett's killing. The house, where Young often stayed, belonged to Young's aunt. In court, Young testified that he didn't know Cole or Lovett and could not identify either as one of the robbers, according to the Eagle. He added that his folding of Cole's picture in the lineup should not be viewed as a positive identification. "If you've ever looked through a peephole, which all of us have, you know how objects look disfigured," Young said on the witness stand. Young testified that he opened the door and viewed a man in a dark coat with a cocked gun. "That was enough for me," he said. "I was the first person out of the house."

Others at the house also failed to identify the would-be robbers. Cole, 32, pleaded guilty to a reduced charge of involuntary manslaughter in July.

The incident and subsequent trial have weighed on Young. He said that he realized later that he knew Lovett's extended family and had played basketball with his uncles. He resented having to testify.

"I wasn't in the realm of starting life again, but how do I start now?" Young continued. "Not only am I a snitch — y'all are forcing me to be the snitch — they're making me go to court. But the sad thing about it is, what you want me to say? I want to carry on with life after this."

For years, Young felt selfish for being the first one out the door. He finally feels comfortable walking around the city again. "I've faced death already," he said. "I'm sitting here like if somebody walked in and put [a gun] to my head, it wouldn't shake me up. Really, if they gave me a chance to sit back and think, I might be able to call his bluff. And say, 'Man, go ahead. Make yourself famous, bro.' What I've been through. Where I'm going. Thank you. I hope I'm going up there. The land of no hurt. I don't want to sound crazy or nothing. I'm not ready to leave this earth. But when I do leave, I want to leave on the right accord."
---
I

think you're running," Hicks said. "I want to know you. I want to know what's going on in you. Where's your pain? Where's your hurt? What do you feel about you? How do you feel about you? Because you can get to the point where you feel bad about you and you can't help you and you can't help nobody else because you haven't accepted the fact that what has happened has happened. It's over. 'I'm moving on. I cannot help the past, but I can decide what I'm going to do with the future.' That's what I really want to see in your life."

"I want to work with kids," Young said. "But, like, how do you start?"

"Your purpose was part being a basketball player," Hicks replied. "But now you have other purposes. And so what is that purpose? Find that out and get to it."

The discussion ended in typical fashion. Young promised to come by more often. As usual, Hicks was dubious.

"He's always saying, 'The Lord is trying to use you,'" Young said afterward. "He's been saying that since we met. And maybe He is. But it's gonna have to be at a time when I'm really ready."
---
Y

oung settled into a booth at a local diner. A patron asked if he was a basketball player. "Nope, golf," he said, straight-faced. Young is polite when he's recognized. He understands his reputation, and his friendliness is an attempt to change the conversation about him, one chance meeting at a time.

Young took a call in the booth before starting again.

"People don't realize the life of an athlete, bro," he said. "It's not all instructional. You gotta learn a lot of shit on your own. I know I did. I didn't [know] successful people. The woman that just called me — my mom — I love her to death, but she's a check-to-check person. I have never worked in my life. I had a job because my best friend worked there. I talked my way into it, really. They said, 'Can I see your résumé?' I just told them, 'Well, I really don't have one, but if you would like for me to start, I'd like to work for you. Feel free to go look online.' My basketball history and going to different cultures is really my résumé."

His voice cracked. His eyes began to water when he started to talk about his three daughters. Though evasive about his children, he said, "What kills me is I'm a dad from a distance. I mean, not having nothing and I ain't even got my kids, you feel me?"

"I'll never be in the home," Young says as he clutches his cracked cell phone. "They got iPhones and shit, the two oldest ones. I'm dealing with prepaids and stuff like that. People don't give me the credit. Motherfucker, I deserve it. 'Cause I've been through a lot. Everybody wants to be patted on the back every now and then. I don't care how successful you get, but everybody wants to know that they're accepted, that they're loved."

Tears rolled down his cheek. His voice tightened.

"Fuck money," he said. "I'm telling you this now, on record. At one point in time, money made me. It made me a lot of things. It made me happy. It made me pretty close to being rich … Life ain't comfortable right now."

"Until I get married, I will always sleep at home," he said. "Seriously. I always lived at home. Until my mother leaves me. I hope no time soon. There's a lot of things I've been blessed with. My mom. If I didn't have that lady, I know I'd be dead by now, for sure. In a coffin. Dead."

"Right now all we have is each other," he said. "That's all I need now. If I'm never successful at anything else — I said this to my friends — make sure people know I was successful. Hopefully, if I'm dead, they won't say a lot of bad stuff. My friends always hate this. 'Man, don't talk about that shit. You crazy, bro. You're gonna talk that shit into existing.' Couple times I ain't care. Couple times I looked at that woman in there and I'm ready to go. 'I ain't even strong enough. Plus I'm hurting y'all. I can't even take care of y'all. Imagine me gone, life's easier. One less person that you really got to take care of.' Imagine that. A professional athlete. Now he needs his mom to take care of [him]. We're surviving off disability money."

The next day, Kim sobbed while discussing her son.

"We bump heads so much it's pitiful," she said. "Sometimes it just seems like he hates me. It's like sometimes he doesn't want me as a mom."
---
A

fter a game between the Milwaukee Bucks and the Orlando Magic in February, Al Harrington thought back to his showdown against Korleone Young in high school.

"That was a good game, man," Harrington recalled. "We lost the game. But that was a very hyped-up game because he might have been right behind me [in the rankings], two or three or whatever. I think I had the better game, but his team won."

Harrington has played 15 NBA seasons — one for every minute Young's career lasted.

"I always ask about him," Harrington said. "I haven't heard anything about him in years. Do you know?"

It's a familiar question among NBA players and personnel who remember the talented teenager with the sculpted frame.

"That's a sad one there," said Gentry, now a Clippers assistant. "He was one of those guys — he was the poster boy for what they do now, making them go to college for one year. If it was left to me, I think they would have to go for at least two … Korleone was one of those kids that if he would've gone to college, even for a year, he could've had a doggone decent pro career. But he was so deficient in so many areas that he just wasn't ready. He wasn't ready for this league."

Stanley, the agent, also had not heard from Young in years. "The league doesn't draft ready players," he said. "What they do is they develop them. What they look for is, Are you willing to work with me? Are you showing me enough that I can see what the end result looks like?"

Young had everything but the will to grow. "I don't care what anybody said," Stanley said. "If Korleone had a dad and his mind-set was mature, he could have been a professional basketball player for 14, 15 years. No doubt in my mind. Even with hindsight, I would put everything I own on that."

Piggie believes that Young's career would have blossomed had he, Piggie, stayed involved. "With the situation that happened with me, everybody ran," he said. "Everybody ran because of what was written that wasn't true. So people didn't want to get involved. People were scared. And what they did, they just left him out there butt naked."

"It was bittersweet," Piggie said of Young's truncated NBA career. "If I would have known then what I know now, he would have never, ever went in [the second] round. He would've went to college. I'll just say this: People who were in bigger positions than I was gave a lot of misleading information."

Taylor, his other AAU coach, remembers having to push Young. "Looking back on it, he may have liked basketball, I don't know if he loved basketball," Taylor said. "I led him to the water, and for the life of me I couldn't figure out why he didn't want to drink. That sometimes causes friction because, you know, just like a father-son, you want your son to do something and they don't want to do it."

Life went on for Al Harrington, for Gentry, for Stanley, and for the others. Young's life has become suspended in time, a Möbius strip of what-ifs. What if he'd had his father in his life? What if he'd never left Wichita East? What if he had gone to college? What if he had dedicated himself to the game? What if he'd studied the business of the NBA? What if he'd accepted responsibility earlier?

Where is Korleone Young now? Right where he started, still trying to get started.

"I just like to hide from people, really," Young said. "I didn't want to face a lot of these questions I got to face. I took myself into a shell, like a hermit … "

"I've hurt myself a lot by running, hiding. I'm still dealing with my own depression. I just can't face it."