Rocked
An oral history of the 1989 World Series, which was dominated by the Oakland A's — and devastated by the Loma Prieta earthquake

By Bryan Curtis and Patricia Lee on
If the asterisk didn't play such a nasty role in baseball lore, the 1989 World Series would deserve one. None of its four baseball games were any good. More to the point, they weren't necessary. The Series was shoved aside when a powerful earthquake — a "7," in San Francisco lingo — ripped through the city on October 17, 1989, about 20 minutes before the scheduled start of Game 3. Suddenly, baseball felt like an interloper. Players were driving down darkened streets in their uniforms; Dave Stewart was peering at a pancaked freeway in Oakland; and Fay Vincent was convening candlelit meetings to decide when, and if, the Series should restart.
But by starting our story a few hours before the quake, it's possible to see the Battle of the Bay as something other than the Earthquake Series. In the late afternoon of October 17, more than 62,000 people had crowded into Candlestick Park, which one sportswriter described as a "rotting whorehouse of a ballpark." Giants fans were pumped. The team hadn't played a Series game since Richardson caught McCovey's line drive to end the heartbreak of '62.
Their opponent was the Oakland A's. In an inversion of the usual Bay Area hierarchy, Oakland was the chest-thumping favorite. (In the current era of sewage-filled dugouts, it's worth remembering that the A's had the nicer stadium then, too.)
The talk around Candlestick that day concerned small stuff. Was Dave Parker really safe at second in Game 2? Would Bob Welch be scratched from his start because of an injury he acquired in BP? Did Will Clark have tonsillitis?
History doesn't record any fan that Tuesday arriving with a copy of the Gilroy Dispatch, a newspaper from a town 80 miles southeast of San Francisco. If they had, they might have noticed an alarming headline. A geologist had studied the conditions at the time of the Bay Area Series and was predicting terror.
Jim Berkland, geologist: I said the World Series quake was coming. I said it would be a 6.5 to 7. I had 6.5 to 7 because that's what happened in 1865, and the conditions were very similar. I had all of these conjecture-y things: the tides, the whales, the homing pigeons, the hot springs, the geyser. I had all of that. The Mercury News no longer wanted to carry my predictions because they told me they were bad for business. So the Gilroy Dispatch printed it on Friday, the 13th of October.
---
Three Hours Until the Earthquake
Candy Maldonado, Giants outfielder: It was a beautiful day. It was one of the most beautiful days in the Bay Area.
Matt Williams, Giants third baseman: The weather was unusually warm.
Ray Ratto, Giants beat writer, San Francisco Chronicle: People said it was earthquake weather, kind of humid. But you throw that off.
Noah Graham, fan, lower deck: I remember driving from Santa Cruz to the city. I had my Nintendo Game Boy, and I was playing baseball all the way. I was so jazzed to be going to a World Series game.
Matt Kettmann, fan, lower deck: I was only 12. My uncle was a friend of — or a friend-of-a-friend of — [Giants owner] Bob Lurie's.
George Thurlow, fan, upper deck: I was in Section 29, Box 2A, Seat 3. That was the upper deck, right by the foul pole.
Dave Guzzetti, fan, upper deck: I was actually in the last row in center field.
Wally Haas, A's owner: I don't like sitting down in the stands, normally. Then I have to behave. I convinced [A's general manager] Sandy Alderson that we should get a box somewhere upstairs where no one could see us.
Timothy Busfield, actor: We were in a plexiglass booth at the top of the stadium with all the announcers and everybody. I rode up in the elevator with Johnny Bench and Willie McCovey. They were having a conversation about Willie Mays. From what Bench said and what McCovey said, Mays didn't want to come that day. He was spooked by the weather, by the stillness and the heat. He didn't like the air.
Tim McCarver, analyst, ABC: I remember getting sick at Candlestick at around three, after our managers' meetings. I felt just awful. I don't know that I had any sense of impending doom at 5:04 that October 17, but I've often thought about that.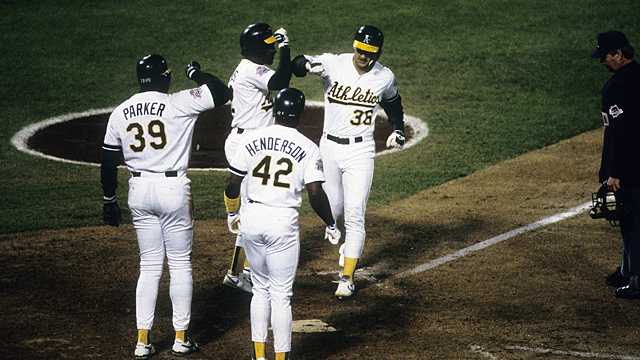 Will Clark, Giants first baseman: You get down in the two-nothing hole, but when you come back home, you're rejuvenated, you have a new energy, and you know your 10th man is behind you.
Tony La Russa, A's manager: The year before, we had the huge disappointment of getting beat by the Dodgers. Literally from the first day of spring training, we were on a mission to get back and win.
Sandy Alderson, A's general manager: I'm not saying we wanted it more than the Giants. I don't believe that's the case. But we had fresh memory of what it meant to lose.
Mike Moore, A's starting pitcher: I heard a lot of people compare us to the Raiders. I thought it was a pretty good comparison. People loved to hate us.
Dennis Eckersley, A's closer: We were supposed to win. You know what I mean? We had a team not necessarily of cocky guys, but a lot of confident guys. Rickey and the Bash Brothers doing their thing. Me pointing at batters and shit like that. I could see how it would be interpreted.
Dave Parker, A's designated hitter: We had one of the best teams that had ever played.
The Giants were a team that did everything pretty well. The staff included "Big Daddy" Rick Reuschel, Scott Garrelts, and Don Robinson. The lineup was led by Will Clark and Kevin Mitchell. Maybe not "led" in Mitchell's case — as he once declared, "I'm no leader. I'm just Kevin."
Pat Gallagher, Giants senior vice-president: We were sort of fighting for respectability. The team had almost moved a few times. We went to the playoffs in '87 in St. Louis, and it went seven games, but we got beat. There was this dark cloud over everybody's head that had anything to do with the Giants.
Duffy Jennings, Giants PR man: I think probably the one thing a lot of Giants people couldn't say out loud was, "Why did it have to be Oakland?" We waited 27 years. Then we had to share that glory and attention with a team in the same market.
Corey Busch, Giants executive vice-president: It was a big deal in the Bay Area. It was great. But it was not the kind of marquee matchup that networks like for the World Series.
Mark McGwire, A's first baseman: It was the Battle of the Bay. It was one of those things that was just really cool. Like here we were in a World Series, and there was no airplane to fly to another city. Just get on a bus and drive five minutes.
Andy Dolich, A's vice-president: We talked to United about flying the team from Oakland to San Francisco in a 747. It fell apart when the head of marketing for United, who wasn't a big baseball fan, said, "The team has to be wearing its uniforms when it comes off the plane." I wasn't even going to take that to La Russa.
Gallagher: We had to play in Candlestick, the worst ballpark in the major leagues. That ballpark was a series of stupid mistakes. It really was. Who threw out the first ball on Opening Day? Richard Nixon!
Jorge Costa, Giants vice-president of stadium operations: There was an evacuation plan. In fact, the Giants used to have an evacuation video that showed on the JumboTron board prior to the start of every game.
Larry Gatlin, lead singer, the Gatlin Brothers: We were invited by Commissioner [Fay] Vincent to come to San Francisco and sing the national anthem. My brother Steve was sick as a dog. I asked the Giants if they had the team doctor who could come see what was wrong with Steve. The doctor came to the limo, looked in the door, and said, "He's got the flu." It was that quick. We walked in from the center-field door, but they took Steve in a golf cart because he was too sick to walk. He was just going to be able to stand up for one minute and sing the low part.
Al Rosen, Giants general manager: I was up in my box. My wife and I had some guests including Bill Walsh, the famous football coach, and Shecky Greene, the comedian.
Mackie Shillstone, Giants conditioning consultant: Who were the only three people in the Giants locker room when the quake hit? Me; Mark Letendre, the athletic trainer; and Don Robinson, the starting pitcher. The Caveman.
Don "Caveman" Robinson, Giants starting pitcher: We're sitting in front of my locker. They were taping my knee up because I'd had cortisone shots three or four days before that. I was going to go down and start warming up.
Mark Letendre: We were fitting him for the knee brace. It was a routine thing for Don.
Claire Isaacs Wahrhaftig, fan, upper deck: We had the worst seats in all Candlestick Park. In Section 53, where you couldn't read the JumboTron, we were in the last row, 22 rows up. My husband asks, "Would you like something to drink?" I said, "I'd really like a beer." He disappears. It's a little after five. It's still quite light out.
Gatlin: I had just waved up to Johnny Bench. He was doing radio in the top of Candlestick.
Curt Gowdy Jr., producer, ABC: We decided that Joe Morgan would do a pregame interview with Willie Mays. In our production meeting, there was some question of whether Willie was going to show up. I said to Joe, "You got to do your best, because it would be great to have Willie there." Sure enough, at 5:02, I'm looking at our monitor from the low, first-base camera, and there comes Willie into the picture with Joe.
John Crayton, pilot, Goodyear blimp: We were just coming up on the opening shot. We had rehearsed it. The director was counting it down.
George Thurlow, fan, upper deck: At 5:02, I took a picture of the scoreboard.
Eckersley: I was in the bathroom. I was combing my hair, man. I was standing next to Dave Parker.
Will Clark: I had just got through running sprints to center field.
Terry Kennedy, Giants catcher: My brother was a scout for the Giants. Just a minute before the earthquake, he said all the cops' horses went crazy. They could feel it before it happened.
Ken Oberkfell, Giants utility infielder: I was sitting in the dugout and I started feeling light-headed. I was queasy in my stomach. I'm thinking, I shouldn't be nervous. This is my second World Series.
Noah Graham, fan, lower deck: I kind of started to feel sick. I look up and see my mom's got the same look on her face.
Dave Guzzetti, fan, upper deck: I had bought a T-shirt that said "Bay Area World Series" or whatever. I ran into a friend from high school I hadn't seen in 20 years. I left him and I had bought the T-shirt, and was walking to my seat. That's when I noticed the undulating sidewalks.
Will Clark: It was a big roar, and it almost sounded like those F-15s flying over the stadium.
Alderson: I thought it was the fans on the third deck stomping their feet.
Jose Canseco, A's outfielder: I thought it was one of my migraines.1
Gatlin: I'm standing in the coach's box with Mike Lupica. We're just bullshitting. A 747 comes right over Candlestick Park. The ground starts shaking. Lupy looks at me and says, "A 747 ain't supposed to make the ground shake like that." I said, "That ain't a 747. We're in one!"
The Earthquake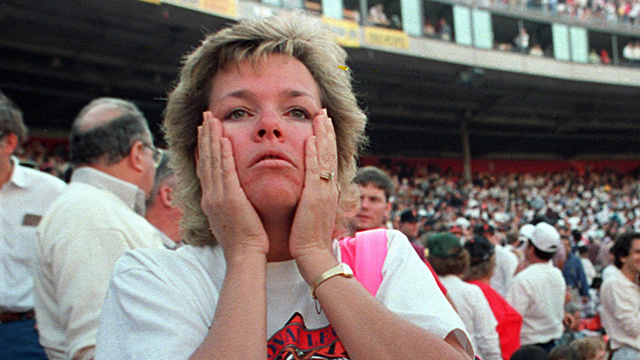 Noah Graham, fan, lower deck: I remember seeing the right-field foul pole and it's bouncing back and forth, like a needle on a metronome.
Busch: I was absolutely convinced we were going to die.
Maldonado: It felt like if you're surfing, like you're in a wave, and I felt myself elevating.
Roger Craig, Giants manager: I was in my office when the walls started shaking. I heard Don Robinson hollering, "Earthquake! Earthquake!" I told everybody to run out to the parking lot. It was asphalt and it was just rolling.
Scott Garrelts, Giants starting pitcher: I saw cars kind of bumping each other.
Dave Henderson: I'm from California, Dos Palos, right below San Jose. The earthquake hit and I said, "Wow, it's a quake. No big deal." It was probably my 10th earthquake. Then the lights went off in the clubhouse. Then dust started coming through the vents. That's when I said, "Oh, this is a real earthquake."
Eckersley: You're in the clubhouse. You're underneath all that. It's like iron screeching. Like there's a train coming through the door. You knew. The auxiliary lights hadn't even come on yet and I was yelling, "Earthquake!" Dave Parker shit his pants, man.
Mike LaCoss, Giants starting pitcher: Jeff Brantley and I had been the last two out of the Giants clubhouse. If you're in the Giants locker room, you have to go into this tunnel. It's like one minute till the introductions, and we didn't want to be late. Brantley was behind me, and in this startled voice, he says, "What is that?! What is that?!"
Jeff Brantley, Giants reliever: He had this goofy look on his face and said, "That's an earthquake!" At that point, the tunnel began to turn, left-right, left-right, kind of like those fun houses at the fair. It's supposed to have emergency lights in it, but nothing came on. It's pitch-black, and all we could see was the very end of the dugout.
LaCoss: I thought I was getting food poisoning. I thought I was gonna puke. Jeff said, "What are we gonna do?!" I said, "Keep runnin', man!"
Brantley: We went out to the dugout and most of the other guys are out there. They're saying, "Let's get out in the center of the field!" We thought, If the stadium collapses, and if we're in the center, we're least likely to get hit.
Mike Krukow, Giants starting pitcher: I was in the middle of the field, in a pretty good spot. If I was going to run anywhere, it would probably be to where I was standing.
Robinson: There was a big pillar in front of my locker going back and forth like rubber.
Shillstone: I said to Robinson, "You fatass, you got this whole place shaking!"
Ron Schueler, A's assistant general manager: There was a Miller Lite clock in the middle of the clubhouse. It was probably 4 feet by 4 feet and heavy. [The earthquake] just blew it out of the wall.
Al Clark, home plate umpire: The walls of Candlestick's dressing room are made of cinder block, and as the quake came through, the cinder block didn't shake. It actually waved. It was a fearsome situation. Our first thought was to get the hell out of there, and all of us — Vic Voltaggio, Rich Garcia, Eric Gregg — we got up and ran out onto the field in time to see the wave go through the field.
Alderson: I got my son and wife in the door frame of the suite.
Busfield: I was with my best friend [from] growing up. We've been to a million World Series together. He leaped up and got in the door frame. I said, "Dude, everybody's below us. I wouldn't worry about things falling on your head. We're the thing that's gonna fall."
Don Fehr, executive director, Major League Baseball Players Association: I was in a pay phone alcove off the lower deck on the first-base side. I was speaking to my wife on the phone when it hit. Of course, the call was cut off.
Oberkfell: It almost felt like the earth was going to open up and suck you in.
Phil Bronstein, reporter, San Francisco Examiner: I was a foreign correspondent. I had just come back from El Salvador. I was actually in the Chronicle-Examiner building when the earthquake hit. The ground started rocking and rolling. I was thinking, I get back from El Salvador and this happens?
Mike Gay, chief engineer of operations, Candlestick Park: Right when the earthquake hit, I was in the boiler room. The lights went out. The room is shaking and rolling. Both our backup systems are dead. Now we're on generator power. You hear the pumps, and then kind of oooooooohhhh. It was hot and steamy and dark.
Jennings: The earthquake's epicenter was in Santa Cruz. When this thing came, it was very audible and visible and noticeable as coming out of right field, which faces south. It hit the ballpark and made waves in the outfield. That's where the famous Mike Krukow quote about a 600-pound gopher comes from.2 If you were standing where I was standing, you could see it come through the outfield, keep going through the infield, and then continue into downtown San Francisco.
Bob Ley, anchor, ESPN: People ask me how long it lasted. I say it lasted long enough to start a Hail Mary but not long enough to finish it.
Brett Butler, Giants outfielder: My brother was in the upper deck. He'd gotten up to get a hot dog. When he came back, part of the roof had fallen in his seat.
George Vecsey, columnist, New York Times: There was like a lip, an overhang on the upper deck — it was like just-poured cement. I thought, Gee, if that breaks loose it's going to slide down and decapitate the whole section.
McCarver: I was on the air coming out of the replay from Dave Parker in Game 2, where he had hit a double off the top of the wall in Oakland at the Coliseum and kind of belly flopped into second base.
Al Michaels, announcer, ABC: I'm going to take it back from Tim and transition to Jim Palmer. When Tim is ready to hand it back to me, there's a rumbling and a fairly loud noise. I remember thinking just for a second that we're going to get pitched out — pitched out of the mezzanine and into the lower deck.
Gowdy Jr.: What I had heard was like a subway running under our production truck. It was a loud roar under the ground, and my director, Craig Janoff, and I looked at each other. Suddenly, our truck started tilting forward. Then all the monitors, everything just went to black.
Michaels: I say, "We're having an earthquake!" But my word gets chopped. It sounds like I'm saying, "earth-kuh."
Gowdy Jr.: People didn't hear it. They saw their picture go to black and then the old ABC "stand by" slide. And then, out of nowhere, Roseanne appears. ABC started showing a rerun of Roseanne and, later, The Wonder Years.
Michaels: When I knew we were off the air, I wound up picking up a hard-line phone. I called Los Angeles, the office of Bob Iger. He said, "What are you doing on the phone?" I said, "I can't talk to anybody else. What do you know?"
In the stands, there was little screaming. Few people ran for the exits. In fact, they began to cheer.
LaCoss: I'll never forget the noise. After I opened the door to the dugout, 60,000 people were standing on their feet.
Williams: Sixty thousand–plus people started chanting, "We will, we will, rock you!"
Gatlin: I guess 'cause they realized none of them were dead.
Costa: Some fan writes on a sign, "If you think that's something, wait until the Giants come to bat." I still remember that.
Claire Isaacs Wahrhaftig, fan, upper deck: I ran into my husband and he said, "I got your beer!" A piece of concrete had fallen in it.
Mark Purdy, columnist, San Jose Mercury-News: The players are looking up in the stands. I'm thinking, What are they looking for? Then it hits me: their families.
Lance Blankenship, A's utility player: The family section was under a big overhang, under the second deck.
Krukow: I had four children and a pregnant wife who was going to be giving birth to a child in a month and a half. The kids were all underneath the stadium in the children's nursery, and there was no electricity in the ballpark.
Letendre: Most of my medical attention was devoted to my father. He had not a heart attack but an angina attack. He forgot to take his nitroglycerin.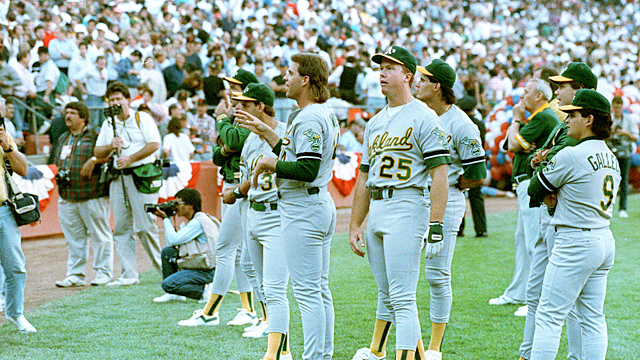 Bob Lurie, Giants owner: Some of the players were really shaken, especially the A's.
Will Clark: I know that for the A's, Terry Steinbach's wife was really, really emotional.
Brantley: Here she is in just a beautiful dress — all the girls dressed up for the games, as most wives do in the playoffs. She reminded you of a little girl jumping up into her daddy's arms.
Gallagher: Candlestick's known for its wind. So we had dragon-like windsocks that were flying from the light towers. A couple of them got tangled up. So some poor soul had to climb to the top of one of the light towers. Then the earthquake hit.
Benjy Young, stagehand, Local 16: Me and one other guy, we were taking turns going up right before the World Series trying to untangle these things. I was untangling the last one, and batting practice is going on. You wouldn't believe how cool it was to be up in the towers while the batting practice was happening. It was really hard to continue my work and not just sit there and watch. So I'm leaning out, untangling the last one. I had forgotten to put my safety belt on. I wasn't locked in. Then the earthquake hit, and I'm looking straight down. You're like watching this thing move, looking down from a pole bending like spaghetti, and thinking, Oh my god. I'm saying my good-byes. Then I vomit, and that was really strange because I felt like I was vomiting on everybody in the stadium. I'm waiting all these years for someone to tell me that "I had my favorite Hawaiian shirt on, and I know that was you." I go down the ladder as fast as I can.
Larry Stewart, reporter, Los Angeles Times: I got there just as he got to the ground. He's got long hair, probably 40ish. He was almost white. He said, "I was hanging on for dear life. I thought I was dead."
Busfield: You started to see the smoke coming from the city, especially up top where we were, up at the top of Candlestick.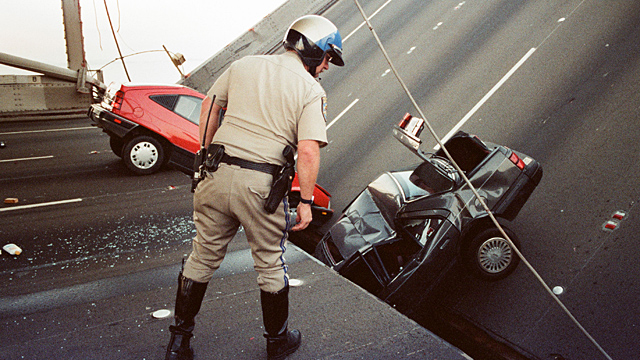 Ratto: People had radios, and you could hear tidbits of the news broadcasts. "The Bay Bridge has collapsed … the fires in the Marina." This was about five minutes after the earthquake. I was going, "Holy crap, the rest of the world has blown up."
McGwire: We thought the whole place was burning up like in 1906.
George Thurlow, fan, upper deck: The mood of the crowd was jubilant and excited and Wow, that was cool until the first radio announcements began. The first one that I have written down was, "The Bay Bridge is down."
Dolich: They didn't say a piece collapsed. It was, "The Bay Bridge collapsed." You can only think, Oh my god, this is a horror movie coming true.