Disputed: Hagler vs. Leonard
(page 2 of 2)

By Eric Raskin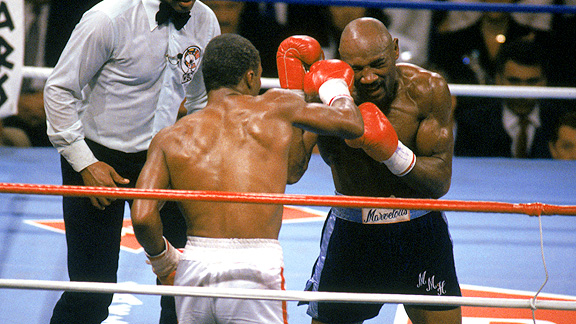 V. "It was like being at the center of the universe. It was like the normal stuff of life and death were temporarily unimportant."
Kimball: A poll in one Las Vegas newspaper found that 60 of 67 journalists covering the fight favored Hagler. One of them was Leonard's longtime HBO broadcast colleague Larry Merchant, who picked Hagler in nine.
Merchant: There was a personal element for me, because Ray had worked with me at HBO as an analyst. When we had our customary fighter meetings on the day before the fight, Ray asked what I thought, and I said, "Well, I have to pick Hagler." And I could see that he was disappointed — that he thought I had to be not just smarter, but more loyal. And, as he quotes me in his new book, when I left I said, "I'll be happy if you make me a liar."
Perron: Marvin gets a little touchy. He was the touchiest guy in the world when a fight would approach. I can remember the day before the fight, getting on the elevator with him at Caesars Palace. We went up 12 floors and he never said one word to me. It was like he never saw me before, [like] he didn't know who I was. And I didn't dare open my mouth. The fight was fast approaching, and he was gettin' mean.
Marc Ratner (chief inspector in Leonard's corner): The dressing rooms were in the old Caesars Pavilion, and there were two rooms adjacent to each other, one for Ray and one for Hagler. What I vividly remember was Angelo pounding on the wall, which was probably plasterboard, yelling, "We're gonna get you!" I don't remember hearing any sound from the other side, but there was a lot of commotion on my side.
Richard Steele (referee): When I was giving the instructions in the dressing rooms, I really saw something different about Hagler. He just wasn't himself. He had done something to his demeanor and something to the way he carried himself. I couldn't put a finger on it at the time, but during the fight I began to realize that he was trying to play a boxer instead of the fighter he really was. His "destruct and destroy" mindset, that's what got him to be the great fighter he was, that's what got him to be the champion he was. But Leonard had won that mental fight, getting [Hagler] to change his style.
Leonard: I know what people thought going in. I know I was a big underdog. I'm sure the general consensus felt I'd be around for three or four rounds, maybe.
Hopkins: I thought Hagler was going to walk right through him. Sugar Ray had been off for a while, and I believed [Hagler] was going to walk him down and wear him down and get him late.
Nack: The first piece I wrote was a lead-up to the fight. My editors at SI asked me to me to pick a winner. So I actually had a whole paragraph about why Ray was going to win. The fight in Las Vegas when Duran almost beat Hagler convinced me Leonard could win. There were moments in that fight that Duran made Hagler look foolish. And when I saw that fight, I thought, Jesus, Leonard could beat this guy.
Trampler: What made it a great fight is you could make a case for either side. With Hagler and Leonard, we didn't know what Marvin had left. We knew he was in decline. Ray was an unknown, and Marvin was a fading star.
Collins: Being ringside that night, it was like being at the center of the universe. It was like the normal stuff of life and death were temporarily unimportant. Nothing mattered except for the fight.
Bernstein: There was great energy in that arena. There's something about outdoors at Caesars that was just special. It was in a parking lot when you get down to it, but it just felt special. And the build-up to this fight was unbelievable. It was the quintessential promotion of that time.
Tompkins: I've never been around an event that even approaches that, where there's all that buildup, and then there's the first sign of the fighters, and that sound from the crowd, you could really feel it. Here was the culmination — where the talk stops and the event really starts. It's the most remarkable feeling I've had in 40-some years of broadcasting.
VI . "Slow down, you little bitch. Fight me like a man."
Leonard: The bell rang. I saw Hagler in an orthodox stance. I wanted to say, "Hold on. Stop this fight. You're not doing the right thing!" It was that blatant. I was like, What are you doing? Then I thought, Well, shit, this is great! I had all this nervous energy, but when he did that, it settled me down. It occurred to me that he was a little bit more in awe of the moment than I was, and he was just as concerned as I was. That showed me a vulnerability that Marvin shows no one. When Hagler walks into that ring, he's a beast. But against me, he was more like a little lamb.
Hagler: A lot of people think I made a mistake by fighting him right-handed. But you know, the strategy was that I know he fought another southpaw — I can't remember his name, but [Leonard] looked good that fight. I knew that he knew how to fight southpaws, so you don't want to give him that look.
Brown: I wasn't surprised Hagler came out orthodox. When I spied on him, that's what he was doing. He was boxing guys on the right-hand side — that was his power side. You go back and look — when he fought Tommy Hearns, he knocked him out with a right. So when he came out like that, Ray was prepared because of what I saw in training camp.
Petronelli: That was Marvin's idea. My uncle Goody kept yelling at him, saying when he was fighting southpaw he was doing better. He was yelling, "Stay southpaw!" But Marvin got in his head that Leonard was expecting a southpaw.
Kenny Bayless (chief inspector in Hagler's corner): In the corner between rounds, the Petronellis were so calm. I felt they should have been in Marvin's face, yelling and screaming and saying, "What are you doing? You need to do this!" I thought that Marvin was giving up the early rounds. But they were calm. They were giving instructions. Everything was very professional. I just don't recollect them getting nervous or saying, "Hey, you're losing these early rounds, you need to pick the pace up" or anything like that.
Wainwright: Ray fought Ray's fight. Marvin didn't fight Marvin's fight. When Marvin fought Vito Antuofermo on November 30, 1979, for the title, they called that fight a draw. And the one thing that Antuofermo did in that fight was push Marvin. And as a result of that fight, people decided that the way to beat Marvin Hagler was to push him. But not Ray Leonard. Ray Leonard had seen all those fights and seen how effective Marvin was with anybody who wanted to go toe-to-toe with him, and said, "This is not for me — except the last 30 seconds of the round, then I'll do a little dance and throw a bunch of punches."
Leonard: At the start of the fourth round, I rushed right to the center of the ring. I did that in a lot of rounds. J.D. had come back from Palm Springs and said, "Ray, one thing about Hagler, he feels that the first person to the center of the ring wins the fight." So that's why I would do it. It's just the little things that I did to play with his head. Anything to prevent him from doing what he wanted. This was a small thing, but it was big for him. And later in the fourth round I landed that bolo punch to the body. It didn't hurt him, but it hurt his pride.
Merchant: All of a sudden the perception of the fight was completely different. Ray Leonard, the underdog, was winning. He was winning the drama of the fight as well as the fight itself. That builds a certain kind of emotional force and momentum, and maybe it influences some judges in close rounds. It was clear that, as the fight went on, Hagler understood he had to dig himself out of a hole that he himself had dug.
Hagler: I still came on, fighting him on the inside, even trying to beat him with his own speed. Everybody was looking for me to knock him out, but you know what? I just wanted to beat him.
Leonard: He buckled me in the fifth round with an uppercut. That was the only blow that hurt me. But when I use the word "buckled," I mean I was knocked off balance, stunned, but I wasn't in trouble. It was nowhere near like how I felt after the Quincy Taylor shot.
Tompkins: Instead of taking a step back — it happened at close quarters — he got into Marvin and tried to body punch him. Something inside him said, "If I take a step back, I'll get knocked out." So instead, almost instinctively, he stepped forward and threw punches. He said Marvin never knew he hurt him.
Perron: There were a couple times where I jumped up and said, "I think we got him!" Marvin landed his best shot on Leonard's chin, and I saw Leonard was hurt. I was like, "Marvin, you got him hurt, finish him." But somehow Leonard wormed his way out of it. Marvin started winning a lot of the rounds from that point on, but Marvin never got to put the finishing touch on him. Marvin was a great finisher. He got all these knockouts not by being a one-punch knockout guy, but he'd wear you down when he got you hurt. It never happened in the Leonard fight. One of the low points of my life, I tell you.
Leonard: He shoved me when the bell rang to end the fifth. He was getting frustrated. I don't know what prompted that push, specifically. Maybe I looked at him a certain way, but it bothered him.
Hagler: People say his movement gave me problems. Movement? You mean running? The way the public looks at it, they say that was his strategy. I don't think that was strategy. I think he was fighting to survive. He tried to steal the last part of every round — that's amateur. Professional, you got to win the whole round, not 30 seconds.
Leonard: A couple days before the fight, I told Ollie Dunlap to tell me when there's 30 seconds left in each round, so I'd know to throw those combinations and impress the judges. It's not a bad thing! I wasn't really "stealing" rounds. I was keeping the round close, then winning the final 30 seconds. That was the plan.
Bayless: I remember being all the way on the opposite side of the ring of Sugar Ray Leonard, I could hear Ollie Dunlap yelling out, "30 seconds!"
Tompkins: If a judge is sitting there, thinking, This round could go either way, then at the end of the round somebody has a big flurry, that becomes the deciding factor.
Dave Moretti (official ringside judge): I gave Leonard, like, five out of the first six rounds, and when you do that, the guy's only gotta win two more rounds to pull it off. I just felt that he hit him at will the first four or five rounds. He was fast, he made Hagler miss, he did what he wanted to. He dominated the first half of the fight.
Hagler: He's running, [doing] that pitty-patty thing. He didn't hurt me. It's just me waiting for him to slow down or stop.
Leonard: He kept saying, "Slow down, you little bitch. Fight me like a man."
Steele: That was part of Leonard's plan. When you're talking trash, you ain't punching. I'd say, "Cut it out guys, let's fight," but he had Hagler's mind all messed up. If Hagler was talking, that meant it was going Leonard's way. Leonard needed that rest. Leonard needed him talking trash instead of punching.
Hagler: I give so much credit to the guys like Roberto Duran and Tommy Hearns and Mugabi. Even guys before that, Mustafa Hamsho, even the second fight with Antuofermo, these guys came to take my title. This guy only came to survive.
Leonard: He wanted me to fight him the same way Hearns fought him. He says, "Ray wasn't fighting, he was running. I respect guys like Hearns and Duran." He beat those guys! Why would I stand there and fight him?
Perron: I couldn't believe what I was seeing. We knew Leonard was going to run. That's why he wanted a 20-foot ring. But we thought somewhere along the line Marvin's gonna catch him.
Steele: At the end of every round, I would say to myself, Well, I guess Marvin's gonna start the next round. We had conditioned ourselves that Marvin was going to just eat this guy up. But then it was too late.
Dunlap: Ray won the fight, in my opinion, in the ninth round. Marvin had him on the ropes, and Ray backed him off. And at that point, I felt like people were watching Ray rather than watching the fight. He backed up the beast. To me, that's when the fight turned. Marvin was getting back into the fight. He was making it close on the scorecards, and all of a sudden Ray took it away from him.
Merchant: As Hagler tried to catch up coming down the championship rounds, it created a melodrama. Was Ray going to hang on? Who was actually winning? Was Hagler going to be able to get him?
Tompkins: I think at the beginning of the fight, the crowd might have been pro-Hagler. There were a lot of Leonard haters at that time because he was a pretty boy. I'd say the crowd was about 55/45 in Hagler's favor. But Ray works a crowd. There were a couple of rounds where he was waving his gloves, sticking his head out, sticking his tongue out. Ray is a showman, and he won over the crowd that night, especially by the late rounds.
Hagler: They said maybe I lost the first three rounds. But it's not how many rounds that you win — it's how you finish the fight. This is a 12-round fight; you can lose three rounds and make up the difference by the end. I think I did that. In the last two rounds, I really had him going. I had him hurt in the 11th and the 12th.
Dundee: In the corner, between rounds, I'm yelling, "Six minutes left!" Then, "Three minutes for the title!"
Leonard: To be honest, I was exhausted. I was exhausted in the fifth round, sixth round. I was dead. I couldn't have won without Angelo. He said the right things, just what I needed to hear. That's the value of Angelo. He does the right thing at the right moment. Like with Ali, cutting the gloves against Henry Cooper.1 Angelo's so cool under pressure. That's his magic.
Dundee: The guy who helped the most in that fight was the referee. Before the 12th round, he says, "Last round! 12th round!" I says, "Next champ!" Ray jumped up, put his arms up. You utilize every little thing you can get.
Nack: What I recall of that last round was Hagler getting desperate, trying to knock him out. He threw everything he had at him. He got him in a corner and was wailing away at him, and I thought to myself, Uh-oh, this is it. This is it for Leonard. He's had it. He's going to get hit on the button two or three times and he's going to go down and that'll be the end of it. It was like Hagler throwing punches at Hearns, that same kind of abandon, that same kind of ferocity — punches up, punches down, lefts, rights. Ray was covering up, and all of a sudden Ray threw a combination of punches that whipped Hagler's face left-right-left-right. And the crowd, 15,000 people, came roaring to their feet. All of the reporters came to our feet. It was unbelievable. It was like he'd come back from the dead. And then he spun away, and Hagler chased him, and by this time you could hear people chanting, "Su-gar Ray! Su-gar Ray! Su-gar Ray!" People realized that they were witnessing something extraordinary in the history of the sport.
Steele: Leonard was through after 12 rounds. It took everything that Angelo had to push him through. If he'd had to go three more, he wouldn't have been there.
Leonard: If it had been scheduled for 15, I would have trained for 15. Marvin was tired, too!
Tompkins: At the final bell, I made the call, "How do you like it?!" As a broadcaster, you never know what you're going to say in those situations. You hope you can say something that encapsulates what you've just seen, and I guess that had two meanings. It was like, "That was really something!" But also, because it was a close fight and how you scored it might have depended on which style you liked, I guess you could take it literally, "How do you like it?" Somewhere in the bowels of my mind, I probably meant it both ways, but I never thought, "What am I going to say when this fight's over?"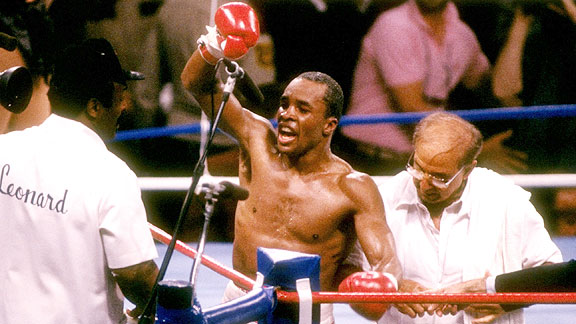 VII. "When we heard, 'We have a split decision,' I said, 'Uh-oh.'"
Hagler: I was bouncing around the ring, and I'm all happy and everything, because he knew it and I knew it — that I won the fight.
Leonard: He did things that were totally uncharacteristic of him. At the end of the fight, before the decision was announced, he was dancing! Hagler never does that crap. He knew … he knew.
Hagler: As a matter of fact, he even told me himself. He said, "You beat me, babe." That was in the ring, right after the fight. He's now denying that he said that. Maybe he can't remember, but I remember because you whispered it in my ear. And between two people, you know. If you beat me, I would tell the world, "Hey, I lost the fight." There's nothing to be ashamed about. But you can't go around knowing that you did not win the fight and still say you did. After enough time, I guess you start believing it yourself.
Leonard: First of all, even if I felt he did win, I wouldn't tell him that. No fighter would say, "Oh man, he kicked my ass!" All the way back to Jack Johnson, a fighter never says, "I lost the fight; you won the fight." I didn't say that to him. I said, "Marvin, you're still a champion to me." And I kissed him on his cheek. He misinterpreted what I said, and now it's out there. Some people believe it, some people don't.
Perron: When Chuck Hull, the ring announcer, grabbed the microphone, I said, "I'm worried, I'm worried." And sure enough, when we heard, "We have a split decision," I said, "Uh-oh."
Leonard: I wasn't sure which way it was going to go. They say you gotta take the belt from the champion. I felt that I did enough. He was missing more than he was hitting me.
Nack: People were on the edge of their seats. And when it was announced it was a split decision, people in the audience booed. I think they figured that Leonard had won. I thought Leonard won clearly, but when I look at it on tape, it's closer than I thought. Anyway, what I remember is when the announcer said, "The winner … and the …" then he said "new," and the place went nuts, "… middleweight champion of the world, Sugar Ray Leonard!" Hagler was furious.
Moretti: I don't believe it was that hard to score. I had it 115-113 for Leonard. For some reason I was just locked in that night. After the fight I told Lou Filippo, who had it 115-113 for Hagler, "I can't find a problem with your score." Lou was the type who preferred harder punches. Well, they might have been harder, but they just weren't enough — in my opinion, anyway. Lou said he didn't have a problem with my score either. As for Jo Jo Guerra's card, I believe he had it 118-110 for Leonard — that's the way he seen it, and I respect him as a judge. I don't find fault in anybody's score. Where I was sitting, I didn't see that, obviously. But believe me, there's been fights where I looked at my score and then I watched it on TV, and then I wanted to change my score a little bit. It's a possibility that you don't see the same thing in these rounds where one punch or two punches make a difference. If the referee blocks you at a key moment, that can change your view of the round. This one, I've re-watched it several times, but never changed my score. I was locked in, and what I seen that night, that's pretty much what I see each time I watch it.
Dundee: I thought Ray outhustled Hagler. I thought he fought the better fight, but hey, it's in the eyes of the beholder.
Wainwright: I did not score the fight round by round, but I absolutely feel Marvin deserved it. He was the one who took the fight to Leonard. Leonard never took the fight to Hagler. But Ray was too elusive. And that's what he planned on being — elusive for 2½ minutes, then performing in the last 30 seconds.
Merchant: I scored it a draw. I thought Hagler did enough to hold on to his title. But Leonard was able, as I said at the time, to steal the fight fair and square. As an underdog, he won the drama and looked like he was able to impose his boxing style on Hagler. If you go back in history, there were other examples of this, where the great fighter got the decision because he was the fighter that the public loved. I think this was a very close fight, but I also think Ray pulled off a historic con job to get the decision — and I think he earned that.
Tompkins: Marvin just seemed a step slow. He wasn't as busy. In my opinion, he let Ray steal the fight. I scored it for Ray, by a point or two. And believe me, I wasn't partial, because I liked both guys.
Bernstein: I thought that the right scorecard was Lou Filippo's, a two-point win for Hagler. While Ray surely won his share of rounds, I thought Hagler won more — simple as that. I would point to the CompuBox statistics as a very good reason why Hagler won that fight. He landed more jabs than Leonard. How is the boxer not going to land more jabs than the puncher? If Hagler outjabbed him, how did he lose the fight? I believe that the main reason Hagler ended up losing this is that people were amazed that Leonard was able to fight on equal terms with him. I've watched the fight eight or nine times, and I just don't see how Hagler didn't win by two points.
Trampler: This is going to sound like the all-time hedge, but I still have my scorecard somewhere, and I had it 6-6. Arum, to this day, he goes crazy: "Marvin won the fight." I never watched it again, to be honest, but there was nothing corrupt or sinister about it. It was just one of those fights.
Abraham: I had it 7-5 for Ray. He knew how to steal the last 15 seconds of every round. Ray admits he never hurt Marvin, but he ended eight of the 12 rounds with just beautiful, beautiful artistry.
Hopkins: I think Hagler won the fight. I think he did enough. He was the champion, so by Leonard basically throwing punches that [weren't] effective, Ray wasn't handing Hagler his head. That shouldn't be enough to beat the champion. There's times in history where boxing is looking for the next guy. Not that Ray Leonard was a young guy, but he was younger than Hagler, and he was Ray Leonard. Leonard was the guy that was accepted in a way that Hagler wasn't. All of that plays a role with what the outcome's going to be.
Antuofermo: Leonard deserved to win. Plain English, he bullshitted Hagler. Running here, running there. Hagler should have gone right after him like he did everybody else, but Hagler didn't have it anymore. Leonard was able to hit him and jump in and out. Hagler couldn't get started. He didn't look mentally like he was into it. I think he just went through the motions.
Perron: It's almost an unwritten rule: You want to take the champion's title away from him. You gotta go out and get it — beat him up. Leonard didn't do that. If it was anybody else in that corner except Ray Leonard that night, Marvin would have got that decision. But when Ray Leonard would fight in Vegas, the hotels would fill up in a hurry [and] the casinos were busy, busy, busy. Las Vegas did not want Ray Leonard to lose. You know, the second Leonard-Hearns fight, Hearns almost killed him. He had him down twice, he beat him up bad, and he got a draw. They just didn't want Ray Leonard to lose, and that was the story with Leonard-Hagler. Jo Jo Guerra, one of the judges, had it 118-110, which was ridiculous. He gave Marvin two rounds out of 12. I still got the scoring in my car. I kept it. I got all three judges and what they scored round by round. It's in the trunk of my car. I never threw it away.
Collins: While I scored the fight much closer than Guerra did, I feel Guerra was unfairly defamed. It was a very difficult fight to score. Many rounds were extremely close, and who won them is largely a matter of interpretation. Those who enjoy slick boxing and punches by the bunches probably scored the close rounds for Leonard, while those who prefer aggression and hard punching gave many of the same rounds to Hagler.
Perron: Pat Petronelli had vicious words with Jo Jo Guerra after the fight: "You'll never judge another fight as long as you live!" You know what the irony of it all was? There were four judges there to judge the fight. Each camp has the option of challenging somebody off there, and Pat thought that [with] Harry Gibbs being from London and with Marvin beating Alan Minter for the middleweight title in London in 1980, he probably would have not favored Marvin too much. So Pat challenged Harry Gibbs off and put Jo Jo Guerra on. From what I hear, Gibbs went home after he was told he wasn't going to judge the fight. Somebody from the press called and asked if he saw the fight. He said, "Yeah." They asked him, "Did you score it?" He said, "Yeah." They said, "Well, how'd you have it?" "I had Hagler winning, 115-113."
Hagler: Real boxing people, they know I won. And I just wait for the day — one day, Leonard's gonna tell the truth. He's starting to tell a lot of truth about a lot of things,2 so if he wants to tell the truth about this, I'm open.
Leonard: The second Hearns fight, when we got a draw, Hearns should have gotten the decision. I admit that. So don't you think if I thought Marvin beat me, I'd admit that, too? Look, I won the fight — whether I got the decision or not. I came from a five-year hiatus with one fight under my belt, fought the toughest guy in the world, [and] went the distance. I was a winner anyway, no matter what the decision was.
Hagler: I don't have anything personal about it. It wasn't Leonard's fault. It was left in the hands of the judges. I think what happened is that they wanted me out of the game. At that time, they wanted to split up all the titles. They don't like me having all the belts. We can't knock him out. We can't beat him. So we gotta steal it. That's exactly what they did.
Brown: I don't think Marvin really comprehended how Ray won the drama of the fight. Marvin was just looking at the amount of punches he threw and landed, but you had judges that were just as much in awe of the event as the rest of the people in the crowd.
Steele: Leonard and Muhammad Ali, whatever they did, the crowd was with them. Whether their punches were scoring or not, the crowd was in an uproar. Everything Leonard did, whether it was effective or not, the crowd was applauding him much more than Hagler. But you shouldn't let that affect your scorecard. So I take myself out, I take away the crowd, and I sit myself down and I say, "Let me look at this fight." Every time I look at it, it gets closer and closer. Maybe the time before, I thought Ray Leonard won this round, but now I sit down, no distractions, no sound, I said, "Damn, he didn't win that round."
Tompkins: I was trying to think back to other fights like this. I can't imagine a fight of this caliber that went to the scorecards, and there were good reasons to see it for either guy. People who think Marvin won that fight have a perfectly legitimate argument. There was a lot of showboating on Ray's part, and a lot of those flurries, a lot of those punches didn't land. By the same token, a lot of them did. All those intangibles about boxing — "ring generalship" and "effective aggressiveness" — most judges can't even pronounce those words let alone judge that way. So I think in this particular fight, it depended on how you look at a fight and what you think is effective.
Hagler: I thought back to the Antuofermo fight. They gave him a draw, and a draw is like the fight going to the champion because you didn't beat him decisively. I had to live with that. Then I was hoping that someday, if the shoe changes, maybe I would get a break. In the boxing game, I never got a break.
Ratner: Once the fight starts, the champion has no advantage. The only fixed advantage is that all he has to do is win half the fight and he keeps the title. It's just one of those urban legends that the champion should win the close rounds or that the challenger has to do more.
Hagler: I know I won. In my heart, that's something you can't take away. You can take my belt, but you can't take the feelings, the pride.
Leonard: You know what? He's a proud man. He's an old-school guy, and he feels in his heart that he won the fight. If he's not ready to let it go, then I can understand that.
VIII. "They didn't figure Hagler would go completely nuts."
Bayless: As an inspector, you'd rather be in the dressing room of the winner. In the loser's dressing room, it's just unpleasant. And it was very unpleasant in Marvin's dressing room after the fight. They kept harping on the judge that scored it wide for Leonard. They really blasted that judge.
Petronelli: After the fight, Marvin's mother was crying, and she came into the dressing room, and Marvin goes: "Ma, don't cry. They got sick of seeing me around. I ain't got a mark on me. I've had harder sparring sessions. They gave the decision to him, but I'm all right."
Nack: After the fight, I was in Ray's locker room, and here comes his wife, crying with happiness. She comes into the locker room, and Ray Jr. comes up to his dad and hugs him, and Ray Sr. says to him: "Son, your dad was tough tonight. You can go to school tomorrow with your head held high." Then, Ray had never done this before, but he went up to Mike Trainer and gave him a kiss on the cheek. Mike said, "Ray, you are a tough little shit." Then they walked out the door together, and Ray said, "You know what, Mike? I am a tough little shit."
Perron: After the fight, they had a [press] conference. Head table, Marvin came out and Leonard came out, and Leonard already had a typewritten thing relinquishing his title. He said: "I hereby relinquish the middleweight title. I only wanted to show the world that I could beat Marvin Hagler." And so the title became vacant. They wanted Marvin to participate in the box-off, but Marvin didn't want no part of that. He didn't want to fight anybody except Ray Leonard, simple as that.
Bernstein: I saw Lou Filippo at the airport the next day, and he had a sheepish look on his face, like he'd done something wrong. He said, "I saw what I saw, that's how I saw the fight." I said, "Don't apologize. A lot of people saw it like you did, including me."
Hagler: After that fight, I had a different feeling about wanting to continue in boxing. I'm done with it. I'm tired of not being accepted for what I did, for what I deserved.
Tompkins: Give it up for Marvin. To his credit, when he felt that he got screwed in that fight, he walked away and never came back. I give him a lot of credit for that.
Hagler: I waited a whole year for this guy to maybe give me the opportunity to get my belt back. I know what they're going to do — those judges — they think I lost because I didn't knock him out. And so I had to bring my own judge [holds up one fist] and jury [holds up other fist]. I wanted to fight him again, but he waited for me to get old before he would say, "Now I'll give you the rematch." I would never do that. If you feel as though you got a bad shake, I would say, "Let's do it again." That's the mark of a real champion.
Petronelli: Marvin chased him for almost a year for a rematch, but he said, "Nope," and that was it. Marvin said, "I'm not going to chase him around anymore," so he retired. Then Leonard, one time, Marvin told me they were in the men's room at an event years afterward, and Leonard starts talking about a rematch. Marvin said, "I was almost going to grab him around the neck and stick his head in the flush." He's like, "You're talking about fighting a rematch now? Why didn't we fight when we could? It's all over now."
Brown: I think Ray felt the satisfaction of what he wanted to do. What more did he need to do for an exclamation point? He came out of retirement and beat one of the greatest champions of all time — how do you top that?
Abraham: There was talk of a rematch, but it never went anywhere. Marvin made it very clear — he thought he was jobbed and he was never going to fight again. And he never did. There were conversations, but they were never at the level of negotiations. If people say Marvin wanted the fight and Ray didn't, that's revisionist history.
Leonard: A rematch should have been a natural, but Hagler was so convinced that the system fucked him that he moved to Milan and retired. I would have fought him a few months later because I knew how to beat him!
Carlino: I was told two weeks before that fight that if it was close, they were going to come back and do it again in six months. But they didn't figure Hagler would go completely nuts and it would take him a year before he wanted to fight. Leonard played with him a little bit, too. He said he wanted the fight, [then] he didn't want the fight. Leonard would have fought him again, I imagine, but they could never put it together. Marvin stayed out of the gym and he was getting older, and that was that.
Bernstein: That fight set Marvin Hagler up financially to the point that it's why Ray Leonard could never lure him out of retirement. If you factor in inflation, what he ended up making was one of the biggest purses of all time.
Petronelli: People thought he would fight again. Bob Arum said, "There's too much money out there for him, he's not going to stay retired." But my old man said, "You don't know this kid. When he makes his mind up, that's it."
Brown: After the fight, they ran a story in Sports Illustrated. They ran the picture of me and Hagler, when I was a spy in his training camp, and then a picture of Ray and myself laughing about it. It wasn't funny to Hagler. I saw him in Atlantic City a couple months later. He gave me some dagger eyes. If he could have killed me and gotten away with it, I probably would have been history.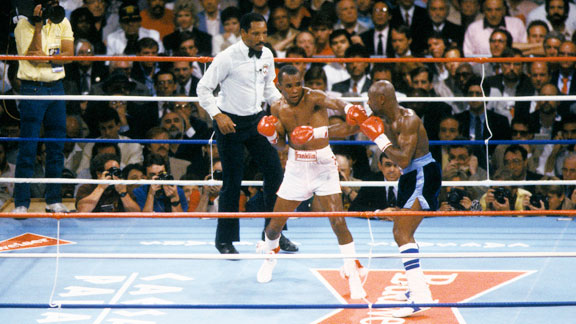 IX. "Man, when is this going to end?"
Hagler: If I would have knocked him out, I probably wouldn't still be living this thing 24 years afterwards. But it's probably a good thing that people still talk about the fight, because in a way, boxing keeps you alive.
Leonard: I get it all the time. People say, "Good fight, but I really thought Hagler won." If he would have gotten the decision, I would have gotten more people on the street saying, "Man, you won that fight!"
Hagler: The people, they know I won the fight. Whenever someone tells me I won, I have to try to determine whether they're telling me the truth or they just want to get on my good side.
Dundee: I talk to Marvin Hagler fans, they say, "My guy licked ya." Well, good, I'm glad he did, but my guy got his hand raised.
Perron: People still ask me, "What happened in the Leonard fight? Why didn't he go after him? Why this, why that?" I'm sick of hearing it. It's a sore point. It still bothers me. They don't want to understand anything. I said, "Why don't you ask me about the 11 years he went without losing a fight? Why bring up the Leonard fight?"
Petronelli: People bring it up, and I just think, Here we go again. There goes the night.
Moretti: Man, when is this going to end? I think this is the most controversial fight in history, among fights that went to the scorecards.
Bernstein: It's a polarizing fight. I think Hagler and Leonard represented different things — their approach to the sport was different, the way they were marketed was different — so you could see people lining up toward what stylistically appeals to them. That influences how people see fights.
Moretti: My brother works at a hotel-casino, and one time I was visiting him and one of his co-workers comes up and says: "Oh, so you're the guy that thought Leonard won that fight." And I go, "Yeah, I'm the guy." And he goes, "How can you say — " And I go, "Before I talk to you, let me ask you a question: Did you have a bet on the fight?" And he says, "Yeah, I did." I go, "Who'd you bet?" He goes, "Hagler." I said, "I don't think it's a good idea we should talk."
---
Dunlap: If you look at those fighters — Hagler, Duran, and Hearns — Ray is the only one that beat all the others. Without Hagler, there would have been a "Yeah, but he never fought Marvin." But I don't think it would have taken away from him being one of the greatest fighters ever. Just look at the people he already beat.
Tompkins: To this day, I still feel that Marvin Hagler will never get his just due as to what a great champion he was. He was a great tactician, he could switch up, he was good with either hand, he was a great finisher. He trained hard for every fight; he never took anybody for granted. I have nothing but good things to say about Marvin Hagler. But I think, unfortunately, his legacy will be the fight with Sugar Ray Leonard.
Leonard: I'd love for the four of us — Hagler, Hearns, Duran, and myself — to sit on a sofa and talk about the fights we had with each other. Maybe watch them together. Wouldn't that be great?
Hagler: I never put on a pair of gloves again. Never had one gym workout. If you get that taste in your mouth, it never goes away.
Eric Raskin is a former managing editor of The Ring magazine and former editor-in-chief of ALL IN magazine. He co-hosts the twice-monthly boxing podcast Ring Theory and can be found on Twitter: @EricRaskin.
---
---
Previously from Eric Raskin:

An Imperfect Path to Pacquiao-Mayweather
Klitschko vs. Haye: Why you should care

To comment on this story through Facebook, click here.